According to the Philippine Overseas Employment Agency (POEA), over 5000 skilled workers are needed in New Zealand. Job positions include carpenters, farm workers, drivers, machine operators, laborers, painters, etc.
A report from ABS-CBN's TV Patrol, mentions that the job offers were opened to the POEA and that salaries could reach as high as 131,000 Php.
Carpenters to get salaries up to 2400 NZD (89,000 Php) while Machine Operators, Drivers and Masons can get salaries up to 3520 NZD (131,000 Php).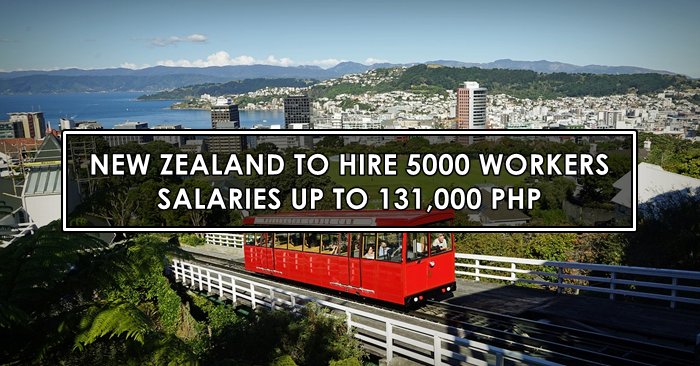 Job Openings in New Zealand for Filipinos
Below is a list of job positions and their required number of staff:
New Zealand job orders for skilled workers/construction workers/etc.
Carpenter: 1,928
Mason: 499
Farm Worker: 427
Fitter tyre/tec: 397
Scaffolder: 361
Driver: 329
Pipe fitter/worker: 309
Machine operator: 226
Painter: 201
Laborer: 167
Auto tech: 100
Total number of staff: 4,944
POEA Deputy Administrator Jocelyn Sanchez mentions in the interview with TV Patrol that you need to have existing experience to apply for the job, and if you also have OFW experience, it is also an advantage for you.
Having a 3-years experience abroad is an advantage as you already have knowledge of how to operate machines that are used internationally.
Please be advised as well that there is a strict employment process on requirements and experience.
The great thing is that there is NO PLACEMENT FEE, and after one year, you can apply for residence for your family so you can bring your family in New Zealand.
Check out the news video of the 5000 job opportunities in New Zealand by TV Patrol below:
How to Apply – Go to POEA-Accredited Job Agencies
We suggest you visit the nearest POEA-accredited job agencies to inquire about the process of applying for these skilled worker jobs and get in touch with the right people so you can submit your application. Kindly make sure to follow their guidelines and see to it that you are qualified for the job position so as to avoid wasting time. Good luck!