If you are looking for a job in Qatar, according to the Philippine Overseas Employment Agency (POEA), almost 5000 workers are needed in this Middle East country. Job positions include nurses, engineers, electricians, carpenters, masons, laborers, etc. with salaries as high as 80,000 Php.
There are many opportunities in Qatar because of the upcoming projects being built in preparation for the FIFA World Cup 2022.
A report from ABS-CBN's TV Patrol, mentions that salaries of these job openings were could reach Electrician or Mechanical Engineer as much as 6000 Qatari Rial (80,000 Php) while in-demand nurses could be as much as 3200 Qatari Rial (40,000 Php). For laborers, welder, mason, carpenter, foreman, salary is as much as 1,700 Qatar Rial (23,000 Php).
Related Post: Do's and Don'ts in Qatar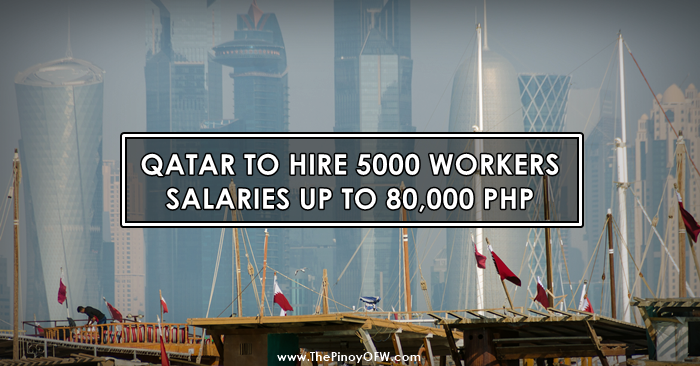 Job Opportunities in Qatar for Filipinos
Below is a list of job positions and their required number of staff
Nurse – 1882
Electrician/Ship Electrician – 1389
Mechanical Engineer – 497
Carpenter – 313
Laborer – 266
Mason – 220
Welder – 151
Foreman – 61
Mechanic – 61
Plasterer – 24
These Qatar jobs are available for Filipinos to apply. In order to apply, you can go to the POEA website and visit the licensed recruitment agency that is handling the said job order. Before thinking about being an OFW, make sure you understand the cost of living in the Middle East and read about the country so you will be aware of certain rules and regulations according to the location.
Video: Job Openings in Qatar
POEA Deputy Administrator Jocelyn Sanchez mentions in the interview with TV Patrol that Qatar is need of these workers for the country's infrastructure and building projects.
Check out the news video of the 5000 job opportunities in New Zealand by TV Patrol below:
How to Apply for POEA Jobs in Qatar
To apply for the said positions in Qatar, please go to the respective recruitment agency who is handling that specific job order. To know the recruitment agency, you can head to this list from the POEA website.
Search for the country and check out the available positions which also indicates the licensed job office to hire – http://www.poea.gov.ph/cgi-bin/JobVacancies/jobsMenu.asp