If you are living or working in Oman, the Philippine embassy is open to Filipinos who need to get their legal documents processed. For example, if you need to apply for your passport renewal, you can get it from the embassy provided that you schedule your appointment and have all the requirements ready. There are also other services offered by the embassy, such as passport application, passport renewal, visa application, visa renewal, application for birth certifications, application for death certifications, dual citizenship application, marriage application, and so on. If you need legal and emergency help, you can ask the embassy to help and support you as well.
Also Read: Monthly Salary of a Nurse in Oman
The Philippine embassy works with different agencies to discharge its functions. If you are working abroad, you will often hear the names "POLO" and "OWWA." POLO stands for Philippine Overseas Labor Office while OWWA is Overseas Workers Welfare Administration. Both agencies have branches around the world. To date, POLO has more than 30 branches around the world. These agencies focus on protecting OFWs abroad. You will likely see them if you have issues regarding your employment or if you need their assistance with regard to your job in Oman.
As part of being an OFW in Oman, you have to keep the contact details of the Philippine Embassy for your own good. The advantages of having the information of the embassy include having someone to back you up in case of emergencies, reaching out to them if you have inquiries, and so on. Keep the contact information of the Philippine embassy in Oman at all times.
In this blog, you will see the information about the Philippine embassy in Oman. We gathered the details of the services it offers, frequently asked questions, tips when visiting the embassy, location, and contact details. This will help you in locating the embassy and contacting them.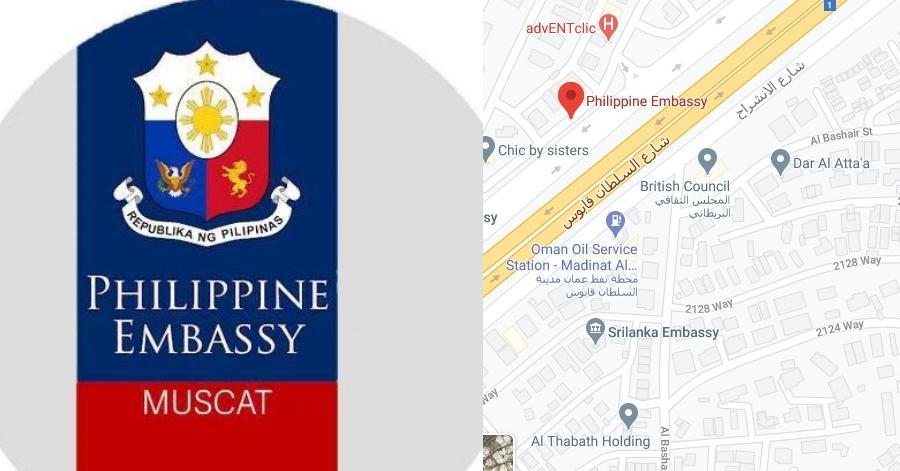 History – Philippine Embassy in Muscat, Oman
According to history, the diplomatic relations between the Philippines and Oman started in 1980 and they were formalized in October 1980. The first ambassador of Muscat at that time was the Ambassador to Riyadh. In 1980, the number of Filipinos who were in Oman was around 1,500 to 2,000. The number increased until such time when there was a need to expand its reach. Subsequently, the consulate was established and led for the first time by the Editor-in-Chief of the Times of Roman, Alessa Al Zedjali.
Services Offered
If you want to know the services offered by the embassy of Oman, here's the list:
Consular Outreach Program
Passport

Adult New Applicant
Adult Renewal Applicant
Minor New/Renewal Applicant

Travel Document
Authenticating Documents Made Simpler by the Apostille
Civil Registry
Solemnization of Marriage
Report of Marriage
Report of Birth
Report of Death and/or Consular Mortuary Certificate
Dual Citizenship
Visa
Waiver of Exclusion Ground
Certificate of Not the Same Person
Balikbayan Program
Schedule of Consular Services and Fees
Consular Service Fees and Turnaround Time
List of Other Services

Transport of Pets
NBI Clearance
Renewal of Philippine Driver's License
Securing a J1-Waiver
PH Requirements for Medical Missions
Departure Formalities
Philippine Overseas Labor Office
Issuance of Overseas Employment Certificate
OWWA Membership Program
Employment Contract Verification and Authentication
Implementation of POEA Rules on Direct Hiring
Frequently Asked Questions Regarding the Services
What are the documents I should bring during my passport renewal?
The Philippine embassy in Oman offers passport application and renewal services. If you need to renew your Philippine passport, the following documents need to be submitted during your scheduled appointment.
Original old or expired passport.
Complete passport application form.
Photocopy of your passport's data page
Photocopy of your permanent resident card, a record of landing, and work permit.
Passport processing fee
What are the documents needed when a minor wants to obtain a passport?
Minors can apply for their Philippine passports provided that they come with both of their parents and bring the following documents to the embassy:
Birth certificate
Report of birth form
Letter from the doctor who delivered the child attesting to the birth.
Medical record of the child from the hospital where the child was delivered, in case the doctor can't be located anymore.
Original and photocopies of the passports of the parents.
Letter of consent with the signature of both parents
What happens if I lost my Philippine passport?
A lost passport is a big deal since it might be used by other people in different transactions you don't know. What you can do to avoid
Police report or case certificate
Affidavit of Loss of Passport (this can be completed in the Philippine embassy but with a separate processing fee).
Birth Certificate
Marriage Certificate if applicable
A legal document showing your name, date of birth, and place of birth.
Photocopy of your lost or destroyed passport, if applicable.
Death certificate of spouse, if applicable.
Annulment/divorce, if applicable.
Is dual citizenship allowed?
You can have dual citizenship while you are abroad. The Philippine embassy permits it provided that you obtain a certificate from them allowing you to have dual citizenship.
Tips When Visiting the Embassy
When visiting the embassy in Oman, here's what you need to do:
Go to the official website of the embassy in Oman.
Before you go to the embassy of the Philippines, it helps if you will go to the official website of the Philippine embassy in Oman first so you can check the latest news, updates, and announcements.
Complete your requirements beforehand.
As part of your application, you need to complete all the requirements beforehand. You need to bring them all to the embassy during your scheduled appointment.
Opening Hours
10:00 AM – 5:00 PM
Contact Information
Embassy of the Philippines in Muscat, Oman
Contact Person: Hon. (Ms.) Imelda Panolong – Ambassador Extraordinary and Plenipotentiary
Address: Bldg. No. 1041 / 1043, Way No. 3015, Al Kharijiya Street, Shatti Al Qurum, Muscat, Sultanate of Oman
Tel. Nos.: (+968) 2460-5335, 2460-5140, 2460-5143
Fax No.: (+968) 2460-5176
Email: muscatpe@omantel.net.om and muscat.pe@dfa.gov.ph.
Website: https://muscatpe.dfa.gov.ph/
Facebook account: https://www.facebook.com/PHLinOman/
Google Map Location
In case you are wondering where the Philippine Embassy in Oman is located, below is a map guide for you: