An Overseas Filipino Worker who was going home in the Philippines lost her money along with her "balikbayan pasalubong" for her family and friends at the International Airport. With the current situation, we're in, it is such a bitter experience to lose something so valuable.
Also Read: OFWs Share Hotel Quarantine Experiences upon Arrival in Manila
Most Filipinos decide to work outside the Philippines for a better living. There are many opportunities to work with different generous employers or big companies with a better salary abroad. Once this fellow OFW has reaped her rewards and want to share a home with her family it ended up being stolen.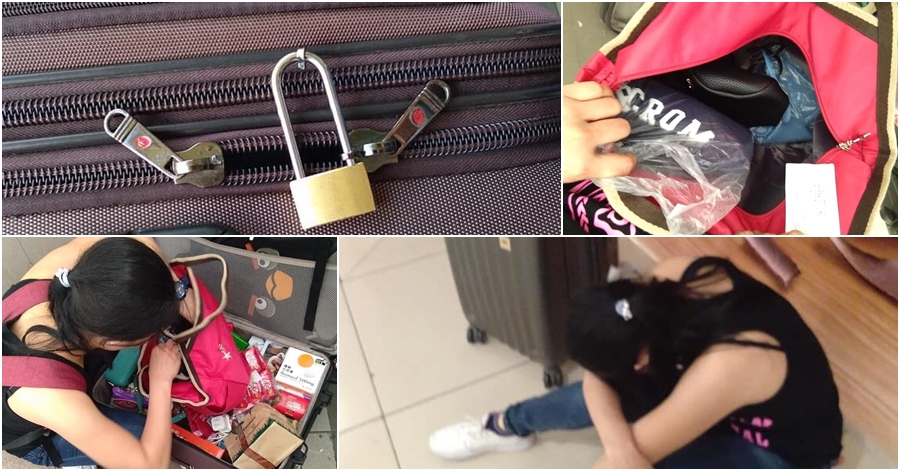 Filipina's "Pasalubong" Gone At The International Airport in Davao
According to a post on a social media website, a woman can bee seen on the floor, feeling depressed with her baggage as she did not find her souvenirs. After a moment, she realized that her chocolates, jewelry, money, and other expensive things were taken inside her baggage.
The Facebook post showed pictures of her belongings, the OFW took a photo with her bag with a lock but can be seen as opened forcefully. The victim noticed that her lock on the baggage was different after she arrived at the Davao International Airport. She looked closely and found out that her lock tampered. It was stated that she stopped at Ninoy Aquino International Airport (NAIA) before going home in Davao.
The OFW felt very miserable as the lost items were from her friends who requested to bring back with her to be handed to her friend's relatives in the Philippines.
The post became viral and many netizens sympathized with the OFWs happenings but were helpless as there's nothing much they can do but only give advice and some guidance. Some netizens were mad and cursed at the person who allegedly took the stuff from her baggage.
And another netizen showed concerned towards the victim and reminded her to double-check her belongings and make sure that they are hand-carried especially if she's carrying expensive jewelry.