In an earlier post, we shared several examples of Filipino "bugtong" or riddles. This time around, we are going to discuss another well-known Filipino word game… a game that's popular on TV and played in most parties: Pinoy Henyo.
"Pinoy Henyo" literally means "Filipino Genius" in Tagalog. It is an exciting game of knowledge, speed, and wit. This game has become so popular that there's even a mobile app for it on Google Play and the App Store! In this article, we shall learn more about Pinoy Henyo — the mechanics, techniques, and sample word lists.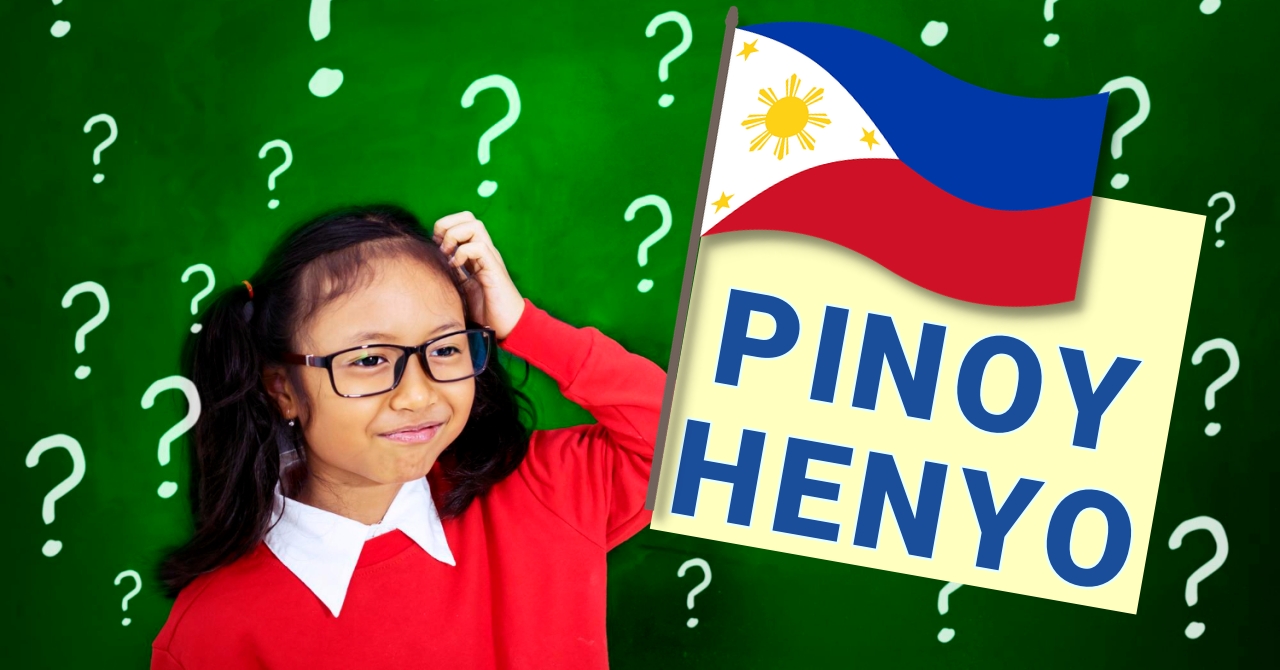 What is Pinoy Henyo?
In 2004, Pinoy Henyo started out as one of the segments in "Eat Bulaga!," a popular noon-time variety show in the Philippines. Since then, the game has been played everywhere — in schools, at home, and even in office parties. There's really something about this game that has caught the attention of many Filipinos!
How to Play Pinoy Henyo?
You only need two (2) people to play Pinoy Henyo; but of course… the more, the merrier! Here's how the game is usually played in the show, Eat Bulaga!:
Three teams, consisting of two members each, shall play the game. For each team, one is called the "guesser" (i.e. the person who asks questions and guesses the word), while the other is the "responder" (i.e. the person who answers the questions).
Each team is called to play, one at a time. The two players are seated, facing each other. Their hands are tied because hand gestures are not allowed. As soon as they're ready, a word flashes on the digital board attached to the head of the guesser. The word cannot be seen by the guesser, but it is visible to the responder.
Within two minutes, the guesser should be able to identify the word (or words) being flashed on the digital board. To guess the word, he/she can ask questions, to which the responder can reply using the words "oo" (yes), "hindi" (no), or "pwede" (maybe) only. If the responder utters a word other than oo, hindi, or pwede — a 3-second deduction is taken from the team's alloted time.
After the first team, the second and third teams play the game. The team that guesses the highest number of correct words — in the shortest time — wins the game!
List of Pinoy Henyo Words
A word used in playing Pinoy Henyo usually falls under any of these categories: (a) tao (person); (b) hayop (animal); (c) lugar (place); (d) pagkain (food); or (e) bagay (thing). It may be a Filipino word or an English word; it could also be a single word or a compound word.
Below is a list of the major categories of Pinoy Henyo words. For each category, we have included sub-categories, along with the actual words themselves. In addition, we have also given some tips and suggestions for each category.
Examples of "Tao" (Person)
This category is typically divided into two (2) sub-categories: (a) persons/names of persons; and (b) parts of the body.
Persons/Names of Persons
This sub-category may be further classified into the following:
Actor/Actress – Vic Sotto, Alden Richards, Piolo Pascual, Tom Cruise, Will Smith
Hero – Jose Rizal, Gabriela Silang, Andres Bonifacio, Apolinario Mabini
Politician – Rodrigo Duterte, Miguel Zubiri, Bill Clinton, George Bush
Singer – KZ Tandingan, Gary Valenciano, Taylor Swift, Frank Sinatra
Cartoon Character – Mickey Mouse, Princess Sophia, Goofy, Bugs Bunny
When trying to guess the name of a person, be sure to ask for: the person's gender, the country where he/she is from, the year when he/she became famous, and so on. You can also ask whether the person is dead or alive, real or fictional, etc.
Parts of the Body
This sub-category includes the following examples:
Upper Body – head, neck, lips, chest, ears
Middle Part – chest, stomach, navel, elbow, hands
Lower Body – thighs, knees, ankle, feet, toes
External – skin, hair, nails
Internal – bone, nerves, blood, heart, liver
When guessing a part of the body, you can start by asking whether it is part of the upper, middle, or lower portion of the body. Likewise, you can ask whether it is an external (e.g. hair) or internal (e.g. heart) part of the body.
Examples of "Hayop" (Animal)
Your elementary science lessons will surely come in handy in this category! Here are some examples of animal sub-categories and their examples:
Terrestrial (Land) – tiger, rhinoceros, cheetah, hyena, fox
Aquatic (Water) – dolphin, whale, jellyfish, shrimp, shark
Aerial (Air) – eagle, parrot, owl, crow, pigeon
Insects – mosquito, bee, ant, fly, grasshopper
Pets – dog, cat, bird, fish, rabbit
Farm Animals – cow, hen, duck, goat, horse
Zoo Animals – elephant, lion, giraffe, ostrich, zebra
Based on these sub-categories, you can easily determine an animal by asking whether it lives on land (terrestrial), water (aquatic), or in the air (aerial). You can also inquire if it's domesticated (e.g. a pet), or often found in a farm or a zoo.
Examples of "Lugar" (Place)
When trying to guess the name of a place, the first question you should ask is whether it is: (a) local; or (b) international.
Local Places
Local places are those that are situated within the Philippines. Geographically speaking, it's best to continue your line of questioning by asking whether the place is in any of the major islands — Luzon, Visayas, or Mindanao.
Luzon – Baguio City, Mayon Volcano, Metro Manila, Pangasinan, Santa Rosa
Visayas – Iloilo City, Boracay Island, Gigantes Island, Cebu City, Negros Oriental
Mindanao – Davao City, Siargo Island, General Santos City, Agusan del Norte
Landmark – Araneta Coliseum, Philippine Arena, Tubbataha Reef, Pagsanjan Falls
Places could refer to a specific town, city, province, or region. It could also be referring to a famous landmark — either natural or man-made. Consider these things when trying to guess the name of a place.
International Places
If the place is not local, but international, you can continue by asking about which continent it is located:
Asia – Brunei, Thailand, China, India, Petronas Towers, Mekong River
Oceania – Australia, New Zealand, Great Barrier Reef, Sydney Opera
North America – United States, Canada, Statue of Liberty, Alaska, Niagara Falls
South America – Brazil, Argentina, Paraguay, Chile, Amazon River
Europe – United Kingdom, Italy, Spain, Eiffel Tower, Leaning Tower of Pisa
Africa – Nigeria, Kenya, Zimbabwe, Ivory Coast, Victoria Falls
Once you have determined the continent, continue by asking the name of the country, city, and so on. Keep in mind that the place may also be referring to a natural landmark (e.g. waterfall, river, mountain), or a man-made one (e.g. Petronas Towers, Statue of Liberty).
Examples of "Pagkain" (Food)
There are many sub-categories under food. Here are some of the most common examples:
Breakfast – egg, pandesal, ham, coffee, fried rice
Lunch or Dinner – fried chicken, sinigang, kare-kare, pochero, adobo
Snacks – pansit, puto, ensaymada, bitso, kutsinta
Condiments – suka (vinegar), patis (fish sauce), toyo (soy sauce), ketchup
Vegetables – sayote, labanos (radish), okra, pechay, lettuce
Fruits – saging (banana), pinya (pineapple), mansanas (apple), dragon fruit
Street Food – balut, penoy, isaw, kwek kwek, adidas
Desserts – leche flan, gulaman (jelly), cake, maja blanca, ref cake
When trying to guess a specific kind of food, ask whether it is typically eaten during breakfast, lunch, dinner, or snack time. You could also ask whether a dish is dry or soup-based. When it comes to vegetables, try enumerating the list of veggies in the song "Bahay Kubo" — the answer could be right there!
Examples of "Bagay" (Thing)
Among the major categories of the Pinoy Henyo game, "bagay" (thing) is perhaps the biggest category. It includes basically everything (except food). So how do we begin? One tried and tested method is by asking, "Is the item often found inside, or outside the house?"
Inside the House
If the item is usually found inside the house, you can continue by asking: Which part of the house is it located? Living room? Bedroom? Kitchen? Bathroom?
Living Room – sofa, television, coffee table, carpet, wall clock
Bedroom – bed, closet, dresser, pillows, blanket
Kitchen – refrigerator, stove, air fryer, pitcher, kettle
Bathroom – toilet bowl, shower, sink, shampoo, pail
Outside the House
If the item is usually found outside the house, you can continue by asking whether it is located in school, office, hospital, and other places:
School – blackboard, desks, flagpole, gym, school bus
Office – office table, xerox copier, fax machine, log book
Hospital – x-ray machine, dextrose, wheelchair, stethoscope
Aside from the above sub-categories, other classifications for "bagay" (thing) are: clothes, vehicles, gadgets, decorations, and many more.
Tips for Playing Pinoy Henyo
Now that you have a better idea about the most common categories and sub-categories involved in Pinoy Henyo, you are probably thinking about how you can further improve your chances of winning the game. Here are some tips and suggestions:
Think systematically. Always begin your questions with a system in mind. After learning the main category (e.g. place), your next questions should be able to narrow the topic down quickly and efficiently (e.g. international -> Asia -> Southeast Asia -> Singapore).
Visualize. Use your imagination and visualize. For example, once you learn that a "bagay" (thing) is located inside the living room, imagine yourself in your own house, going over the things that can be found in your living room.
Develop a strategy. Together with your partner, develop a question-and-answer strategy that can help you identify answers quickly. For instance, if your partner (the guesser) is going way "off topic," you can respond with a long and exaggerated "hindeee (nooo)" as a signal for him/her to change his/her line of questioning.
Practice, practice, practice! It's always a good idea to practice with your partner. Make sample lists and practice your question and answer skills. Set a timer so that you can keep track of how fast you're able to guess the correct answers.
Video: High School Students Win Pinoy Henyo Jackpot
Here's a great example of Pinoy Henyo, as featured in the TV show, "Eat Bulaga!" The participants, who are high school students, were able to win the jackpot prize!
Summary
Today, Pinoy Henyo is played not just on TV, but in schools, birthday parties, family reunions, and other events across the Philippines. In fact, some have started referring to it as the "pambansang laro ng bayan" (the country's national game) due to its popularity. If you haven't played Pinoy Henyo yet, you should definitely include it in your next party!
Meanwhile, another exciting game that involves words are tongue twisters. If you're preparing games for an upcoming party, check out these Pinoy tongue twisters so you can include them in your list!