Cheerfulness and optimism are among the positive traits of Filipinos. Indeed, Pinoys are able to laugh and find humor in almost anything — even in the midst of calamities, economic problems, and other crises. In the world of social media, this trait is evident as well… in the form of memes.
In this article, we have compiled a list of the most memorable Pinoy memes that are sure to tickle your funny bone! Whether it features a celebrity, cartoon character, a place, or a Filipino tradition, these memes will make you think, wonder, and LOL (laugh out loud)… all at the same time!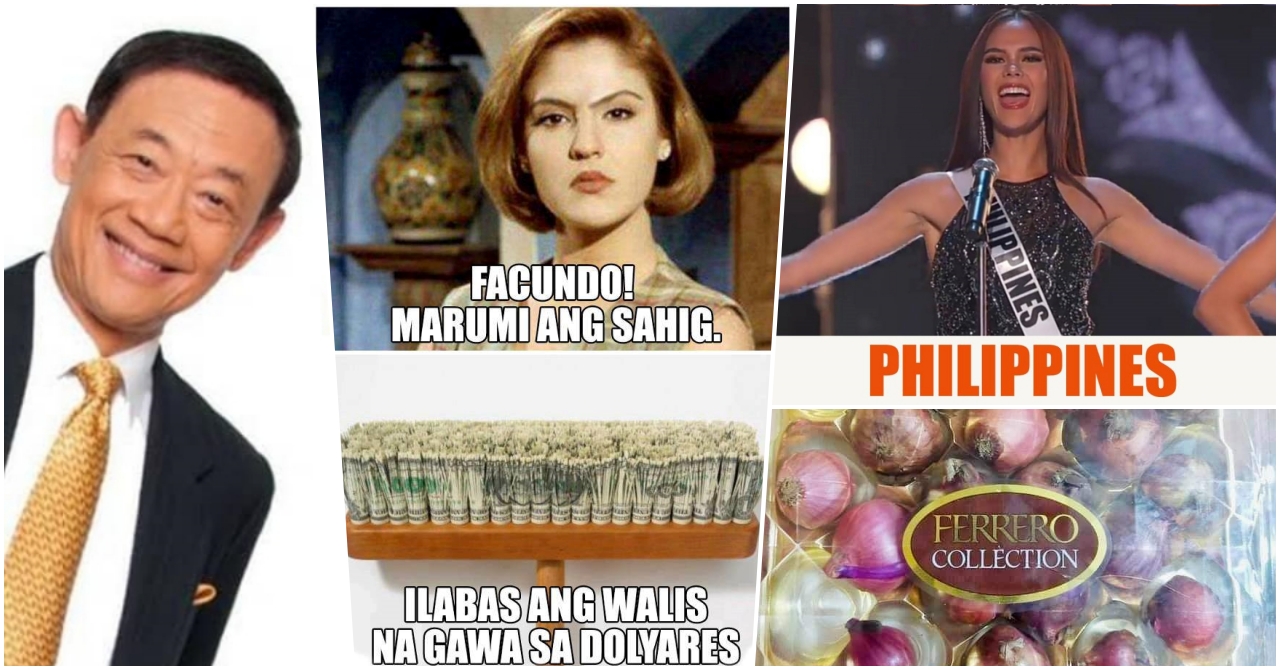 What is a Meme?
Before we begin, let's talk about the word "meme" first. According to the Merriam-Webster Dictionary, a meme refers to "an amusing or interesting item or genre of items that is spread widely online, especially through social media." Similarly, Collins Dictionary defines meme as "an image or video that is spread widely on the Internet, often altered by Internet users for humorous effect."
Notice that these definitions mention the terms "amusing" and "humorous." In other words, memes are meant to be funny, and Filipinos are very good at poking fun at almost anything! They can't help it! Pinoys are a cheerful lot!
List of Popular Pinoy Memes
And so, without further ado, here is a list of the most popular Pinoy memes of all time. Most of these have garnered thousands upon thousands of likes on social media, and many continue to be replicated to this day. Enjoy!
1. Batman and Robin
Batman and Robin are famous all over the world, but perhaps the most popular meme featuring them is the one where Batman slaps Robin. In the Philippines, this meme has been replicated so many times that we've lost count!
In this meme, for instance, Robin says "Bahala na si Batman sa test (The test results are up to Batman)," to which Batman replies, "Ikaw ang nag-aral, 'di ako! Ako na naman (You're the student, not me! It's always me)."
If you're a student, you've probably said "Bahala na si Batman" a lot. In this meme, however, "Batman" is no longer amused, but fed up!
Meanwhile, in the following meme, Robin claims, "
May bago akong iPhone
(I have a new iPhone)!" However, Batman is not amused and slaps him, saying "
Puro ka iPhone, wala ka ngang ipon
(You have an iPhone, but you don't have any savings)!"
Funny but true! Some Pinoys are concerned about getting the latest model of mobile phones, to the point of getting a loan just to buy one. Hence, they end up not having any money or savings left!
2. Daniela Mondragon
In 2019, the Filipino telenovela "Kadenang Ginto" (Golden Chain) became extremely popular, and one particular scene stood out. The fiery antagonist, Daniela Mondragon (played by actress Dimples Romana) was dressed in red, pulling a matching suitcase, an expensive Chanel bag in hand.
For some reason, this scene became so famous that netizens began editing the character into various places and situations. In the meme below, Daniela can be seen glaring at a lovey-dovey couple, saying "Maghihiwalay din kayo (You'll break up someday)." Talk about being bitter!
Interestingly, even Dimple's husband joined in the fun and posted his own meme. In this picture, he pretends to be in pain while his wife appears to be dragging him by the ears. LOL!
3. It's More Fun in the Philippines
In 2012, the Philippine government launched a tourism campaign with the slogan, "It's More Fun in the Philippines." Many people reacted because it sounded too similar to the 1951 Swiss tourism slogan, "It's More Fun in Switzerland."
Nonetheless, the slogan actually became popular among Pinoys, to the point that many created their own memes out of it. Even Philippine towns and municipalities began using the phrase "It's More Fun in (name of town/city)" to promote local tourism.
Likewise, many individuals and businesses began using the phrase, "(Name of activity). More fun in the Philippines," as a promotional campaign. Check out the following meme, which features the Pinoy version of "change of address" (i.e. "bayanihan," or the traditional method of moving houses).
4. Sarcastic Wonka
In 1971, American actor Gene Wilder played the mischievous character, Willy Wonka, in the film, "Willy Wonka and the Chocolate Factory." There's a scene where his character's expression appears so condescending and sarcastic, that it spawned numerous memes around the globe, including the Philippines.
In the meme below, Willy Wonka appears to be saying (with sarcasm), "Sabi mo lahat ng lalaki manloloko… Sabihin mo ngayon lahat ba ng babae malinis (You say all men are cheaters… But can you also say all women are faithful)?" What about you? Do you agree or disagree with what Willy Wonka said?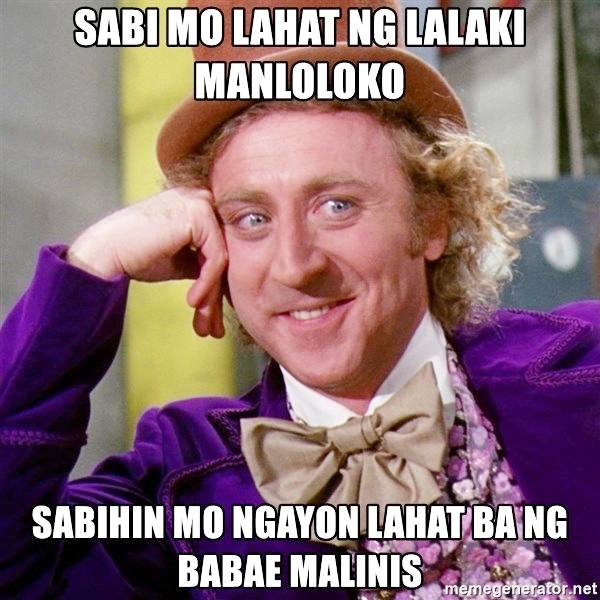 5. Dolomite Beach
In 2020, the "Manila Baywalk Dolomite Beach" was opened in Manila. During opening day, a huge crowd of people came, resembling a throng of fans, all eager to see the new beach and its gleaming white sand. Thus, the #ManilaBayChallenge was born, and everyone, including celebrities, made their own memes out of it!
The challenge was to put the picture side by side with another photo. For instance, young actress Andrea Brillantes shared this post, making it seem as if the crowd was eager to see her on the beach:
On the other hand, comedian Michael V. shared his own meme, declaring "
May himala
(It's a miracle)!" as he posts a picture of himself appearing to float or levitate above the water. This guy is so funny!
6. Catriona Gray
In 2018, Catriona Gray made the whole country proud after winning the prestigious Miss Universe pageant. Aside from the millions of celebratory and congratulatory posts, however, there were thousands of memes inspired by the Filipina beauty.
During the pageant, there's a scene where Ms. Gray appears to be introducing herself and her country, spreading her arms and declaring "Philippines!" This particular scene inspired memes that poked fun and sarcasm at Pinoy culture.
Here's an example of a meme, stating "Mula sa bansang kung sino pa ang kabit, s'ya pa ang matapang (From the country where the mistress is the aggressive one)… Philippines!" Even more aggressive than the legal wife. Yikes!
And here's another example, stating, "
Mula sa bansang kung kelan late ka na. Dun pa lang magpapa-gas ang driver
(From the country where the driver stops for gas when you're already running late)…
Philippines
!" Commuters can relate!
7. Krisis sa Sibuyas (Onion Crisis)
In 2022, the Philippine experienced an onion crisis. By the end of last year, the price of red and white onions had reached an all-time high at PHP 700 per kilo!
Seeing the humor despite an economic crisis, many Filipinos created memes out of the situation. Onions became so expensive that people began comparing them to gold and other expensive items. In the meme below, onion was deemed equal to Ferrero Rocher, an expensive chocolate brand!
8. Nanay at Anak (Mother and Daughter)
We're not quite sure how this meme began, but it suddenly became popular all over the Internet. It's a drawing that features a "nanay" (mother) staring at her "anak" (daughter), who appears to have just gotten home and seems upset.
Naturally, the scene inspired many Filipino memes. In this meme, the mother is asking "Anak, akala ko ba mag babasketball kayo ng tropa mo (Child, I thought you were going to play basketball with your friends)?" to which the grumpy daughter replied, "May nagzuzumba po Nay! Wala namang pumapayat (There's a zumba session going on, Mom! But none of them's getting slimmer)!"
Meanwhile, in the following meme, the mother is asking "
Anak, nasaan yun jowa mo? Gusto ko na s'ya makita at makilala
(Child, where is your boyfriend? I want to meet him)." The girl replies, "
Ma, pareho lang tayo. Gusto ko na rin siya makita at makilala
(Mom, we're just the same. I want to finally meet him, too)." Maybe this is something that "singles" can start using as a witty response?!
9. Senyora Santibañez
In the 1990s, a Mexican telenovela, "Marimar," became very popular in the Philippines. Aside from the titular character, there's another character whose face remains popular to this day: Senyora Santibañez. She is the show's main antagonist, portrayed so convincingly by Mexican actress Chantal Andere.
In 2007, there was a Philippine remake of Marimar, and Senyora Santibañez became even more popular than ever. Thousands of memes featuring her beautiful, yet snobbish expression, became viral. Check out this meme where the Senyora is saying "Facundo! Marumi ang sahig. Ilabas ang walis na gawa sa dolyares (Facundo! The floor is dirty. Bring out the broom made of money)!"
NOTE: Facundo is a servant character in Marimar.
Nowadays, Senyora Santibañez is still very much popular in the Philippines, with her own Facebook page and millions of followers!
10. Jose Mari Chan
Last, but not the least, there's Jose Mari Chan. This Filipino singer has created numerous hits, but perhaps it is his Christmas songs that are truly memorable… So much that people have begun associating him with the occasion itself!
Every year, before the month of September, memes featuring Jose Mari Chan are shared excitedly by Filipinos. His songs — Christmas in our Hearts, A Perfect Christmas, and Mary's Boy Child — are played non-stop on the radio. And as we all know, the "ber" months mark the beginning of the Christmas season in the Philippines. Jose Mari Chan's songs — and cheerful countenance — actually serve as a yearly reminder!
In this meme, the famous singer is featured side by side with American singer Mariah Carey, whose hit "All I Want for Christmas is You" is another Pinoy favorite. Together, these two singers can truly say "Ber months na… maririnig mo na naman kami (Ber months are here… you'll be hearing us again)."
Summary
As you can see, Pinoy memes can be humorous, sarcastic, and even nostalgic. They embody the Filipino's sense of humor, optimism, and unique culture. With every pageant win, economic crisis, and telenovela — we can only look forward to more memes to be created and enjoyed by many Filipinos!
Speaking of humor, another thing that Pinoys are good at are knock-knock jokes. Check out this list of the funniest Filipino knock-knock jokes that you can share with your friends!