Have you already updated your travel goals for this year? And if you're new to Singapore, then having a handy guide (or a short read about it) can help you get the most out of your trip. In this article, we'll be talking about what you need to know about public transportation in Singapore.
From the city-state's public transportation system to the best ways to get around, this guide will help you navigate the country's capital city. Let's get started.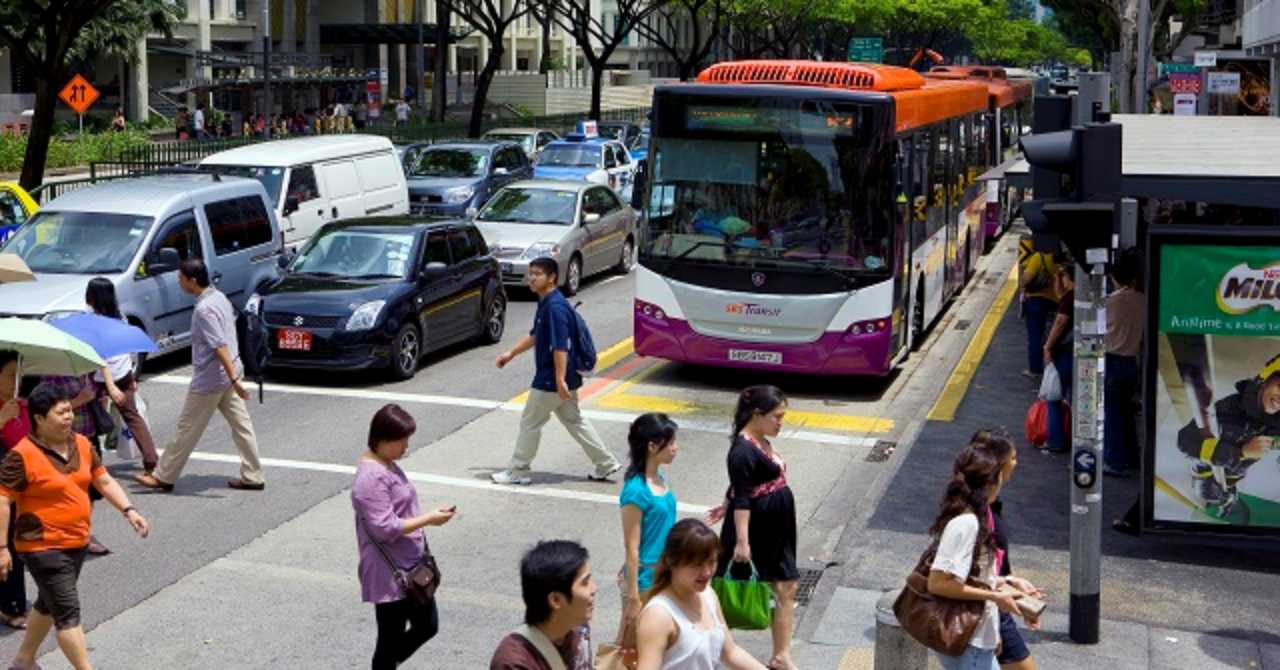 Singapore's Public Transportation
Singapore's public transport system is modern, efficient, and reliable. It consists of buses, trains (MRT and LRT), and taxis. The MRT (Mass Rapid Transit) is a rapid transit rail system that serves the city and suburbs, and the LRT (Light Rail Transit) is a smaller rail system that serves certain areas of the city. Both the MRT and LRT have extensive networks, with multiple lines and frequent service.
There are also many bus routes in Singapore, and bus service is often the most convenient way to get around the city, especially to areas not served by the MRT or LRT. Taxis are also widely available in Singapore, and they can be hailed on the street or booked in advance through a smartphone app.
Overall, Singapore's public transport system is a convenient and affordable way to get around the city. We'll go through each of the transport options in the city-state hub in the following sections:
Buses
Singapore's extensive bus system is clean and efficient, spanning nearly every corner of the island and even reaching Malaysia. The majority of public transportation buses and bus stations are wheelchair accessible and have visual-impaired passenger aids. Singapore's two principal public bus providers are SBS Transit and SMRT.
On Fridays, Saturdays, and the eves of public holidays, between 11.30 p.m. and 4.35 a.m., SMRT provides late-night bus services between the city and neighboring suburbs.
Go-Ahead Singapore and Tower Transit Singapore are two additional Singapore bus providers that provide reliable service. The distance traveled between two points determines the fee. A typical four-kilometer bus ride costs 99 cents on the card and 170 cents in cash. The charge then increases by about ten cents every kilometer.
EZ-Link cards are accepted on Singaporean bus routes. These pre-paid cards greatly simplify cash transactions. If you want to pay with cash, you must provide the correct fare because there is no way to provide change.
Types of Bus Services
Trunk Bus Services: These are the buses that run the backbone of the city's public transportation system. They run long routes that can take you from one part of the city to another.
Feeder Bus Services: These provide transfers from bus interchanges and stations to nearby areas, including industrial zones and housing estates.
Premium Bus Services
During the peak hours, premium bus services operate between major commercial and residential areas, such as the CBD and industrial parks. They provide a more direct connection to the public transportation system than the traditional bus route. These services are operated by bus operators based on their commercial considerations.
City Direct Services
City Direct Services provides commuters with a convenient alternative to the central business district and major residential estates during the peak hours of the week.
Midnight Bus Services
Both Night Owl and Night Rider are late-night buses that are operated by SBS Transit and SMRT Buses. These services run from the city to various residential areas. They are usually operational from midnight to 2 am on weekends and public holidays.
Shuttle Bus Services
A shuttle bus service is a type of transportation that can be used to connect various areas of interest, such as tourist attractions, medical facilities, and commercial or retail centers. Usually, these services are operated by private bus companies.
Bus Operators in Singapore
Go-Ahead Singapore: Singapore-based Go-Ahead Singapore provides bus and passenger transport services. It was established on September 4, 2016. It is a subsidiary of Go-Ahead Group.Go-Ahead Singapore is a subsidiary of Go-Ahead Group, which is a UK-based transport operator that has over one billion annual passenger trips.
SBS Transit: The public transport operator of Singapore, SBS Transit, provides various services such as taxi, bus, and rail. It was formerly known as the Singapore Bus Services. On November 1, 2001, it was renamed to SBS Transit.
SMRT Buses: SMRT Corporation Ltd is a public transport company that provides various services. Its primary business is the operation and management of train services, such as the North-South Line. Other services include bus and private hire vehicle operations.
Tower Transit Singapore: In Singapore, Tower Transit is a bus operator. In 2015, it was awarded the first competitive tender for the operation of bus services in the country. On May 29, 2016, the first buses of Tower Transit hit the road. This marked the company's debut as an operator of buses under the contracting model. Over 300 buses and 30 services are provided by Tower Transit Singapore, which is on behalf of Land Transport Authority.
Bus Routes
There are many bus routes in Singapore, categorized as follows:
Trunk: Routes that ply between towns. (e.g. 7, 21, 53M, 133, 162M, 851, 960)
Feeder: Services that operate within a neighborhood. (e.g. 293, 334, 386, 410W, 812, 901M)
Short Trip: Routes that operate short trips along high-demand segments of a parent route. (e.g. 3A, 70B, 147A, 222A, 502A, 857A, 965A)
Jurong Industrial Service: Routes that service the Jurong and Tuas industrial areas. All of these are operated by SBS Transit, which is responsible for all bus services in the western part of Singapore's West District (which includes parts of what was previously called Jurong Town). (e.g. 247, 249, 251, 258)
Express: These routes stop at selected stops and generally run on expressways (or long stretches of the express sector) for faster travel between towns.(e.g. 43e, 174e, 502, 854e, 951E)
City Direct: The service connects passengers directly to and from the Central Business District during peak hours. Previously, private operators provided this service. (e.g. 655, 661, 666, 670)
NightRider (SMRT Buses) and Nite Owl (SBS Transit): Midnight services are held on Friday and Saturday nights, as well as the evenings before public holidays. (e.g. 1N, 3N, NR5, NR8)
Chinatown Direct: SBS Transit runs a series of routes connecting towns to Chinatown via expressways. (i.e. CT8, CT18)
Cross Border Services: The Causeway and the Second Link are two major bridges from Singapore to Malaysia. (i.e. 160, 170, 170X, 950)
Resorts World Sentosa Bus services: Resorts World Sentosa's bus services operate seven days a week, with the exception of public holidays. (i.e. 188R, 963R, RWS8)
Scheme B Bus services: Private bus operators run peak-hour services that are not mentioned on LTA's website. (For example, 621, 623, 625, & 640)
Mass Rapid Transit (MRT)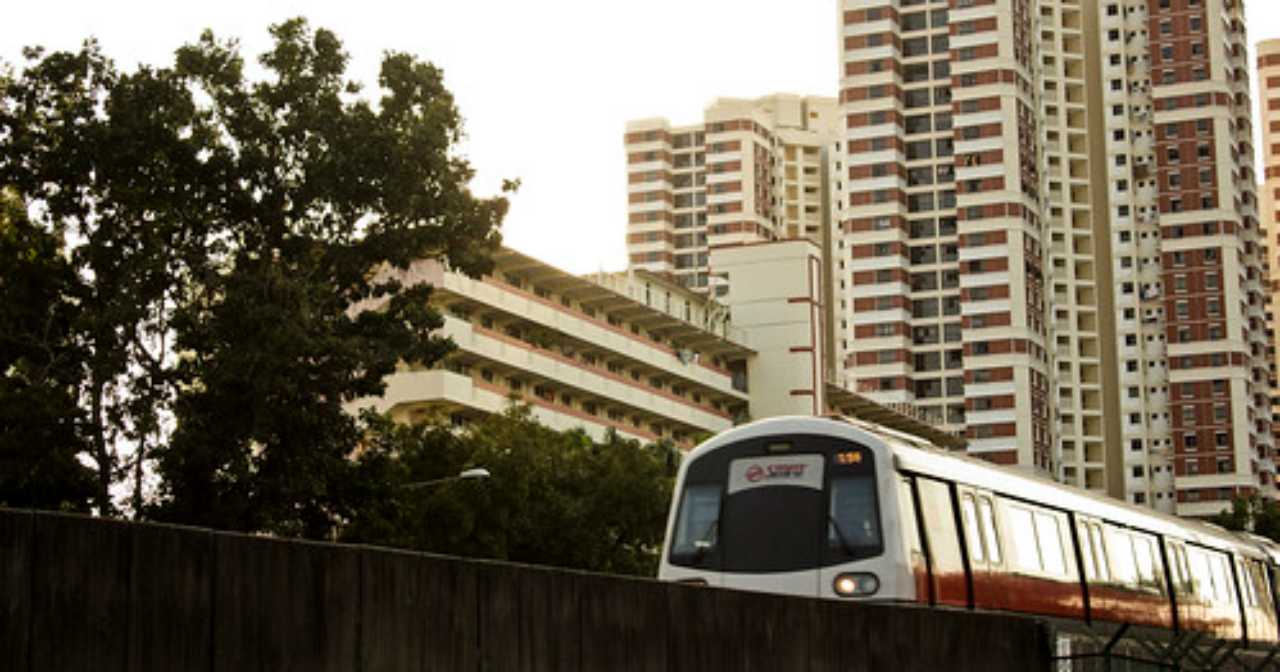 Singapore's Mass Rapid Transit (MRT) metro system is the most convenient and fastest mode of transportation. The system includes over 140 stops, six separate lines, with trains that run every 3 to 5 minutes, seamlessly and on time connecting the island nation. The trains run from 5.30 a.m. to midnight. The fare is comparable to standard bus rates, which are 99 cents for the first four kilometers and 10 cents for each additional kilometer charged on the card.
Hours
The MRT operates everyday from 5:30 a.m. to midnight, with extended hours on holidays and other special events. The train frequency on the MRT varies, with 2-3 minute intervals during peak hours (7 a.m. to 9 a.m.) and 5-7 minute intervals the rest of the day.
Fares
Depending on the distance traveled, prices range from $0.83 to $1.25 Singapore dollars (around 60 to 90 cents). Using the Singapore Land Transport Authority Fare Calculator, estimate between-stop rates.
Ticketing
The EZ-Link Pass is a stored-value, contactless smart card that may be used to pay for both train and bus tickets. Tap the card on the gantry to enter and depart the paying area; a screen will reveal the remaining value of the EZ-Link Pass.
Where to Get Passes
Passes may be purchased at MRT stations, bus terminals, and 7-Eleven locations. There are also single-journey passes available. For more information on contactless transit cards, see our article on Singapore's EZ-Link Pass.
Accessibility
MRT stations were built with ramps, elevators, and barrier-free access, as well as wheelchair-accessible bathrooms and trains with wheelchair-accessible coaches. To accommodate visually challenged and hearing-impaired travelers, Braille plates on elevators and strategically placed signs and lights have been erected. Consult the accessibility accommodations page of the Singapore Tourism Board.
How to Get to Changi Airport
Take a taxi to Tanah Merah Interchange (EW4), from which you can get a rail to Changi Airport (CG2).
Taxi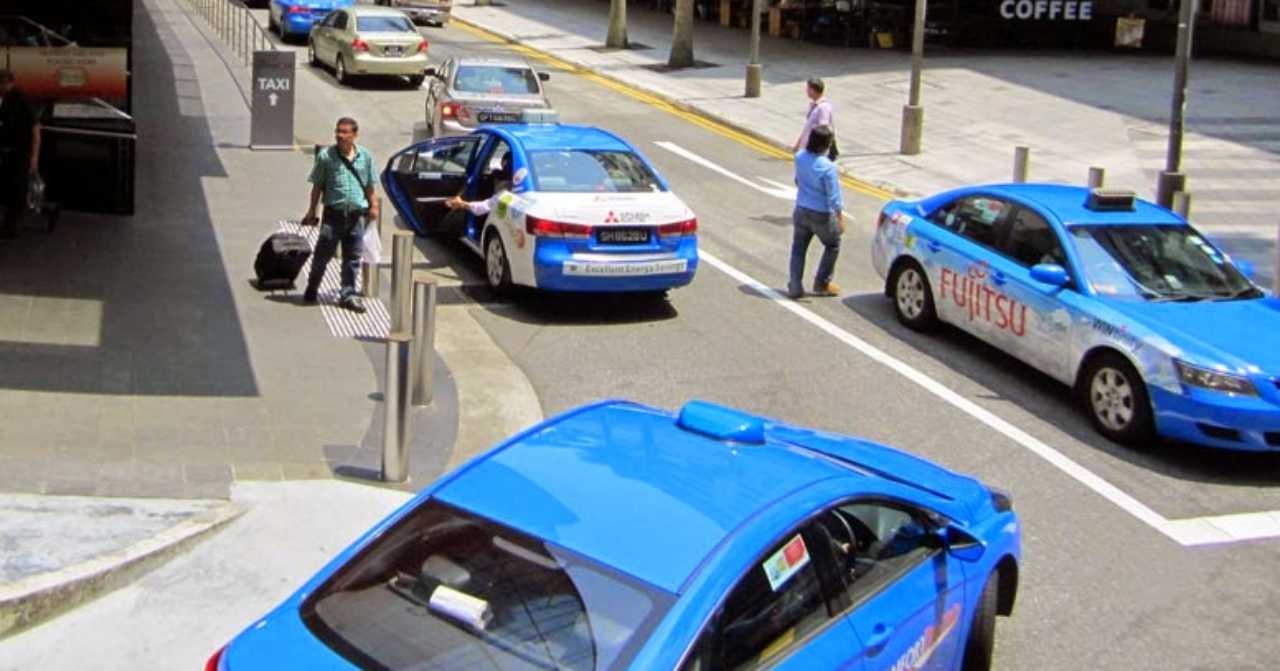 Furthermore, Singapore has a sizable taxi fleet that can be used for door-to-door transportation or to visit inaccessible destinations by bus or train. Although the majority of taxis in Singapore are privately operated, the Land Transport Authority of Singapore regulates their services and pricing. These taxis can be reserved by phone, smartphone, or simply waving your hand.
When hailing a taxi, keep in mind that they will not stop at bus station lanes or on particular roads, such as Finlayson Green, High Street, Orchard Link, and Esplanade Drive. Look for a designated taxi stand or use an app to call a taxi. The length of your journey determines your fare. A regular cab in Singapore costs roughly SGD 4, followed by 25 cents for every 400 kilometers traveled up to 1 kilometer and then 25 cents for every 350 kilometers. Peak-hour and late-night rides would be subject to a fee.
Taxi Fares & Payment Methods
In Singapore, taxi fares are determined by companies. They can vary depending on the type of ride, the location, and the model used. Some surcharges apply to certain bookings.
The LTA and the Public Transport Council work together with bus operators to ensure that the fare structure is easy to understand.
Payment Modes
Peak hours are 6 a.m. to 9:30 a.m., Monday through Friday (excluding holidays), and 6 p.m. to midnight, every day, including holidays.
Except for Premier ($4.50) and Prime ($3.30), the booking fee for all enterprises is $3.30.
All other times, the cost of booking is $2.30 for all airlines, excluding Premier and Prime ($2.50).
Taxi Operators
In Singapore, there are seven taxi operators. Each of them has their own unique fleet livery. Saloon-car taxis can accommodate up to four passengers. On the other hand, premium services offer more space for luggage and accommodate more people.
You can find out more about each taxi operator by visiting their websites. They can also be reached by calling them or using their apps.
Comfort and CityCab
Singapore's leading taxi company, ComfortDelGro Taxi, has a fleet of over 10,000 CityCab and Comfort taxis. It offers 24-hour services and can be book through its app.
Gojek
Gojek is Southeast Asia's leading on-demand tech platform that provides various services, such as food delivery, transportation, payments, and logistics. It was founded in 2010 to provide solutions to Jakarta's traffic problems. Initially, it was a call center that only had 20 motorcycle-taxi drivers.
Grab
Grab values your safety and security in every interaction with it as an everyday app that fits your daily needs. Grab will always be there to protect you, whether you are traveling, paying for food, or placing an order.
Premier Taxis
Premier Taxis is committed to providing the best possible taxi rides to our customers. We only use the finest vehicles and are trained to ensure that our drivers meet the expectations of our passengers.
Prime Taxi
Singapore's Prime Taxi is one of the newest and smallest players in the taxi market. Since August 2007, it has used compressed natural gas (CNG) and petrol as its fuel.
RYDE
Rather than focusing on the destination, RYDE is all about the journey. Each trip is an adventure, and you never know who will be joining you along the way. There are so many beautiful stories that are told daily, that remind us of what is good in us.
SMRT Corporation
SMRT Corporation is a public transport company that provides various services. Its primary business is the operation and management of train services on multiple lines, such as the North-South Line and the East-West Line. Other services include bus, taxis, and private hire vehicles.
Trans Cab
On April 28, 2003, Trans-Cab Services Pte Ltd was incorporated. It is mainly engaged in providing an effective and efficient solution to commuters' transportation needs by operating a fleet of taxis. Its subsidiary, Trans-Cab Logistics Pte Ltd, is a company that is involved in the purchase and sale of diesel.
Trishaw and Bicycle
Singapore is a small island country with neighboring areas that can be explored by bicycle. Singapore has built 525 kilometers of bicycle paths and facilities to allow residents and visitors to explore the city-state at their leisure, despite traffic congestion on the roads. You can also rent foldable bicycles that can be easily transported on public transportation!
Three-wheeled bicycle taxis or trishaws, which were once popular modes of transportation in Singapore, are no longer widely available. However, Trishaw Uncle, Singapore's only legal trishaw tour operator, offers unique journeys through charming areas. These modes of transportation are ideal for taking in Singapore's scenic views at your own pace.
Video: Getting Around Singapore – Types of Transportation
Here's a vlog about Singapore's public transportation system, and what types of transportation you can get in Singapore. This video will show you how easy it is to navigate Singapore. Watch it until the end to pick up on some of the tips from the vlogger on how to get around neighborhoods like Little India, Chinatown and Kampong Glam.
Frequently Asked Questions
1. What are the different modes of public transport available in Singapore?
The different modes of public transport available in Singapore are buses, trains (MRT and LRT), and taxis.
2. How do I purchase tickets for the MRT, LRT, and buses?
You can purchase tickets for the MRT, LRT, and buses at ticket vending machines located at MRT stations, LRT stations, and bus interchanges, or you can use an EZ-Link card, which is a stored-value card that can be used on all public buses and trains in Singapore. You can also use your phone to pay for public transport in Singapore through the SG QR app, which allows you to pay using a QR code.
3. Can I use my phone to pay for public transport in Singapore?
Yes, you can use your phone to pay for public transport in Singapore through the SG QR app. The SG QR app allows you to pay for your MRT, LRT, and bus rides using a QR code, which you can scan at the fare gates or on the bus. To use the SG QR app, you need to link your credit or debit card to the app and have a data connection on your phone. You can also use the SG QR app to purchase tickets for attractions and events, and to pay for goods and services at participating merchants.
4. Is there a discount for students or senior citizens on public transport fares?
Yes, there are discounts available for students and senior citizens on public transport fares. Students can apply for a concession card, which allows them to pay a discounted fare on all public buses and trains. Senior citizens aged 60 and above can apply for a seniors' card, which allows them to pay a discounted fare on all public buses and trains.
5. Are there any passes or travelcards available for tourists visiting Singapore?
Yes, there are passes and travelcards available for tourists visiting Singapore. The Tourist Pass is a stored-value card that allows unlimited travel on all public buses and trains (excluding the airport train lines) for a fixed number of days. The Singapore Tourist Pass Plus is a bundle that includes the Tourist Pass and additional discounts and perks, such as discounts on attractions and dining.
6. How do I get from the airport to the city center using public transport?
To get from the airport to the city center using public transport, you can take the MRT. The Airport MRT station is located at Terminal 2 and Terminal 3 of Changi Airport. From the airport, you can take the East-West Line or the Downtown Line to get to the city center.
7. Are there any disruptions or maintenance works on the MRT or bus lines that I should be aware of?
Yes, there may be disruptions or maintenance works on the MRT or bus lines from time to time. You can check the status of the MRT and bus lines on the Land Transport Authority's website or on the SG Buses app.
8. Can I bring my bicycle on the MRT or buses?
In general, you can bring your bicycle on the MRT or buses as long as it meets the size requirements for bicycles allowed on the train or bus and as long as you follow the rules and guidelines for bringing a bicycle on the train or bus.
For the MRT, most stations have designated areas where you can park your bicycle while you ride the train. Some stations also have bike racks or lockers where you can secure your bicycle while you ride the train. When you bring your bicycle on the MRT, you will typically need to fold it up and carry it with you on the train. Some MRT systems may also have designated carriages for bicycles, but this can vary depending on the location.
For buses, the rules for bringing a bicycle on board can vary depending on the operator and the specific bus route. Some buses may have designated areas for bicycles, while others may not allow bicycles on board at all. It's a good idea to check with the specific bus operator or refer to their guidelines before bringing your bicycle on a bus.
Final Thoughts
Because Singapore is one of the world's smallest countries, with a geographical area of only 730 square kilometers, its public transportation system and infrastructure are extensive, efficient, well-maintained, and consistent. It has an outstanding transportation infrastructure network that provides easy and affordable public transportation throughout the city-state nation. Because public transportation is easily available in Singapore, relying on private transportation during a trip is unnecessary.
As always, we hope you've found this article useful! If you have any questions or comments, feel free to leave them in the section below.
READ NEXT: Pros and Cons of Working as a Filipino in Singapore