If you are planning to work in Qatar as a domestic helper, you need to know your rights and privileges. A new law has been approved by the Emir of Qatar, Shiekh Tamim Bin Hamad Al Thani, concerning the labor rights of all domestics workers in Qatar.
The "Domestic Worker's Law" that was ratified August of this year, protects all workers in the home as it outlines conditions that need to be followed by the employers to ensure that the well-being of all domestic workers are cared for. This law is also applicable to all those performing house works such as drivers, cooks, gardeners and nannies, among others.
Related Post: How to Renew Your Philippine Passport in Doha, Qatar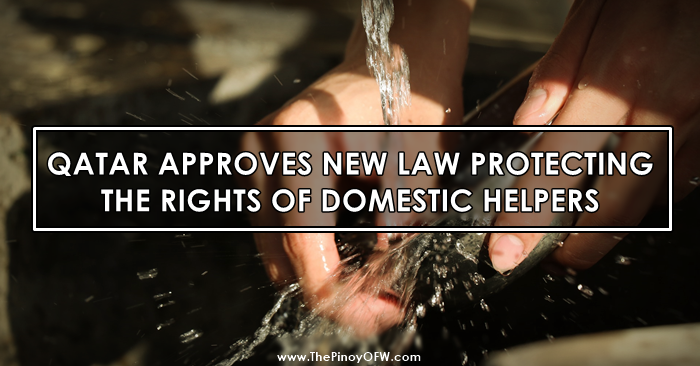 Qatar's Domestic Worker's Law will protect the labor rights of all service workers in the home
Here are your labour rights as outlined in the newly enacted law:
Workers should NOT exceed 10 working hours daily
Workers should be given a weekly rest day
Workers are entitled to 3 weeks leave
An end-of-service payment of the last 3 weeks per year should be given
On top of these, Law No. 15 on service workers in the home or the "Domestic Workers Law" outlines requirements that employers need to adhere to in the employment of all domestic workers.
Qatar Approves New Law Protecting Rights of Domestic Workers
Here are other provisions stipulated in the newly enacted law:
Employers should treat domestic workers "in a good manner that preserves their dignity and bodily integrity"
They should not harm the domestic workers, either physically nor psychologically
Employers should not endanger the life or health of the worker
Domestic workers should be provided with medical treatment of any illness or injuries
If on sick leave, a domestic worker should not be compelled to work by the employer
They should be provided compensation for injuries related to their work in line with the Labor Law of the country
Employers should ensure adequate food and shelter is provided to all domestic workers
An employer is not allowed to take-out from the domestic worker's compensation, the recruitment fees that the former paid the labor agency.
The same as other laws, any violations to the "Domestic Worker's Law" will be subject to corresponding fines.
Awareness is key! Let us make sure that all domestic workers are aware of these rights so they can identify when these rights have been violated and can take actions accordingly.