President Rodrigo Duterte orders the government to discharge OFWs who have been stranded in Manila due to quarantine. He wanted to make sure that our fellow Filipinos are sent back to their respective hometowns. There are a lot of Filipino workers who are quarantined for more than 14 days because their test results have not come back yet.
President Duterte instructed DOLE, OWWA, DOH that they only have one week to bring our countrymen back home. He stated that these fellow OFWs have already suffered enough by working many years outside the Philippines and Duterte wants to make them feel they are not left out.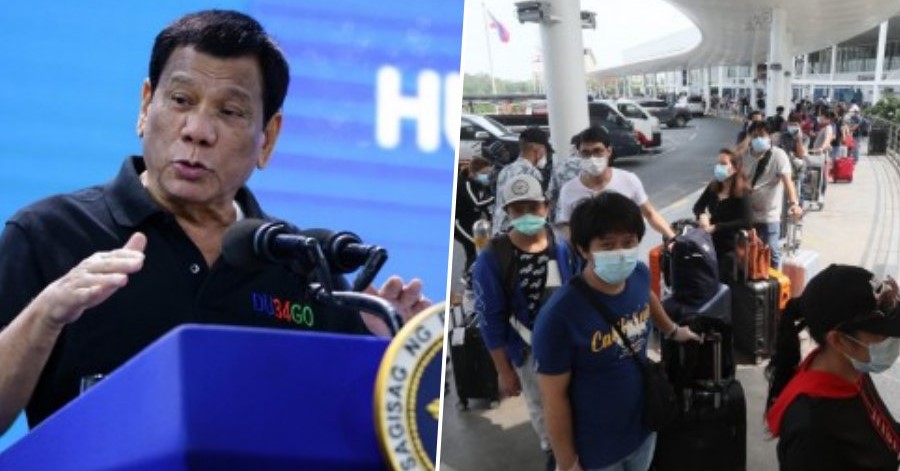 Duterte Orders to Discharge Quarantined OFWs and Bring Them Home
There are about 24,000 OFWs inside Quarantine Facilities in Manila. The president instructed the Department Of Labor and Employment (DOLE), Department Of Health (DOH), and the Overseas Workers Welfare Administration (OWWA) to discharge the tested patients.
Frustrated OFWs expressed their frustration with the government. They complained that they have been quarantined for more than 14 days and are due to receive their test results of their Covid-19. Most of these Filipino workers have already completed their quarantine period of 14 days, they are not allowed to leave the zone as the results of their tests are not yet available.
The president's spokesperson Harry Roque stated the President's orders to the administrators were to ensure that the quarantined OFWs are allowed to go to their respective homes within one week.
"Sabi po ng Presidente, ang mga ahensiya ng gobyerno ay authorized to use all resources of the government and authorized to use all modes of transportation —buses, airplanes, and ships — para mapauwi na po itong 24,000 na ating mgakababayan"
Roque added that the President does not want to add more problem to the Filipino workers who have spent a significant amount of time working abroad. "Hindi katanggap-tangap sa Pangulo ang matagal na proseso nanaka-quarantine na OFW".
Harry Roque disclosed the president's intention of having to enhance the testing procedures for OFWs so they can have the observation inside their households or residences. President Duterte does not want any delays for this procedure and does not want the same thing to happen again.