Siargao is not only attracting the younger generation with its vibrant nightlife and fun activities, but OFWs can also enjoy a calm yet scenic retired life in Siargao. If you're considering retiring and embracing island life. Here are the best reasons to retire in Siargao.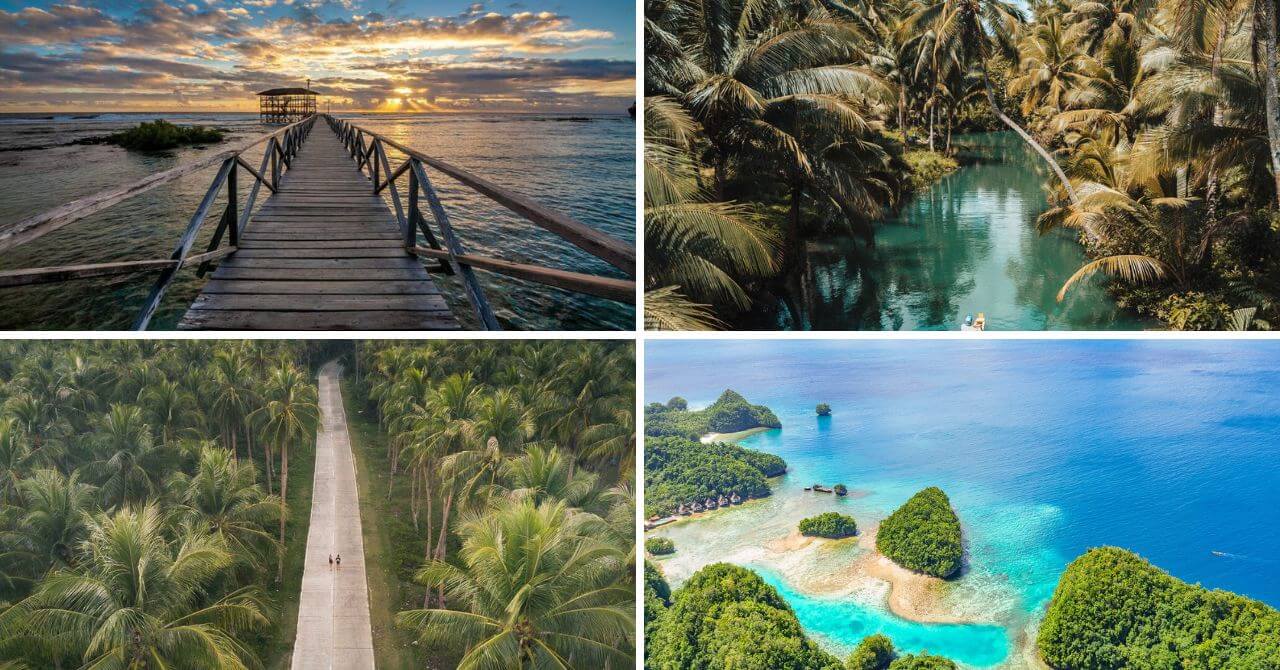 1. Have a peaceful but colorful island life
Siargao has an indescribable allure because of its breathtaking vistas of the Pacific Ocean, soft sand, and bright sunshine. It's undeniable that everywhere you look, natural wonders grace this paradise.
Siargao is more than simply a jumping-off point for visits to other islands, so keep that in mind if you're planning to retire there. It's more than simply a vacation spot. Both natives and visitors to this paradise are living out their own personal experiences.
2. Budget-friendly accommodations
Siargao hotels or accomodation provide both great value and excellent service. The locals will go above and beyond to ensure that your stay is enjoyable, and their warmth is something you won't soon forget. If you don't want to move into a senior living community, you don't have to. You may retire in luxury in Siargao with a villa reminiscent of Bali or a contemporary bahay kubo.
3. Friendly locals and a hospitable vibe
The people of the Philippines are recognized for their warmth and hospitality, but in Siargao, these qualities really shine. Whether it's providing transportation or providing more affordable choices for your water excursions, the people on the island will always go out of their way to make sure you have a fantastic day. Siargao is known for its welcoming atmosphere, so retirees need not worry about feeling isolated.
4. Find peace of mind 
Celebrities like Nadine Lustre and Andi Eigenmann have chosen to have an island life for their mental health and a minimalist lifestyle. Aside from their young age, you can also have the serene atmosphere and grounded lifestyle you deserve as a retiree in Siargao.
5. Bask in the beauty of Sohoton Cove
You will be unable to contain your awe at the breathtaking scenery of Sohoton Cove National Park. Bucas Grande Island is a secret paradise that can be reached from the port of Dapa on the island of Siargao in only one hour by boat.
You'll find hidden treasures at Sohoton Cove National Park that will astound and captivate you. Its Blue Lagoon is often held up as an example of Palawan's equally stunning Blue Lagoon at El Nido.
You can't help but be awestruck by Sohoton Cove's untamed beauty, which is framed by towering, verdant limestone cliffs and azure seas. As part of a day trip to Siargao, it's common to also visit Naked Island.
Sohoton Cove is also famous for its stingless jellyfish lagoon. Since the jellyfish in the lagoon are completely safe, visitors were first encouraged to swim among them.
6. Eat fresh seafood and delicious grill foods
In Siargao, you can always find something delicious to eat. Given that the island is just now beginning to receive the attention it deserves, you may be at a loss as to where or what to eat. You would never guess that the island is stocked with delectable dishes from every corner of the globe. Whatever day of the week you're visiting the island, whether it's Monday for Filipino, Tuesday for Indonesian, Wednesday for Italian, and so on, you'll discover a delicious spread of selections.
Mama's Grill is where the locals go for delicious BBQ and fresh fish. You can get some of the tastiest barbeque on Siargao at this locally owned and run restaurant.
Grilled fish, pig belly, hog chops, chicken legs, local sausages, and veggies are just some of the options available at Mama's Grill, which is known for its sweet and spicy sauces. To get the complete Siargao Island experience, wash down your BBQ with a mountain of rice and a frosty drink. Siargao is a popular destination not just for seniors but also for young people living a nomadic lifestyle due to its abundance of delectable eateries and cafés.
If you're looking for a genuine and inexpensive Filipino BBQ grill, then you must visit Mama's Best. Don't anticipate anything fancy from the decor at this unpretentious cafe, as it is located on a busy thoroughfare. Mama's Grill isn't exactly a fine dining establishment, but the cuisine is excellent.
Mama's Grill is a neighborhood staple, and as such, it frequently reaches capacity. If you have a large party, it is recommended that you phone ahead and make a reservation. Also, feel free to just stroll on in!
7. Have fun surfing in Siargao
And who says the retirees can't enjoy themselves? The best place to go surfing in Siargao is Cloud 9. The village of General Luna, located on Siargao's southeastern tip, is a surfing paradise. Waves at Cloud 9 are known for being particularly powerful and intimidating, especially the right-handers and hollow tubes that can make even the most seasoned surfers' hearts race.
One of the nicest parts about visiting Cloud 9 is that it offers excellent wave conditions throughout the year. However, the finest surfing conditions may be found between the months of September and December.
Tourists go to the ocean in search of the greatest waves in the final three months of the year. During the annual International Surfing competition, which often takes place in late September or early October, Cloud 9 is the preferred spot to display the abilities of local and international surfers, making tours of the area quite popular.
Cloud 9 is a popular destination not just because of its world-class waves, but also because of its lovely, picture-perfect promenade. It's hard to find a better place to take pictures than at Cloud 9's iconic promenade.
Cloud 9's accessibility and scenic promenade also contribute to its popularity. A lot of people who aren't surfers go to Siargao Island to see the pros and learn the sport when they retire there. In addition to the more advanced surfers, there are other areas suitable for novices.
There is one of Siargao's busiest tourist areas right here, and it's very next to the water. Siargao Island, where you may retire, is home to numerous excellent eateries and fashionable labels. The boardwalk is another must-see attraction in every travel guide to Siargao.