The term "haluhalo" or Halo-Halo can be interpreted as a mix of different elements, much like this classic Filipino halo-halo dessert. The beloved Halo-halo can be traced back to Japan, due to the flourishing trade between our two countries. Specifically, mitsumame and kakigori: a combination of cubed jelly, fresh fruit and red adzuki beans; as well as shaved iced dessert sweetened with fruit syrup and condensed milk adorned with mochi, fresh fruits, and sweet bean paste respectively – laid the foundations for this much loved Filipino staple.
Also Read: How to Make Filipino Leche Flan
When Japanese settlers occupied the Philippines in the late 19th century, they brought their sweet creation called mong-ya. Much like mitsumame, this dessert included mung beans and quickly became a hit in metro Manila. Filipinos took it one step further and personalized halo-halo to meet their tastes – adding fruit preserved with simple syrup, cubed jelly, leche flan (baked custard) and ube ice cream for an even more delicious treat! Since then, halo-halo has been enjoyed by generations of families around the world.
Halo-Halo, a beloved Pinoy dessert, is an artfully blended mix of shaved ice and evaporated milk with sweet beans, bananas, nata de coco, garbanzos, jelly cubes made from agar-agar plant extracts (gulaman), macapuno strings , sago pearls , jackfruit strips and ube halaya. To bring it all together you'll need leche flan too—but don't worry if not every ingredient is available; just make sure to include the three staples: shaved ice plus evaporated milk and sugar!
Every time I eat Halo-halo, my fondest memories of carefree childhood summers with my siblings and cousins come rushing back. My grandparents' house was where we spent our entire school break each year, creating amazing moments that will forever remain in our hearts.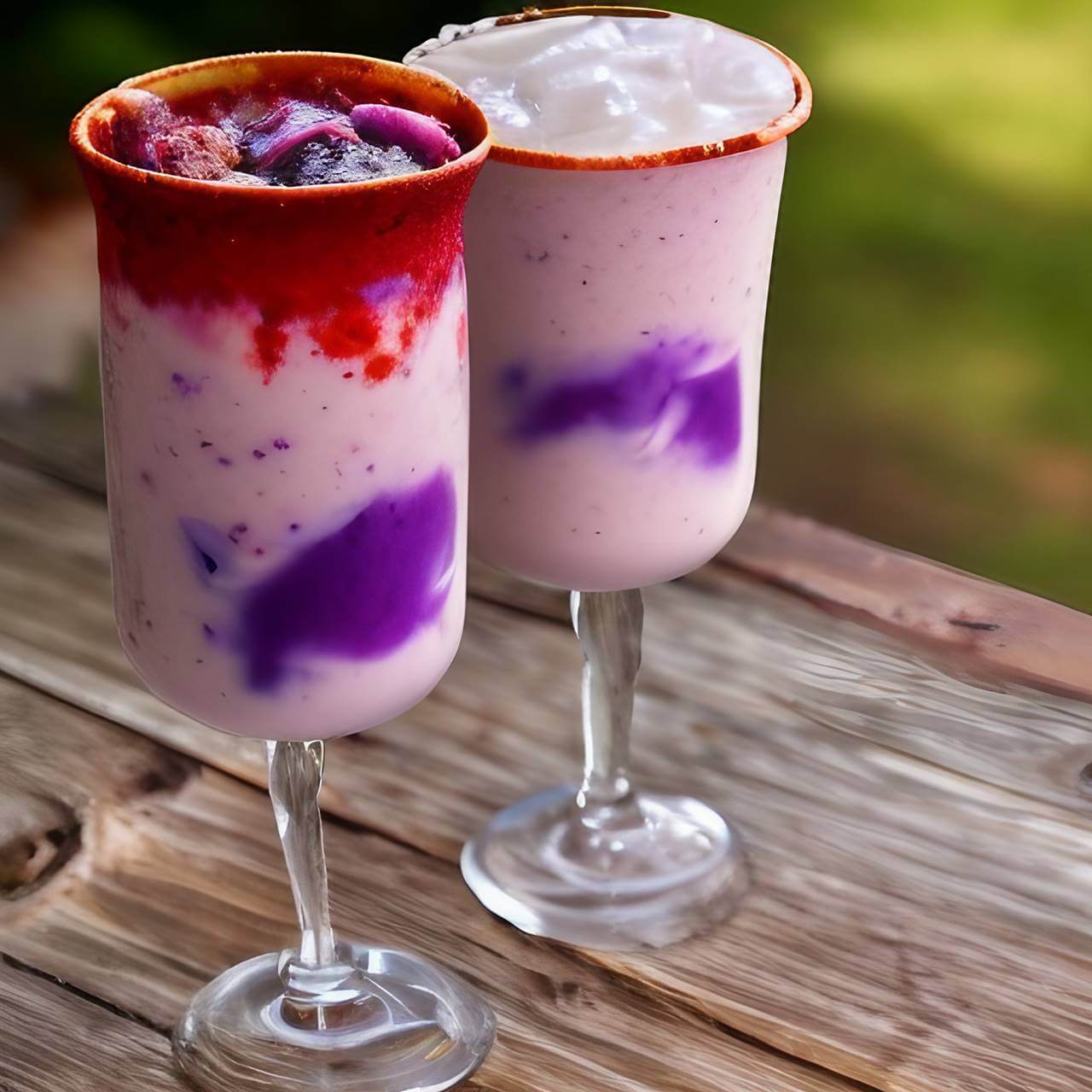 Ingredients
Create a tropical-inspired treat with ½ cup of gulaman cubes or sago!
For a sweet and savory flavor, combine 1/2 cup of garbanzo beans, red mung beans, or white beans.
To make this recipe perfect, ensure to drain 1/2 cup of Nata de coco well.
Drain half a cup of Kaong for use.
To give your dish a delightful sweetness, add 1/2 cup of saba bananas.
To add a splash of sweetness, mix in 1/2 cup of tantalizingly sweet jackfruit strips.
A quarter cup of sweetened macapuno!
For a delicious treat, add half of a cupful of ube halaya.
shaved ice
1 cup evaporated milk
1 cup leche flan
For a truly tantalizing treat, choose four scoops of your favorite flavors from our delicious selection: mango, ube, and vanilla.
Steps to Make Halo-Halo
Follow the instructions on the package to create a delectable gulaman, but be sure to use less water than indicated for an even firmer texture.
Create the halo-halo ingredients from scratch or utilize pre-assembled bottled components.
For a succulent beverage, add your desired ingredients to a tall glass filled 1/3 of the way. Each addition should be roughly one teaspoonful.
Fill the glass with finely-shaved ice.
To create a smooth, creamy texture, drizzle evaporated milk over the ice.
Elevate your icy treat with a dollop of leche flan and a scoop of ice cream.
For an extra burst of sweetness and crunch, top with macapuno strips and pinipig for garnish.
Don't wait – enjoy now! Serve immediately
Although Halo-halo can be personalized according to individual preference, the traditional recipe usually involves:
Shaved ice is an essential ingredient in any sweet treat, with its cooling temperature and delightful crunchiness.
Evaporated milk: This luscious, creamy component not only adds sweetness, but an unparalleled rich texture.
For a truly decadent halo-halo, saba plantains are cooked in sweet syrup to achieve the perfect texture and flavor.
Ube (or yams) are a must-have in halo-halo! They're cubed to perfection and add some extra sweetness. For an added treat, try out the delicious ube jam or scoop of ube ice cream on top – it's sure to be your favorite part!
Beans: In halo-halo, these hearty ingredients may come as a surprise. Sweetened beans, either red or mung beans, add appealing chewiness to the final product.
In the kitchen, coconut is a remarkably versatile ingredient. Whether it's shaved, gelatinized or in some other form, you'll find that many recipes call for its unique flavour and texture.
Halo-halo, an iconic Filipino dessert, wouldn't be complete without the addition of sugar palm fruit and jackfruit — both of which are plentiful across the Philippines.
Flan: When it comes to halo-halo, not all recipes call for this creamy custard dessert; yet some versions incorporate both a scoop of ube ice cream and flan as delightful toppings.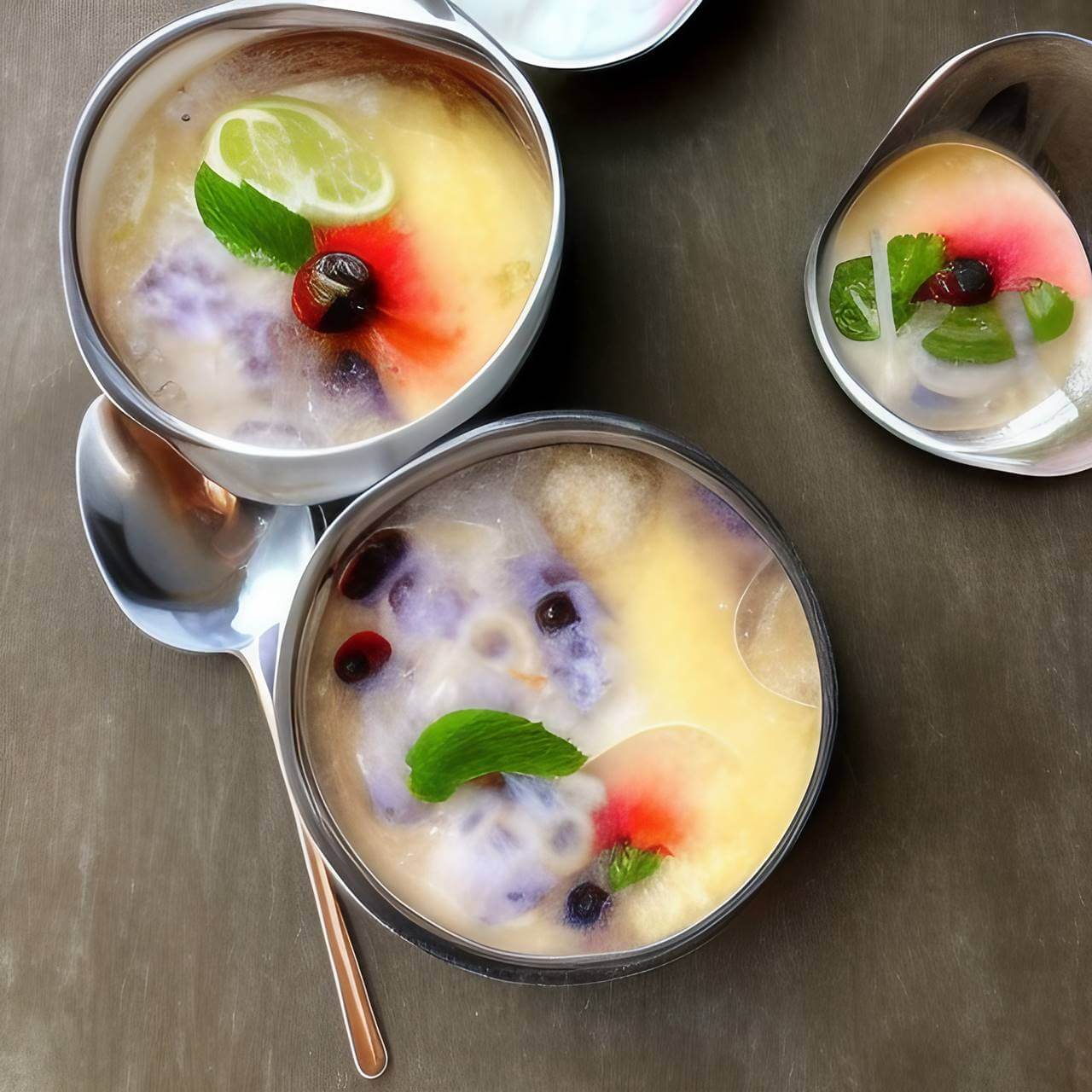 Tips
For a chewy and more resilient gulaman, reduce the amount of water indicated on the package to produce cubes that won't break apart easily in your mix.
Given that the bulk of ingredients are usually prepared with simple syrup, there is no need to further sweeten your dessert with additional sugar.
If you want the perfect taste, use shaved ice instead of crushed – it will give your beverage a better texture and absorb more milk.
Make your dessert even more scrumptious by adding a variety of indulgent ingredients such as ice cream, leche flan, corn flakes, red mung beans, white beans, kaong (palm fruit), and vibrant jellies.
If you're looking to craft your ingredients, here are a few of my tried-and-true recipes!
How to Store Halo-Halo
For the best halo-halo experience, it is ideal to consume this delicious dessert when freshly made. To make preparation simpler and faster, store all its ingredients in their own containers and keep them refrigerated – prolonged exposure to heat will cause spoilage. Just assemble them quickly for a delightful treat whenever needed!
Halo-halo is an inventive dessert that lets everyone express their creative side! Each locale takes pride in crafting its version of halo-halo, with ingredients varying from sago and macapuno to kaong. For those feeling extra daring, additional elements such as shredded cheese or cornflakes can also be added for a delightful twist. Sweet polvorón come in assorted flavours like cashews, pinipig, ube and chocolate – just perfect for creating your very own unique flavor combination!
Frequently Asked Questions
1. How long can Halo-Halo last?
If properly stored, halo-halo can stay fresh for up to three days. Make sure to properly seal and store the ingredients individually in airtight containers. To ensure that your dessert remains at its best quality, consume it within two days.
2. What is the difference between crushed and shaved ice?
Crushed ice is simply that – tiny pieces of frozen water. Shaved ice, on the other hand, consists of thinner layers that are easier to mix with other ingredients. The latter also absorbs more milk and flavors for a creamier texture.
3. How can I make my Halo-Halo healthier?
There are a few ways to make your dessert more nutritious. Substitute white sugar with honey, use low-fat evaporated milk and opt for plant-based alternatives such as ube jam or taro ice cream instead of the traditional options. Additionally, incorporate some fresh fruits into your mix for added vitamins and antioxidants.
4. What are the essential ingredients needed to make Halo-Halo?
The classic halo-halo is composed of five main components – crushed ice, evaporated milk, gulaman (agar jelly), sweetened red or mung beans, and sugar palm fruit. Some recipes may call for additional ingredients such as ube ice cream and leche flan.
No matter how you choose to craft your halo-halo, the important thing is to have fun with it! Feel free to experiment and discover new combinations – or even create your own signature recipe. Enjoy!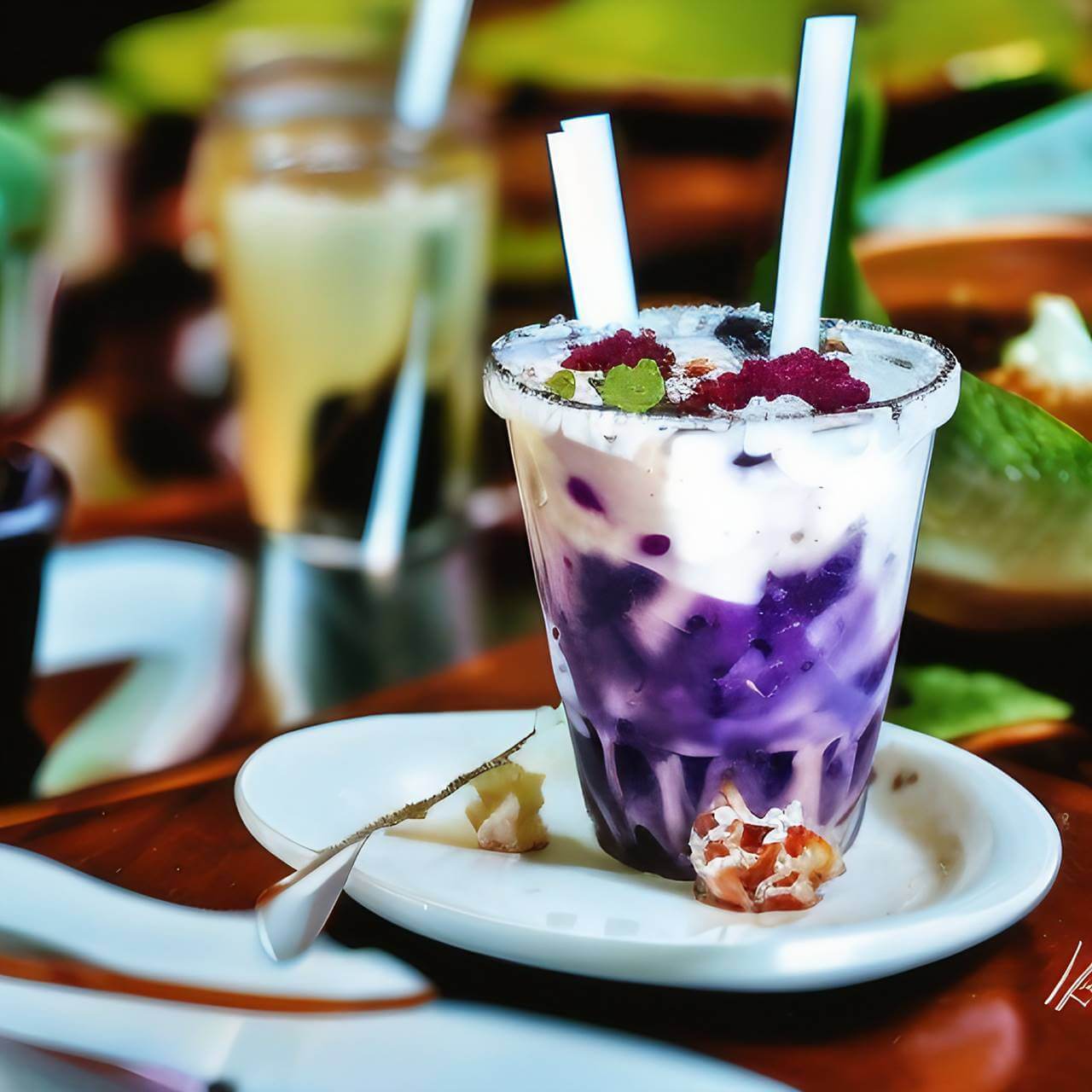 Summary
Halo-halo is a fun and creative dessert that can be customized to your liking. With the right ingredients and some imagination, you can create an unforgettable treat for family and friends alike! To make preparation simpler and faster, store all its components in individual airtight containers in the refrigerator – this will ensure that each ingredient remains at its best quality when ready to assemble. Be sure to consume it within two days of making so as not to spoil any of the flavors or textures. Lastly, don't forget have fun while crafting your own unique version of halo-halo; experiment with different combinations until you find one that suits your taste buds perfectly!