If you are planning to work overseas, one of the major requirements you may need to present to your employer are your school documents (Transcript of Records – TOR and diploma). These are your document proofs that you have finished your college/university course successfully. Here we outline the steps so you can authenticate and attest your records properly:
UPDATE: There is NO MORE red ribbon satin included in authenticated documents. You will still need to authenticate your papers via DFA, but there will be no red color ribbon attached. 
NOTE: TOR and Diplomas may be necessary in certain countries and depending on the profession. Usually for skill-based jobs (sales, F&B, etc.) you may not need to submit school documents. However, if you apply for jobs as an architect/engineer/doctor/nurse/accountant, managers, and jobs that require a college/university degree, you may most likely need to have these authenticated papers.
Tip: 'Red Ribbon' is not an official term for attesting your documents. The real term is "DFA-Authentication" which is the certification done by the Department of Foreign Affairs. Once this is processed, they will attach a red ribbon on the documents which is why this is the more common term.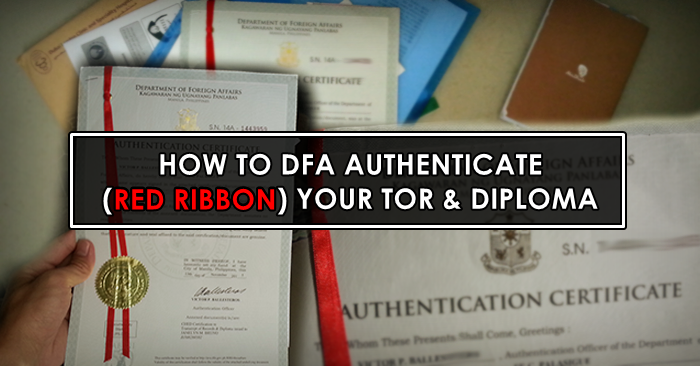 We do not only need our passport and visas to get to work abroad. Among the documents required for Overseas Filipino Workers are authenticated documents for their academic standing – their Transcript of Records and their Diplomas.
However, the original copies of these documents are not going to suffice for some employers abroad. They need it to be verified and double-checked by reputable agencies and sources. The government agency that does this is the Department of Foreign Affairs (DFA) through its various liaison officers and connections within the bureaucracy.
Step by Step Guide to Authenticating Your School Documents for Employment Abroad
Our academic credentials undergo the process of CAV or Certification, Authentication and Verification by the DFA. After the CAV, our documents will be certified and given the red ribbon.
So how do you really get to authenticate your documents? Here are the steps that you have to follow:
Prepare three photocopied sets of your Transcript of Records.
Have your University or College Registrar's Office certify them as true copies from the original.
Fill in the Authentication Registration Form and other pertinent forms that the Registrar's Office will give you. Do not fabricate data for this form.
Pay the required fees as per the regulations of your Registrar's Office. This fee varies from school to school but usually ranges from Php 100 and above.
Claim your Certified Transcript of Records and Diploma from the designated windows of your Registrar's Office.
Proceed to the CHED.
Present your documents for red-ribbon purposes.
Fill in the application forms provided by the CHED.
Pay the requisite fees. Do not forget your receipt.
Claim a CHED Stub which contains your particulars – the date and time of release of your DFA Authenticated (Red-Ribbon). Do not forget that date. You might have a difficult time to get your papers if you do not show on time and on the specified date on your stub.
Claim your Certified, Authenticated and Verified documents from the releasing windows of the DFA on your designated date.
You can now present your CAV'd documents for your application process.
Additional Step in Certain Countries:
In other countries, aside from the 'red-ribbon' authenticated documents, you may need to also attest your documents so that it is approved and accepted in the country where you're working.
Take the case of the country of United Arab Emirates (Dubai, Abu Dhabi, etc.). In Dubai, apart from DFA, you need to have your documents
Authenticated by the UAE embassy in the Philippines – to make sure that the document you will carry in the Philippines is legitimate.
Then after afterwards, have them authenticated again in the UAE (via Ministry of Foreign Affairs). This is to make sure that it passes the authentication in the UAE so it will be submitted for processing in UAE companies.
You will also need to set a budget for the attestation of these papers. So please be guided according to the rules in your specific country so that you can gain employment legally as per process.
Do Not Fake Your Documents
Please be advised that you may hear from other people that they've gotten employment abroad by processing 'fake' documents. Although there are cases wherein OFWs are successful with this tactic, there are also cases wherein the government of the country have undergone a 'crackdown' on workers falsifying their documents. This ended up with the employees getting terminated from their work and having to go back home. So if you can, do not fake your records.
Hire Legit Agencies to Process the Red Ribbon Authentication While Abroad
A bit of advice to applicants, you can usually contract the services of travel and passport assistance agencies in your locales if you do not have time to go through the process yourself. However, you must be willing to shell out a certain amount of money to avail of their services. This can be convenient for some people as they do not really have to go through the laborious process. They will just wait for the delivery and release of their documents.
Other providers that offer this service is LBC Express. They have a document processing service (applicable to certain countries only) so that you don't have go home to the Philippines to file the papers. In reality as well, sometimes the process is much easier and cheaper if you have them handle it. Remember that if you do the authentication process yourself, you may have to go home especially if you don't have anybody else to have it process for you. Going home to the Philippines entails you paying for fare, time effort and fees to do all of the processing.
Certify Your Documents to Gain Employment and Better-Paying Jobs
Getting your documents certified, authenticated and verified by the recognized government agencies is a bureaucratic process but is necessary if you really want to apply for a better paying job abroad. You would be investing your resources to get these things done but it will be worth it in the end as you'll be one step closer to the realization of your dreams to work broad.
So if you're really planning to work abroad and apply for professional-based jobs, it's really important that you have these documents ready. It would really save you a lot of hassle and headache in the future if you have the red-ribbon authenticated papers on hand.
We hope you find the information above useful as this has also helped us in preparing our records for work overseas.