One of the requirements of seafarers, whenever they have to go for their work contract, is to have a valid SIRB (Seafarer's Identification and Record Book (SIRB) or more commonly known for mariners as a 'seaman's book'. It is very important that this seaman's book is up-to-date and valid as this is used in order to facilitate crossing borders. After all, much like a passport for travellers, the seaman's book serves as a worker's passport to easily enter a country where they will be crossing or docking. Here we share information about what is a seaman's book and how to apply for it.
Since the pandemic hit early last year, many industries have been negatively affected, causing workers to temporarily or permanently lose their jobs – including our seafarers who spend a significant period overseas.
Fortunately, with breakthroughs in medicine and work processes, seafarers have been given another opportunity to return to work starting this year, provided that they meet all the requirements, including medical and documentary, such as a valid seaman's book. In this guide, we will share everything you need to know about applying for a seaman's book, and the renewal process for tenured seafarers. Make sure to read until the end of the guide because what you may have known then, might no longer be applicable in this pandemic.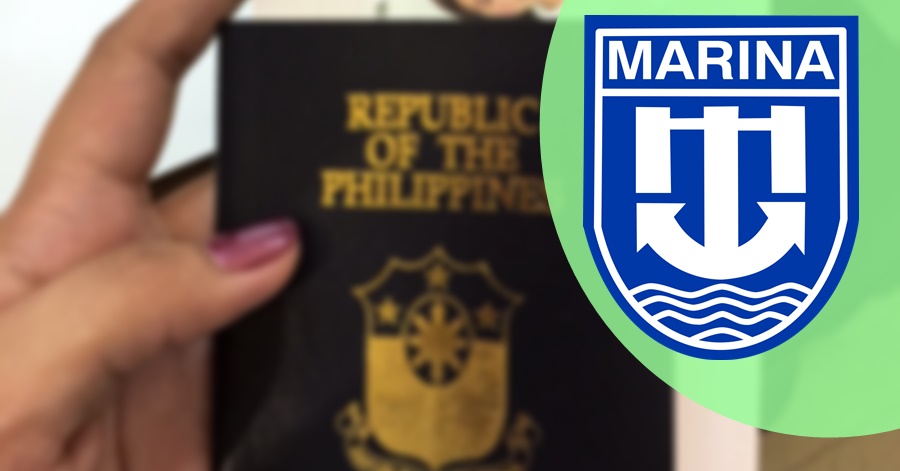 Guide to Applying for a Seaman's Book – SIRB Renewal Procedure
Obtaining or renewing the Seaman's Book used to be a nightmare due to long queues and tiresome procedures. Good thing the MARINA has discovered a solution to alleviate the agony and inconvenience of conducting business with them thanks to the internet.
Getting a seaman's book for the first time or renewing a seaman's book is now quick and easy thanks to the new SID-SRB website. Through this platform, Filipino seafarers can plan a convenient time and date for the processing of their seaman's book.
What is a Seaman's Book – SIRB Meaning – Seafarer's Identification and Record Book (SIRB)
SRB (previously SIRB) refers to a document issued by the Administration to all Filipino seafarers and cadets/cadettes that serves as a record of the holder's sea service on-board ships of 3 SGT and above for commercial vessels and 50GT and higher for fishing vessels.
SID, or Seafarer's Identity Document, is an International Identity Document issued under ILO Convention 185 (revised 2003) that is used to obtain proof of the bearer's eligibility for visa waiver; and to identify them as genuine seafarers who may be entitled to transit with their passport at ports and border crossings, and to shore leave without a visa.
Benefits of SID/SRB
As the first ratifying Member to be "whitelisted" under ILO Convention 185, as amended, and following the Official ILO Governing Body Resolution on the subject, the Philippines received positive confirmation from MARINA that the Philippines SID card will now serve as a "template" for other ratifying the Member States. This obviously demonstrates the country's determination to give complete implementation to the international maritime instruments to which it is a State Party.
Here are some of the benefits of an SID:
Eligibility for Visa Waiver
Easy Authentication at Ports and Border Crossings
Shore Leave
Transfer without Visa Requirement
The SID is a crucial document that allows seafarers to retain their long-standing right to visa-free shore vacation while also facilitating border crossing as part of their profession and preserving border and port security. The most recent amendment of ILO Convention No. 185 establishes an e-SlD that looks and acts similarly to an e-Passport booklet or card. It can be issued using the same technology that is used to issue e-passports, and it can be read and authenticated just like an e-passport. This should make it much easier to issue SIDS and verify the identities of seafarers when they reach ports or pass international boundaries.
To learn more about the SID and its world-class features, watch this video posted by MARINA in celebration of the Day of the Seafarer last June 2020:
Also, here's another video posted by MARINA detailing the features and importance of the SID and SRB to Filipino seafarers, which comprises the largest population of seafarers in the world:
List of Seaman's Book Requirements:
New SID Application
New SRB Application
Birth certificate
Marriage contract (for married women)
Valid NBI clearance
Certificate of Completion of Basic Training (BT)
TOR or completed academic requirements (CAR) for Maritime Courses
Two documentary stamps
SID Renewal
Valid SIRB or SRB
Duly Notarized Affidavit (for lost or damaged)
SRB Renewal
Old SIRB or SRB
Marriage Contract (for married women)
Valid NBI clearance
Certificate of Completion of Basic Training (BT)
TOR or completed academic requirements (CAR) for Maritime Courses
Two documentary stamps
Application Fees
SID Application
New: Php 600
Renewal

Regular: Php 600
Onboard: Php 1,000

Re-issuance (Lost/Damaged/Reprint/Unclaimed)

Regular: Php 600
Onboard: Php 1,000

Application for Onsite Processing: Php 1,800
SRB Application
New: Php 1,000
Renewal

Regular: Php 1,000
Onboard: Php 1,800

Re-issuance (Lost/Damaged/Reprint/Unclaimed)

Regular: Php 1,000
Onboard: Php 1,800

Application for Onsite Processing: Php 1,800
How to Apply for Seaman's Book (SID Application and Renewal)
The application process, like MISMO, is divided into two sections. The first is the online appointment, and the second is the physical appearance.
The online application is straightforward to complete. For your SRB or SID, MARINA will use the information you submitted on their website.
The second component is appearance. After making an appointment, the applicant must go to the MARINA office of his choice. They will authenticate your prerequisites and issue you your SID or SRB.
Step #1: Visit MARINA SID/ SRB Website
To begin, go to their website at https://sidsrb.marina.gov.ph/.
You can read the Announcement or follow any of the links that interest you.
To arrange an appointment, click the START NOW button in the upper left corner of your screen. Remember to start with a valid email address.
Following that, a Terms and Conditions agreement for your application and use of their website will appear. To proceed, click AGREE.
Don't be concerned about the Time Remaining counter. You will finish it in less than 10 minutes if you have prepared the requirements ahead of time.
Step #2: Select Your Schedule
Currently, all 16 MARINA Offices and Satellite Branches in the Philippines accept SID/ SRB online applications. Choose any of the branches that you are comfortable with.
Select your preferred appointment day and time.
If no acceptable schedule is available, select a later date because the early ones are already occupied.
Tip: In Manila, it is always very crowded. If the early schedules closest to you are all taken, choose a different branch. Better slots can be found in the nearby provinces or other locations.
After you've selected your timetable, click Next > Application Details.
Step #3: Application Details
As previously stated, there are only three types of applications available for Seafarers' Identity Document (SID) and Seafarers' Record Book (SRB) (SRB).
They did, however, add the application types "Regular" and "On Board."
Choose which of these applies to you, as well as the document type and seafarer category.
When you're finished, click Next: Your Info > to move on to the next step.
Step #4: Your Information
Depending on which document you select, you will be prompted to fill out certain fields. For example, when you select NEW Application, it will request your personal information.
When you select another type, you will be asked for information on your SID and SRB.
Fill out everything that appears on your screen, especially the ones highlighted with a RED asterisk (*). You will not be able to move to the next step unless all things with red asterisks are completed.
Step #5: Upload Your Documentary Requirements
Now that you've completed your personal information, it's time to upload the requirements you've prepared ahead of time.
These documents must be scanned and have a file size of no more than 300kb. It must be set in grayscale and have a minimum resolution of 150dpi.
It was formerly possible to upload documents via image capture using smartphones on the prior seaman's book application, but just to be sure, follow the guidelines mentioned earlier. At any rate, you must still bring the originals to your appointment.
Step #6: Review and Submit
You must review your documents, including the personal information you submitted after you have uploaded them.
Check the spelling and dates to ensure they are correct. You don't want any issues when you receive your SRB or SID from MARINA.
If problems are discovered or you want to change something, such as your appointment schedule, you may still go back and edit it.
If you are all of your submitted information is correct and in order, click Submit.
Step #7: Email Confirmations
This is the final step in your MARINA SID/ SRB application's online chapter.
To confirm your appointment, the system will send you an email. Look through your inbox for a message from MARINA (sidsrbmds2).
If it isn't there, check your Spam or Junk Folders.
Open the mail and click the link labelled "CONFIRM YOUR APPOINTMENT." There should be a second mail verifying the success of your appointment schedule.
That message also includes a copy of your Application Form. You will need to show this on your appearance, so download and print it.
Step #8: Day of Appointment (Appearance)
Bring the APPLICATION FORM and ALL DOCUMENTARY REQUIREMENTS you uploaded online to your appointment.
You will still go through a final examination and pass the next phases, much like MISMO, until you earn your SID or SRB.
You will go to the Cashier for payment after passing the on-site final evaluation.
The Enrolment to Biographic and Biometric Details comes next. This is when they double-check, triple-check, and quadruple-check the legitimacy of your documents.
They will also photograph your face and take a specimen signature to enter into the system.
Step #9: Releasing Your MARINA SID/ SRB Documents
This is the final and most anticipated phase.
After payment, SID, SRB, or both will be issued within 3 WORKING HOURS.
The teller will call your name and give you your new SID and/or SRB. Check to ensure that all of the information in the document is correct and without any errors.
You must electronically sign your SID/SRB before leaving the counter to activate them.
Frequently Asked Questions – try to find some FAQs (minimum 5)
Can I expedite my application process?
Yes. However, only the MARINA Central Office accepts SID/ SRB applications for expedited processing.
Here are the requirements:
Overseas Employment Contract (OEC).
Letter Request from Company for Expedited Processing.
Confirmed Travel Ticket (SID/ SRB application should be at least four days before departure date).
Have a confirmed appointment on a future date.
Where are the MARINA SRB/SID Issuing Offices?
Here are the addresses of MARINA branches throughout the Philippines that handle SID/SRB applications.
MARINA Central Office
2nd Floor MARINA Building, Bonifacio Drive corner 20th Street, Port Area, Manila.
SM City Manila Satellite Office
5th Floor, SM City Manila Natividad Almeda-Lopez corner A. Villegas and, San Marcelino St, Ermita, Manila.
POEA Satellite Office
Ground Floor, POEA, Blas F. Ople Building, Ortigas Avenue corner EDSA, Mandaluyong City.
MARINA Regional Office I & III
3F Tan Bldg., Quezon Ave., Sevilla Center, San Fernando City, La Union
MARINA Regional Office IV
Caedo Commercial Center, Calicanto, Batangas City.
MARINA Regional Office VI
MRO-VI Building, De La Rama Street, Iloilo City.
MARINA Regional Office VII
MRO-VII Bldg., Doña Modesta Gaisano Street, Sudlon, Lahug, 6000 Cebu City.
MARINA Regional Office VIII
Ground Floor Uytingkoc Building, Sen. Enage Street., Tacloban City.
MARINA Regional Office IX
2nd Floor CAP Building, N.S. Valderosa Street, Zamboanga City.
MARINA Regional Office X
2nd Floor SE JO Lim Building, Gemilina Street, Carmen, Cagayan de Oro City.
MARINA Regional Office XI
2nd Floor Davao Ching Printers Inc. Bldg., Lakandula cor. Dacudao Avenue, Agdao, Davao City.
MARINA Regional Office XII
Door A, 18-19 Eca Building National Highway, General Santos City.
MARINA Regional Office XIII
Agusan-Misamis Oriental Road, Brgy. Ampayon, Butuan City.
Videos: How to Renew Seaman's Book Guide
In this short guide, the vlogger gives us an overview of the application process for the SIRB. She also names some of the training requirements that you should undergo before applying for an SIRB.
The vlogger tags us along to his trip to renew his Seaman's Record Book in this video. From his trip to the renewal center to file his documents in Manila, up until he was issued his Seaman's Book with SID, you can gather useful tips on what you should do for a seamless application process for your document.
In this video, the vlogger gave a walkthrough for renewing your SIRB or SRB seaman's book from start to finish. He also shares some important updates with us for those getting an SID-SRB for the first time this year.
Summary
There you have it! Applying or renewing your SIRB and SID shouldn't be too challenging anymore, especially through the help of this guide. While there are several resources you can look into online, always check with the MARINA website for the latest updates and announcements regarding the application and renewal of an SRB and SID, which are important documents for traveling and work as a seafarer from the Philippines.
MARINA Contact Information
Address: MARINA Bldg Bonifacio Drive, Cor 20th St, Port Area, Manila
Contact Number: +639163154812
Website:  http://marina.gov.ph/
Google Maps Location:
READ NEXT: How to Become an OFW and Work Abroad