It is crucial for senior citizens in the Philippines to be informed of the benefits that they can acquire from their government and private organizations because the number of senior citizens in the country is growing at an alarming rate. People in the Philippines who have attained a particular age threshold are eligible for a wide variety of senior citizen benefits.
However, despite the fact that there are laws and organizations in place to deliver these advantages, it is essential that the people who will be receiving them – namely, our elderly population – to understand the significance of each and take advantage of them to the best extent possible. Continue reading this article to learn more about the privileges that come with reaching senior citizen status in the Philippines.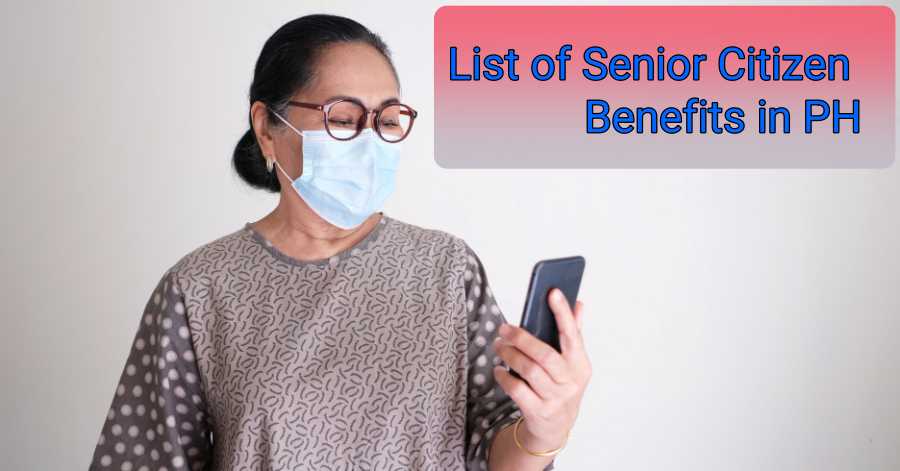 What are some of the top Senior Citizen Benefits in the Philippines?
The senior citizens of the Philippines are afforded a broad variety of rights, discounts, and perks from both the public and private sectors of the country's economy. These include reductions in the cost of medications and medical services, access to reduced fares on public transportation, tax exemptions, scholarship awards, and housing subsidies, as well as a great number of other benefits.
The following is a list of some of the benefits that are available in the Philippines to senior citizens:
1. Medical Assistance
You are qualified to get financial support for medical care because you are a senior citizen. You are free to make use of the following opportunities:
Medical and dental care offered without charge in publicly funded hospitals and clinics;
free vaccines against the flu and pneumococcal disease;
Medical and dental care provided at no cost in privately run clinics and hospitals.
2. Transportation discount
Senior persons are eligible for reduced fare pricing on all public transportation options, including buses, jeepneys, and taxis. If you are unsure of whether or not you meet the requirements to be considered a senior citizen, you can show your identification card or other proof of age to the driver or conductor. One thing to note about this benefit is that seniors are required to present a legitimate form of identification, such as an SSS or GSIS card, or their senior citizen ID card.
Offers of reduced fares for public transit. Reductions are available for senior citizens on all normal bus and jeepney rides, in addition to discounts on train and aeroplane prices.
Taxi fares will be discounted. In addition, if you take a taxi in Metro Manila, you can get a discount of up to 50 percent, while in other major cities around the country, you can get a discount of up to 30 percent.
Special advantages. When purchasing direct-dial phones, electric power service connections, and water supply services from government agencies such as Philpower Co., the National Power Corporation (Napocor), Meralco, and Maynilad Water Services Incorporated, all senior citizens are eligible to receive tax exemption certificates. These certificates can be used to save money on the purchase of the aforementioned services (MWSI).
3. Recreation centers discount
If you are a senior citizen, you may be eligible for reduced admission prices at public venues such as parks, libraries, museums, and theatres. At the time that you purchase your tickets, you will be required to present your identification card at the counter.
4. Restaurant discount
Discounts are also available for older citizens at a variety of restaurants, including fast food chains. If you are over 60 years old, you may be eligible for discounts of up to 50 percent off the standard price, and if you are over 70 years old, you may be eligible for even greater discounts.
The following are examples of businesses that provide customers with this kind of discount:
Bakeries (e.g., Goldilocks)
Cafes (e.g., Starbucks)
Dessert shops (e.g., Magnolia)
Food courts (e.g., SM Mall of Asia)
5. Grocery discount
In supermarkets and grocery stores, senior citizens are eligible for a discount equal to ten percent off the price of any food item. The amount of the discount varies from store to store, however the vast majority of establishments provide a senior discount of some kind to all senior citizens, regardless of how old they are.
Discounts on basic commodities provided by the National Food Authority (NFA)
Discounts on selected brands and selected items provided by selected stores. For example, Metrobank offers a P500 discount for their Visa cardholders every time they spend P5,000 in one purchase. This can be used to buy grocery and other necessities like food, clothes and medicine.
Discounts on selected days of the week or hours of the day (e.g., senior citizen days). Some banks also offer discounts at specific times during the week such as 3 p.m–5 p.m., Monday-Friday; or 10 a.m.–12 noon, Monday-Saturday only!
Discounts for senior citizens who also have an insurance policy with Philam Life Insurance Company Incorporated (PLI). PLI offers a 5% discount on premiums paid if you're 65 years old or older; this is applicable to all PLI products except term life insurance and annuity plans
6. Income tax exemption for minimum wage earners
If you are at least 60 years old and have a job, you should be aware that the Philippine government is providing special tax exemptions to senior citizens. These exemptions apply only to people who have jobs. If the sum of your hourly wages and your monthly gross income combined does not exceed the federally mandated minimum wage, the following applies to you:
You are exempt from paying income taxes at all! Your income for tax purposes will be zero!
This benefit extends to cover all of your dependents, regardless of whether or not they are employed and regardless of whether or not they generate income from investments such as stocks or bonds.
7. Training fee exemption on socio-economic programs
Participation in social and economic activities that are designed to improve senior residents' health, welfare, and well-being is actively encouraged among senior citizens. In addition to this, they are strongly urged to investigate the senior citizen assistance programmes that are offered by the government. Senior citizens who are interested in developing their basic computer abilities or taking a few short courses to broaden their soft skills are eligible for free training courses provided by the government.
8. Free medical and dental services in government facilities
In public health facilities and clinics run by the government, senior citizens are eligible for free medical and dental care. In public health institutions, older persons are now able to receive medications, vaccines, and other services at a reduced cost thanks to the Department of Health (DOH), which made this possibility possible. In point of fact, this is one of the factors that contributes to the decision of a large number of Filipinos to take early retirement from their occupations.
Dental services provided without charge in public health clinics.
Services related to medicine that are provided without charge in public hospitals.
Services of a medical and dental nature provided at no cost by the government.
9. Free flu and pneumococcal vaccinations for indigent senior citizens
Seniors who are low-income and are at least 65 years old are eligible for free vaccines against influenza and pneumococcal disease from the government. You will be able to take advantage of this benefit if you go to the city hospital or barangay health centre located within your district. You are not need to bring any kind of identification with you.
10. Scholarships and financial assistance for seniors' education in public and private schools
Senior citizens are eligible for reduced or waived tuition fees at state universities, colleges, and vocational and technical institutes. Additionally, they have the opportunity to submit an application for scholarships that are offered to senior students who have been accepted by these educational establishments but do not have the financial means to pay the required tuition costs. A scholarship programme for senior citizens has also been established by the Philippine government and is known as the Senior Citizens Scholarship Program (SCSP). The goal of this initiative is to provide assistance to senior citizens so that they can continue their education. In addition to this, one of the goals is to make chances available to them so that they can expand their professional expertise and knowledge base.
11. Retirement benefits from SSS, GSIS, and Pag-IBIG
1. SSS (Social Security System)
The Social Security System (SSS) is a pension fund that is owned and managed by the government, and it provides retirement benefits to all Filipinos who have contributed at least 10 years of service in the private sector. Contributions to the fund are made by employers based on the employee's monthly salary.
2. GSIS (Government Service Insurance System)
The Government Service Insurance System (GSIS) is a pension fund that is owned and managed by the government. It offers retirement benefits to all employees who have contributed at least 15 years of service in the public sector, with contributions made by employers based on an employee's monthly salary. This pertains to the Philippine Armed Forces, the Bureau of Fire Protection, the Civil Service Commission, and any and all other government entities, such as public schools and universities, amongst others.
3. Pag-IBIG Fund
In addition to being a welfare programme for senior citizens, the Pag-IBIG Fund is also owned and managed by the government. It offers housing loans of up to P1 million per loan applicant, as well as insurance products such as asset management plans that protect against the risks associated with old age.
12. Express lanes for senior citizens in all government offices and commercial establishments
All government offices and commercial establishments should have express lanes for senior citizens. The senior citizen will be given priority to use these lanes.
The purpose of having an express lane is to allow the elderly or senior citizens to move faster so they can finish their business or transaction in a shorter amount of time compared to the general public.
13. PhilHealth Benefits for Senior Citizens
Senior citizens can use their memberships at hospitals, clinics, and other medical facilities by paying only 30% of the total bill. This is known as the co-payment rate that must be paid in accordance with your age bracket: 40% for adults; 50% for students and pregnant women; 60% for infants (less than 1-year-old); and 70% for persons with disabilities.
If you're an adult over 60 years old who has been diagnosed with cancer or tuberculosis (TB) but do not want surgery yet, there's a form called "Certification against Surgery" that allows you to receive cheaper medicines instead of undergoing surgery right away.
How to Compute Senior Citizen Discount
So now you know that there are discounts and other benefits offered to senior citizens, it's time to learn how to compute its value so that you know that you're getting what you're entitled to enjoy, as per the Philippine government. Here's how:
There is a provision in Philippine law that exempts senior citizens from having to pay the Value-Added Tax (VAT). To determine the amount of sales that are exempt from VAT, simply divide the selling price by the VAT rate. An example of a computation can be found below:
Product Price: PHP 500
VAT Rate:  12%
Formula: Selling Price ÷ VAT Rate = VAT Exempt Sales
Total: PHP 500 ÷ 1.12 = PHP 446.43
When purchasing goods and services, senior citizens are eligible for a discount equal to 20% of the original price. To get the amount of the discount, first determine the percentage that will be deducted from the total by multiplying the amount of VAT-exempt sales by 20 percent.
Formula: VAT Exempt Sales x 20% = Senior Citizen Discount
Total:  PHP 446.43 x 0.20 = PHP 89.29
To identify the billable amount, subtract the VAT exempt sales by senior citizen discount.
Formula: VAT Exempt Sales – Senior Citizen Discount = Billable Amount
Total: PHP 446.43 – PHP 89.29 = PHP 357.14
6 Facts about Senior Citizen Privileges You Might Not Know
1. The Senior Citizen Law Applies Everywhere in the Philippines
There are many privileges and benefits available to senior citizens in this country. These include reductions in the cost of healthcare expenses, funeral arrangements, transport fees, movie tickets, food and drink, and even hospitalisation expenditures. Because the law is applicable everywhere in the Philippines, there is no need to inquire as to whether or not it is applicable at a particular place because it is the case either way!
2. Elders Can Get a Senior Citizen Discount Using Any Valid ID
In order for seniors to be eligible for the benefits granted by the Senior Citizen Act, they are required to provide their senior citizen identification card, which is issued by the Office of Senior Citizen Affairs (OSCA). Even if they don't have it, they can still earn a discount for being a senior citizen as long as they provide an ID that was given by the government and proves their age.
Clients over the age of 65 who do not have an ID issued by the OSCA may present any one of the following forms of identification that is considered to be valid:
Passport
SSS ID or UMID card
GSIS ID
Driver's license
PRC ID
Voter's ID
Postal ID
In violation of the law is any company that will only accept the senior citizen ID from customers over the age of 60, or that will refuse to offer discounts to customers over the age of 60 who present another form of valid identification but will only accept the senior citizen ID from those customers. In such a scenario, older persons have the legal right to claim the discount that is justly theirs to begin with.
3. An Authorized Representative May Claim the 20% Discount on a Senior's Behalf
When you reach a particular age, there are several situations in which you may find that you are unable to personally qualify for certain discounts. For instance, if you have an appointment booked to see your doctor the following week, but you also have an appointment scheduled to see your doctor this afternoon, it will be impossible for you to get the 20 percent discount on your visit to the doctor this afternoon. But don't be concerned! You have the option of delegating this responsibility to a representative of your choosing. Your authorised representative is eligible to get any additional discounts, including free travel tickets or free entrance to activities such as concerts and sporting events.
4. The Senior Citizen Act Doesn't Allow Double Discounts
Do elderly folks qualify for any other discounts in addition to the discount of twenty percent that they get at hotels, restaurants, and other establishments? When a senior buys something that is already on sale, they are only permitted to take advantage of one of the two discounts; the larger of the two discounts is the one that they are authorised to take advantage of. The Senior Citizens Act is to blame for this situation.
The same holds true for elderly people who are afflicted with a disability of some kind (PWDs). They are eligible for either the discount for people with disabilities or the discount for senior citizens, but not both. Either one, but not both, of the discounts will apply to them.
5. Seniors Enjoy Vehicle Coding Exemption and Free Parking in Certain Cities
It is common knowledge that older persons in the Philippines are given preferential treatment by the various levels of government below the national level. Free birthday cakes and movies are two examples of these types of gifts.
The ability to commute independently is one of the most useful advantages that comes with getting older. Senior citizens are afforded the privilege in some cities, such as Manila and Makati, of utilising their numbers for both driving and riding as passengers in public transportation. In addition, older adults who are enrolled can take advantage of free parking in a variety of locations, including Quezon City, Cebu City, and Muntinlupa City.
6. Seniors are Always a Priority in Queues
There are designated lanes for older folks to use in a number of businesses, including banks, grocery stores, and quick-service restaurants, among others. However, in order to comply with the law, they are required to put the requirements of senior citizens first.
When a cashier, bank teller, or government official asks a senior citizen to serve you first, they are merely following the law and doing what is required of them. They are not being impolite or thoughtless in any way.
Video: Senior Citizen Discounts And Benefits In The Philippines
Based on what we've learned in this video, senior citizens are eligible for a variety of discounts and other advantages around the Philippines. These include discounts in travel costs, medical care, and other forms of entertainment. In addition, those who have reached a certain age are eligible to participate in specialised government programmes that make it possible for them to have a more pleasant retirement.
Hopefully, after watching this video and reading this guide, you've gained more information on how you can enjoy your retirement and old age in the Philippines.
Conclusion
With the increasing number of senior citizens in the Philippines, it is important to know what you are entitled to as a senior citizen. This list gives an overview of some of the benefits for senior citizens, as well as how to apply for them.
A discount for elderly citizens is given as a sign of respect and gratitude for the many years of service that seniors have given to this country. This is one way society can express its respect and concern for them in this way. For businesses, make it a point to provide your senior citizens with the privileges and savings that are rightfully theirs, and for families and relatives of this population group, make sure that you assist our seniors in availing of these benefits provided for them by the government. With that being said, make sure to share this with  your loved ones and to anyone who might benefit from this guide.
READ NEXT: How to Plan for your Retirement as an OFW