Attending an orientation session known as the 'Pre-Departure Orientation Seminar (PDOS)' is a prerequisite for anyone planning to work or settle in a foreign country. This is a prerequisite for overseas Filipino workers who wish to find employment in a different nation. This procedure can be carried out over the internet if it is directed by a qualified instructor.
ALSO READ: How to Register POEA Pre-Employment Orientation Seminar (PEOS) Certificate Online
As a result of a partnership between the Commission on Filipinos Overseas and the Philippine Overseas Employment Administration, a PDOS that is both free and accessible online has been made available to Filipinos who are interested in participating in a working trip abroad.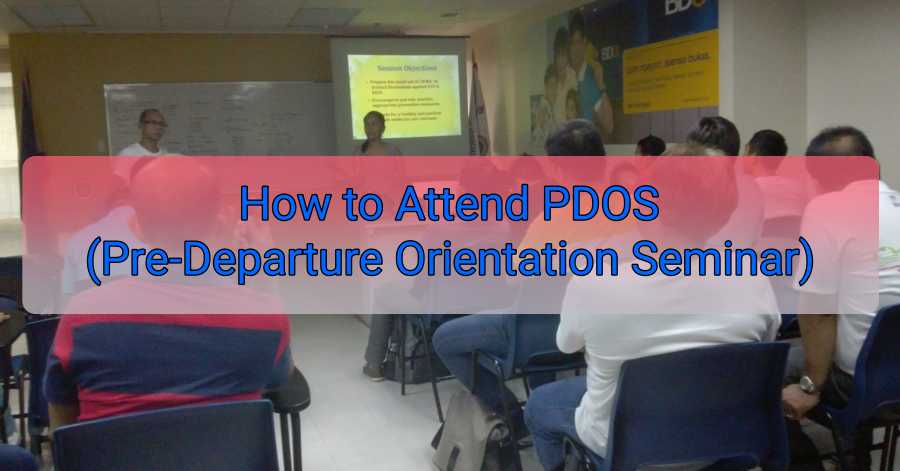 How to Join the PDOS (Pre-Departure Orientation Seminar)
Be careful to read the following sections in order to gain a better understanding of what the PDOS is and how it is carried out.
What is the Pre-Departure Orientation Seminar (PDOS)?
The Pre-Departure Orientation Seminar (PDOS) is an intensive training program that is designed to assist participants in getting ready for their impending relocation to a different nation. They will also receive all the materials and skills that they will need to be successful in their new work thanks to this program.
Migration realities – This module aims to introduce the concepts of migration and the Code of Discipline for Overseas Filipino Workers. It also explores the differences between working and living in different countries.
Destination country profile – This module also presents the culture, traditions, and beliefs of the destination country. It also explores the working hours and other important factors that affect the working life of an overseas worker.
Employment Contract – This course will introduce you to the various rights and obligations of an OFW in an employment contract. You will also be taught how to handle situations involving the contract.
Health and safety – Taking appropriate safety precautions with regard to the health and wellbeing of an OFW
Financial Literacy – This course will also introduce you to financial literacy. You will learn how to save a portion of your salary and invest in preparation for your retirement.
Available government programs/services for OFWs – This section will also provide you with the various government programs and services that are available to OFWs.
Tips and tricks for travel procedures – This contains both the things that you should do and avoid doing when travelling abroad.
Types of PDOS Programs
There are two types of PDOS seminars: the country-specific PDOS and the comprehensive pre-departure education program (CDEP).
A country-specific program is one of the varieties of PDOS seminars, and it is designed for Filipinos who are thinking about travelling to a certain nation. For individuals travelling to the United Arab Emirates, for instance, there is a PDOS that is tailored specifically to their needs.
Comprehensive Pre-departure Education Program (CPDEP) for domestic workers and household service workers is known as CPDEP. It's a one-week program that's designed for these individuals.
This program is designed to help OFWs navigate the various aspects of life in a new country. It includes a variety of modules that are designed to help them find work and manage their relationships. In addition to these, it also provides them with the necessary skills to work with other organizations and communities.
Since the pandemic, workers and emigrants can attend the PDOS online. This service can last for several hours depending on the orientation.
What is the Online PDOS – Online Pre-Departure Orientation Seminar (PDOS)?
A candidate has straightforward access to information concerning their employment history with CFO, OWWA, and POEA if they make use of a PDOS. For example, the latter provides PDOS for temporary workers whereas the former gives the same service to emigrants. However, the former offers PDOS for temporary workers.
This program is for those Filipinos traveling for work abroad who would like to finish their orientation prior to departing the country. They can sign up at any time, but they have to ensure that they have completed the program before their departure date. Only Filipinos who are currently employed in one of the supported countries will be allowed to access the online component of the program.
How does Online PDOS Work?
The online orientation seminar for CFO professionals can be accessed through a variety of platforms, including a desktop or mobile app. After registering, the program will guide you through the various steps of the course, including taking notes and writing your own profile.
Benefits
There are several benefits an OFW can gain when attending this program.
Knowledge about the culture of the country of destination
Awareness of the reality of working and settlement abroad
The use of the CFO's online service (PDOS) comes with a number of benefits, which include the following:
Cost-effective
Accessible anytime and anywhere
Saves time and energy
User-friendly interface for easy accessibility
Requirements
Following are the prerequisites for attending this orientation:
For Temporary Workers/OFWs/Household Service Workers (Domestic Workers):
Original and Photocopy of Passport and Employment contract
Endorsement(coming from recruitment agency)
25$ OWWA membership fee but PDOS is free
Mobile phone or desktop
Internet Connection
For emigrants:
Valid passport
Valid visa
Valid ID with a photo
Payment registration of Php 400.
Attendance in the PDOS session
Country-specific documents(For Emigrants)
Immigrant Data Summary ( US)
Confirmation of Permanent Residence( Canada)
Nulla Osta ( Italy )
certificate of Eligibility (Japan)
Visa Grant Notifications (Australia)
Letter of approval for Work to Residence visa ( New Zealand )
Mobile phone or desktop
Internet Connection
Qualifications
This is open to all OFWs and emigrants. 12 years old and under as well as 60 years older and above are exempted from attending PDOS.
How to Attend Pre-Departure Orientation Seminar for Household Workers
Here is the comprehensive guide on registration for attending PDOS (Household Service Workers/Domestic Workers):
Step 1: Your recruitment firm will make arrangements for you to attend the Pre-Departure Orientation Seminar at the appropriate time.
Step 2: When it is time to conduct the PDOS, the agency that you work for will notify you as soon as possible. In light of this, ensure that you are well-prepared by installing the Zoom app; to do so directly from the Play Store, here.
Step 3: Attend the seminar and make notes on the pertinent information that is presented there.
Step 4: You will be given your certificate once you have successfully completed the orientation. Please provide it to the staff at the airport.
NOTE: Attendance at the PDOS will be on the appointment of schedule, which will be handled by the recruitment agency. There is no need to be concerned about this.
How to Attend Pre-Departure Orientation Seminar for Household Workers for Emigrants
Step 1: Do an internet search for "CFO Online PDOS Account Creation," or click on the following link to be taken directly to the registration page: https://cfo.ph/Online_PDOS_Account_Creation/.
Step 2: Create an account by selecting the required fields and entering your information. Please select your responses to the following questions using the options provided in the drop-down menu:
How are you related to your petitioner/sponsor?
What is your Country of Destination?
What is your visa type/category/classification?
You need to fill up your active email address and re-enter.
You also need to upload the following documents:
Hit 'Submit' to proceed to the next step.
Step 3: After you have checked your email, go to the spam folder or the message inbox to find the message from CFO. The message will contain the requirements to be sent to the appropriate officer. These include the following: Valid ID, Valid Passport, and Valid Visa Grand Notice.
Step 4: After you have received an email containing the link to the webinar, you will be redirected to a page where you can register for the event.
Step 5: Make sure that the details are correct in the online registration form. After clicking the "Next" button, enter the necessary information in the second page. You can also click the "Preview" button to save and continue with the process.
Step 6: On the next page, click "Continue" to proceed. You will need to enter the details of the order and the contact details.
Step 7: After completing the registration process, click the "Pay" button and choose the payment method that's most appropriate for you.
Payment thru Bayad Center
Utilize the 10-character reference number. It is valid for 72 hours from the time you picked the payment method.
Request that the cashier process the payment via the MPay biller.
Pay the correct amount in cash. Any sum in excess of $400 will not be returned, and any amount below Php 400 will not be handled.
Expect a confirmation email from the CFO on your payment.
Payment thru Gcash
Select "Online Payment" on the Delivery Details page.
Select "Gcash Webpay" as the payment method, then click "Proceed."
Validate the payment. Click "Accept and Pay."
A Gcash receipt will be shown alongside the transaction data.
Step 8: Send a copy of your receipt, passport, and visa to their email (ofcors.payment@cfo.gov.ph)
Step 9: Payment and registration confirmation will be sent to you with the
OF-CORS temporary certificate.
Step 10: The tracking number will be sent to your email when you already received the documents sent to you by the CFO.
Step 11: Present this at the airport as a clearance together with your OEC.
Video: PDOS Registration
The PDOS registration video provides an overview of how to register for the PDOS program. The video covers the requirements for PDOS registration, how to create an account, and how to login. The video also covers how to select a PDOS provider and how to complete the registration process.
Frequently Asked Questions
To know more about the Pre-Departure Orientation Seminar, here are the following FAQs for your reference.
1. Who is exempted from attending the PDOS?
Exemptions are made for children younger than 12 years old and elderly older than 60 years old.
2. Do I need to pay if I'm applying as a domestic helper?
No, because it will be taken care of by the recruitment firm that you work with. Attending the orientation and taking notes are all that are required of you at this point.
3. Do I need to show my PDOS certificate at the airport?
Yes, it is necessary for a first-time visitor. On the other hand, if you are a Balik Manggagawa, displaying the certificate is not necessary for you to do.
4. Do I need to attend the PDOS if I have a student visa?
Yes, you are needed to attend the PDOS because it is also mandatory for all students who are studying abroad or on exchange.
5. How about a tourist visa holder? Do I also need to attend?
Yes, you are obliged to be there because it is a requirement for everyone from the Philippines who will be leaving the nation to find job or settle somewhere else.
Final Thoughts
Attending a Pre-Departure Orientation Seminar is one of the most essential things that a person must do in order to fulfil the requirements necessary for leaving the nation. They will be more prepared for their future life in another country after attending this lecture. In addition to the opportunity to gain an understanding of the history and customs of the nation, participants in the seminar are also equipped with the information they need to successfully navigate the hurdles that come with working or relocating to a new nation.
To leave the country in search of job in another country, every Filipino must go through the steps outlined in this procedure. The government mandated the practise in order to guarantee that the country is a risk-free environment for all of its citizens.
You should read this information in order to better prepare for the PDOS seminar. You will also have a better knowledge of what to expect from the event as well as how to prevent making mistakes as a result of doing so. For those Filipinos who will be working in other countries, this is an excellent chance.
READ NEXT: How to Register for CFO Online