You will need your Pre-Employment Orientation Seminar (PEOS) Certificate to apply for an Overseas Employment Certificate (OEC) from the Philippine Overseas Employment Agency (POEA) if you intend to work as an OFW, whether as a Domestic Worker or as a Professional/Skilled Worker. Lucky for you, unlike the Pre-Departure Seminar (PDOS) of old, attending the PEOS does not require you to go outside or to the local POEA; instead, you may complete it online.
Also Read: Here's What You Need to Know About Philippine Departure Procedures
This guide will walk you through the steps in obtaining an online Pre-Employment Orientation Seminar (PEOS) certificate by simply following a few simple steps.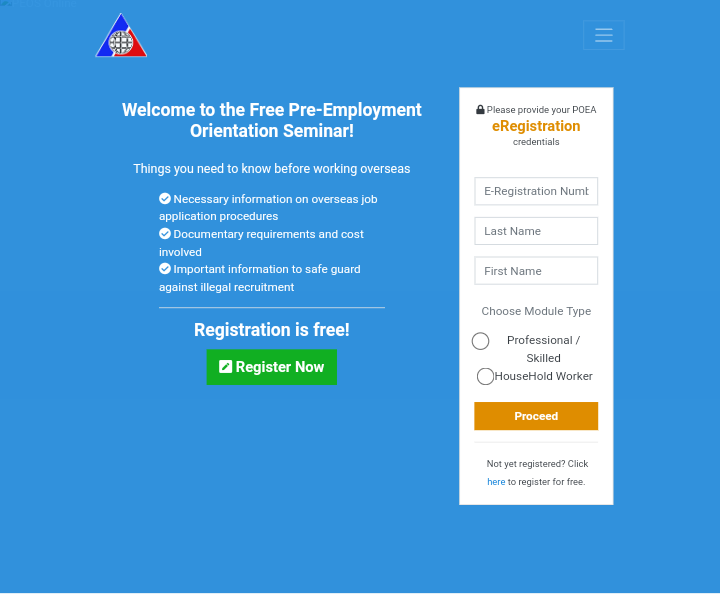 What is the Pre-Employment Orientation Seminar (PEOS)?
Before getting right into the steps to acquiring a Pre-Employment Orientation Seminar (PEOS) certificate, let's learn what it is all about first.
The Pre-Employment Orientation Seminar (PEOS) is a comprehensive, client-specific, self-instructional and computer-based education program required by the Philippine Overseas Employment Administration (POEA) for Filipinos looking to work as domestic helpers abroad.
It is an online preventive measure that resulted from the collaboration of the POEA, Jobstreet.com, and WorkAbroad.ph. It seeks to strengthen their anti-Illegal recruitment campaign. Initially, PEOS was meant to serve as a welfare intervention initiative taken as the first step in pursuing a career overseas. In 1993, however, it was transformed into a primary strategy to prevent illegal recruitment.
With the intervention from Jobstreet.com, the seminar was made accessible online via an online facility that can be accessed through mobile, laptop, tablet, or desktop. It was also enhanced to include the Domestic Worker module, as well as the availability of English and Taglish language options for the modules. These improvements made the information dissemination a lot easier, as applicants no longer need to go to any of the 16 POEA-designated training venues across the country.
Labor & Employment Secretary Rosalinda D. Baldoz says, "The PEOS is instituted as a welfare intervention to complement the Pre-Departure Orientation Seminar (PDOS) in providing information that prepares and guides workers in making a responsible choice about going abroad."
Who can take the Pre-Employment Orientation Seminar Online?
Any Filipino can register for and take the Pre-Employment Orientation Seminar (PEOS) online, but it is mandatory for:
All Filipinos seeking land-based overseas work for the first time; and
New hires who have no prior record of deployment in POEA.
It is a pre-application requirement which should be completed prior to applying for overseas work.
Why should you take the Pre-Employment Orientation Seminar (PEOS)?
The Pre-Employment Orientation Seminar (PEOS) is mandatory for Filipinos who:
Are looking to complete their Pre-employment Requirement,
Are thinking of working overseas,
Are in need of the PEOS certificate for research purposes, and
Are looking to use the certificate for any other purpose
PEOS vs. PDOS: What's the difference?
It is important to note that PEOS is different from PDOS. Where PEOS is the first step to seeking employment abroad, PDOS is the absolute end, which will get you ready to start your new life in a new country. They are equally essential, though in very different ways.
Here, we listed the things that you are expected to learn from PEOS and PDOS in the hopes of differentiating the two even more clearly.
PEOS, or the online PEOS version, is a 60-minute seminar that boasts of eight comprehensive training modules, highlighting essential know-hows that job seekers need to know about working overseas, including, but not limited to:
Everything about being an OFW, including their requirements and rights,
Considerations before working overseas,
Employment contract,
Country-specific information,
Required fees and requirements, and
Benefits of having an Overseas Employment Certificate (OEC).
PDOS, on the other hand, is an essential six-hour-long seminar, especially for first-time workers. It is a comprehensive guide to give detailed information on multiple topics to help job seekers with their big move. The topics include:
Migration realities
Destination country profile
Employment contract
Health and safety
Financial literacy
Available government programs/services for OFWs
Tips and tricks for Travel procedures
Both cover very different topics but are equally important in helping Filipinos take the correct steps towards safely building a career overseas.
If it is PDOS that you are looking for, you may check this article on What You Need to Know About Philippine Departure Procedures
A closer look at the Modules of the Pre-Employment Orientation Seminar (PEOS)
The modules in the Pre-Employment Orientation Seminar (PEOS) are divided according to eight different topics. Each module comes with an assessment test that takes an average of seven minutes to complete.
The modules differ depending on the applicant's job category—professional and skilled workers and domestic assistants.
The PEOS modules are as follows:
PRICEST
PRICEST is the mnemonic keyword that summarizes the first module. The mnemonics contain everything concerning life as an OFW, including some of the concerns they have to look out for, summarized in 14 slides. An assessment test with five questions then follows it.
The PRICEST module covers the following topics:
Physical Mobility – This portion of the PEOS module 1 lists all there is to know about countries with restrictions regarding "moving around," like, for instance, in the Middle East.
Relationships – Learn what it means to be far from your loved ones and if you are okay with that.
Income and Expenses – This portion of the module covers the Cost of Living in specific countries and how much of a difference it makes to your income, regardless of the payment you may receive while working in other countries.
Career Movement and Job Security – This part explains that there may be less opportunity to pull ranks for workers in other countries. This module will also make it clear for prospective workers that should there be problems in the economy, war, or pandemic in the destination country, workers, particularly nonessential ones, may suffer consequences like being let go.
Environment – Since working in another country will require applicants to adapt to a new culture, language, climate, and time difference; this module aims to discuss what that entails.
Skill Set – This portion explains the importance of having the right experience and skill in the position they are applying for.
Time – This details the importance of being on time and the difference of the so-called "Filipino" Time when working in another country.
Job Search
The second module in the PEOS discusses the importance of going through the Philippine Overseas Employment Administration (POEA) and doing things legally. This module covers information and tips about Recruitment Agencies, Government Placement Branches, and OEC that prospective overseas workers will find helpful. This module has 12 slides and five assessment questions at the end.
Forewarned, Forearmed
The module is all about illegal recruitment. It contains 25 slides that detail all the known types of illegal recruitment scams, along with some helpful advice on how to avoid them. At the end of this module, you will have to answer five questions to complete the assessment portion.
The Price is Right
This module will tell you exactly how much you will need to pay when you become an OFW. This module would help you know whether the amount an agency asks from you is reasonable or not. This topic is covered in 10 slides followed by five questions to assess understanding.
Seal The Deal
This 12-slide module covers everything you need to know about Employment Contracts and a few tips about what to look out for before signing it. The module, like the others, ends with five assessment questions.
Country Information
This part offers three different modules that you can choose from depending on the country where you are deployed. The options include:
Asia
Americas and Europe
Middle East
The module offers country-specific information regarding the climate, lifestyle, practices, food, specific culture including etiquette, and policies. The slides may vary depending on the module you choose, but there are also five questions at the end.
Healthy and Safe
This module discusses all the common types of diseases and their prevention to help you stay healthy and safe while out of the country. This module includes any travel advisories that the prospective worker needs to know, all summarized within 14 slides. Like the others, the module ends with five questions to help assess your learnings.
POEA Cares
As the last of the eight PEOS modules, this module is dedicated to POEA. In this part, workers can learn more about POEA along with its mandate and functions. It also includes information on all the different divisions within the Agency and how they could help you in times of trouble. Also included in this 17-slide module is a directory of POEA and five assessment questions in the end.
Where to take and process the PEOS and the PEOS Certificate?
Filipinos looking to seek overseas work may take the PEOS and acquire the PEOS Certificate by accessing the PEOS Online website through any of the following facilities:
Any personal computer, tablet or smart phone.
POEA Central Office (2ndFlr., PEOS Online Hub)
Licensed Recruitment Agencies
POEA Regional Offices
Local Government Units / Public
Employment Service Offices
POEA private-partners
How to Register for PEOS and Get a PEOS Certificate?
So now that you have an idea about the PEOS certificate is, please follow the guidelines below on the PEOS certificate registration process:
Step 1: Prepare your POEA E-Registration number.
If you want to get a PEOS certificate, the first thing to do is to make sure you have a POEA E-Registration number. If you don't have one yet, you can register on POEA's online portal by following the instructions in this article on How to Register in POEA.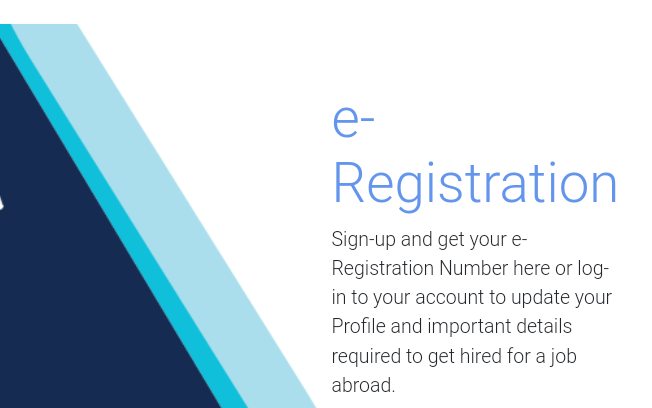 Once done, you can log into your account and check the dashboard for your E-Registration Number, which you can use for the PEOS Online.
Step 2: Once you have your E-Registration number, go to the PEOS page which can be accessed via www.peos.poea.gov.ph to get started.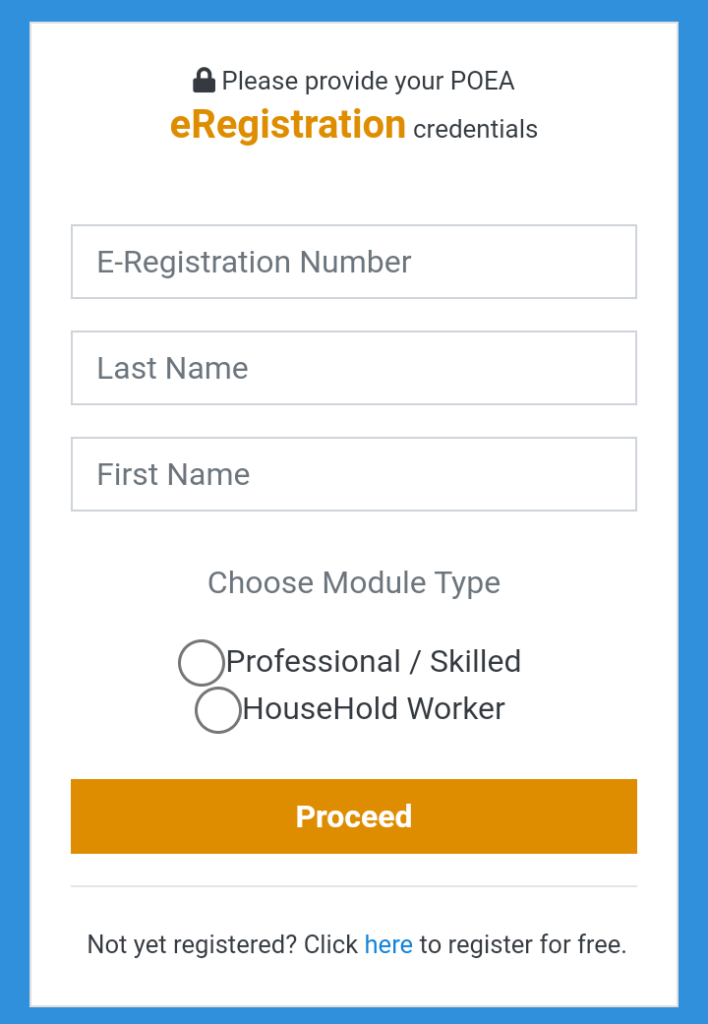 Step 3: Register and enter the correct information required.
You will need to fill out the required information and choose the module type based on whether you are to look for a career as a skilled/professional worker or a household worker abroad.
Step 4: Once you have ensured that you have keyed in all the correct information, click Proceed.
Note that existing members of JobStreet.com may also use their account to log in and access the PEOS Online and start with the seminar at any time.
Step 5: Doing so will direct you to the dashboard. Once there, you can see that you have 8 Modules to check.
Step 6: Click on the first Module. You may opt to watch a video or read the slides. Take notes and make sure you understand the topics discussed in the module as there is a quiz at the end.
Step 7: Click "Let's Review."
This will direct you to the Modular Assessment Test. You will have to answer at least three out of five questions correctly before you could pass the quiz and proceed to the next module.
Step 8: Repeat Steps 6 and 7 for seven more times until you are done with the eight modules.
Step 9: Once you are done with the eight modules, you will receive the test results along with a Certificate of Completion on your registered email address. Note that the online seminar produces the certificate immediately.
Step 10: Once you receive the Certificate of Completion, you may have it printed out and submitted along with your application and other requirements for the pre-employment processing with POEA.
Note that after completing the modules, your name will be registered in the database of users who completed the modules. The PEOS certificate does not be printed though you have the option to do so.
If you choose not to print the certificate, you may simply provide your complete name and birthday, or simply the certificate number to the licensed recruitment agencies when applying for overseas work.
What are the Benefits of Taking the Pre-Employment Orientation Seminar (PEOS) and acquiring a PEOS Certificate?
Note that if you are looking to work overseas, you will also need the Pre-Employment Orientation Seminar (PEOS) certificate to get an Overseas Employment Certificate (OEC) as it will not be granted without a PEOS Certificate.
For information on getting an OEC, you may follow the steps listed in this guide to Getting a POEA Balik Manggagawa OEC Online.
The PEOS Certificate can also be used as a complementary certificate when finding a job. It is free and can be acquired from the comforts of your home. If you are to go abroad for work, becoming aware of the benefits and costs of working overseas will help you make better decisions and prepare you for living and working overseas.​
Plus, even if you have no plans of working abroad, you will still find the seminar to be informative. After all, there is nothing wrong with gaining extra knowledge.
For recruitment agencies: How to verify if an applicant has completed the PEOS?
By virtue of the amended "Migrant Workers and Overseas Filipinos Act of 1995" and the Revised Rules and Regulations Governing the Recruitment and Employment of Landbased Overseas Filipino Workers of 2016, licensed recruitment agencies will need to check if the applicant has indeed taken and completed PEOS Online before accepting applications. Failure to do so will nean a violation and will be subject to corresponding sanctions.
For licensed recruitment agencies to verify if the applicant has completed the PEOS, they will need to
Access the verification menu in the PEOS Online website.
They can check either by name or by certificate number and the Workers Education Division will provide the necessary technical support in verifying and authenticating an applicant's PEOS Online certificate, if necessary.
The recruitment agency will have to prepare a Request for Processing (RFP) when processing an applicant's contract, and PEOS system will check for valid PEOS certificate number against the list of those who completed PEOS Online. Nite that the matching process will be performed on last name, first name and birthday using exact match only.
If a match is found, the PEOS certificate number will automatically be added to the corresponding field of the contract data when it is entered into the POEA database.
However, if no match is found and no certificate number is generated, the e-Submit system will reject the RFP and processing of contract will not proceed.
The system will send an error response to the agency, and the agency will have to revert to the applicant and require them to register and take the PEOS.
Note that former OFW applicants do not need to take the PEOS before applying for an overseas work again. Instead, they will simply need to submit the following to establish that they had previously worked abroad and was processed at POEA:
OFW Information Sheet,
Overseas Employment Certificate, and/or
Passport with departure and arrival records and stamped appropriate visa.
To secure your OFW Information Sheet, you may check this article detailing the steps on How to Request for Your OFW Information Sheet from POEA.
Video: How to Get PEOS Certificate via Mobile Phone
Here is a video guide about the process of getting the PEOS certificate and eRegistration guide using a smartphone. A Filipino shares a step-by-step guide tutorial that outlines the process of getting this pre-employment seminar certification. Please be guided accordingly:
Final Thoughts
The new PEOS online promises that any Filipino looking to become an overseas worker will find the seminar informative, easy-to-understand, fast, and convenient.
It was created in an easy-to-understand modular structure, which works well with the internet-savvy population.
It is also conveniently accessible from any device without even going to the POEA office for a PEOS session. Users can simply take it at the comforts of their home, in an internet cafe, or even through their mobile devices.
Finally, the self-paced version of the seminar boasts of comprehensive self-training modules with everything they need to know about working overseas.
In fact, during the pilot testing of PEOS Online, some of the candidates who were asked to try the facility found the experience worth their time.
"Maganda siya at marami po ang matutulungan na gustong mangibang bansa. Talagang mabilis, madali at higit sa lahat, matipid na paraan sa pagkuha ng PEOS. Marami din akong natutunan. Pakiramdam ko, mas naging handa ako," they said.
So you see, there really is no reason not to take PEOS.