A Filipino overseas worker based in the United Arab Emirates recently won big in a Dubai-based raffle draw.
Paterio is a 52-year-old expat who works in an Oil and Gas company in the emirate of Fujairah, UAE. He is the first winner of the 10,000,000 Dirhams which is equivalent to 136 Million Philippine Pesos.
In a recent post uploaded by Mahzooz on their official social media account, they shared the update featuring Paterio claiming his check with the AED 10 Million.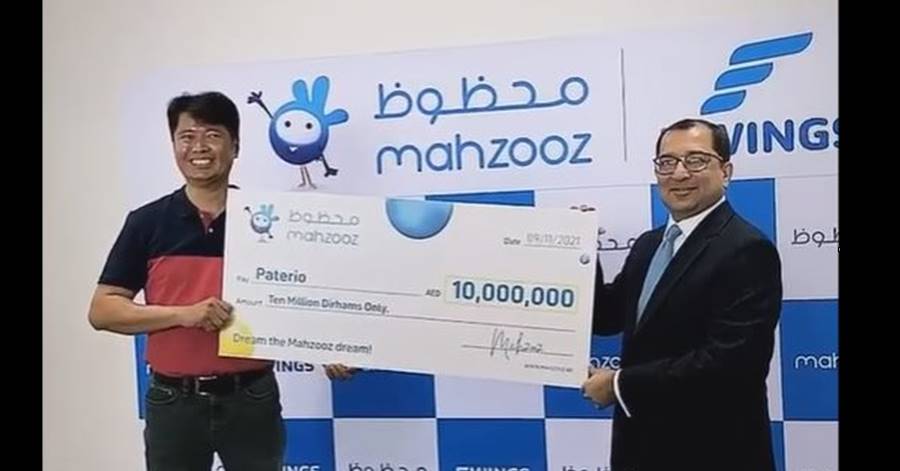 Pinoy in Dubai wins AED 10,000,000 in Mahzooz Raffle
Mahzooz is the GCC's only weekly live draw that offers players a life-changing opportunity with millions of dirhams to be won every week.
According to reports, this lucky scenario came at a very crucial time because the money will be a big help for Paterio. He has a son who suffers from cerebral palsy and the money will assist in his treatment.
————————-
Fortune accelerated Filipino expat Paterio's status to that of a millionaire overnight during the 50th weekly live Mahzooz Grand Draw. The lucky participant scooped the AED 10,000,000 Top Prize after matching five out of the five winning numbers, which were 4, 26, 36, 37, and 38. Paterio, who is Mahzooz's 19th millionaire, also has the distinction of being the first Top Prize winner of Mahzooz's new game design which was introduced two weeks ago.
Paterio, 52, is resolute that the entirety of his prize money will be dedicated to giving his family all the possible comforts imaginable. "I wouldn't have been able to save such a huge amount even if I had worked for a hundred years," says the material contract supervisor who has spent 13 years working in the construction industry, away from his family.
"I've had goosebumps ever since I received the call informing me about my win. This amount will allow my family and I to pursue any and every dream we have."
For the father of two, what tops that list of dreams is state-of-the-art care for his younger son who has cerebral palsy. "There are some dreams AED 10,000,000 can't fulfil, like helping my child who can't walk or sit live a normal life. But this money will definitely help me take care of his medical expenses and give him the best at-home hospice care possible. I will remain forever grateful to Mahzooz for that," explains the regular Mahzooz participant.
A big house followed by real estate investments are the next on Paterio's wish list. "A family house has been my wife's greatest dream for years, and now it's time to finally grant her that wish," he says.
The self-confessed motorhead plans to buy a Ford Raptor, not as a treat for himself, he clarifies, but another prudent investment: "The pickup truck is for a business my wife and I plan to invest the prize money in. I'm a normal guy who enjoys a simple, low-profile life. The fact that this money allows me to offer my family a beautiful future is the greatest gift of all for me," Paterio explains.
What's got Paterio revved up with excitement for his imminent reunion with his family. "I've spent the last decade toiling away alone in Madagascar, Saudi Arabia and the UAE, just to ensure my family is comfortable. It's time for me to be with them and help care for my child."
Paterio urges everyone to try their luck with Mahzooz: "A platform like Mahzooz gives people an additional shot at making big money to fulfill their dreams. Keep participating in Mahzooz; fortune favours those who are patient."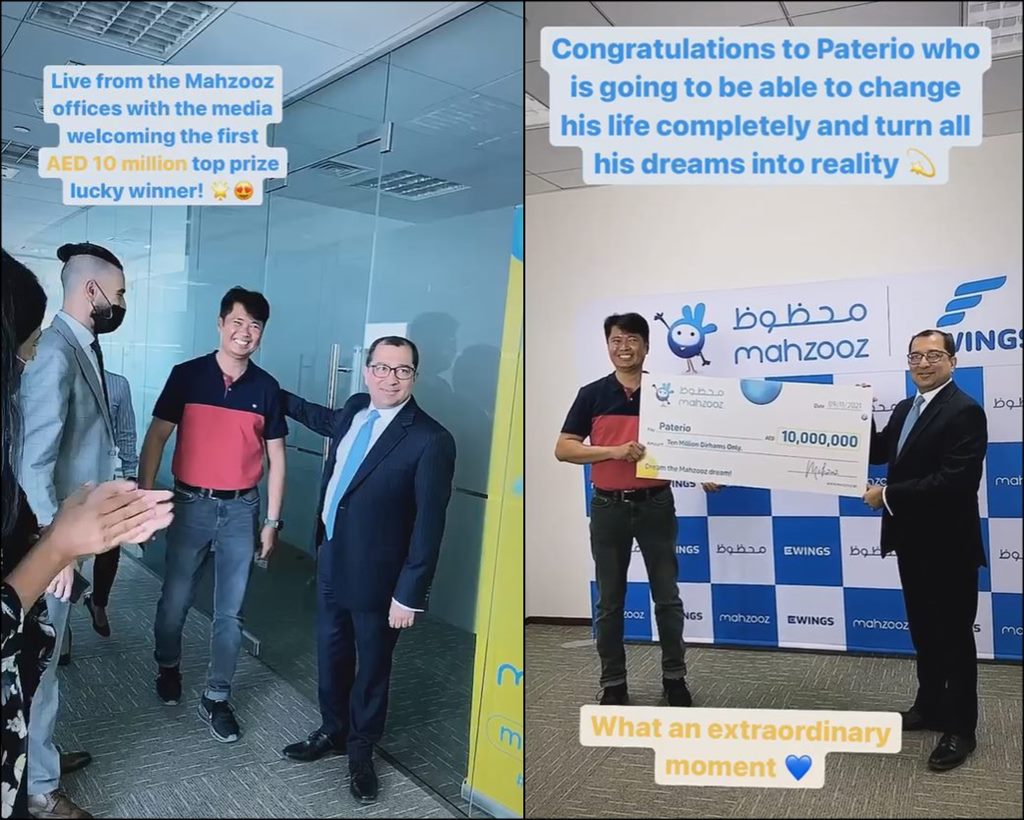 Below are the captions of the said photos as shared on the IG account of Mahzooz:
Congratulations to Paterio who is going to be able to change his life completely and turn all his dreams into reality. What an extraordinary moment
Live from the Mahzooz offices with the media welcoming the first AED 10 million top prize lucky winner.