Getting an Overseas Employment Certificate (OEC) nowadays is much simpler than it was before – all thanks to the new POEA Balik Manggagawa Online System. Just to give you a background, back then, a supposedly dream vacation back home in the Philippines can easily turn into a nightmare and a massive source of stress when faced with endless queues practically draining your time in the country, just to get an OEC. Was it worth it? We all know the answer.
Getting the OEC was quite a hassle especially with spending time in a government office. Many OFWs cannot skip this process because the OEC is a required document to show at the airport immigration before they leave the country for their jobs.
Also Read: Difference Between POEA vs DOLE vs OWWA vs POLO
But since the number of OFWs will only continue to rise, the POEA has come up (and good timing, too) with an online system to provide a more accessible solution for vacationing Filipinos to get their OEC while in the country. If you'd like to know more about how this works, be sure to read until the end of this guide.

Guide on How to Obtain an OEC via Balik Manggagawa (BM) Online
In this guide, you will learn everything there is about your OEC, the Balik Manggagawa Online Processing System (BM Online), the process of acquiring, as well as a couple of FAQs related to using this service.
What is Balik Manggagawa Online – BM Online Processing System?
An OEC or an overseas employment certificate is a document that all departing OFWs, whether a new hire or a balik manggagawa (returning OFW), must secure from the POEA. This will serve as an exit clearance to fly back abroad to your host country. This will also serve as proof for payment exemption for travel tax and airport terminal fees.
The Balik Manggagawa Online Processing System (BM Online) is an online platform wherein OFWs can set an appointment to acquire an OEC. This is also the method to confirm that they are qualified for an OEC exemption. With this digital service, OFWs no longer have to wait in long queues at government offices. Moreover, this process enables OFWs to apply for an OEC appointment whenever and wherever they may be.
You also might be wondering why you need to register via BM Online to get an OEC. If you're a first-time OFW, you have a lot to be thankful for because, with this online platform, you have been spared from spending long hours waiting for your turn to be issued an OEC at the Labor Assistance Center (LAC) before your departure. Imagine how stressful this can easily be: You are waiting for your flight, yet, you still need to drop by somewhere to get an *important* document for your travel.
With this online platform, acquiring an OEC shouldn't be a hassle or source of stress, wasting valuable time, which you should rightfully use to spend time with family and loved ones, if not to simply rest, while staying in the Philippines.
Eligibility / Qualifications
As mentioned, all OFWs, whether exempted or not from getting an OEC, must register via this platform. This is especially useful for those who are returning to the country, whether for a vacation or any other travel purposes. With this platform, the POEA is able to determine who are exempted from getting an OEC based on the information provided on the system.
Balik Manggagawa Requirements for OFWs
In order to obtain an OEC via the BM Online platform, you need to have the following documents on hand:
Your Passport with at least six (6) months validity from departure date.
Valid work visa, work permit, or any equivalent document
A verified employment contract or offer of employment
Printed Balik-Manggagawa Information Sheet
How to Download Balik Manggagawa Form
Applying via the Balik Manggagawa Online Processing System takes off a lot of burden on your shoulders as well as frees up important time you can spend on doing other important things before you leave for work overseas once again.
How To Register at the Balik Manggagawa Online (5 Steps)
Step 1: Go to the Balik Manggagawa Online Processing System Page by typing bmonline.ph at the search bar or clicking this link.
Step 2: Under the 'New User' field, input the personal information required (e.g.,  name, birth date, gender, email, and so on)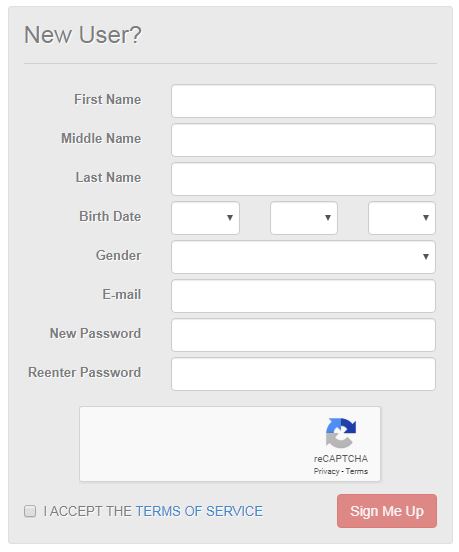 Step 3: Click "I Accept the Terms of Service" after reading it. Once you're done, click 'Accept' if you agree to everything outlined in the terms of service.
Step 4: Next, click 'Sign Me Up'
Step 5: A confirmation message will be sent to your registered email, so you need to check your inbox to click this link to activate your account.
Take note of the details provided. You may now use this as your log-in credentials.
How To Apply For An OEC via BM Online
So once you've registered as a new user via the BM Online platform, the next step would be to check if you can apply for an OEC or if this is no longer needed. This will depend on the information you have on the system, which determines your status, hence, the need for an OEC or otherwise.
Step 1: Visit the Balik Manggagawa Online Processing System Page by typing bmonline.ph or clicking this link.
Step 2: Input your log-in credentials. This refers to the email address and password you used during registration.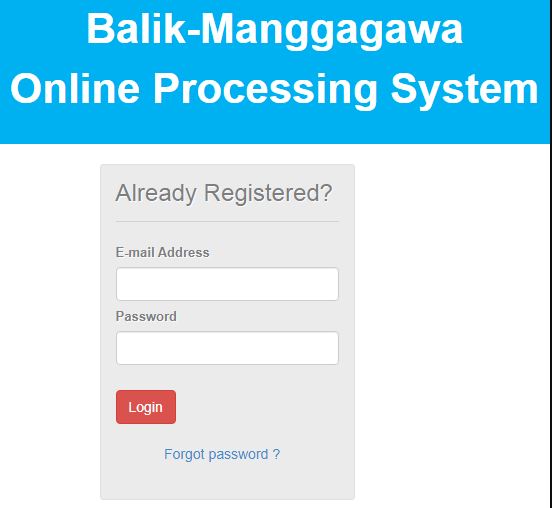 Step 3: Input the details (OEC number) of the last OEC issued to you, then click Submit.
If the details you entered have been recognized in the system, and if you will return to your previous employer, your employer details and job site will pop up on the screen, click "Yes" to proceed. Otherwise, click "No" if you have a new employer or job site. And if you do not have this information, click on the link which allows you to set an appointment.
Step 4: Complete your profile. You will be required to provide your personal data, contract details, as well as legal beneficiaries or qualified dependents, where applicable – this can be more than one.
After filling out all these fields, do not forget to click 'Save Changes'. If you need to change or correct any information provided, click 'Edit'.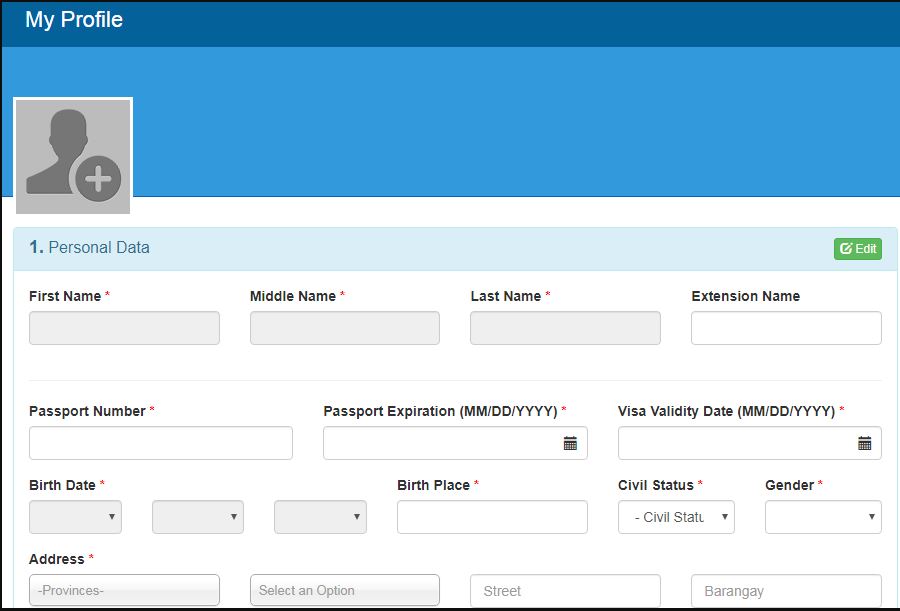 Step 5: Upload a profile photo.
Step 6: Review the details of your profile.
Step 7: Click "Acquire an OEC Exemption"
Step 8: Input your expected flight schedule.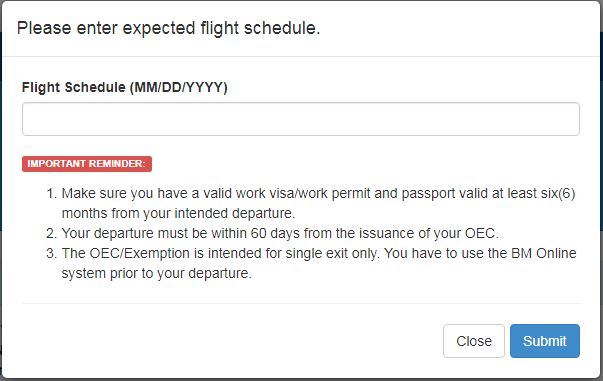 Notes:
Make sure your passport and visa are both valid for your next travel.
The flight schedule you will provide must be within 60 days of getting your OEC.
OEC Exemption can only be availed for a single exit only.
Step 9: You will once again be asked if will return to the same employer/job site, answer 'yes' or 'no' to book an appointment.
The following steps will depend on the information you have provided on the system.
ACQUIRING AN OEC
Select the link that says, 'Acquire OEC'.
Select the payment option that applies to you (banks [over the counter/online], mobile (GCash), or non-banks)
Settle the fee.
After you have paid the fees, head back to the BM Online homepage by typing:  poea.gov.ph or clicking this link.
Select Transactions to view your OEC.
Click 'Print Receipt' to print your OEC.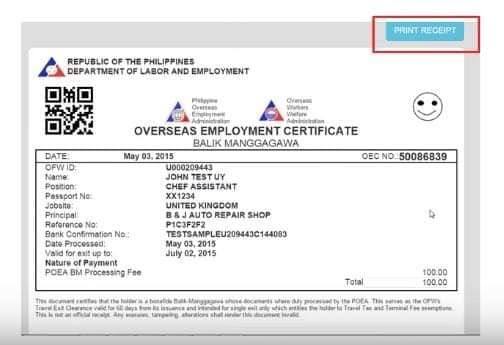 OEC EXEMPTION
For the exemption, the system will assess your profile to determine if you qualify for an OEC exemption. If you qualify for this exemption, you will receive a message notifying that you are exempted from getting an OEC/paying the processing fee.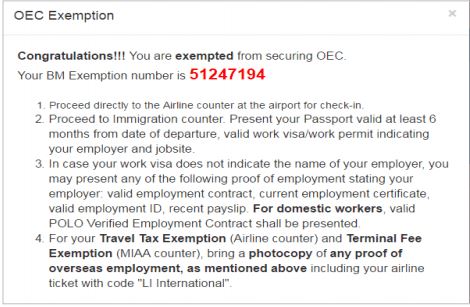 STEP-BY-STEP GUIDE: How to Set BM Appointment Online
Step 1: Choose the location for your appointment.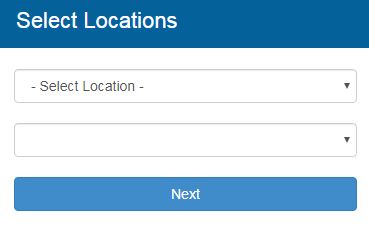 Step 2: Pick the slot for the schedule and time that you prefer, as long as it's still vacant on the page. Click 'Set Appointment'.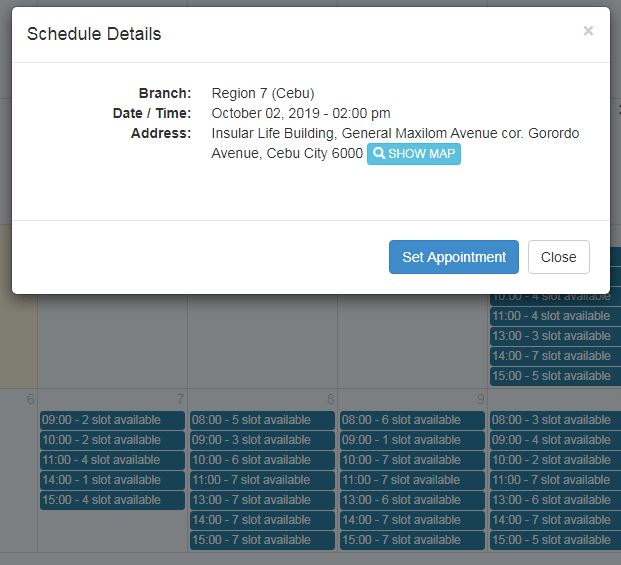 Step 3: Go through the Balik Manggagawa Information Sheet, making sure that everything is correct then click 'Print the Appointment'.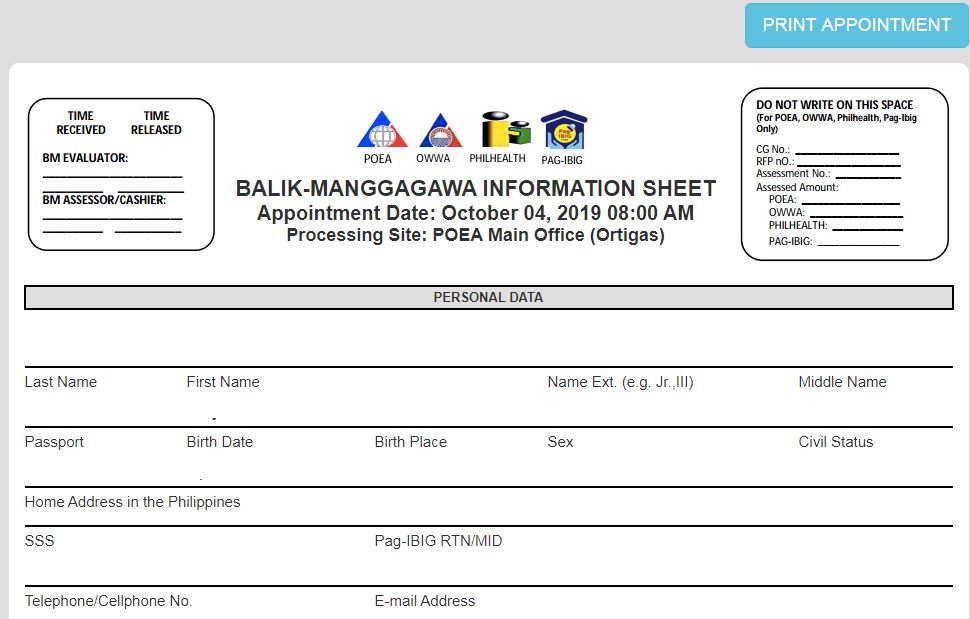 Step 4: Visit the POEA branch you selected on the appointed date and time.
Bring the following documents on your appointment as per the POEA BM Online e-mail:
Balik Manggagawa Information sheet
Original and photocopy of Passport
Original and photocopy of valid visa or work permit
Original and photocopy of the contract
Note: Contact must be verified by POLO or the Philippine Embassy for changes in employer, undocumented workers, and HSW.
POEA Branches in the Philippines
Here are the POEA branches you can choose to set an appointment with, depending on what is most convenient for you.
POEA Main Office
EDSA corner Ortigas Avenue,
Mandaluyong City, Philippines
POEA Regional Center for Luzon
2nd Floor Kenny Plaza Quezon Ave
City of San Fernando, La Union
POEA Satellite Office – Tuguegarao City
Methodist Church Compound
Bonifacio St., Tuguegarao City
POEA Regional Extension Unit
G/F Gestdan Centrum
80 Bokawkan Road corner Upper P Burgos Baguio City
Satellite Office – Pampanga
3rd Floor, SM City Pampanga
Bgy. San Jose, Gapan- Olongapo Road corner NLEX
San Fernando City Pampanga
Satellite Office – Calamba City
Basement, Andenson Building II
Brgy. Parian Calamba City
Satellite Office – Oriental Mindoro
Unit B Sapphire Building, Roxas Drive cor Kamias St
Brgy Lumangbayan, Calapan City
POEA Office – Palawan
One-Stop Service Center for OFWs
2nd floor, Robinson's Place, Puerto Princesa North Road
Puerto Princesa City
Satellite Office – Legaspi City
Ground Floor, Unit 102-103, ANST Bldg. Washington Drive
Legaspi City
POEA Regional Center for Visayas
Ground Flr. DOLE Building (old Insular Building)
corner General Maxilom Ave and Gorordo Ave
Cebu City
Regional Extension Unit
RHEA GLYNDA D. CALANTAS
3rd Floor, Robinson's Place – Iloilo
Ledesma corner Mabini Streets, Iloilo City
Satellite Office – Bacolod City
2/F, Gaisano Grand Bacolod City Mall
Araneta St., Singcang, Bacolod City
Satellite Office – Tacloban City
3/F Uytingkoc Building, Senator Enage Street
Tacloban City
POEA Regional Center for Mindanao
2nd Floor, AMQ Building
corner Lakandula St., Dacudao Avenue
Agdao, Davao City
Regional Extension Unit
2nd Floor, Goodwill Center
Canelar, Zamboanga City
Regional Extension Unit
Ground Floor Trinidad Bldg.
Yacapin St., Cagayan de Oro City
Satellite Office – Koronadal City
Ground Floor, Nearby Executive Suites
Zulueta St., Koronadal City
Satellite Office- Butuan City
Door 2, Nimfa Tiu Bldg 7 JP Rosales Avenue
Butuan City
Satellite Office – Tawi-Tawi
Initiative for Tawi Tawi Area Devt. Foundation (ITAD) Bldg.
Old Housing Proj., Tubig Boh, Bongao, Tawi Tawi
Labor Assistance Centers (LAC)
Ninoy Aquino International Airport (Manila)
Mactan International Airport (Cebu)
Francisco Bangoy International Airport (Davao)
Philippine Overseas Labor Offices (POLO)
If you are based abroad, you may also get an OEC at the nearest POLO-OWWA office. Please check out this list below:
Americas
Asia
Brunei Darussalam
Canada
Hong Kong
Indonesia
Korea (Seoul)
Macau
Malaysia
Singapore
Taiwan

Kaohsiung
Taichung
Taipei

Vietnam
Europe
Cyprus (Nicosia)
England (London)
Greece (Athens)
Italy
Milan
Rome
Spain (Madrid)
Switzerland (Geneva)
Middle East
Bahrain (Mahooz)
Israel (Tel-Aviv)
Jordan (Amman)
Kuwait
Lebanon (Baabda)
Libya (Tripoli)
Oman (Muscat)
Qatar (Doha)
Saudi Arabia

Alkhobar
Jeddah
Riyadh
Unaizah

United Arab Emirates
Syria (Damascus)
Video: OWWA Balik Manggagawa Program
Here is a short video that aims to help OFWs further visualize the things that you need to do when applying for an OEC via the BM Online website. The OFW shares how you can easily register for the OEC online, fill out the information, and then print the document:
FAQs
Below are some common questions and answers about this Balik Manggagawa program. Please be guided accordingly:
Am I qualified as a 'Balik-Manggagawa' under the POEA?
Those who are considered as Balik-Manggagawa as per the POEA are the following:
Worker on leave – this refers to anyone who's on vacation or on leave from employment, with a valid and existing contract and will return to the same employer, regardless of a change in the job site, to complete the remaining terms of their contract.
Rehire – this refers to someone who has been rehired by the same employer after completing their latest contract. They shall be working for the same employer, regardless of a change in the job site, under a new contract.
POLO registered worker – this refers to a returning worker whose contract was not processed by the POEA but has been registered and verified with the Philippine Overseas Labor Office (POLO) in their job site and is returning to the same employer, either as a worker on leave or rehire, with or without a change in the job site. Same employer/principal refers to a person identified as the employer in the employment contract previously processed by the POEA or registered at the POLO in the job site.
How long will my OEC be valid?
The Balik Manggagawa OEC is only valid for six (6) months.
What should I do if I lost my Balik Manggagawa OEC?
In case you lose your OEC, you can reprint this document via your BM online account. However, in case you cannot retrieve this document through your BM online account, you can file an Affidavit of Loss via the POEA to request for a reissuance of your OEC, which you can use as an exit clearance. If you lose your OEC, you automatically do not qualify for an OEC exemption and will have to pay travel tax and terminal fees at the airport.
I haven't used my Balik-Manggagawa OEC until it expired, what should I do?
Unfortunately, you can no longer use an expired OEC for travel or work purposes. Instead, you will need to pay a replacement fee of Php 100 after you submit the old one at the Labor Assistance Center (LAC).
I'm supposed to get an OEC exemption. Instead, I was redirected to the appointment page. What happened?
The reason for this could be any of the following:
Sea-based workers who changed position to Landbased Worker
Undocumented workers (i.e., Tourist to OFW, Dependent on OFW, Student to OFW, etc.)
Watchlisted worker and/or OFW with a watchlisted employer
Workers without POEA records / No record found / Discrepancy in any record
BM workers returning to a different employer and/or Jobsite
OFWs returning to a restricted or non-compliant country
Contact Information
POEA
Address: Blas F. Ople Building, Ortigas Avenue corner EDSA, Mandaluyong City
Contact Number/s: 8-722-11-44 / 8-722-11-55
Email: connect@poea.gov.ph
Google Map Location
Here's a map guide to the location of POEA in Mandaluyong:
[Important Update] As of this writing, the BM Online website will soon be retired and will transition to another website: https://onlineservices.poea.gov.ph//OnlineServices/POEAOnline.aspx. You can process your OEC application using this website moving forward.
Thanks to the breakthrough of digital services, applying for an OEC is now made easier more than ever! We hope that you'll find this process as simple and seamless as it should. Just make sure to keep a copy of this guide so you'll know exactly what you need to do to get your OEC as seamlessly as possible!
READ NEXT: Difference Between POEA vs DOLE vs OWWA vs POLO