Other than our personal travel documents, another important thing for overseas Filipino workers (OFWs) to have before they leave for abroad and come back home (usually for vacation purposes) is the overseas employment certificate (OEC).
The good news is, with a new system, also known as the Balik-Manggagawa Online Processing System or BM Online already in place, OFWs can now easily secure a copy of their OECs right from the comfort of their homes, with just a working computer and Internet connection.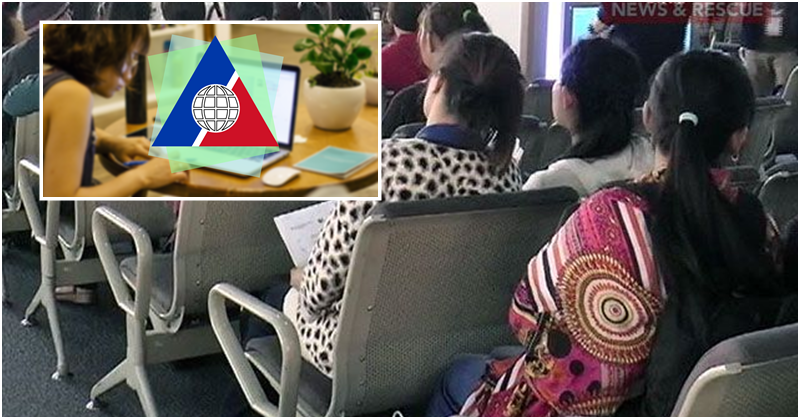 Guide to Getting Your OEC Fast & Easy
The OEC serves as the OFW's exit clearance/permit that would certify the regularity of their recruitment and documentation, which is verified by immigration officers at the airport prior to exiting the Philippines.
However, the system CANNOT be used by all OFWs, such as those (who):
Don't have any records at POEA;
Have an undocumented status;
Had a recent change in employer or job location;
Are under the POEA watchlist;
Were former seafarers; and
Are returning to a restricted country
Nevertheless, ALL OFWs must register via BM Online every time they would come back to the Philippines for a vacation. Otherwise, they would be referred by an immigration officer to the Labour Assistance Counter (LAC) for the encoding of their data and evaluation, which basically would mean longer waiting time or more hassle.
A. To counter this, here is a step-by-step guide on what to do after logging into the Balik-Manggagawa Online Processing System:
For New Users, click on the Sign Me Up button and register your personal e-mail account to register in the system. Check your e-mail and look for the confirmation link sent to you by BM Online.
After clicking the link, you will be directed to the BM Online log-in page. Select Already Registered, then input your last issued OEC number. If no record comes up, you will need to set an appointment. Otherwise, if your record comes up, update your personal information, contract details, and beneficiaries, where applicable.
Click the Acquire OEC or Exemption link to proceed with online assessment. Input your flight date and confirm if returning to the same employer and job site as specified in the system record. If not, you will be redirected to the Appointment Page, where you will be asked to select your preferred POEA office and schedule for processing and payment of your OEC.
B. If you have an active BM Online Account, you may proceed with the following steps to apply for online OEC processing, set an appointment for regular processing, or to get an exemption.
Log in to your account under Already Registered
Input your last issued OEC number to verify your record. Otherwise, you will need to set an appointment as specified earlier.
Once you have entered your latest OEC number, and a record shows up, click 'Yes' if you're returning to the same employer or job site as reflected in the system. Otherwise, click 'No' to set an appointment.
Update your Personal Data, Contract Particulars, and Legal Beneficiaries forms. After you're filled out all sections, review your work and click 'Submit'.
Your My Profile Page will then appear. Click 'Change Photo' and upload your recent passport photo as your profile photo.
On the right-hand side of the page, click 'Next Step'.
Input your confirmed flight schedule. Make sure that the date is within the 60-day OEC validity period then click 'Submit'.
A final confirmation pop-up window will appear, click 'Yes' to complete the procedure.
Click 'Acquire OEC'.
The payment options page will then come up on your screen. You have four options to choose from:

Banks (over-the-counter payment);
Banks (online payment);
Mobile payment; or
Non-banks (over-the-counter payment).
Note: Securing an OEC via the BM Online platform costs PHP 119.50.
Once a payment confirmation window appears, click 'Yes'.
Choose from the list of banks or payment centres available. After you've chosen an option, click 'Send Instructions via E-mail'. You will have to check your e-mail (the one you registered under your BM Online account).
After your payment has been confirmed or was successful, go back to the BM Online system and click 'My Transactions' at the left side of the page.
Once a digital copy of your OEC appears on screen, click 'Print Receipt' to receive a copy of your OEC.
C. After you've registered on the system, as detailed above, and are returning to the same employer and job-site, hence the term 'Balik-Manggagawa,' you will no longer be required to get an OEC, and are therefore 'exempted' from this step.
After registering and updating your records, follow step #3 under section A, then click 'Exemption'. You will be given a BM Exemption number and instructions on your pre-departure at the airport.
Compliance with the system is the easiest and fastest way to get your OEC or return to your workplace without hassle. Be sure to follow and share this guide to other OFWs who may be in need of it. Good luck and safe travels!
ALSO READ: Some Balikbayan Travel Tips to Remember