If you are working or living in Egypt right now, the Philippine Embassy can help you with the local service you need from the government. For instance, if you need to renew your passport or visa, you can definitely head to the embassy to avail of those services. There are other local services that you can get from the embassy, including the recording of birth, recording of death, marriage solemnization, legal services, and emergency aids. In the embassy, you will also find POLO and OWWA that help OFWs abroad. If you need services specifically from them, don't hesitate to go to the embassy and look for them.
Also Read: 8 Reasons Why You Should NOT Work as an OFW
If you are abroad, it's important that you know where to go in case of legal issues and emergencies. OFWs abroad are encouraged to go to the embassy to seek the help of the government in case something comes up while they are working or living in Egypt.
Below we shared some of the important details you need to consider keeping so that whenever you are in emergencies, someone can help you immediately. The Philippine Embassy in Egypt is in Cairo and here you will find the services offered by the embassy, frequently asked questions, location, contact number, and a map guide.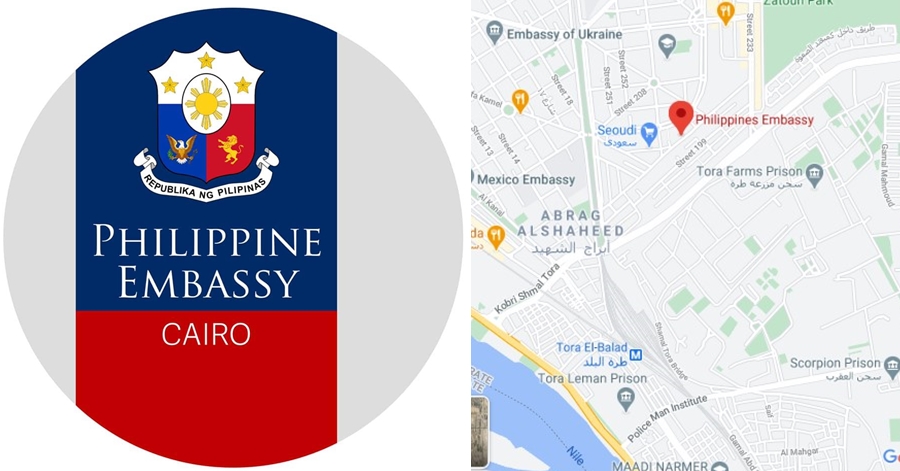 History – PH Embassy in Cairo
The Philippine and Egypt had established its diplomatic relations since 1946. Both of the countries have embassies located in Cairo and Manila. In 1955, the Philippine and Egypt signed a Treaty of Friendship to formalize its diplomatic relations that started in 1946. In 1960, the Philippine embassy opened in Cairo and it was then the sole diplomatic post of the Philippines in the Arab region and Africa. In 1970, the sole post ceased because other embassies had opened in the regions.
In 2007, the political consultations between the Arab Republic of Egypt and the Republic of the Philippines happened for the fifth time. The delegation was headed by then H.E. Ambassador Shwaky Ismail and H.E. Ambassador Erlinda F. Basilo. In 2009, former President Gloria Macapagal Arroyo had a state visit to Egypt wherein she met the Egyptian President Hosni Mubarak. Until now, the countries have a harmonious relationship. And, because of the growing number of Filipinos in the country, the Philippine embassy continuous to provide extensive services to help our fellow Filipinos and OFWs there.
Service Offered
If you want to know the services offered by the Embassy of Egypt, here's the list:
Consular Outreach Program
Passport

Adult New Applicant
Adult Renewal Applicant
Minor New/Renewal Applicant

Travel Document
Authenticating Documents Made Simpler by the Apostille
Civil Registry
Solemnization of Marriage
Report of Marriage
Report of Birth
Report of Death and/or Consular Mortuary Certificate
Dual Citizenship
Visa
Waiver of Exclusion Ground
Certificate of Not the Same Person
Balikbayan Program
Schedule of Consular Services and Fees
Consular Service Fees and Turnaround Time
List of Other Services

Transport of Pets
NBI Clearance
Renewal of Philippine Driver's License
Securing a J1-Waiver
PH Requirements for Medical Missions
Departure Formalities
Philippine Overseas Labor Office
Issuance of Overseas Employment Certificate
OWWA Membership Program
Employment Contract Verification and Authentication
Implementation of POEA Rules on Direct Hiring
Frequently Asked Questions Regarding the Services
What are the documents I should bring during my passport renewal?
When renewing your passport, you have to present the following documents to the embassy of Egypt.
Original old or expired passport.
Complete passport application form.
Photocopy of your passport's data page
Photocopy of your permanent resident card, a record of landing, and work permit.
Passport processing fee
What happens if I lost my Philippine passport?
If you lost your passport, you just need to apply for a new one. However, you need to present additional documents such as a police report and affidavit of loss of passport. Here's the complete list of documents you need.
Police report or case certificate
Affidavit of Loss of Passport (this can be completed in the Philippine embassy but with a separate processing fee).
Birth Certificate
Marriage Certificate if applicable
A legal document showing your name, date of birth, and place of birth.
Photocopy of your lost or destroyed passport, if applicable.
Death certificate of spouse, if applicable.
Annulment/divorce, if applicable.
What are the documents needed when a minor wants to obtain a passport?
If your child is a minor and he/she needs a passport, the following documents should be presented when you apply for it in the Philippine Embassy of Egypt.
Birth certificate
Report of birth form
Letter from the doctor who delivered the child attesting to the birth.
Medical record of the child from the hospital where the child was delivered, in case the doctor can't be located anymore.
Original and photocopies of the passports of the parents.
Letter of consent with the signature of both parents
Tips When Visiting the Embassy
When visiting the embassy, here's what you need to consider:
1. Show your respect to the embassy and its personnel.
One way you can show your respect to the embassy and its personnel is to dress up properly and to follow the instruction of the personnel. Refrain from wearing sando and shorts.
2. Secure all the documents you need before you leave your home.
You need to make sure that you have all the documents needed when you go to the embassy. For instance, if you are applying for a passport renewal, you should bring the documents mentioned earlier.
3. Follow your appointment.
Follow your appointment if you have one. Be on time and avoid getting late so that your schedule will not get cancelled.
Opening Hours
9:00 AM – 5:00 PM
Contact Information
Embassy of the Philippines in Cairo, Egypt
Contact Person: Sulpicio M. Confiado – Ambassador
Address: Road 200, Villa 28 Degla, Maadi, Cairo, Arab Republic of Egypt
Telephone Number: (+20-2) 2521-3045; 2521-3062; 2521-3064; 2521-3065
Fax Number: (+20-2) 2521- 3048
ATN No.: (+20-122) 743-6472
Duty Phone No.: (+20-128) 895-1110
Email: cairo.pe@dfa.gov.ph / info@philembassycairo.org / cairophilembassy@gmail.com
Website: www.cairope.dfa.gov.ph
Facebook Page: https://www.facebook.com/PHinEgypt/
Google Map Location
In case you are wondering where the Philippine Embassy in Egypt is located, below is a map guide for you: