Many OFWs are working in Singapore because it is one of the best places to live and work in. However, due to the pandemic, the government has taken strict measures before it allows anyone to enter the country. Nowadays, the restrictions are easing just a little bit, but anyone who wishes to enter Singapore needs to get an SG Arrival card first.
The steps that you need to take to get an SG arrival card are pretty straightforward. The procedure is listed in detail in this article, as shared by an OFW living and working in Singapore. With the help of an Arrival Card, Singapore ensures that all the information it needs related to health and safety among travelers is facilitated.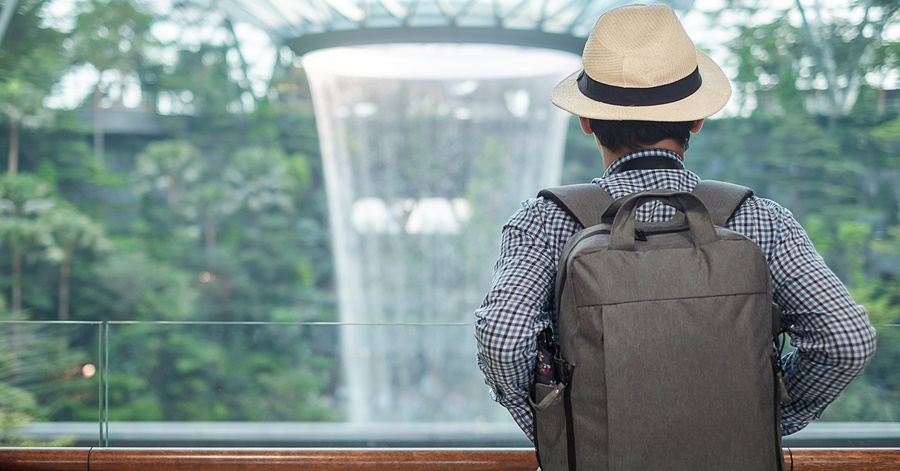 Disclaimer: The information posted here is based on the personal experiences shared by the OFW in the video below. Please let this post serve as a guide only. If you have specific questions, you may ask the OFW by commenting on their video on their accounts.
Steps You Need to Take to get an Arrival Card in Singapore
The information shared in this article comes from a YouTube channel named Maestro Andoy. If you want to watch the full video, you can click on the link below:
In the video, the vlogger demonstrates the step by step online procedure in getting an SG Arrival card. Getting this card needs to be done at most 3 days prior to your date of arrival in the country.
So who needs to get an SG Arrival card?
Applicable to OFWs returning from vacation
Tourists
Residents
All travelers entering Singapore
Basically, anyone who enters Singapore must accomplish an SG Arrival card.
List of Requirements
The following are the updated list of requirements needed so you can travel or enter Singapore:
Passport – this must be valid within 6 months
You need to book your flight
No more VTL Flights
You can book your flight in any airlines
You have to get a vaccination certificate
You need to acquire Overseas Employment Certificate (OEC) – this is for travel tax exemption
As mentioned above, one of the things you need to submit is a vaccination certificate. Now, getting a vaccination certificate depends on where you currently are. Here are two possible scenarios and what you need to do for each:
If you are in Singapore, you should get a Singapore vaccination certificate which you can access at the Singapore government website.
If you are in the Philippines, you should get a Philippines vaccination certificate which you can access at the DOH website.
The list above also mentions getting an OEC or an Overseas employment certificate. This is only a requirement for OFWs or for those who are going back to Singapore with a working visa. In order to apply for an OEC, you should go to the POEA web page.
Indeed, returning OFWs need to submit the same documents that other travelers submit, and one additional document. That is the OEC, or the overseas employment certificate.
SG Arrival Card
According to the vlogger, the first step you need to take in order to get an SG arrival card is to visit the ICA website. That actually links to an e-service page that contains all the information you need to start the application process for the SG arrival card.
Just to reiterate, all the documents mentioned above are required for all travelers except for the OEC, which is a requirement only for OFWs or those with a working visa. Having said that, the rules change a lot overtime, mostly depending on the current state of health safety and security of the country. As such, the best thing you can do is to check out the links above for any changes.
One thing that is surely never gonna change as a requirement is the passport. The thing though is that your passport needs to be valid within 6 months.
You also need to book flights going to Singapore, of course, and the good news is that the country is no longer strict when it comes to airline choice. You can now book a flight to Singapore with any airline.
To reiterate, a vaccination certificate, which is also commonly known as a vaxcert, is also required, and the procedures and requirements vary depending on which country you came from. You can always do your own research to determine these steps.
Other Updates
Here are some more updates for the requirements upon entering Singapore:
PCR test is no longer required for vaccinated travelers
Insurance is optional
No need for trace apps
Most recently, going to Singapore, the PCR or ART test is no longer required for vaccinated travelers. Having said that, you really need to check the links for the latest update.
As mentioned above, insurance is already optional and no longer required. This is especially true for the following:
Short-term visitors who are fully vaccinated
Non-fully vaccinated children aged 12 and below
OFWs
Those which have a working visa
Permanent residents
For the above-mentioned demographics, they are also not required to have a travel insurance for COVID-19 related medical treatments and hospitalizations.
The latter three entries, that is, the OFWs, working visa holders, and permanent residents, are no longer required to get additional insurance coming back to Singapore.
When it comes to tracing apps, the most common app in Singapore is TraceTogether, with its SafeEntry check-ins. According to the most recent update, this app is no longer required as Singapore eases its COVID-19 measures. However, authorities in the country are still encouraging to keep, and not delete their TraceTogether apps.
After all, it is easy to install this app once you land in Singapore.
Other Useful Links
In this time of crisis, communication plays a crucial role in ensuring that everyone stays safe, even as restrictions are slowly being eased. The best source of communication right now is the internet, and so here are some of the useful links you need to visit in order to be informed.
Overview of Situation in Singapore
By going over the links mentioned in the list above, you give yourself access to the latest numbers and the most recent policies made by the government regarding the pandemic. The following is an example of one such information.
Singapore has a committee called EC19V that makes recommendations on how to slowly ease restrictions and, in general, how to mitigate, if not eradicate, the harmful effects of the pandemic. Several recommendations have been made and implemented over the last few weeks, including the following:
Recommending a booster dose for recovered persons
Easing of community and border measures
Easing of measures for in-person visits to hospitals and residential care homes
When to Apply for the SG arrival card
According to the vlogger, the SG arrival card must be accomplished at most three days prior to your flight date.
Here is a very specific example: if your flight date is on May 4, then you can accomplish your SG arrival card at any one of the following dates: from May 1 to May 4. You will see this as the highlighted dates in a calendar during your online application process.
According to the vlogger, he recommends that you accomplish your SG arrival card two days before your flight. To him, this leaves enough room for you to process all requirements without being too stressed out. Even if you can apply for the SG arrival card at the exact date of your flight, imagine how complicated that might become.
For OFWs that went home to the Philippines for vacation or other purposes, who would like to go back to Singapore, almost all of the requirements needed are already on hand. The only document left, for most OFW returnees, to be processed is the SG arrival card.
Step by Step Procedure on Getting an SG Arrival Card
If you are a traveler going to Singapore, you need to submit an SG Arrival Card once you arrive. This applies to both tourists, citizens and workers coming home. However, this does not include those that are transiting or transferring through Singapore without looking for immigration clearance. In addition, residents that are fully vaccinated and travelling through land checkpoints are not required as well.
In summary, the following are not required to present an SG Arrival Card:
Those transferring or transiting through Singapore without seeking immigration clearance
Fully vaccinated residents that are traveling through land checkpoints.
Vaccination is indeed a major requirement if you want to do certain activities in the country. This mandate is a part of the initiative of Singapore's VDS, which stands for Vaccination-differentiated Safe Management Measures.
Some activities that you cannot participate in without a vaccination include the following:
Dining in F & B establishments
Entering shopping malls
Attending certain events
and more
The following are the steps you need to take in order to apply for an SG Arrival card:
First, open an internet browser, then go to the eServices webpage of ICA.
You will then be directed to the landing page of the SG Arrival card webpage. – this page is actually inside the ICA website.
You will then be given two options, and you have to choose the one that is fit for OFWs.
Clicking on that will lead you to another page which prompts you to enter your details, including your date of arrival
Next, there will be a health declaration form – one key feature of this form is that it will ask you if you came from Panama, or Africa, etc. These places are currently hot stops when it comes to the coronavirus, but this may change over time, so you have to check out the latest news and updates.
As mentioned above, you are coming in to Singapore as either one of the following, and these are your two options when filling up the online application webpage:
Singapore citizens, permanent residents, and long term pass holders
Foreign visitors (including in-Principle Approval (IPA) holders
If you are an OFW, then you need to select the former. If you are a tourist, just wanting to explore or tour the beautiful country of Singapore, then select Foreign visitor.
For example, if you are an OFW, then you will click on the "Singapore citizens, permanent residents, and long term pass holders" option.
Upon click that option, you will be directed to a Declaration page, where you will fill up your personal information. This information includes the following:
NRIC/FIN
Email address
Date of birth
Important Points You Need to Remember
The following are some important pointers you need to comply with when getting an SG card. You can access the full list by visiting the ICA website.
You can submit an electronic health declaration 3 days before you arrive in Singapore
You must submit your completed health declaration card to the OIC once you disembark
It is possible that you will have to undergo a medical exam once you arrive in Singapore
If you have an infectious disease, or if the authorities suspect that you do, then you may be isolated or quarantined
If you have been in contact with someone with an infectious disease, or if the authorities suspect that you do, then you may be isolated or quarantined
It is important that you inform the airplane crew, or any person of authority, if you are feeling sick.
If you are unable to complete or submit the health declaration card, there will be a hefty fine, even imprisonment for the first offence, and a heavier fine or longer prison time for the second offense.
If you provide false information on your health declaration card, you will receive similar fines or prison time as above.
Singapore has already currently made measures to ease travel restrictions, like the travel bubble it has made with Hong Kong. But it continues to remain vigilant, and has made initiatives like the SG Arrival Card to ensure that another outbreak is prevented, and that all of its residents and visitors are safe.