Finland is one of the best places to live and work in. In fact, many Filipinos across varying professions have found their opportunities for a better life by moving to Finland. Nurses, for example, have found that the country is a great destination because of the salary, benefits, and the overall high quality of life you can get when you live in this highly touted European nation.
Did you know that you can work as a professional cleaner in Finland as well? In fact, there are several OFWs sharing their experiences through the popular video streaming platform, YouTube, so that other Filipinos who have plans to work abroad can be inspired as well. One such OFW is featured in this article. For most of his videos, he has shared key moments of his life in Finland, but for one particular video, he sits down and talks about how he got there in the first place.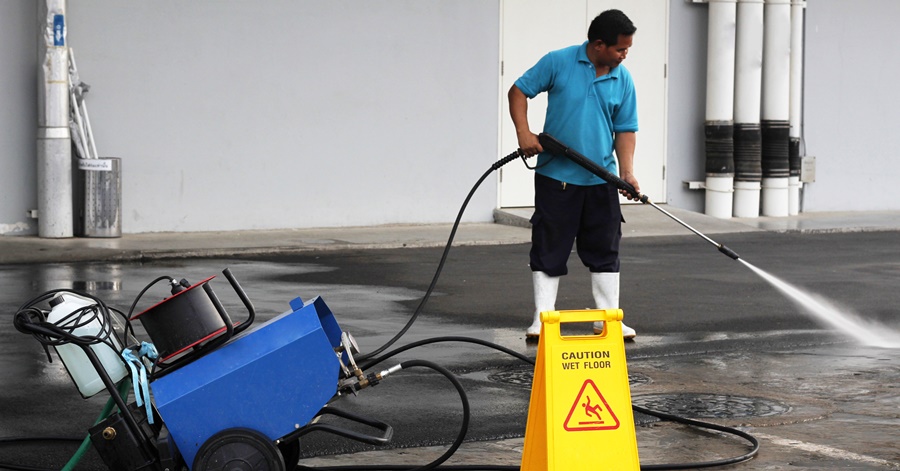 Disclaimer: The information posted here is based on the personal experiences shared by the OFW in the video below. Please let this post serve as a guide only. If you have specific questions, you may ask the OFW by commenting on their video on their accounts.
This article summarizes the video shared by an OFW in Finland through his YouTube channel Khiroppi Vlogs. A lot of his viewers asked him how he got to Finland. He got into the country back in 2016, through the recommendation of one of his cousins that helped him. His cousin asked him if he's interested to work in Finland, and he never thought twice. If you want to watch the full video, then click on the link below:
The vlogger said that when he was still in the Philippines, he always wanted to live and work abroad. That's why he grabbed the first opportunity, and said yes to his cousin who asked him if he was interested in moving to Finland. He immediately began the first few steps of the application process, including getting a passport.
Here's a summary of the steps he took to work in Finland:
Get a recommendation from someone who works in Finland
Receive papers that you need to fill up and submit to the immigration office
Set an appointment with the immigration office to pass the requirements
Submit these requirements to have a working visa in Finland
Receive the visa after a few months
Train to become a housekeeper through TESDA
Get an NC II certificate
Fly to Finland
After several months, his cousin sent him some papers that he needed to pass to the immigration office. These papers were brought by hand from Finland to the Philippines by a priest. The vlogger saw this as an initial blessing from above; that a priest would bring the necessary papers to him.
He also prayed hard, and his faith was so strong, and he truly believed that Finland was the place for him. Because of that, he always had a positive mindset. Even if he had a hard time applying and processing the necessary papers because he was also working, he still found a way to make it happen. Eventually, he resigned from his work in Manila to focus on processing his papers to go to Finland.
After receiving the papers from the priest, he immediately processed them. He called the immigration to set an appointment so he can pass the requirements. All of these papers were for his application for a working visa in Finland.
After five months, his visa arrived. When it did, he wasn't able to leave right away because he had to do something first. That is, he had to train at TESDA. He had to train to do housekeeping.
That's one of the reasons why he quit his job as well. He had a hard time looking for a school that helped him train to be a housekeeper. Back then, he also needed an NC II certificate. The vlogger said that this document is no longer required, because after all, you won't really use that certificate once you arrive in Finland. In fact, the NC II certificate he got was just a formality, or for documentation purposes.
After the training, he was finally able to go to Finland. It was his first time to go abroad, and he is very thankful to his cousin who helped him go to Finland. If not for his cousin, he wouldn't be in Finland.
Later on, he got a chance to get his family. He started processing the papers of his family in 2019, and after 9 months, these papers were finally approved and they were able to join him in Finland. He is very grateful for having his family with him, because his homesickness is drastically reduced as a result. In addition, he can be with his children growing up, and he now has the chance to guide them.
Why Education in Finland is Great
According to the vlogger, he is quite happy that he is able to bring his family to the country. He is especially happy that he can now guide his youngest child along with his wife. In fact, he is so grateful that he constantly reminds his kids to study hard.
He is also very grateful that the educational system in Finland is great, and one of the reasons why he feels truly blessed. Indeed, Finland has been recognized all over the world for having an excellent educational system which is quite unique in the sense that it is extremely humane and effective.
The vlogger shares the following reasons, through his perspective, why Finland education is great:
Education is free
Kids even get free food
School life is not that stressful
Kids even have time to play outside
Kids are taught to become independent
Getting a Job in Finland
While the vlogger didn't really need to learn Finnish during his application and even upon arriving in Finland, because that is not necessarily required with the type of profession he has, in general, the most important asset you can have if you want to enter the Finnish labor market is if you have good to great Finnish language ability.
Here are some important facts you need to know about the role of the Finnish language during your application process:
You need to show that you are willing to learn the Finnish language
Ideally, you should learn some words in the language even if you are not hired yet
Knowing the language puts you at an advantage during the application process, because many job ads are written in Finnish
If you want to learn Finnish, there are many tutorials online. You can also enroll at some schools teaching the language.
Looking for Work
The following are some key tips that you need to consider before looking for a job in Finland:
Assess your qualifications based on Finnish standards
Have your documents and qualifications translated in Finnish
Applying for a job, it helps if you can show that you have the right qualifications to do so. In general, these qualifications can be categorized into two, and they are as follows:
Academic qualifications
Vocational qualifications
Having said that, not all qualifications are automatically accepted as valid by the Finnish government. In fact, you have to be sure that they are recognized by the Finnish National Agency for Education.
This body will decide whether your qualifications meet the standards and are eligible for a certain type of job in Finland.
To have your qualifications assessed, you need to make this request to the Finnish National Agency for Education, and this comes with a fee.
If you graduated with a higher education degree, then it is mandatory to apply for an assessment by this agency, and that you have to obtain a decision from them.
Tips for Finding Jobs in Finland
Here are the following tips you need to remember when applying for jobs in Finland, taken from the Expat Finland website.
You have to thoroughly and completely analyze the job ads – this means that you have to know and understand what the requirements are and what assets are required in order to apply for the job. You have to figure out if you have the qualities and skills required to qualify for the job. Make a list if possible.
The kind of language (e.g. formal or not formal) used in the ad is a guide to how you should write your cover letter. If its formal, a formal cover letter is advised.
Call the employer, unless the ad says they don't want to be called. – call the contact person so that you can ask for more information regarding the job. This actually gives you a positive impression on the employers and helps you stand out among other applicants.
So how should you call the employer that is posting the job ad? Well, here are some tips:
Introduce yourself at the start of the call
Have your questions prepared in advance so that you don't waste the other person's time
Make sure that your questions are relevant to the job offer
Don't ask them if they think you are the right candidate
Don't ask them about the salary
Take down notes during the call, and use this information for your cover letter
Tips in Creating a Finnish Job Application
Aside from the cover letter, you need to create a job application and CV or resume that uses the Finnish standards.
Here are some tips for the cover letter that you need to consider:
Create a concise job application cover letter; preferably one page only
Your letter should indicate that you have the abilities and skills required to perform the job advertised
You have to make unique letters for each job opportunity that you apply in; don't just copy paste one letter and use it for many others
You can also customize the letter so that it matches the employer's interests, if you can figure that out.
The following are some tips on how to create a CV or resume that meets Finnish standards:
Your CV or Resume should have a maximum of 2 pages
It should be visually effective; that is, easy to read and with an appealing design
Use action phrases throughout your resume, e.g. "I participated," or "I organized," or "I developed."
The employment history and academic background you put in should be relevant to the job
Academic background and employment history must be arranged so that the latest entries come first; that is, in reverse chronological order
You should also indicate your leadership roles, or positions of responsibility
You can add your hobbies, although this is not necessary
You should add references
Never exaggerate your entries. This will be seen as a lie by the readers.
You don't have to add a photo.
You should not add a summary of your life
Tips for Passing the Job Interview
In order to pass the interview for a job application in Finland, the best strategy is to be Finnish. That is, you have to know how the Finns do it, so that you appeal more to the interviewer who is most likely to be Finnish themselves.
Here are some job interview tips you may want to consider:
Answer directly and state the facts
Be confident
Don't be overconfident because it can be seen as arrogance by your Finnish interviewers
Do not exaggerate. As mentioned above, this is equivalent to lying, more so in the context of Finnish culture
If you can speak even just a little bit of Finnish, that would be a plus
If there are long silences or pauses during the interview, don't worry. That's normal
If the interviewer has an aggressive tone in the way they speak, don't worry. That's normal to some.
If you apply these tips and if you follow the same career path that the vlogger featured in this article tracked, then you might be on your way to join the many other Filipinos who have applied their way into living an amazing life as workers in the Finnish job market.