There are many job opportunities for caregivers around the world. It is such an in-demand job, especially in places that experience an aging trend in their population. Some of the most common destinations for OFWs are Japan, Canada and the United States. However, did you know that you can also find work as a caregiver in Finland?
Also Read: How to Become an OFW and Work Abroad
Finland is a great destination to work as a caregiver for several reasons. It has recently widened its door for a lot more workers, especially those that are already working abroad. If you are an OFW working as a caregiver in the UAE or Hong Kong, for example, then this opportunity might just be for you. You can, of course, apply from the Philippines, but the focus of this article are OFWs who would like to transfer to Finland.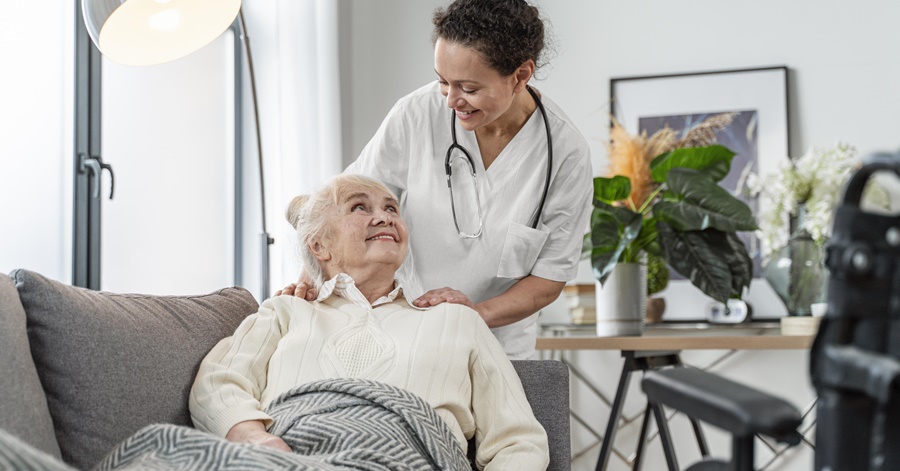 Disclaimer: The information posted here is based on the personal experiences shared by the OFW in the video below. Please let this post serve as a guide only. If you have specific questions, you may ask the OFW by commenting on their video on their accounts.
Moving to Finland as a Caregiver from the UAE or Hong Kong
If you are interested to know more about how to apply as a caregiver in Finland, then you can watch the video below from ChelleSpike Vlog. In this video, the OFW vlogger reveals some of the agencies that can help you land that dream job, and many others. Just click on the link below if you want to watch the full video:
In this video, the vlogger reveals the agencies that you can apply when you wish to work as a caregiver in Finland. Specifically, these agencies are open to workers in countries outside the Philippines. For example if you're in Hong Kong, Singapore, Macau, Dubai or somewhere in UAE, these are the agencies that you can apply in that offer free language tests and free visa.
As a disclaimer, the vlogger mentioned that this video is not sponsored by any agency. Moreover, she has not experienced applying through these agencies because she came from the Philippines. She just knew some people who used these agencies and that's why they are able to go to Finland.
Why Work as a Caregiver in Finland?
Caregivers are always in demand in Finland, like many other countries. Most communities require a caregiving job, including nursing homes, daycare centers and even in the homes of clients.
As a caregiver, you get to:
Have one-on-one interactions with people, including your clients
Take care of elderly family members
Have a job that doesn't limit you to the desk
Use your creativity and quick-thinking skills
Make a difference in someone's life
And so much more
Working as a caregiver in Finland is especially rewarding, since Finland is basically one of the best places to live and work in. Here are several reasons why:
Excellent working conditions – In Finland, companies emphasize equality and cooperation among employees. In fact, Finland is one of the highest rated companies in terms of high autonomy and safety among workers. Lots of benefits are also provided, e.g. family nights, maternity leaves, paternity leaves, and so much more.
Beautiful country – some argue that the weather in Finland is not that good. While it is true that it's really cold in the country for much of the year, you can always enjoy a good sauna. Also, Finland's nature scene is practically untouched and pristine, and your lungs will definitely benefit from the clean air.
High salaries – Finland doesn't have a minimum wage. They have a different system that makes salaries of employees in various sectors much higher compared to their equivalent in other countries. Employers also provide lots of allowances to employees.
Agencies
The vlogger features two agencies that you can contact if you are from Hong Kong or the UAE and would like to work in Finland. These agencies are as follows:
Healthcare Staffing Solutions (HSS)
Silk Road Workforce Management
Healthcare Staffing Solutions
HSS is a legit agency. They have already helped countless of people enter Finland. So what are the qualifications to apply through this agency:
You must be 21 to 35 years old
You need to be a nursing degree or caregiver degree graduate
You need to have at least one year experience as a helper, caregiver or a nurse
You need to be an A2 level Finning language passer
When your application is successful, you will be offered a starting salary of 1,906 euros per month. That is equivalent to around 108,000 pesos per month.
How much will you spend if you are applying from Hong Kong or Singapore? Here are a few details:
Language training – You will not pay anything for this. This is free.
Visa fee – the agency will pay for this.
Ticket – you will have to pay for this
Medical exam – you will pay for this as well
Pocket money – you need to have a certain amount of money going to Finland.
All in all, the vlogger said that her friends who applied to go to Finland from Hong Kong spent around 16,000 pesos. In addition, they brought 50,000 pesos as pocket money, although this amount is more than enough to get you by before your first salary arrives.
As an estimate, it's best to have a budget of around 100,000 pesos to be sure.
Application steps:
First is you need to fill up the form in their website. This form asks for some of your personal details including your name, phone number, email and HKID.
Next, wait for an email to arrive. This email will tell you the next steps you need to take, including the details and the flow of the processing.
Be patient. Some are saying that they took awhile to reply, but you just have to wait because they do have a lot of other clients. At the end of the day, all of your waiting will be worth it.
To learn more about this agency, you can visit the HSS website .
Silkroad Workforce Management
If you are from Dubai or anywhere in the UAE, then Silk Road Workforce Management is one agency you can apply in if you want to work in Finland. The vlogger mentioned that this is the agency that helped her move to Finland while she was still working in Dubai.
This agency is legitimate, and often has lots of applicants at any given time. The vlogger also knows someone who got to Finland through this agency.
So what are the qualifications you need so that you can apply? Here they are:
You need to be a nursing graduate or a certified nursing assistant.
Experience is not necessary
You also don't need to be a registered nurse or licensed
To learn more about this agency, you can check out their Facebook page. The Facebook page is a great resource for job openings, as the company constantly updates their news feed for such opportunities. They also post job orientations.
In the Facebook page, you will also see a link that tells you how to fill up an application form and where to send the documents you need to apply.
Silk road will then email you back if you qualify. Again, just like with the previous agency, you need to patiently wait for their reply. Silk road, after all, is not just catering to applicants from Dubai; they are also taking care of those applicants who are already in Finland.
In fact, the agency is even responsible for the following:
Helping applicants during the application process
Help them find an apartment
Take care of their work contracts
And more
For sure, this agency will find time to reply you. You just need to be patient because they have lots of responsibilities.
Moving to Finland
Before moving to Finland, you have to do the following:
Prepare your documents – passport, OEC, PDOS, work contract, covid declaration. If you are coming via an agency, you don't have to worry about these. The agency will arrange and compile all the documents you need going to Finland. All you have to do is to make sure that all your documents are complete, and that you have to double check the details written in these documents.
Driver's license (optional) – if you have a driver's license in the Philippines, then you should bring it going to Finland, since you can convert it to a Finnish driver's license without going through a long and tedious process.
Clothing – this depends on which season you go to Finland. For example, if you're going during the winter, of course you need to bring a lot of clothes. During the winter, you need to buy and bring winter jackets. You can buy winter jackets at the malls but they are quite expensive. If you have time to order online, they can come cheaper.
You should also bring winter boots. You have to wear these before you fly; don't put them in your baggage. Also, you need a warmer. They're like leggings that are soft and help further warm your body. You also need to bring working shoes, like travel shoes or crocs.
You also need spikes for your shoes. When you arrive during the winter, the roads are very slippery. Even if you wear boots, they still can be slippery without the spikes.
If you arrive during the summer, you don't have to buy all of these winter clothes. It's better to just buy them in Finland because the quality is much better. Just bring summer clothes and pinoy food.
You don't have to bring too many clothes because there are many cheap second-hand shops here. Save your luggage space for other things like shoes, food and others.
Food and spices – you need to bring some of your favorite foods and spices to Finland, because they are expensive in Finland, and sometimes you crave for Filipino food, and the Asian stores are far away.
Money exchange – while you're still in the Philippines, you need to already convert some of your peso money to Euro.
If you are a caregiver or a practical nurse, then you should definitely grab this opportunity to work in Finland while they're still open.
Working as a Caregiver in Finland
Filipinos that are registered nurses tend to become practical nurses or caregivers in Finland. In fact, there are lots of Filipino caregivers working in private home cares. They've been working there for a long time already, and in fact they are already regulars there.
Most of them are nurses in the Philippines, and when they arrive, they work as caregivers in Finland. That's okay because the salary is great, and they are, in general, satisfied with the work they are doing.
Other Filipinos study to become a regular nurse in Finland. They do this at the same time that they have a regular job and even a sideline job. A lot are saying that Finnish people love Filipino nurses and caregivers. They tend to have a reputation of being hardworking and caring.
If you study to become a nurse in Finland, you will have to pay for your books and other expenses, but the tuition fee is free. That's why it's great to study in Finland.
Your salary is probably around 1,833 euros. That is around 104,000 pesos per month. But this is just the base salary. You can get 3 hours per day of overtime. If your overtime is during daytime. Here are some overtime rates you may get working in Finland:
overtime during day shift – 15 percent higher than the regular pay
overtime during the night – 40 percent higher
overtime during Saturday – 20 percent higher
overtime during Sunday – double pay.
Finland is a great destination for OFW caregivers. If you have the training and experience necessary for this profession, then it's definitely worth the try.