Do you want to be a caregiver in Japan? Well, the good news is that Japan is looking to higher more than half a million caregivers, and this is probably due to their aging population. That is, Japan has the highest proportion of elderly citizens among all nations around the world. In fact, 39 percent of Japanese are above 60 years old.
Also Read: How to Apply TESDA Caregiving Course Online and Become a Caregiver
The Japanese government has even gone to great lengths to help encourage Filipinos to apply as caregivers in their country. For example, they have spent lots of money on building training facilities in the country for free caregiver education.
Many Japanese firms also sponsor language and culture education to help further prepare future caregivers. In this article, we'll learn more about the JPEPA program, which is a government-to-government initiative between the Philippines and Japan, through information shared by a Filipino caregiver.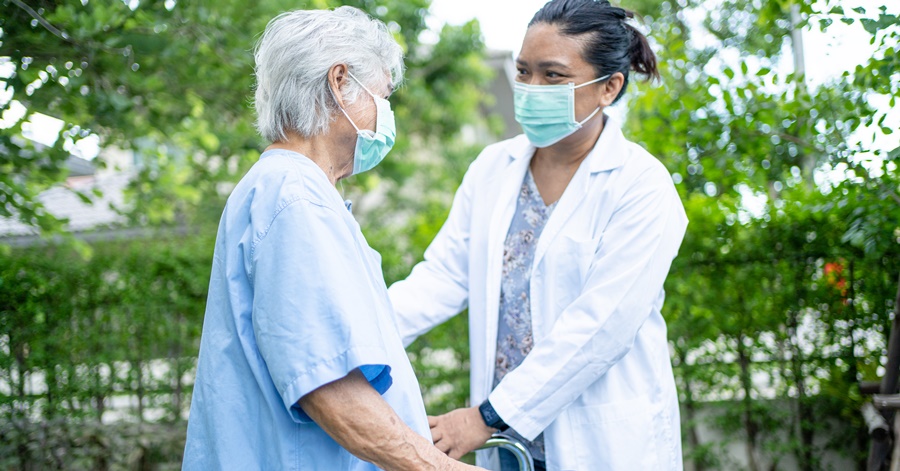 Disclaimer: The information posted here is based on the personal experiences shared by the OFW in the video below. Please let this post serve as a guide only. If you have specific questions, you may ask the OFW by commenting on their video on their accounts.
Working as a Caregiver through the JPEPA Program
As mentioned above, this article focuses on the information presented by an OFW YouTuber working as a caregiver in Japan. The name of the YouTube channel is NihonDiary Lhei, and in this particular video, she talks about many things related to applying as a caregiver in the country, including some tips and advice on how to ensure success in this endeavor. If you want to see the original video, then click on the link below:
Nurses and caregivers have been in constant high demand in Japan due to its aging population. That's why many skilled Filipinos have grabbed this opportunity to have a high paying job, and as a way to help support their family and bring them out of property.
Before we start talking about the content of the shared YouTube video, the vlogger first shared the following disclaimer. The vlogger mentioned that the following information is based on her experience, the experiences of her friends, and on her own research.
Completing Your Requirements
Applying as a caregiver in Japan through the JPEPA program means you will have to go to the POEA office to submit the necessary requirements needed to qualify for a job interview with a Japanese employer.
Preparing these requirements takes time, effort, and money, and if you go to the POEA office with missing, incomplete or the wrong documents, then all of that energy will just go to waste.
Therefore, the vlogger recommends that you need to complete all the necessary requirements before you start the application process. This is so that your time and effort will not go to waste.
Once you've completed the requirements, you need to go to a POEA office near you. Upon arriving at the office, you have to look for the window for nurse or caregiver applicants bound to Japan, or you can simply ask the security guard or any employee in the office for directions.
So what are the requirements needed to apply as a caregiver in Japan through the JPEPA program? Here they are:
Resume
Curriculum Vitae
Certificate of Employment
Transcript of Records
Passport
Diploma
The thing is, these requirements may change over time, so in order to be really sure, you should just go to the POEA website , poea.gov.ph, to know more about the specific requirements that you need, and to determine which of these requirements need to be red ribboned. The vlogger also pointed out that the requirements may vary depending on several factors, so it's best to check out the website for possible updates.
Educational and Work Experience
Many are wondering about what educational background or work experience you need to have in order to qualify as a caregiver in Japan. Some even think that you need to be a nursing graduate or a graduate of any course that is related to the medical field.
So, do you need to be a graduate of bs nursing to be a caregiver in Japan? According to the vlogger, the answer is no. You don't have to be a BS Nursing graduate to be a caregiver in Japan. You do need that if you want to be a nurse in Japan.
To be a caregiver, all you need in terms of an educational background is to be a graduate of any four-year course.
Moreover, you don't need to have work experience to be able to work as a caregiver in Japan. With that NC2 or caregiving certificate from Tesda, you are already qualified to be a caregiver.
JPEPA Program for Caregivers and Nurses
JPEPA stands for Japan – Philippines Economic Partnership Agreement. Applying through JPEPA means that you will be going through a government-to-government process.
This implies that you don't need to pay for any expenses to be able to apply. Also, it is important to note that only POEA handles the JPEPA program. There is NO placement fee at all.
You need to submit all of your requirements to the POEA. The next thing that will happen is that you will now be a part of the short list. You will be receiving a text message from POEA stating that you have to attend an orientation at a certain date, time and location.
The Interview Process
After the orientation, the next step is to have an interview with a Japanese employer.
When it comes to the interview process, here are some of the tips on how to ace the interview:
Wear your best formal attire
Wear a smile
Answer the questions direct to the point
Maintain eye contact with your interviewer
Don't worry about speaking Japanese; there will be an interpreter to help you.
As a word of advice, the vlogger says that you have to wear your best formal attire. What happens is that lots of Japanese employers will visit the Philippines. During the interview, you will be around people coming from different places in the Philippines.
In other words, you will be competing with lots of other hopefuls during the interview phase. That's why it's imperative that you present yourself the best way you can.
Another tip from the vlogger is that you always need to wear a smile. In general, you have to be presentable.
Japanese Language
Before applying to Japan, do you need to know how to speak or write Japanese? Well, the vlogger says that the correct answer is no.
You don't need to know how to speak Japanese to apply for a caregiving job in Japan. That's because after passing the interview, you will then be trained to speak the language.
In the case of the vlogger, since she really wanted to go to Japan, she started taking language lessons. This isn't required, but this probably helped her ace the Japanese language training she likely underwent both in the Philippines and once she arrived in Japan.
Expenses
As mentioned above, applying to be a caregiver in Japan through JPEPA means that you won't have to pay for anything during the application process. There is no placement fee; this only occurs when you are applying through an agency.
Having said that, this doesn't mean that you won't have any expenses. For a successful application, you need to pay for the following:
Personal expenses in acquiring the necessary requirements
Transportation expenses for submitting the requirements to POEA
Medical expenses before undergoing training (once the JPEPA program accepts you).
Interview with the Japanese employers
What should you expect during the interview process?
Well, the vlogger shares the following experience which could be similar to yours. First, you will see a bunch of tables with Japanese employers.
You should approach any of the employers to introduce yourself. Note that there are so many applicants, so you should find the next available seat and do it as soon as possible.
As mentioned above, you don't have to know how to speak in Japanese. Just speak English because there are translators. Sometimes, there are Filipinos who work in these companies in Japan.
Here are some interview questions they might ask you:
Introduce yourself
Why do you wish to work in Japan?
They will also talk to you about what the company is so you know what to expect.
After the interview process, the next phase is called matching, and for this, you really need to have set up an online account at the POEA website.
This account will be made during the application process.
Matching
After the interview, Japanese employers will then decide which applicant is best for their company. They will rank the applicants, deciding which one is first in their list of potential employees.
The applicants will also do this. That is, they will rank the Japanese employers that interviewed them, determining which one is first in their list or where they would like to work to the most.
During the matching phase, if a Japanese employer selects you, the applicant, as the first in their list, and you also select that employer as the first in your list, then a match occurs.
This means that you now have an employer, and this is cause for celebration!
However, what if you didn't match. For example, what if that employer ranked you as third in their list, but you ranked them as your first? Well, in this case, you don't have to worry, because after the first matching, their will be a second matching.
If you found a match, then congratulations! Next, you will be asked to sign a contract.
Japanese language training
After the contract signing, you will now undergo Japanese language training for 6 months at TESDA. The vlogger shared that during training, you will receive allowance so you don't have to worry about the expenses during training.
Moreover, the training is in-house, which means that you will be staying at the training center. You will be provided a dormitory, and your allowance is around 15,000 to 20,000 PhP. The training will be from Monday to Saturday.
Medical Exam and Visa Application
For the medical exam, the vlogger advises that you need to be healthy. She added that Japanese employers are very strict when it comes to health.
If you have a problem with your health, you will have to spend time to clear that problem just to be fit to work in Japan.
That's why you really need to take care of your body, and to get medical treatment for what you need to fix about your health.
Visa Application
This is something that you don't have to think about because Japan Foundation will take care of your visa application.
As long as your requirements are complete and that there are no problems in any of the requirements you submitted, someone else will take care of the visa application for you.
When it comes to the plane ticket and luggage, again, this is something that you don't have to worry about. Japan Foundation will once again pay for your plain ticket.
For the luggage, the allowed weight limit is 21 kg. If that exceeds, you will have to pay using your own personal expenses for whatever weight exceeds.
The vlogger shared that based on her experience, you should bring two luggage. She shared a story of her friend who, on her trip to Japan, had one luggage and that exceeded the weight limit.
As a result, the airport officials asked her to remove the excess, and since she didn't have any other container for her things, she was just given a plastic bag to put those things in. This was an uncomfortable situation for her, and this could have been avoided if she had an extra luggage.
Arriving at Japan
As soon as you arrive in Japan, you will either go to Osaka or Yokohama. The nurses go to Osaka, while the caregivers go to Yokohama.
You will go to these places to undergo another 6 months of training before you are sent to the facilities where you will be working.
Finally, after completing the training, you will be ready to face a new chapter in your professional life as a caregiver in the Land of the Rising Sun.
There you have it. These are the tips and procedures to becoming a caregiver in Japan. You should definitely try to learn more about the JPEPA process, which is seemingly the most convenient way to go to Japan and work as a medical professional.