TESDA is the Technical Education and Skills Development Authority in the Philippines. It does this through providing financial aid in the form of scholarships and grants, as well as skills training programs and short courses, all geared toward helping Filipinos improve their work prospects or move up the employment ladder. It is a government agency that is tasked with the responsibility of ensuring that Filipinos are equipped for the extremely competitive labor market of today.
Also Read: How to Enroll in TESDA Online Course for OFWs
This gap is being helped to be bridged by the Technical Education and Skills Development Authority (TESDA), which is equipping Filipinos with the skills necessary to obtain better employment or to launch their own businesses. TESDA programs include literacy instruction, the development of students into skilled workers and technicians, and complete student development.
The Technical Education and Skills Development Authority (TESDA) is an essential government agency for Overseas Filipino Workers (OFWs) because it provides OFWs with basic and supplementary skills training, enabling them to receive certification that is required for certain jobs outside of the Philippines. This page will provide information about the Philippine Technical Education and Skills Development Authority for those who are interested in learning more about the organization. Continue to read the following sections.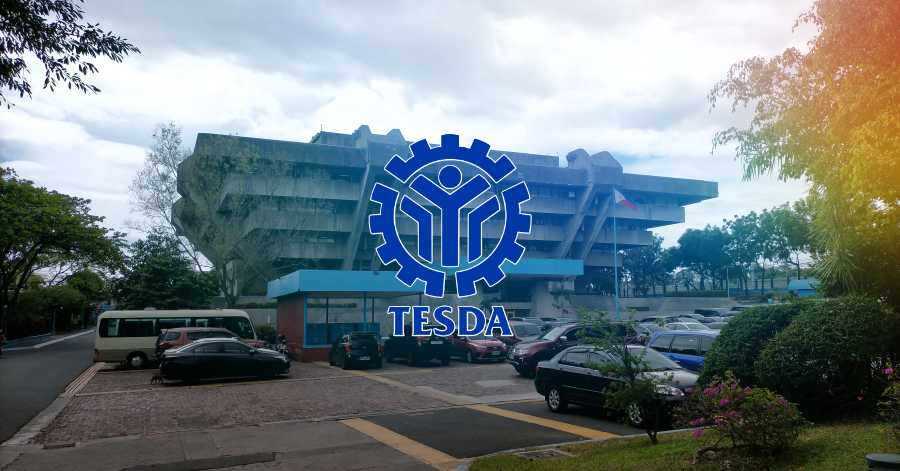 What is the Meaning of TESDA?
TESDA, which stands for the Technical Education and Skills Development Authority, is a government agency in the Philippines that is responsible for regulating the growth of technical education and education in general.
What is the Purpose of TESDA?
TESDA, or the Technical Education and Skills Development Authority, is a government agency that assists Filipinos by providing them with technical and vocational training as well as instruction in related subjects.
The Technical Education and Skills Development Authority (TESDA) was founded in order to address the most pressing issue confronting our nation in terms of the standard of technical education and the applicability of acquired skills. The realization that a deficiency in quality and relevance in technical/vocational education and skills training was one of the major factors contributing to high unemployment, underemployment, or job-skills mismatch – to put it more succinctly, one of the roots of poverty for many Filipinos – was the impetus for the establishment of TESDA through Republic Act 7667. This act was passed into law as a result of the realization.
Functions and Responsibilities
The Technical Education and Skills Development Authority (TESDA) has as its primary mission the development and maintenance of a national pool of highly trained technicians, craftsmen, artisans, and skilled workers for the Philippine labor market. This is mostly accomplished through the certification of exceptionally competent professionals who have received their education and training at educational institutions all throughout the country that have been granted approval by the TESDA. Around the country, almost 20 million students enroll in schools that have been approved by the TESDA on an annual basis.
In order for Filipinos to achieve success in the fields in which they want to work, the Technical Education and Skills Development Authority (TESDA) of the Philippines is working to provide them with high-quality training and education in technical subjects. In addition to this, it works to enhance the capabilities of workers in a variety of different industries.
The Technical Education and Skills Development Authority, also known as TESDA, is responsible for running a variety of educational institutions and training facilities around the Philippines. These include training in a variety of trades such as carpentry, welding, and information technology.
If you are looking to start a new job or improve the skills you already have, you should seriously consider enrolling in one of the free technical education programs offered by the government agency. These programs can make it easier for you to accomplish your goals and make positive changes in your life.
List of Programs and Services
The Technical Education and Skills Development Authority, or TESDA, is a government organization tasked with the responsibility of ensuring that highly trained, skilled, and competent human resources in technological and vocational fields are achieved. It does this by designing, developing, implementing, and generating an effective system for the conduct of occupational competency assessments and relevant training programs.
Here's a list of programs and services you can expect from the TESDA office:
Assessment and Certification
Through the Philippine TVET Competency Assessment and Certification System, the Technical Education and Skills Development Authority (TESDA) wants to evaluate and certify the competence of middle-level skilled workers (PTCACS).
The purpose of the evaluation is to determine, on the basis of the competency standards that have been established, whether or not the graduate or worker is capable of performing to the levels that are expected in the workplace.
Those who are able to demonstrate their competence and complete the requirements for certification. The productivity, quality, and global competitiveness of middle-level workers are all improved as a result of this.
Competency Standards Development
The Technical Education and Skills Development Authority (TESDA) is in charge of coming up with competency criteria for trained professionals who are in the midst of their careers. These are referred to as competency units, and their primary function is to provide as a description of the appropriate manner in which work should be completed.
After that, these components are integrated to provide credentials that are applicable to significant professions and positions in significant industry sectors. There are certain levels that correspond to the qualifications that are included in the PTQF (Philippine TVET Qualifications Framework).
National Technical Education and Skills Development Plan (NTESDP) 2018-2022
The National Technical Education and Skills Development Plan 2018-2022, which is abbreviated as NTESDP, is meant to serve as a guide for actors, movers, and leaders in the Technical Vocational Education and Training (TVET) sector in developing policies and programs that are responsive to the needs of the sector while also supporting the broader development goals and objectives of the national government. Its purpose is to serve as a guide for developing policies and programs that are responsive to the needs of the sector while also supporting the broader development
The goal of the National Training Education and Skills Development Program is to create an education and training system that is robust, of high caliber, and that leads to dignified work and sustainable equitable prosperity.
This overarching theme serves as a rallying cry for TESDA and its partners as they work toward achieving the primary goal of the NTESDP, which is to galvanize and strengthen the TVET sector through a Two-Pronged Strategic Thrust:
(1) Global Competitiveness and Workforce Readiness; and
(2) Social Equity for Workforce Inclusion and Poverty Reduction.
Program Registration and Accreditation
UTPRAS is in charge of ensuring that all Technical Vocational Education and Training (TVET) programs meet the requirements necessary to be registered with TESDA.
It is the system that is in place to ensure that Technical Vocational Institutions (TVIs) meet the minimum requirements outlined in the training regulation that has been promulgated prior to receiving government authorization to offer or undertake technical vocational education programs. This authorization is required in order for TVIs to be able to offer or undertake technical vocational education programs.
These criteria include, but are not limited to, curricular programs, qualifications for teachers and staff, physical sites and facilities, tools, equipment, supplies and materials, as well as any other needs that may be applicable. In order to obtain authorization from the government, TVIs are required to satisfy all of these standards.
Training Regulations
It is a document that has been approved by TESDA that acts as the foundation for the development of a curriculum that is based on competencies, instructional materials, and competence assessment methods. It describes the procedures that must be followed in order to achieve, evaluate, and recognize a national qualification, as well as the standards that must be satisfied in order to obtain, evaluate, and recognize such a qualification.
TVET Programs
The Technical Education and Skills Development Authority (TESDA) is continuing to offer direct training in order to guarantee that all TVET customers have equal access to TESDA programmes and are aware of their existence. There are four distinct forms of training that can be received: training that is provided in institutions such as schools and centres, training that is provided in places of business, training that is provided in communities and so on.
In order to successfully carry out these programs, the TESDA infrastructure is being utilized. This infrastructure is comprised of 57 TESDA-run schools, 60 training centers, enterprise-based training via DTS/apprenticeship, and community-based training connected with LGUs.
Center-Based Programs
These are the training programs that are provided by the TESDA Regional (15) and Provincial (45) Instruction Centers, which together cover the entirety of the country's regions and provinces and offer training in a variety of different trade sectors.
The TESDA Training Center Taguig Campus Enterprise (TTCTCE) is responsible for organizing and delivering advanced technology training programs that are recognized under UTPRAS. These programs are delivered in collaboration with industry groups within a co-management structure to meet the training demands of the industry.
Training Centers in the Republic of Korea and the Philippines – The Korea-Philippines Information Technology Training Center (KPITTC), which is located on the campus of Quezon City Polytechnic University in Novaliches, has the aspiration of becoming the premier information and communication technology training center in the Asia-Pacific region. Its goal is to produce competent IT practitioners in order to meet the local and global manpower needs. Computer graphics and animation will also be taught at the KPITTC Quezon City campus.
Community-Based Programs
The Community-based Training for Enterprise Development Program is largely intended for people who are incapable or unable to participate in formal training, such as the poor and impoverished, as well as those who do not have access to formal training. As a result of their lack of expertise, they have restricted capacities when it comes to management and fewer economic possibilities.
They do not have enough funds because they are not qualified for standard lending options. The curriculum is not limited to the simple act of imparting skills. Its primary objective is to encourage the launch of projects for participants' means of subsistence that they may start putting into practice as soon as they complete the training.
It is also intended to assist partner organizations such as municipal governments, non-governmental organizations, people's organizations, and other organizations with the objective of assisting the underprivileged in engaging in constructive endeavors that benefit both the underprivileged individuals and their communities.
Enterprise Based Programs
Training programs that are conducted within businesses or other types of organizations are referred to as enterprise-based training programs.
Apprenticeship Program – It is a training and employment program that consists of a contract between an apprentice and an employer for an apprenticeable job. The contract outlines the terms of the apprenticeship. In general, it makes an effort to develop a structure that ensures the availability of skilled personnel who have received proper training in line with the requirements of the business. Apprenticeships might run anywhere from four to six months, depending on the employer's preference. Only businesses that have had their apprenticeship programs approved by TESDA and are registered with the agency will be able to hire apprentices.
Dual Training System – It is a method of providing education and training using technology in which students alternate between learning at a school or training facility and learning in the workplace. This method of education and training delivery is known as blended learning.
Learnership Program – It is on-the-job training for jobs that are regarded as being able to be learned, and it does not exceed three months in length. Only businesses that have learnership programs that have been registered with and approved by TESDA are allowed to hire learners.
School-Based Program
This is a reference to schools that fall under the administration of TESDA and deliver or provide TVET programs directly. There are a total of 57 educational institutions, 19 of which are agricultural schools. There are thirty-one different vocational schools in addition to seven fishing schools. Through these school-based programs, students can select from a variety of post-secondary options with durations ranging from one to three years.
The following establishments fall within the purview of TESDA's specialist training centers:
Training, the development of female entrepreneurs, gender-sensitive policies, initiatives, and projects, as well as research and lobbying, are some of the activities that the TESDA Women's Center (TWC) intends to undertake in order to further its mission of elevating the economic position of women.
The Language Skills Institute, sometimes known as LSI, is the facility that TESDA uses to run its language programs for people who intend to find employment in other countries. Training in the language spoken in the worker's destination country is provided by the Language Support Initiative (LSI). There are currently 35 different LSI locations all throughout the United States that provide students with the opportunity to take classes in English, Korean, Mandarin, Japanese, and Spanish.
TESDA Online Programs
The TESDA Online Program, often known as TOP, is a web-based platform that offers free Massive Open Online Courses (MOOCs) to Filipino employees and overseas Filipino workers (OFWs) for the objective of enhancing the technical education and skill sets of both groups of individuals.
It is possible for the TOP to provide an efficient and effective method of delivering technical-vocational education and training at the student's own space and time thanks to the exploitation of information and communication technology, which also makes it more convenient for the learner.
The courses offered by TESDA are listed below:
21st Century Skills – Students who have skills such as critical thinking and the ability to solve problems have a better chance of being successful in the knowledge economy. This is because these skills prepare students for occupations that need these abilities.
Agriculture – Agriculture is the practice of growing animals, plants, fungi, and other forms of life with the purpose of producing food, fiber, biofuel, medical, and other items that are used to maintain and improve human life.
Automotive and Land Transport – Both automotive technology and land transport technology are considered to be the primary focuses of the Automotive and Land Transport program. Depending on the concentration you choose and the number of units you get, it can lead to either a certificate or a diploma level qualification. This is determined by how many units you earn.
Construction – Students who are interested in pursuing a career in the construction business are the target audience for the Construction Technician Program (CTP).
Electrical and Electronics – The TESDA National Technical-Vocational Education and Skills Development Authority (TESDA) curriculum for Electrical Engineering begins with the Electrical and Electronics program. This is the first of three modules that make up the Electrical Engineering curriculum.
Entrepreneurship – This course will assist you in creating your own business plan by walking you through the process from beginning to end, beginning with the conceptualization of your business venture all the way through to its actual launch.
FREE Courses Relevant to COVID-19 Management – These courses, which can be completed online, are intended to provide you with a fundamental comprehension of the abilities and information that are necessary to work as a COVID-19 Manager.
Gender and Development (GAD) – Education is the primary focus of this initiative, with the goal of fostering gender equality. It helps both men and women improve their personal and professional lives by providing training that may be taken by either gender.
Heating, Ventilating, Airconditioning and Refrigeration Technology – Students in this program will acquire the knowledge and experience necessary to become highly trained technicians capable of repairing and maintaining the heating, ventilation, air conditioning, and refrigeration systems (HVAC/R) found in commercial buildings as well as residential homes.
Human Health/ Health Care – The Human Health and Health Care programme provides students with fundamental education in a variety of health care fields, including nursing, nutrition and dietetics, pharmacology, and midwifery.
Information and Communication Technology – Students will get the information and abilities necessary to become proficient in the use of computer technology in their chosen fields by participating in the Information and Communication Technology (ICT) program. This program is designed to offer students with the skills and knowledge they require.
International Labor Organization (ILO) Online Courses – Students can gain a better understanding of the contributions made by individuals who have affected the development of labor relations over time through the ILO's Online Courses.
Lifelong Learning Skills – The individuals who will benefit the most from the Lifelong Learning Skills program are those individuals who are interested in expanding their knowledge but do not currently possess the necessary time or financial means to participate in conventional classes.
Maritime – You will acquire knowledge about the entirety of the maritime business through participation in this program, which takes place in a stimulating and conversational online setting. You will gain valuable hands-on experience through our virtual shipyard where you can design and build your own virtual vessel using state of the art computer software tools.
National TVET Trainers Academy – The training program is intended for individuals with minimal or no prior experience in the classroom; however, those who already have some prior experience in the classroom are also welcome to participate.
Process Food and Beverages – You will acquire the skills necessary to prepare food, create beverages, and serve meals in hotels, restaurants, canteens, and other enterprises that focus on food in the course of this program. This curriculum also focuses on the process of preparing beverages beginning with raw materials and delivering such beverages to the end consumer.
Social, Community Development and Others – Training is provided in a variety of spheres, including information technology and business process outsourcing, as part of the Social, Community Development, and Others program (IT-BPO). You have options in many different areas, such as computer literacy, accounting, bookkeeping, financial analysis, and many others.
Tourism – Learners will acquire the information and skills necessary to properly plan, produce, manage, and promote tourist products and services through participation in this program.
TVET – The Technical and Vocational Education and Training (TVET) curriculum provides students with the opportunity to study a diverse array of topics, including but not limited to business management, building trades, computer technology, and health care.
TESDA Capability Building Programs for TESDA Employees – These programs intend to develop the abilities of TESDA professionals so that they are able to guarantee that they are able to provide quality services to both workers and companies.
TOP Courses with Accessibility Features (Alpha Test) – This is an online learning platform that is geared toward accommodating the educational needs of students with varying degrees of ability who struggle academically. By facilitating easier access to technological resources, this platform makes it possible for children to take advantage of the same chances that are available to their classmates at school.
How to Enroll in TESDA Online Courses
With the increase of job opportunities and entrepreneurship, many people have decided to enroll in college once again to be able to boost their employment chances or get a business of their own up and running. But unfortunately, not everyone can do so because of financial limitations. This is why it is important for you to know about the different options you can take to acquire skills through online training courses that would help you succeed in your chosen career path or even start your own business.
1. Go to this website: https://www.e-tesda.gov.ph/
In the top right hand corner of the website, you will see a notification that indicates a login and password are required. Please click the link below to register if you haven't already done so if you haven't already.
2. Create your account
On the page that follows, you will see a prompt asking for your information to be entered. Before selecting the button that says "create my new account," continue to fill out the form.
3. Login
You can now access your own personal account by going back to the homepage and logging in there.
4. Choose what course you want to take
There are hundreds of different options available at TESDA, so finding one that fits your needs can be tricky. Take some time to look through all of their offerings before deciding which one will work best for you.
5. Click "Enroll me in this course"
That's it! You may now start your course! Keep in mind that you will receive a confirmation email with instructions on how to access the course. If you're having trouble, you may send them a message and they will help you out! Once you're enrolled in a course, you'll be able to access it at any time. You can also log in and out of the system with your email address and password.
Things to Consider when Choosing a Course
Make sure that the course is aligned with your interest and skills.
If taking an online course is something you are serious about doing, you should avoid picking one that is outside of your areas of expertise or interests. In the long run, this could prove to be detrimental for you because it will likely result in you having difficulty with the course material and ultimately failing it.
Make sure you possess the minimum age requirements and the educational attainment level required.
The vast majority of individuals have the misconception that they may sign up for whatever class they desire, regardless of their age or the amount of knowledge they have already obtained. However, if you want to work after finishing your training program, you need to check that your status will allow you to do so. Otherwise, you won't be able to acquire a job.
Check if you have all the necessary tools in order to enroll in the course. Some TESDA Online Courses have specific requirements on what computer equipment you should be using.
If you do not already possess these resources, your best choice is to either select a different path or return to this one at a later time when you have gained access to the necessary equipment.
Check the course schedule and ensure that it fits your time.
It is important that the program you pick is one that is easy for you to use. You need to determine whether or not it will work with your timetable. If this is not the case, you will need to search for another school or program that can meet your requirements.
Read the description of the TESDA Online Course.
It is essential that you have a solid understanding of the type of class that will be taken, the amount of time that will be required, and the amount of money that will be required.
Take note of the contact details provided by the TESDA Regional Office just in case questions arise while enrolling in the course.
In addition to this, you will need to verify that they have an established training facility and that it is fully stocked with the necessary apparatus in order for them to instruct the course.
Choose a course from www.e-tesda.gov.ph that is aligned with your interest and skills, make sure you possess all necessary requirements and make sure it fits your schedule.
Video: TESDA Online Program: Libreng Skills Training mula sa TESDA
Here is a video that talks about the Technical Education Skills Development Authority or TESDA, an independent government agency of the Philippines that provides free education, training, and placement services to those who wish to improve their skills. Grouped into TESDA's three main programs (TOP, CTOP and STP), this online service is a great gateway for those who wish to develop their skills. Whether you are just starting out with your career or know what you want to learn, TOP has something for everyone.
Frequently Asked Questions
Here are some FAQs about TESDA Philippines:
1. What are the benefits of TESDA?
TESDA is responsible for the formulation and execution of policy, the publication of relevant standards, and the management of programs to assure the accessibility and high quality of technical education, skill development, and certification.
2. Who is qualified for TESDA?
Individual or overseas Filipino worker who is at least 18 years old, has graduated from high school, and has passed a pre-training evaluation (YP4SC/NCAE).
3. Is TESDA a free program?
In this time, there is no tuition fee required for enrolling in any of the technical vocational education and training (TVET) programs provided by the Technical Education and Skills Development Authority (TESDA) at any of the state-operated technical-vocational schools (STVIs).
4. How long is TESDA online courses?
There are approximately 60 distinct courses available, and the amount of time needed to complete them ranges anywhere from 8 to 40 hours.
5. Is it possible for me to apply for several TESDA courses at the same time?
After finishing one class, you will be able to register for another one.
6. Is there a connection between OWWA and TESDA?
The Overseas Workers Welfare Administration (OWWA) and the Technical Education and Skills Development Authority (TESDA) have formed a cooperation with the goal of providing returning OFWs with skill training and technology education through the OWWA-TESDA partnership (OFWs).
7. Is TESDA available to OFWs for free?
By registering online or through the agency's mobile app, returning overseas Filipino workers (OFWs) have the opportunity to take advantage of the free training offered by the Technical Education and Skills Development Authority (TESDA).
8. Does TESDA give allowance?
Yes. In accordance with the Scholarship Guidelines of the New Normal, all students, including those participating in the TWSP, will be given a daily stipend of P160, which is referred to as the Training Support Fund (TSF). TSF can be paid for in a number of different methods, as stated in the TESDA Circulars.
9. Is it possible for me to get a job after TESDA?
Graduates of the TESDA National Certificate (NC) program are now eligible to apply for internships at local businesses. If they already have a significant amount of working experience, they are eligible to submit an application directly to manpower agencies that have been accredited by the POEA and that send qualified workers to other countries.
Summary
The Technical Education and Skills Development Authority of the Philippines (TESDA) is a government agency that develops and monitors programs and policies related to the training and development of technically skilled individuals. TESDA also oversees the Technical Education and Skills Development Authority of the Philippines. In addition to this, it offers guidelines and tools for the distribution of money to TVET institutions, including both public and private ones.
Providing an all-encompassing framework for the creation and execution of technical education programs and standards is the mission of the Technical Education and Skills Development Authority (TESDA), which was established to meet this objective.
If you are interested in advancing your education and are looking for various online courses and programs, then you need not go any further than what the TESA has to offer. These are intended to assist you in accomplishing your objectives and enhancing your abilities.
READ NEXT: What are the Best TESDA Courses to Study for Work Abroad?
Contact Information
TESDA Main Headquarters in Metro Manila
Address: E Service Rd, Taguig, 1630 Metro Manila
Telephone Number: 8887-7777
Website: https://www.tesda.gov.ph/, https://e-tesda.gov.ph/
Facebook Page: https://www.facebook.com/TESDAOfficial
Google Maps Location