Everybody is affected by the pandemic that has brought us. Despite the struggle of having to sustain our daily needs. A Filipino woman who is based in Dubai finds time to provide help to the needy. Even though she is also struggling to make ends meet, she still finds a way to help others in dire situations.
Filipinos are known to have a big heart, whenever they know that someone is having trouble, it is natural for a Filipino to extend their hands to help out another person. They are also known for their generosity and kindness. We'll witness a Pinay OFW who spends time helping those in need. Especially that most companies or employers have halted their operations.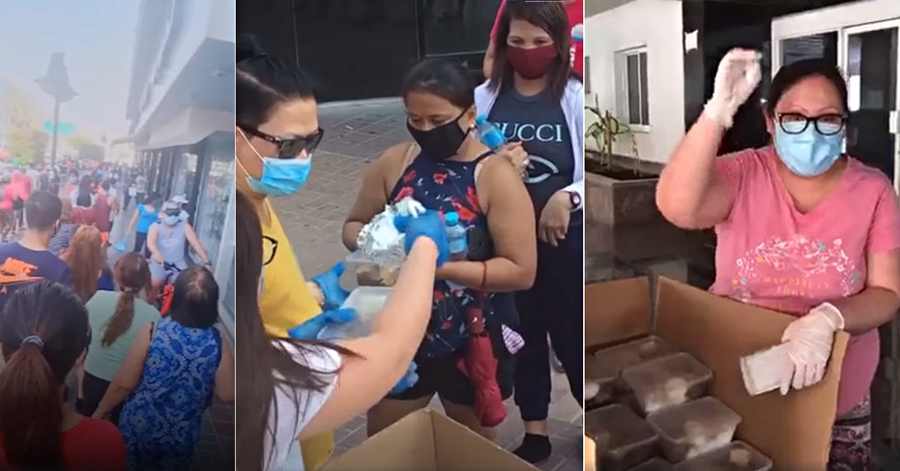 Pinay Worker In Dubai Decided To Help Fellow OFWs Throughout Calamity
Regardless of the problem, everybody is facing, a Filipina OFW based in Dubai is helping her fellow OFWs to ease the hunger during the COVID-10 crisis. She is willing to provide for the OFWs who became jobless. There are many Filipino workers line up to receive food from this Pinay OFW. She gives hope to her fellow Filipino workers who are striving to survive past this problem.
The helpful Pinay OFW's is identified as "Ma'am Feby", her act of kindness of feeding her fellow countrymen in Dubai has gone viral. These affected workers from the virus have become jobless because of the Covid-19 crisis. A lot of Filipino workers turn to Ma'am Feby to receive food as they have nowhere else to get food.
One Filipino worker told Ma'am Feby after receiving the meal said that he did not expect to go outside the country to become a beggar and ask for food. "Ma'am, hindi ko akalain na pupunta ako ng ibang bansa para manlimos ng pagkain."
As stated by Ma'am Feby, she is not wealthy and also finds herself in a difficult situation at times to support her family during the crisis. However, she could also not endure the sight of seeing her fellow OFWs suffering due to losing their jobs and have nothing to eat.
Ma'am Feby has sought out to the Philippine Government to help, as she does not have enough spare funds to continue this good deed. She pointed out that it's not her responsibility to feed others. Still, she could not turn a blind eye and wanted to help to make a difference until support from the government arrives.