Are you a travel enthusiast on a tight budget? Do you dream of exploring new destinations without breaking the bank? If so, you'll be excited to learn about the Air Asia Piso Promo Fare flights. This popular promotion allows you to book flights for as low as one peso, giving you the opportunity to travel to your dream destination without emptying your wallet.
Also Read: How to Book Cebu Pacific Promo Piso Fare Flights
In this guide, we'll explore everything you need to know to book Air Asia's Piso Promo Fare flights and take advantage of this incredible opportunity. From tips on how to find the best deals to step-by-step instructions on how to book, you'll be well on your way to jetting off to your next adventure. So get ready to pack your bags and embark on an unforgettable journey without breaking the bank!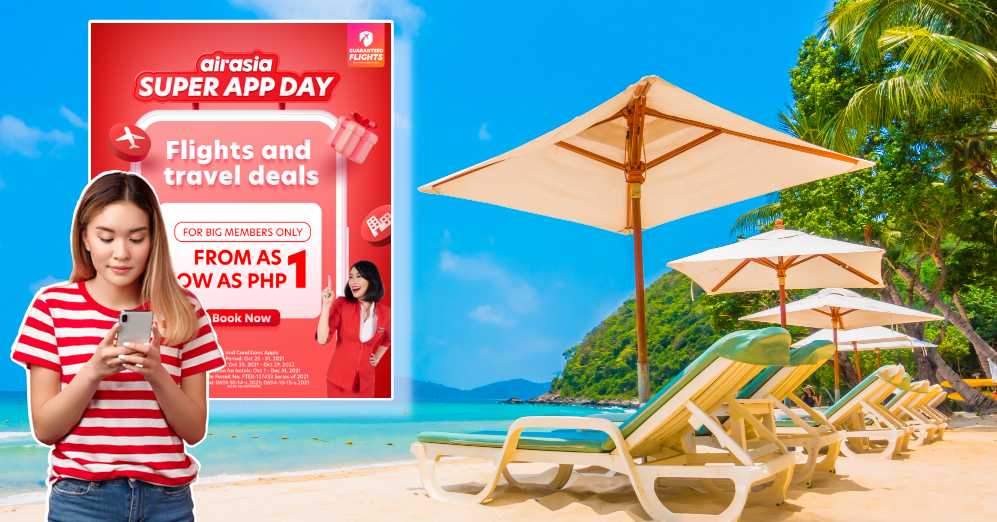 Did you know that seat sales are a legitimate way to save money on airfare? And for this reason, it's not uncommon to encounter difficulty in securing discounted seats. Imagine, some people spend hours just to monitor and book their flights on discounted fares while others even do this for a living!
This is due in part to the fact that airlines only offer a limited number of seats at a reduced rate, as they still need to make a profit. Moreover, published rates usually refer to base fares only, which exclude government taxes, terminal fees, and other surcharges that are beyond the airline's control.
Therefore, it's important to keep in mind that even when airlines advertise "zero fare" promotions, customers will still need to pay some additional fees. It's worth noting that group bookings may further reduce the availability of discounted seats, so it's wise to plan accordingly.
Tips when Booking Piso Fare Promos
When it comes to booking promo fares, being early and fast is crucial. Airlines usually offer a limited number of discounted seats, and it's often on a first come, first served basis. Even if the selling period lasts for a few days, it's important to book as early as possible to increase your chances of snagging a good deal.
Additionally, each customer is given only a limited time to book per session, and the specific seat you're interested in could be taken in a matter of minutes or even seconds. So, it's important to act quickly and have your payment details ready to avoid missing out on a great offer. Ultimately, staying alert and being prepared can help you make the most of promo fares and save money on your travel expenses.
If you're looking to score a great deal on your next flight, staying up-to-date on seat sales is key. In the past, keeping tabs on these sales involved subscribing to email lists or scouring print ads, but thanks to social media, it's now easier than ever. To be among the first to know about seat sales, consider following airlines like AirAsia on Facebook.
Promotions are often announced on social media platforms before they're anywhere else, so setting your News Feed to prioritize posts from AirAsia can help ensure you don't miss out on any great deals.
Simply visit the airline's Facebook page, hover over the "Following" button, and select "See First" from the list of options. With a little effort, you can be sure you're always in the know about the latest seat sales.
How to Book AirAsia Piso Promo Fare Tickets
The process is simple and straightforward if you're looking to book a piso fare promo flight with AirAsia.
Head to the airline's official website at www.airasia.com.
From there, you can select your origin and destination, travel dates, and number of travelers.
It's worth noting that booking in smaller batches (one or two people) can often yield better results when it comes to finding promo fares, as larger bookings may not display these discounted rates.
Once you've inputted all of your travel details, click "SEARCH" and wait for the results page to load. If the site is experiencing heavy traffic, you may need to wait for a few minutes.
Once you see your search results, choose your preferred flight and any add-ons (such as baggage, seat selection, and meals) you may want.
Next, enter the personal details of each traveler, including full name, birth date, and nationality. You can also opt to add travel insurance and travel tax if you wish.
Once you've reviewed all the details, you can pay for your booking using a credit or debit card or an offline partner.
Once payment is accepted, you'll receive an itinerary and confirmation in your email.
And that's it – you're all set to fly with AirAsia!
Get Early Access to AirAsia Promos – Here's How
If you're looking to snag a great deal on AirAsia flights, becoming a member of their BIG loyalty program can help increase your chances.
As a BIG member, you'll have an AirAsia account that saves your personal and credit card details, making booking during a seat sale quicker and easier.
Plus, you'll earn BIG points every time you fly with AirAsia, which can be converted into rewards such as free flights and hotel stays.
And the best part? It's free to sign up for BIG and only takes a few minutes to create an account on AirAsia's website.
So if you're a frequent flyer or just looking for extra perks, consider joining AirAsia's BIG loyalty program today.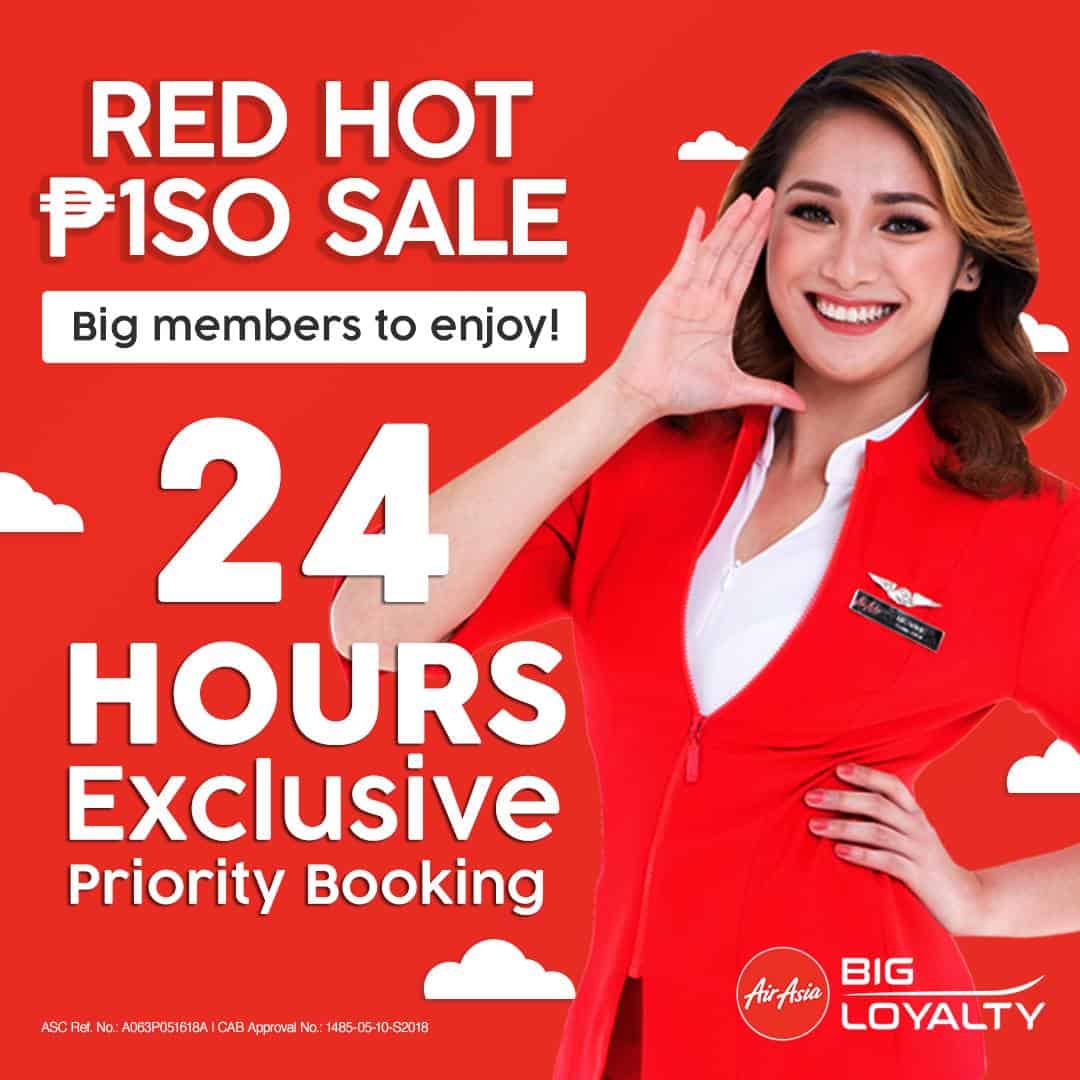 Step-by-Step Process to Becoming an AirAsia BIG Loyalty Program Member
Signing up for a BIG account on AirAsia's website is a quick and easy process. Just follow these five simple steps:
Go to the AirAsia website and navigate to the BIG registration page.
Click the "Sign Up Now" button in the bottom right corner of the screen.
Fill out the registration form with your personal details and contact information.
Double-check that all the information you've entered is correct.
You will receive an email to activate your membership account.
Go to your email and click on the link to activate your account.
Congratulations! You're now a BIG member and can start earning rewards and booking flights.
Remember, signing up for a BIG account is completely free, and you don't need a credit card to register. You can book and pay for your flights using AirAsia's various payment channels. So what are you waiting for? Sign up for a BIG account today and enjoy the benefits of being a member.
Benefits of Becoming an AirAsia BIG Member
Pre-save your card details for the faster one-click payment with @Checkout: As a BIG member, you can easily save your card details for quick payment during checkout. This feature saves time and makes booking flights a hassle-free experience.
Get instant member discount on flights: As a BIG member, you can enjoy exclusive discounts on your flight bookings. This is a great way to save money while traveling.
Pay for your flights & add-ons with BIG Points for further savings: BIG Points are the loyalty points you earn as a BIG member. You can use these points to pay for flights and add-ons, which helps you save even more.
24-hour members-only priority access to sales: BIG members get early access to AirAsia's seat sales. This means you can book your flights before anyone else and get the best deals.
Manage your upcoming flights & pre-book add ons with MyBookings: MyBookings is a feature that lets you manage your upcoming flights and pre-book add-ons like meals and baggage. This makes traveling more convenient and stress-free.
Full flight redemption for free flights: BIG members can redeem their BIG Points for free flights. This is a great way to use your points and save money on travel.
Exclusive access to monthly sales: BIG members get access to exclusive monthly sales, which means more opportunities to save on flights.
Redeem trips to over 150 AirAsia destinations: As a BIG member, you can redeem your BIG Points for flights to over 150 AirAsia destinations. This gives you more options for your travel plans.
Fixed points redemption at any time: BIG Fixed Points is a feature that lets you redeem flights using fixed points based on the number of hours you fly. This is a convenient way to use your points and save money on flights.
AirAsia Credit Cards: As a BIG member, you can apply for the AirAsia-Hong Leong Visa Credit Card, which offers exclusive privileges and benefits like free flights, airport lounge access, and more.
Special membership perks: BIG members receive exclusive offers and free gifts during their birth month and major festive celebrations. They also have the chance to win contest prizes like passes to screenings, festivals, and other events.
Exclusive partner promos and offers: BIG members can earn BIG Points and enjoy special promotions and offers from AirAsia's partners. This is a great way to maximize the value of your membership.
Privileges for Platinum & Black Members: Platinum and Black BIG members enjoy additional privileges like priority check-in, boarding, and baggage collection. This makes traveling even more convenient and comfortable.
Video: PISOFARE: Paano magbook ng murang flight? | Anclarize Alcabasa
Here's a video from travel junkie, Anclarize Alcabasa, on how to easily book piso fare or discounted flights via domestic flight carriers, such as AirAsia, Cebu Pacific, or Philippine Airlines. She outlines seven hacks on how you can book piso fare flights online.
She also explains how these hacks work and what you need to know before booking a discounted airfare. These are all practical tips that you need to keep in mind, especially if you want to make big travel plans this year! Remember, speed is the key but so is organization and a little bit of luck.
If you want to make the most out of your travel budget, then it's important that you start planning early. You can book discounted domestic flights on AirAsia's website. But if you don't have any idea how to do this, then Anclarize's video is definitely for you!
Frequently Asked Questions
1. What is AirAsia Piso Promo Fare?
AirAsia Piso Promo Fare is a promotion where base fares for flights are sold for as low as one peso. This promotion is available for a limited time and is subject to availability.
2. How can I book AirAsia Piso Promo Fare flights?
To book AirAsia Piso Promo Fare flights, visit the AirAsia website during the promotion period and follow the booking process as usual.
3. How long does the AirAsia Piso Promo Fare promotion usually last?
The promotion period for AirAsia Piso Promo Fare flights varies, but it usually lasts for a few days.
4. Can I book multiple seats with AirAsia Piso Promo Fare?
Yes, you can book multiple seats with AirAsia Piso Promo Fare. However, it is recommended to book by small batches to increase the chances of finding available promo fares.
5. Can I change or cancel my AirAsia Piso Promo Fare flight?
AirAsia Piso Promo Fare flights are non-refundable and cannot be changed. If you need to change your flight, you must purchase a new one.
6. Is there a way to increase my chances of getting AirAsia Piso Promo Fare?
To increase your chances of getting AirAsia Piso Promo Fare, it is recommended to sign up for AirAsia's loyalty program, BIG. Members of BIG usually have priority access to promotions and sales.
7. What are the payment options for AirAsia Piso Promo Fare flights?
You can pay for AirAsia Piso Promo Fare flights using a credit card, debit card, or through various offline partners.
8. Are there any additional fees for AirAsia Piso Promo Fare flights?
Additional fees such as baggage, seat selection, and airport taxes may apply to AirAsia Piso Promo Fare flights. These fees will be displayed during the booking process.
Final Thoughts
With the Air Asia Piso Promo Fare flights, budget travel has never been easier. Whether you're a seasoned backpacker or a first-time traveler, this incredible promotion offers the opportunity to explore new destinations at an unbeatable price. By following the tips and step-by-step guide outlined in this article, you'll be able to make the most of this promotion and discover new horizons without breaking the bank. So start planning your next adventure, and get ready to experience the thrill of travel with Air Asia's Piso Promo Fare flights.
READ NEXT: Cebu Pacific (CEB) VS Philippine Airlines (PAL)