Do you want to work as a domestic helper in Oman? If so, you need to know the following steps toward the application process. While there is a lot to do, and you may have to spend a bit of money, time, energy and travel to get to your destination, at the end of it all it's definitely worth it.
This article features the information presented by an OFW domestic helper working in Oman. She talks about the agency she applied in to find work in Oman, and posted it online through YouTube mainly to help other Filipinos wanting to work there as well.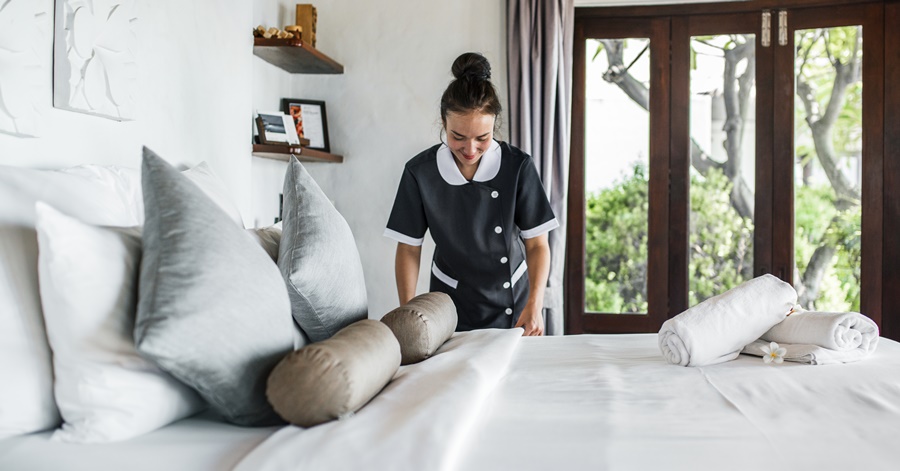 Disclaimer: The information posted here is based on the personal experiences shared by the OFW in the video below. Please let this post serve as a guide only. If you have specific questions, you may ask the OFW by commenting on their video on their accounts.
Steps to Working as a Domestic Helper in Oman Through an Agency
Genevieve Ordaniza, an OFW YouTuber from Oman, shares the following information about how to apply as a domestic helper in the country. Not only that, she shares her wonderful experiences with an agency that really helped her from day one to finally arriving in Oman for work. You can watch the full video in the link below:
Process is Similar to Other GCC Countries
She shares how to apply in Oman, saying that the steps she shared can be applied to when you apply in most other Middle Eastern countries as well. Moreover, she added that the easiest way to land a job abroad is by applying in the Middle East. It is also the cheapest way, and most of the time, agencies don't even require a placement fee.
Based on her experience, the agency that helped her land a job in Oman didn't ask her to pay for the following:
Free placement fee
Free medical
Free assistance in complying with all necessary requirements.
The one thing that you need to pay for on your own are the trainings you need to study for to become a qualified domestic helper.
Applying Through an Agency
Here are the steps as mentioned by the vlogger on how she was able to get a job in Oman through an agency:
Step 1 – Apply through a reputable agency
Step 2 – Prepare important documents, like resume, photocopy of the original passport, PSA birth certificate, barangay clearance and diploma.
Step 3 – Do good at the initial interview
Step 4 – Pass the initial medical exams
Step 5 – Participate in the agency organized orientation.
Step 6 – Enroll and complete a TESDA program for domestic helpers
Step 7 – Wait for calls from potential employers
Step 8 – Evaluate each job offer and determine what's best for you.
When she was still in the Philippines, particularly in Cebu City, she sought the help of an agency called Merbin International Manpower Services to get a domestic helper job in Oman. She just received a flyer for this particular agency, and then went to their office bringing the important documents mentioned in Step 2.
Upon arriving at the agency office, she had an initial interview, asking questions like where she is from and others. She was then given a schedule for a two-day orientation.
The next step is just to wait for an employer to call you. The agency will be sending out your credentials to potential employers in Oman, and eventually more than a few of them will respond and call you.
It is then your job to figure out what kind of employer you want to have, as there will definitely be multiple employers wanting to hire you. As a tip, you should know what the minimum salary is, and don't accept employers that offer salaries lower than that.
She mentioned that she got lucky that even when she was still in Cebu, before heading for the main office of the agency in Manila, the agency called her telling her that she already has a potential employer in Oman.
Before heading to Manila, she was screened and tested for the following:
Medical test
Hepa-B
Pregnancy test
After these, she then bought a ticket to go to Manila, particularly in Quezon city where the main building of the agency is.
Going to the Main Office of the Agency
Our YouTuber mentioned that upon arriving at the NAIA airport, a couple of people from the agency are already waiting for her, perhaps with a sign, to pick her up. The agency provided her with that option of fetching her so that she doesn't have to worry about using public transportation to go to the main building.
She took that option, thinking that the transport is free. However, she was surprised when the agency asked her to pay for the transportation fee. A general tip here is to be sure that, for any agency, you know if the company will fetch you from the airport with a fee or free of charge.
Once she arrived at the agency's main building, she then submitted all the requirements mentioned above. More importantly though, her stay in Quezon city is mainly so that she can study at a nearby TESDA school for 15 days. Aside from the requirements mentioned above, like the birth certificates, diplomas and what not, you will also need to have a TESDA Certificate, which you can only get by studying.
In order to get that TESDA certificate, you need to study for 15 days then pass a final examination. She mentioned that she took the exam once and passed on her first try.
Just to recap, here are the documents she needed to submit to the agency:
TESDA certificate
NBI clearance
PSA Birth certificate
Passport
POEA Employment record
OWWA Certificate
PDOS Certificate
For the passport, you need this to be valid for at least within the next 6 months of your application. PDOS is the pre-departure orientation seminar which is nowadays done online.
You need all of these documents even while you are in your last phase of applying to become a domestic helper in Oman, and that is when you are already at airport immigrations. In particular, they will be checking your PDOS and OWWA certificates, among others.
Aside from these documents, you will also need to have a final medical test in Manila. This test, unlike the first one she got back in the province, is stricter and involves a lot more tests.
For example, they will test you for your eyesight, hearing, even your dental health. Normally, it is expensive to have a dentist check and repair your teeth, but fortunately for our YouTuber, she found out about dentistry students doing their internship, and because of this they were able to have free cleaning and pasta.
One good thing about her agency is that even when she was still in Cebu, she already had a broker there which helped her. She had another broker as well coming to Manila which guided her as well regarding the processes involved in getting a job in Oman.
Expenses
According to our YouTuber, the whole process, while relatively cheap, was not totally free. For example, during the TESDA training, she had to buy an apron and other materials to use in school.
There are other expenses as well, but according to our YouTuber, you can still apply even if you don't have any money at all. The agency actually offers part time jobs for those who are already in the main office but are lacking in funds.
If you need money to process your application, the agency can help you by employing you in any of the following jobs:
Call center agent
Domestic helper related jobs
Laundry work
Caregiver work
She mentioned that in her case and her twin, they both managed to work as call center agents at the agency. Their job is to basically call applicants and help them with their processing related problems. They also answered some basic questions of applicants, including what steps they need to do next, or how to go to Manila and what to bring, and more.
There are other benefits to working part time in the agency as well. For example, in her case, since she was working as a call center agent at the agency, she didn't stay at the normal accommodation for the applicants. Rather, she had the privilege of staying at the staff house.
Staying at the staff house basically meant she was living with the main employees of the agency. It also meant her accommodation was free, as well as her food. Moreover, she was paid some money for her work, which helped a lot in terms of taking care of the expenses for the application process.
Aside from being a call center agent, some other available part time jobs include domestic helper related jobs for brokers. You can do their laundry, take care of their kids, and more.
As you can see, normally, you don't have to spend much when applying through an agency to work as a domestic helper in any of the GCC countries. Most importantly, unlike when you're applying to work in other countries, there is no placement fee, and you are almost always surely going to find a job.
If she had any major expenses, she said it's mostly due to going out with their friends every Friday evening to hang out. She mentioned that there is no TESDA training every Saturday and Sunday, so she has lots of free time she can spend with her new found friends slash co-applicants.
She said this is also one of the best things about her agency, is that she gets to meet new people who share the same short term and long term goals. Of course, she is also vigilant because she doesn't really fully know who they are, so she says she's extra careful about her things.
All of this proves that finding a domestic helper job in Oman, and the Middle East for that matter, is the easiest way to get a job abroad. The final stages of the application process simply involve waiting for employers to call you, choosing which employer suits you best or meets your needs, and then having a ticket to go to Oman.