In his six years in Kuwait, George Raphael, an Australian national, has seen several maltreatment towards Filipina OFWs. What sets him apart is that instead of keeping mum about the abuses, he has made it a point to help out by taking these OFWs to the Philippine Embassy and even employing some of them in a restaurant he owned in Kuwait.
The Australian National, in an interview shared a video of a Filipina household helper who was made to clean the windows on the 2nd storey of her employer's house without any safety gears on. She was just one of the several maltreated domestic helpers whom Raphael helped in the Gulf state.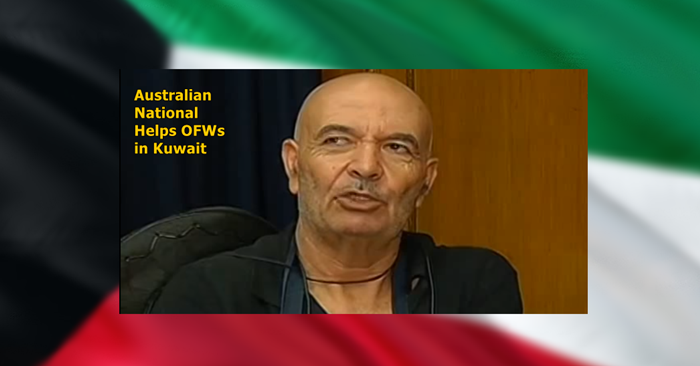 A Good Samaritan has Helped Several Abused Filipinos in Kuwait
He also shared that the situation of the OFWs he helped were horrifying and that they were treated like commodities to be traded for money. At one point he encountered an employer who wanted to sell her Filipina worker to another employer in exchange for money. "Why? Are these goats? Sheeps? Lamb? Cows that she wants to sell?," Raphael told GMA News.
He also helped an OFW who was about to be raped by several men staying in her employers house.
Some of the OFWs that Raphael helped from their abusive employers were brought to the Philippine Embassy while others were employed at his restaurant.
Although Raphael has already moved back to Australia, he made it a point to pass by the Philippines to share the maltreatment he has witnessed.
His story is but one of the many stories of abuses of OFWs in the Gulf state including the much talked about killing of Joanna Demafelis, the Filipino OFW whose body was stuffed inside a refrigerator by her employer.
Meanwhile, the Philippine Government has already made a deployment ban to Kuwait and thousands of Filipinos repatriated since then.
Video of Filipina who was made to Clean 2nd Storey House without Safety Gear
Below you can see a clip of the Pinay cleaning a 2nd storey house window without any safety gear: