OFWs, please be advised of a new set of rules when sending balikbayan boxes to the Philippines for your awareness and reference.  There has been an update and the The Bureau of Customs (BoC) is implementing new policies by August 1. Some of the new policies include filling out an information sheet and attaching a photocopy of your passport.
Balikbayan boxes are a labor of love for many OFWs as it takes us months to slowly fill items such as groceries, clothes, gifts, etc. The reason why it takes us months is because we try to wait for sale seasons to buy products and also we utilize whatever's left with our salary for the month. Whenever we send these packages, it also takes at least a month for the items to arrive as we have to use sea cargo shipping as it's also a lot cheaper. To all OFWs, please be guided according to the new rules.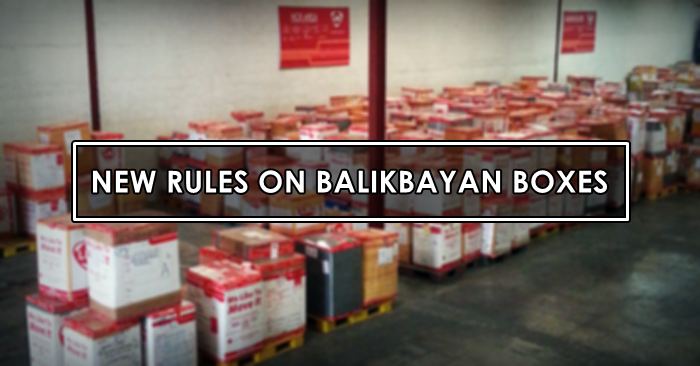 Things You Need to Know about Sending Tax-Free Balikbayan Boxes to the Philippines: New Rules
NOTE: The information posted here is for OFWs who want to avail the "TAX-FREE" Sending of Balikbayan Box. In general, you are allowed to send boxes to the Philippines. But if you want to take advantage of the 'tax-free' shipment, then please follow these important guidelines.
1. Only "Qualified Filipinos" can send a balikbayan box.
Qualified Filipinos include:
Holders of valid Philippine passports
Non-resident Filipinos who have established permanent residency abroad but have retained Filipino citizenship;
Resident Filipino citizens who temporarily stay abroad (may include holders of student visa, investors' visa, tourist visa, and similar visas which allow them to establish temporary stay abroad).
Just to clarify, legal OFWs and residents abroad can send a balikbayan box to avail the tax-free shipment.
2. Recipients Must be Family Members/Relatives
In order for you to qualify for the duty and tax-free privilege, the recipient of the balikbayan box must be a family member or relative up to the 4th degree of consanguinity or affinity.
3. You need to list all items in an Information Sheet and Attach Passport Copy.
Items to Include inside the Box:
Information Sheet (3 copies) – one for you, one for your consolidator (cargo forwarding company, and the 3rd will be attached in the box.
Passport photocopy bio page
Receipts (as necessary for items above 10,000 Pesos)
As per the new BoC rules, you need to write down the items inside your box in an information sheet (you can download it online here or get a copy from the cargo forwarding company).
The sheet will contain the items inside the box with their corresponding 'approximate' value. If you do not know the value of the item because it's a 'used item' or gift, then you can just write it's approximate value.
You also need to include a copy of the bio page of your Philippine passport to verify that package sender is a Filipino.
4. Receipts are Needed for Brand New Items Above 10,000 Php.
Receipts should be included in the documents for items above 10,000 Php. You don't need to include receipts for USED items, groceries and gifts below 10,000 Php.  But you still need to list down their approximate value.
BoC Commissioner, Nicanor Faeldon, mentions an example in a Facebook post, that you can declare a 100 Php value for a used tshirt that may have been originally purchased for 500 Php when it was brand new. ("…ang t-shirt na una'y nabili ng P500.00 at gamit na ay pwedeng ideklara ng P100.00″)
5. Three Shipments per Year with 150,000 Php Total Value
OFWs are allowed to send up to 3 shipments per calendar year and value of total items should NOT exceed 150,000 Php.
6. Items that Exceed the Allowed Quantities or Value will be Subject to Taxes.
In case you exceed the amount value or quantity of the said package shipment, you will have to pay corresponding fees and taxes.
7. The Boxes will NOT be Opened UNLESS there are Discrepancies in Declared Contents
The items will only be scanned via X-ray machine and non-intrusive examination. However, the balikbayan box MIGHT BE opened IF there are uncertain items inside the package such as drugs, firearms, and other contraband items as per x-ray images. The examination will only be done by the Customs Examiner in front of a deconsolidator or freight forwarder, consignee or representative.
———————————–
We hope you are guided by these points as we try to simplify the news update on these balikbayan box rules by Bureau of Customs. Again the above details are for those who want to avail the 'tax-free' shipping to the Philippines.
We advise everyone as well to please make sure that you transact and send your packages from legally accredited forwarders to avoid issues. These companies will help and assist you with these new policies.
Balikbayan Box 101 by Bureau of Customs
Below is a video by Bureau of Customs PH on Facebook which will guide you in packing your balikbayan box including a copy of your Information Sheet and your passport.
 

#BalikbayanBox101 #GoodVibesSaCustoms
Ngayon, mas protektado ang iyong padala sa iyong pamilya.
Easy lang ang pagpapadala ng balikbayan box kung gusto mong ma-avail ang duty and tax free privilege.

Posted by Bureau of Customs PH on Friday, July 28, 2017
Below is an Infographic Release by BoC for reference on what to expect in these Tax-Free balikbayan boxes