Your eyes light up when you see the forwarding company handle the bulky balikbayan box from the delivery truck to your doorstep. You know there is something special inside the box that is yours and yours alone. You know that the box represents goodies from your family member abroad. You realize that it is their way of saying they remember you and that they care about you from across the miles.
ALSO READ: 3 Things You Need to Provide to Send Balikbayan Box
Receiving a balikbayan box is always a treat since we know that our loved ones saved for our special requests and made sure that it will be accommodated. We also know that it represents sacrifice since they do not just magically fill it up with goods. Some of our loved ones forego meals and snacks just to make sure they will get to save enough for us. Yes, the stateside scent makes our noses quiver, but at the same time it should signal to our realization that the sender has sent not only material things but more importantly, affection.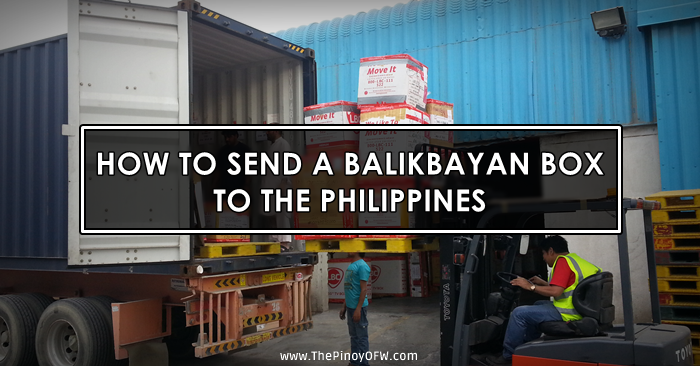 OFW Guide: How to Send a Balikbayan Box to the Philippines
Balikbayan boxes may just be simple corrugated boxes filled with goods and wrapped in packaging tape for additional support. But the message that they bring is far better than just the materials being given.
ALSO READ: Bureau of Customs Information Sheet for Balikbayan Boxes
What is a Balikbayan Box?
Before anything else, let's define what a balikbayan box is. In Tagalog, the term "balikbayan" means to "return [to one's] country." Quite literally, it refers to anyone or anything (in this case, a box) that is shipped from one place back to a person's home country.
In the Philippines, you are likely to see thousands upon thousands of balikbayan boxes arrive during the month of December. Come Christmas time, millions of overseas Filipino workers (OFWs) from different parts of the world excitedly send a balikbayan box — filled with gifts and pasalubong (souvenirs) that they have painstakingly accumulated throughout the year. All of these presents are for their beloved families, friends, and relatives back home.
Things to Put in a Balikbayan Box
What exactly do OFWs put in a balikbayan box? Pretty much anything really — except of course for some prohibited items (more on this below). In any case, some of the most common things you will find inside a balikbayan box are the following items:
Clothes, shoes, and bags. It doesn't have to be branded, but anything that's "imported" will be much appreciated! These include t-shirts, jeans, rubber shoes, flip flops, backpacks, handbags, and other apparel.
Jewellery, watches, and accessories. Again, you don't have to buy anything expensive — any "fancy" or costume jewellery will do. The same goes for watches, scarves, caps, key chains, and other accessories.
Small gadgets. Headphones, electric shavers, flashlights, are just some of the gadgets you can buy for your loved ones. On the other hand, if you plan on giving something special, then go ahead and buy that mobile phone or tablet, just make sure that it is packed tightly and safely.
Perfume, lotion, and toiletries. Your female friends and family will be delighted to get bottles of perfume, body lotion, shampoo, soap, and other similar items. You may also consider getting them make up and lipstick — these are small and easy to pack!
Stuffed toys, board games, etc. Kids in the family will enjoy receiving stuffed toys, board games, and other playthings. These will definitely bring out huge smiles on their faces!
Vitamins and supplements. Some brands of vitamins and supplements can be expensive if bought in the Philippines; buying them from abroad is actually quite cheaper. Your elderly Lolo and Lola will thank you for it… after all, health is wealth!
Canned goods. The great thing about canned goods is that they can be packed and stored for a long time. So go ahead and put some corned beef, SPAM, canned sausages, and other products into your balikbayan box.
Chocolates. Sure, there are plenty of chocolates in the Philippines, but your loved ones won't say no to packs of Hersheys, Mars, Reeses and other goodies in your balikbayan box. Yum!
Cards with notes (and perhaps cash). Beyond all the gifts, your family is eager hear from you — how you are, what you've been doing. So take time to include a card with a handwritten note or letter. You could even insert some foreign cash, which they can keep as souvenir!
Pick a Size
Once you have have an idea of what to put in a balikbayan box, it's time to pick the right size. Depending on your shipping agent, balikbayan boxes come in different sizes, from a "mini box" measuring 12 x 12 x 12 inches, to a large-sized box measuring 18 x 18 x 24 inches.
Still, if you want to pack as many things as possible, you could go for a "jumbo size" box, which usually measures 24 x 18 x 24 inches. You'll be spending quite a hefty amount for shipping, anyway, so why not pick the biggest size? Another idea would be to buy a box as early as January, so you can start filling it with gifts every month or so. This way, you can also take advantage of sales events throughout the year, so you can make the most of your money!
Choosing the Method for Cargo Delivery: Sea versus Air
Balikbayan boxes need to arrive safely and without any damages as much as possible. The valuables contained therein might get damaged, so special care must be considered if you are to choose which between sea cargo and air cargo.
Both methods have their pros and cons. Sea cargos are pretty much not bound by a tight schedule as they tend to be more democratic in their speeds. However, air cargo would be strict with their scheduling and their loading of goods because they follow a timetable which would maximize their effectivity and profits.
Sea cargo boxes need to be heavy duty and should be able to withstand the stress of prolonged exposure to the elements. However, for air cargo, the boxes would have to be regular sized which means you will be saving on packaging costs. Sea freight cargos would also be much larger since they have bigger space available. However, air freight cargos would be smaller since there is a limit to the cargo space in airplanes.
Lower insurance premiums are also being paid for air cargo shipments because the timeframe is small and the risk is minimal. However, the insurance coverage for sea freight is considerably higher due to the fact that it is more exposed.
Sea freight cargos would tend to be cheaper in terms of excise taxes because they tend to pass less bureaucratic red tape and processes. On the other hand, air freight cargos would have to undergo a lot of processes which can increase the prices.
However, air freight would also be safer since there are tighter security measures in place. Sea cargos, while there are several measures in place would have looser mechanisms. This also means, shippers who use air cargos need to declare their gadgets for their security purposes – which means a bigger tax for some to cover the costs of insurance.
The Customs Modernization Tariff Act
Previously, President Benigno Simeon Aquino III signed into law the Customs Modernization Tariff Act which increased the tax-free incentives of shippers using balikbayan boxes.
In this law, all OFWs can now send up to three boxes containing $1,500 worth of goods any given year except for commercial purposes such as barter, trade or selling. This is an increase from the previous $200 cap.
Ten-year veteran OFWs can also avail of tax exemptions for personal and household effects not exceeding Php 350,000 when they come back to the country. This is on top of the tax- and duty-free balikbayan box exemptions that they can enjoy.
Five-year OFWs can avail of personal and household effects exemption of P250,000. OFWs with less than 5 years of experience and coming back to the country will get to enjoy an exemption of P150,000.
Freight Forwarders: It's a Choice
Should you not decide between going through sea or air, you can always go with accredited package forwarders such as LBC, JohnnyAirCargo or U MAC Forwarders Express, Inc. to send your balikbayan boxes home. These companies have great customer satisfaction ratings and guaranteed delivery times. They would be able to assist you in sending the boxes to your family.
Make sure that you would only be transacting with trusted and accredited forwarders otherwise you risk the chance of losing your precious cargo. Look at the licenses and make sure that you only transact with authorized personnel during their office times. Also make sure that your cargo can be tracked at any time.
You can check and verify a list of verified cargo forwarders through this link : http://www.dti.gov.ph/consumers/accredited-seafreight-forwarders
Prohibited Items in a Balikbayan Box
The following items are prohibited to be included inside your balikbayan boxes.
Alcohol/alcoholic drinks
Automobile/motorcycle, parts or whole
Ceramic tableware
Cultural artifacts and pottery
Defense articles or items with military or proliferation applications
Products containing dog or cat fur, as well as animal hide
Drug paraphernalia (unless prescribed for medical conditions)
Firearms, explosives (including parts)
Cheese, Meat, fruits and vegetables (unless canned)
Pets, plants, seeds, soil
Used clothing of commercial quantity (ukay-ukay or in bales)
Pornographic materials
Fluids and other perishable food items
Please avoid sending these items to prevent any unfortunate circumstances. There have been some instances wherein these items have been sent but we do not want to tempt fate and have our items confiscated.
Step-by-Step Process in Sending a Balikbayan Cargo Box to Philippines
Once again, as a quick summary, let's go over the specific steps in sending a balikbayan box to the Philippines:
Gather all the things that you plan to ship to the Philippines. Write them down in the balikbayan box information sheet.
Choose a shipping agency that meets your budget and preferences. You can also ask your friends, relatives, and co-workers for any recommendations.
Pick a box size. As mentioned earlier, balikbayan boxes comes in different sizes, from small to medium, large, and extra large. Just make sure that it can accommodate all your items!
Pack your items properly. If you are sending a fragile item (e.g. glass bottles), be sure to use bubble wrap to avoid any damage during handling and shipping. Consider padding or taping the bottom side of the box to make it sturdier, and use crumpled newspaper to fill any spaces.
Include a copy of the list of items inside the box itself, so your recipients will know what should be inside!
Weigh the box. If you have a weighing scale, consider weighing your box to make sure that it is not too heavy, as you may have to pay extra for shipping.
Close and label the box. Don't forget to include your complete information, along with the complete name, address, and contact details of the person who will receive your box.
Bring the box to your shipping agency (or arrange for them to come and pick it up, depending on your preference). Make the necessary payments and procedure, and you're done!
Track your balikbayan box. These days, most shipping agencies have an online platform (i.e. mobile app or website) where you can monitor every stage and location of your package, from pick up to delivery.
Wait for your loved ones to call and confirm the arrival of your balikbayan box. At last! Everybody's happy!
Video: How to Pack a Balikbayan Box
Just to give you a better idea of how to pack your balikbayan box, here is a helpful video shared by WorldRemit on YouTube;
Frequently Asked Questions
Here are some common questions people have about the balik bayan box:
1. What is the typical transport flow of balikbayan boxes?
Overseas Filipinos generally use the services of a foreign consolidator/primary marine freight forwarder when sending balikbayan boxes to families in the Philippines. Foreign consolidators collect door-to-door fees from OFWs as senders. Fees for the shipping line/carrier, terminal storage, duties and fees, and the accredited Philippine agent/local freight forwarder are all included.
Accredited Philippine agents or local sea freight forwarders transport the balikbayan boxes to consignees or recipients in the Philippines.
2. What is the problem/issue with the delivery of balikbayan boxes?
In order to speed the release and delivery of balikbayan boxes, foreign consolidators/principal sea freight forwarders do not always reimburse a percentage of their collected charges to their accredited Philippine agents/local sea freight forwarders.
If the required sums are not deposited to accredited Philippine agents/local freight forwarders, shipments or balikbayan boxes with the Bureau of Customs (BOC) will not be released or delivered to consignees/recipients.
3. What office/agency addresses the said problem/issue?
The accreditation scheme for maritime freight forwarders is administered by the Business Licensing Accreditation Division (BLAD) of the Department of Trade and Industry – Fair Trade Enforcement Bureau (FTEB) in accordance with Administrative Order No. 6, series of 2005. Both the foreign consolidator/principal and its Philippine agent/freight forwarder are jointly and severally liable for cargo delivery to consignees, according to the FTEB-BLAD.
4. If the Philippine agent/freight forwarder holds delivery of balikbayan boxes because its foreign principal fails to remit the necessary funds, therefore, what can FTEB-BLAD do to help the consignee?
The FTEB-BLAD shall direct the Philippine agent/freight forwarder to deliver the cargo to its lawful owners as soon as possible (consignees). Failure of the Philippine agent/freight forwarder to deliver the cargoes immediately will result in FTEB-BLAD filing a Formal Charge against the freight forwarder for the revocation of its accreditation (if the forwarder is BLAD-accredited) or a Cease and Desist Order (if the forwarder is not BLAD-accredited), as well as applicable fines as provided in PSB Administrative Order No. 6, series of 2005.
5. How does one file a complaint with DTI regarding balikbayan boxes?
Complainants (shipper or consignee) must file a formal complaint with DTI-FTEB, together with supporting documentation that includes the name of the local delivery agent/forwarder, such as official receipts, cargo receipts, and packing list, shippers' declaration, house bills of lading, or waybills. They can also send emails to fteb@dti.gov.ph and ftebmediation@dti.gov.ph, or call DTI Direct at (02) 751-3330 / 0917-8343330. (Only SMS).
6. How much are the shipping rates of balikbayan boxes? How long is the transit time from origin to destination?
The shipping prices vary depending on the size and origin of the balikbayan box (small (26″x26″x26″), medium (26″x26″x34″), large/jumbo (26″x26″x42″), (53x51x76cm), (76x56x61cm), ordinary (23″x17″x20″), and extra-large (26″x26″x42″) (71x43x57cm). The approximate door-to-door rate and transit time for a typical balikbayan box from origin to destination are shown below.
7. What are the tips in shipping balikbayan boxes?
The following are tips to ensure that your balikbayan boxes reach its destination:
Check the list of Foreign Freight Forwarders and their DTI accredited Philippine counterparts/agent
Always remember that the following items are NOT allowed to be sent through balikbayan boxes:

currencies, checks, money orders and traveller's checks;
jewelries;
firearms, ammunitions and explosives;
prohibited drugs and other substances;
pornographic materials, gambling cards and toy guns;
pirated products e.g. DVD, CD;
items of commercial quantity;
plant seeds and plant materials, and
any food stuff that are not in cans, sealed packages, or in bottles

Declare the contents of your balikbayan box on the packing list, including the item's value and, if feasible, the date you want it shipped. Request that your box be properly (or exceptionally) packaged, wrapped, strapped, sealed, and labelled.
Transport documents should be safeguarded, including the official receipt, cargo receipt, invoice, house Bill of Lading, shippers' declaration, and waybill.
Obtain the name and contact information for the consolidator's Philippine counterpart/agent. Check that this information is included on the shipping papers you have obtained.
Be wary of unusually low costs.
Be aware of anyone pretending to be a freight forwarding firm employee at your place. Request valid identification and check with the freight forwarding companies to see if the individual is an employee or authorized to represent the companies in question.
Follow the progress of your cargo from start to finish. You can request a tracking system or contact the shipping company several times. You can ask for information on your shipment, such as the shipping company's name, the name of the vessel, the voyage number, the container number, and the projected departure and arrival timeframes. The Bureau of Customs Balikbayan Box Tracker allows you to trace your shipment.
Insurance for your shipments is also available. Inquire with the freight forwarding company about the next steps.
Inform your receiver that your package must be verified with the Philippine agency prior to arrival. Before signing the delivery receipt, carefully inspect the box's seal and wrapping. If you feel the box has been tampered with, refuse it and ask the delivery person to double-check it.
For assistance with missing, non-delivered, stolen, or damaged cargo, send an email to fteb@dti.gov.ph or call DTI-Direct 751.3330 or 0917.834.3330 (SMS only).
Summary
As we send our loved ones the items in our balikbayan boxes, let us remember that it would satisfy their immediate needs and wants. It would satisfy their curiosity and their eagerness to try something new. Send home your love as well through letter and other sweet nothings. Let us remember that whatever material possessions may be inside these boxes, each one has been imbued with the undying love that you feel for each recipient.
Go on, fill your balikbayan boxes in time for the holidays!