What is your favorite Pinoy horror story? Since we were young, we've all heard spine-chilling tales about the tianak, white lady, manananggal, duwende, tikbalang, aswang, and many more. Many of these creepy entities have been featured in movies as well.
In this article, we have compiled a list of the best horror movies that have frightened Filipino moviegoers over the years. Some of these films could actually be found in online streaming sites. So if you are looking for the scariest flicks to watch with your friends, keep on reading to know the best of the best!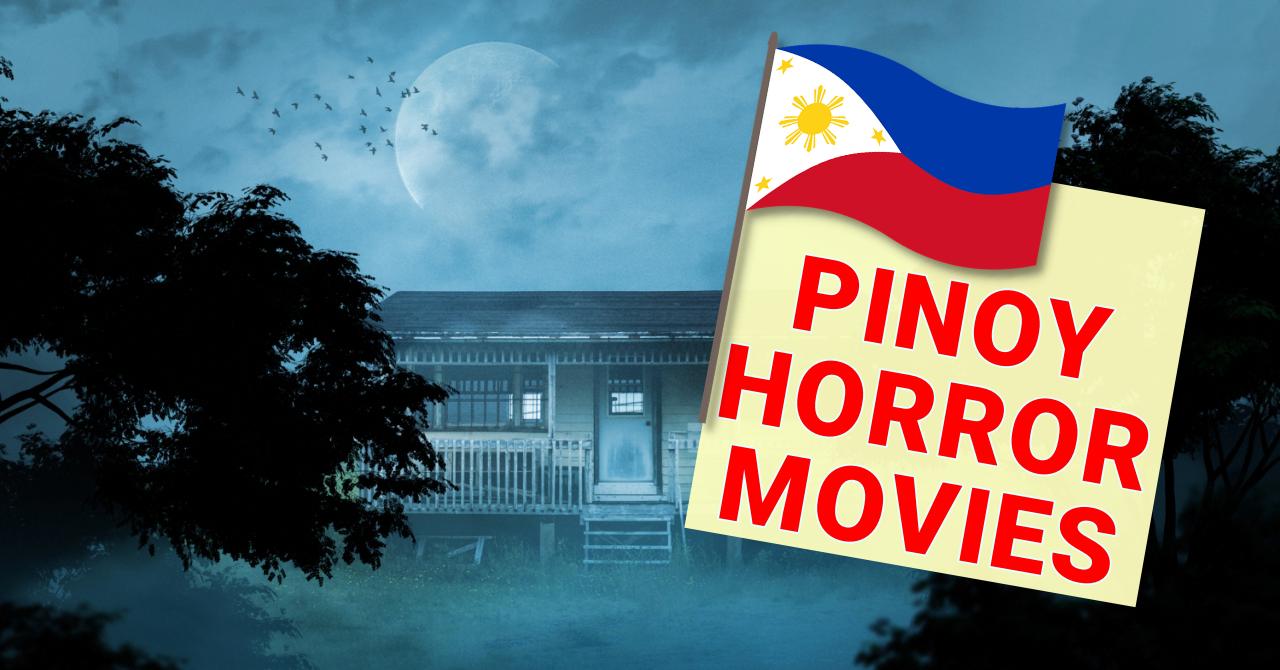 List of Top Pinoy Horror Movies
Here's a list of Pinoy horror movies that have been frightening moviegoers since the 1980s. For each movie, we have included a brief synopsis and a trailer/teaser. Are you ready to be scared?! Here we go!
1. Nightshift (2020)
This movie follows the story of a young woman who has just started work as the assistant to a pathologist. On her first day of work, her co-workers' arrival got delayed, so she was forced to stay and work the nightshift. As the evening passes, however, it's not only the darkness that descends upon the place… as the silent dead begin to show signs of resurrection…
Nightshift stars Yam Concepcion, Michael de Mesa, Mercedes Cabral, Jeffrey Quizon, Soliman Cruz, and more. It was directed by Yam Laranas.
2. Sunod (2019)
Starring Carmina Villaroel, Sunod presents the story of Liv, a mother who is struggling to cope with the rising costs of her daughter's hospital expenses. She takes on a job at a call center, not knowing that it is haunted by the ghost of a child that's been trapped in the building for a long, long time.
Directed by Carlo Ledesma, this movie features Carmina Villaroel, Krystal Brimner, Rhed Bustamante, Kate Alejandrino, JC Santos, Dolly de Leon, and Mylene Dizon.
3. Eerie (2018)
Set in Sta. Lucia Academy, a remote Catholic school for girls, a guidance counselor is called to unravel the mystery behind the sudden death of a student. Notably, this film was chosen as the best Filipino entry for the foreign language film category of the 90th Academy Awards!
The film stars Bea Alonzo, Charo Santos-Concho, Jake Cuenca, Maxene Magalona, Mary Joy Apostol, Gabi Padilla, and Gillian Vicencio. It was written and directed by Mikhail Red.
4. The Ghost Bride (2017)
This movie features Kim Chiu as Mayen, a young woman who is desperate to save her family from becoming homeless, while dealing with the medical costs of her ailing father. For a huge amount of money, she agrees to be married to a rich Chinese man… The catch? He is already dead, and she is his "ghost bride."
Directed by Chito S. Roño, The Ghost Bride stars Kim Chiu, Alice Dixson, Matteo Guidicelli, Christian Bables, Ina Raymundo, Robert Seña, Beverly Salviejo, Mon Confiado, and Kakai Bautista.
5. Basement (2014)
A group of young men and women get stuck in a basement parking lot for the night. Not such a big deal, right? They can always get out the next day. Pretty soon, however, spine chilling screams are heard and bloodied bodies turn up… as the group realizes that an evil creature lurks in the dark.
Basement stars Betong Sumaya, Alvin Aragon, Carl Acosta, Chynna Ortaleza, Dex Quindoza, Dion Ignacio, Ellen Adarna, Enzo Pineda, Jan Manual, Kevin Santos, Kristofer Martin, Louise delos Reyes, Mona Louise Rey, Pilita Corrales, RJ Padilla, Sarah Lahbati, and Teejay Marquez. It was directed by Topel Lee
6. The Healing (2012)
Several people are miraculously healed after visiting a faith healer. Soon, however, suicides and murders follow… leading to a chilling mystery that must be solved.
Directed by Chito S. Roño, The Healing stars Vilma Santos, Kim Chiu, Janice de Belen, Pokwang, Robert Arevalo, Martin del Rosario, Mark Gil, Carmi Martin, Cris Villanueva, Allan Paule, Ynez Veneracion, Ces Quesada, Abby Bautista, Daria Ramirez, and Chinggoy Alonzo.
7. Dalaw (2010)
Three years after her husband died, Stella falls in love again and gets married. After settling into their new house, however, strange things start to happen… Could it be a haunting from Stella's late husband?
Directed by Dondon Santos, Dalaw features Kris Aquino, Diether Ocampo, Karylle, Alessandra de Rossi, Susan Africa, Empress Schuck, Gina Pareño, Maliksi Morales, Ina Feleo, Precious Lara Quigaman, Richard Quan, Leslie Basila, Julia Montes, and Redford White.
8. Sukob (2006)
After working abroad, a couple returns to their hometown to get married. Unfortunately, deadly things start to happen and there seems to be no "happy ever after" for the newlyweds…
Sukob is based on the Filipino superstition that a person should not get married if: (a) his/her sibling got married in the same year; or (b) a close relative died within the same year. Directed by Chito S. Roño, the movie stars Kris Aquino, Claudine Barretto, Wendell Ramos, Bernard Palanca, Boots Anson-Roa, Ronaldo Valdez, Liza Lorena, Maja Salvador, Jhong Hilario, Glaiza de Castro, and more.
9. Kutob (2005)
This film stars Rica Peralejo as Erica, who suspects that her boyfriend, Carlo (Ryan Agoncillo), has been cheating on her. Together with her best friend, Mayen (Alessandra de Rossi), Erica visits a fortune-teller, who cautions her about dark and dangerous things ahead…
Aside from the above actors, the movie also stars Marvin Agustin, James Blanco, Liza Lorena, Ana Capri, Bing Loyzaga, Andrea del Rosario, Valerie Concepcion, Eugene Domingo, and John Wayne Sace. It was directed by Jose Javier Reyes.
Notably, Kutob has won several awards: Best Actor, Best Director, Best Editing, Best Musical Score, and Best Original Theme Song.
10. Feng Shui (2004)
A young woman, Joy, acquires the bagua, an antique mirror. She brings it home to her family, and they start experiencing good fortune. Soon, however, things change for the worse, and Joy's luck appears to have become a curse.
Feng Shui stars Kris Aquino, Jay Manalo, Cherry Pie Picache, Lotlot de Leon, Ilonah Jean, Nonie Buencamino, John Vladimir Manalo, Julianne Gomez, Jenny Miller, Gerard Pizzaras, and many more. Notably, this movie was the country's highest-grossing film in 2004. It was directed by Chito S. Roño.
11. Sigaw (2004)
Sigaw presents the story of a young man, Marvin, who has just moved into a new apartment. Soon, he hears violent sounds and loud shouts from next door, where an alcoholic cop, his wife, and their daughter live. This movie stars Richard Gutierrez, Angel Locsin, Jomari Yllana, Iza Calzado, and James Blanco.
Interestingly, Sigaw became a box office hit, and was one of the entries in the 2004 Metro Manila Film Festival. The following year, it was released in Malaysia and Singapore, as well. In 2008, an American remake of the film was made, with the title, The Echo.
12. Impakto (1996)
Doray, a young woman, takes on a job as a nanny for Baby Junjun. However, strange things begin to happen, and a dark mystery surrounds the seemingly angelic baby.
Impakto stars Gelli de Belen, Antonio Aquitania, Daria Ramirez, Cherry Pie Picache, Rochelle Barrameda, Candy Pangilinan, and Ernie Zarate.
13. Patayin sa Sindak si Barbara (1995)
Two sisters, Barbara and Ruth, fall for the same man. Barbara gives way and sacrifices her feelings; her younger sister marries Nick. Years later, however, Ruth commits suicide, and Barbara returns to look after her sister's daughter. Strange things happen as Ruth's angry ghost appears to be haunting Barbara…
Patayin sa Sindak si Barbara stars Lorna Tolentino, Dawn Zulueta, Tonton Gutierrez, Antoinette Taus, Anita Linda, and Amy Austria.
14. Impaktita (1989)
This film follows the story of Sita, the child of an aswang, as she grows up and learns how to deal with her nature as well as the people around her.
Impaktita features Jean Garcia, Judy Ann Santos, Richard Gomez, Nida Blanca, Mario Escudero, Gloria Romero, Romeo Rivera, and Ruela Vernal.
15. Shake, Rattle, and Roll Films (1984-2014)
Shake, Rattle, and Roll presents not just one, but three stories in each movie. It started way, back, in 1984, with Shake Rattle and Roll I (first installment). In 2014, Shake, Rattle, and Roll XV (fifteenth installment) was released. Cool!
Produced by Athena Productions, and later by Regal Films, the Shake, Rattle, and Roll series presents stories about ghosts, urban legends, demonic possession, cults, supernatural beings, and other phenomena based on Pinoy lore and superstitions.
Notably, the first installment features: (a) "Baso," the story of three teenagers who got possessed after playing spirit of the glass; (b) "Pridyider," the tale of a refrigerator that eats humans; and (c) "Manananggal," which presents the story of a young man who falls in love with a manananggal. The cast includes Rey "PJ" Abellana, Arlene Mulach, Joel Torre, Herbert Bautista, Irma Alegre, Charito Solis, Janice de Belen, and William Martinez.
In the meantime, check out this eerie Shake, Rattle, and Roll story that's titled, "Class Picture."
Summary
These are just some of the most popular Pinoy horror movies that have caused chills and frightened screams among Filipino movie buffs. What about you? Is there a horror movie that you think should also be included in the list? Do share it with us in the comments below!
Although the above list features Pinoy horror stories, there are movies that present a more lighthearted genre. If you're currently based abroad, then you should definitely check out this list of movies to watch when homesickness hits.