The COVID-19 pandemic may have temporarily closed movie theaters for some time, but it certainly hasn't stopped us from enjoying films at home. Thanks to cable TV, the Internet, and online streaming websites, we can watch movies — including Filipino films — anytime, anywhere!
From iWantTFC to Netflix to YouTube and more, we have gathered a list of websites, cable channels, and other platforms that stream different kinds of movies, including Filipino blockbusters. So just sit back, make some popcorn, and get ready to "binge" on your favorite Pinoy comedy, horror, action, romance, and adventure films!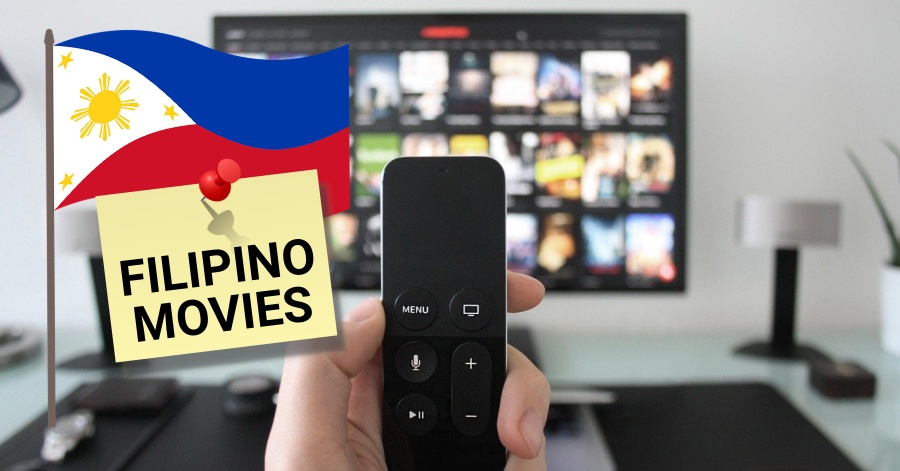 Best Filipino Movie Streaming Sites
Eager to watch Pinoy movies but not sure where to start? Here is a list of websites and platforms that enable you to watch lots of films. Some of these are free, while others are paid and require a weekly, monthly, or "pay per view" billing. Moreover, some of these websites/platforms are based in the Philippines, while others are based in other countries.
Keep in mind that for most of these websites and platforms, you may need to have a high-speed Internet connection. This way, you can enjoy watching movies without "loading" lags and interruptions!
1. Cignal Play
Cignal is actually one of the leading local cable companies in the Philippines these days. In addition to cable TV services, they also offer Cignal Play, an online streaming platform featuring live TV channels, local TV shows, and of course… movies! There are two options: Cignal Play Basic, which is free; and Cignal Play Premium, which costs PHP 75 a month. Through this platform, you can watch movies and shows on your desktop or mobile phone.
Fore more information about Cignal Play, you can visit the official website.
2. iWantTFC
If you're a certified "Kapamilya" or ABS-CBN fan, then you should definitely check out iWantTFC, which is a merger of the network's iWant and TFC platforms. Here, you will find plenty of ABS-CBN shows, news, and live sports, along with a great selection of Star Cinema films.
Learn more about iWantTFC through the official website.
3. Regal Entertainment Inc.
You may have heard about Regal Entertainment, a movie company that has brought us lots of great movies over the years. Well, guess what? They have a YouTube channel that features FREE movies. You can choose from exciting categories such as Shocking Classics, Feel Good Classics, Regal Babies Rewind, Regal Comedy Wednesday, Regal Sabado Thriller, and Regal Action Marathon Sunday. Enjoy watching!
Check out Regal Entertainment Inc.'s official YouTube channel here.
4. Upstream
In case you haven't heard, Filipino director Erik Matti and producer Dondon Monteverde created Upstream, a local streaming site featuring Filipino movies. Since this is a paid site, you will need to pay first through Gmovies.ph, a ticketing site, before watching a movie. You can learn more about Upstream through its official website here.
5. Vivamax
Viva is known as of the leading movie production companies in the Philippines nowadays. What you may not know is that they also offer Vivamax, an online streaming website with lots of Filipino blockbuster movies and TV shows. Services are priced based on time validity: PHP 29 (good for three days), PHP 49 (one week), PHP 149 (one month), PHP 399 (three months), PHP 749 (six months), and PHP 1399 (one year). Aside from Filipino films and TV shows, you will also find a wide selection of Korean dramas and movies on Vivamax. Yay!
For more details about Vivamax, please visit the official website.
6. Netflix
Who hasn't heard about Netflix? It is one of the biggest and most popular streaming services in the world! Aside from watching plenty of foreign movies and TV series, you can also access a great selection of Filipino films through this platform. Prices start at PHP 149 per month (mobile). Meanwhile, the Basic, Standard, and Premium plans cost PHP 369, PHP 459, and PHP 549 per month, respectively.
For more details, you can go to the official website of Netflix.

7. Apple TV+
You read that right… Apple TV+ is brought to us by Apple, the same company that provides us with premium smartphones and computers. Apple TV+ is an online streaming service that features mostly Western movies and shows, but there are actually some Filipino movies, too! The price is at PHP 249 per month; but if you are planning to purchase a new Apple gadget soon, the streaming service is free for the first three months. Cool!
For more information, head to the official website of Apple TV+.
8. HOOQ
HOOQ is another online streaming site where you can watch the latest Hollywood blockbusters and TV shows, including Filipino movies. The service costs PHP 149 per month. If you are a Globe subscriber (either mobile or broadband), you can also have the streaming service bundled with your monthly Globe plan. The great thing about HOOQ is that you can access it using Android and iOS devices, plus you can download up to five movies or shows, and watch it offline!
For more details about HOOQ, head to the its official website.
9. Kanopy
Kanopy is unique, in the sense that it focuses mainly on documentaries, though there are quite a number of movies as well. It is an on-demand streaming platform for universities and public libraries. Hence, you need to have an educational institution's email address — or a library card from a partner library — to be able to access content. Oh, and the best thing about Kanopy? It's absolutely FREE! Plus, there are no disrupting ads; you can simply focus and enjoy watching!
Learn more about Kanopy through its official website.
10. WeTV iflix
Have you heard of WeTV iflix? This is a collaboration between two streaming platforms: iflix, a video-on-demand service based in Kuala Lumpur, Malaysia; and WeTV, a product of Tencent Video, which is a leading online video platform in China.
Through the collaboration, "WeTV iflix" streams plenty of content, including movies and TV shows from Western and Asian channels. Notably, in March 2021, WeTV partnered with ABS-CBN to stream prime time shows. Today, the platform features Western, Chinese, Korean, and other Asian shows, including Filipino shows. Yay!
To use WeTV, you can download the app via Google Play or the App Store. Prices start at PHP 99 (monthly), up to PHP 269 (quarterly) or PHP 999 (yearly). As for iflix, you can also download the app through Google Play or the App Store.
Check out more details about these streaming platforms through the official websites of WeTV and and iflix.
11. YouTube
Other than the Regal Entertainment Inc. channel that we mentioned earlier, there are many other YouTube channels that stream movies — including Filipino films — online. You just have to know where to look! Some cinema studios even upload movies on their YouTube channels for a limited period, so you can watch these films even if you missed them during their cinema runs!
Just do a quick search on YouTube for "Filipino movies," and you're all set!

How to Watch Full Pinoy Movies Online
As you can see, the above online streaming sites vary in terms of costs and platforms. Some stream their content for free, while others require a monthly fee or a "per video" charge. Likewise, some platforms require you to download a mobile app, while others may be watched directly through an Internet browser on your phone, tablet, laptop, desktop, or Smart TV.
In any case, here is a general, step-by-step guide when accessing streaming services:
Step 1. Sign up for the movie streaming service and pay the subscription fees, if any.
Step 2. Download/Open the streaming app/browser and create an account (if required).
Step 3. Choose the movie or show that you would like to see.
Step 4. Enjoy watching!!!
FREE Pinoy Movie Sites
So far, we have talked about "legit" online streaming sites and platforms, including those that require paid subscriptions. But how about FREE streaming sites? Can you search Google for any Filipino movie streaming sites? Well, you certainly can. That's what we just did, actually. We did a quick Google search for "Filipino Free Streaming Movies," and here is a list of websites that came up:
filmdoo.com
librengpinoymovies.com
pinoymoviepedia.ru
pinoymovies.es
pinoymovieshub.su
pinoymoviesonlinefree.com
watchpinoymovies.su
Most of these websites claim to have thousands of Filipino movies and TV shows on their platforms. Again, these websites stream content for free, without charge.
DISCLAIMER/WARNING: A word of caution, though. While the above sites stream content for free, please note that you may be violating some piracy laws. Aside from the fact that downloading copyrighted movies (or any copyrighted content, for that matter) is illegal, there is also the risk that you may end up downloading harmful files or viruses, along with the movie. Please keep this warning in mind at all times! Also, there are some pending cases of the mainstream media channels wherein they filed a suit for over $10-$12 million dollars to these websites carrying pirated content.
Some Final Thoughts
The pandemic may have affected many of our outdoor activities, but it certainly hasn't stopped us from doing things we enjoy, like watching movies. Fortunately, there are many online streaming sites and platforms that we can use to enjoy lots of films, including Filipino ones. We hope that the above list would serve as a valuable guide for you as you choose your preferred streaming platform. Happy watching!!!
READ NEXT: "Hello, Love, Goodbye" Becomes First Filipino Film Shown in Jeddah, KSA