Nadine Lustre is lustrous in her own right for a reason; she's a powerhouse Filipina celebrity and influencer of our generation; aside from being a Gawad Urian recipient for best actress, she's also an advocate for mental health and someone you can rely on for style inspiration. If Heart Evangelista is one of your style icons, then let Nadine inspire you.
Nadine has shown the public that her no-nonsense personality, creativity, talent, and applaudable work ethic have made her a shining star. If you haven't watched one of her famous movies, then you should since you'll learn a thing or two from them! You'll be addicted to Nadine Lustre's acting prowess that can make you feel all the feels anytime.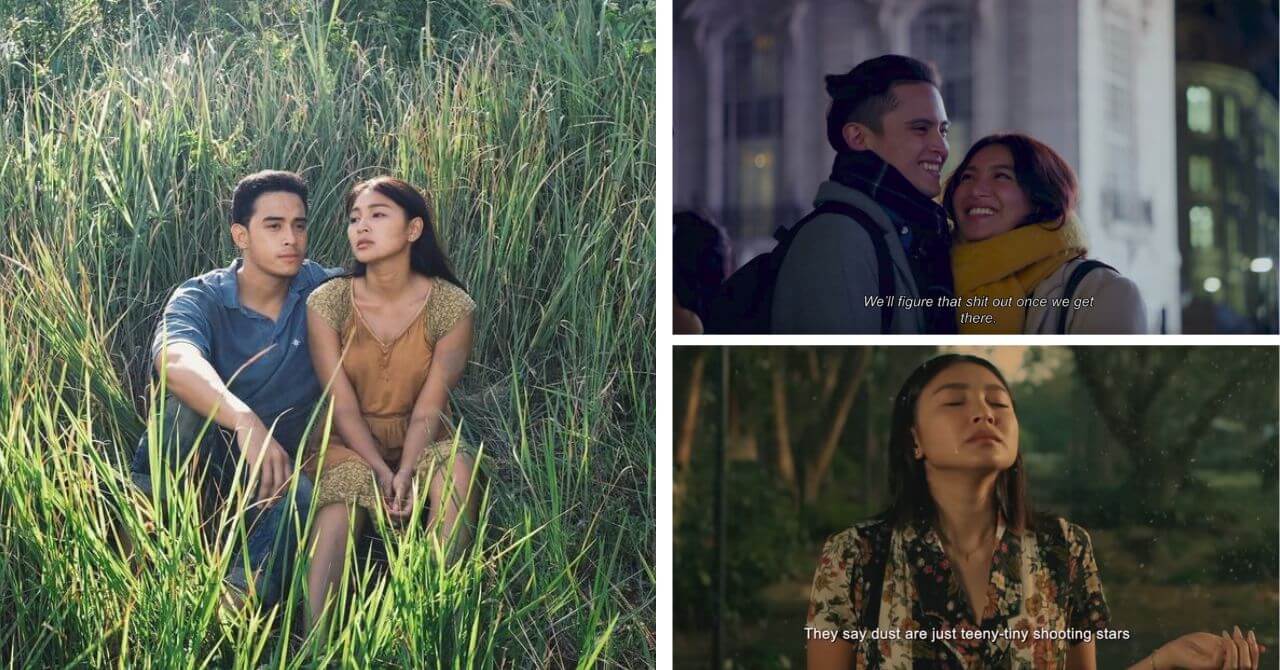 1. Diary ng Pangit
Ah, the good old days of Wattpad books having movie adaptations; you'll also feel nostalgic watching Diary ng Pangit since this is where Nadine has started to take off as an artist. You'll love her role as the fictional character named Eya. 
The story revolves around Eya, an orphan who became a personal maid for Cross, a rich and handsome young man. It's a story about their love-hate relationship and complicated lives. Diary ng Pangit will teach you the classic moral tale that looks are not the end all be all. It's a story similar to Cinderella, but it will make you feel nostalgic since it sets in school. Which will make you miss the time your worries are not failing your test, dealing with an unrequited crush, school bullies, and other angst every Filipino teenager has.
Diary ng Pangit is a rom-com film that will teach you the essence of perseverance, breaking societal norms, and being true to yourself. These lessons still ring true for OFWs globally since they can easily get lost in the noise and constant routine today, but this movie can be your pep talk after a long hard day! JADINE fans will feel all the feels from the love team's first movie together in 2016.
2. Ulan
No matter where you are in the world as an OFW, you'll definitely miss the rainy season in the Philippines! You'll also miss the folklores and storytelling you heard from childhood. The romantic drama film Ulan starring Nadine Lustre and Carlo Aquino, will transport you to the whimsical world of tikbalangs and fantasy. Maya, the protagonist of the film, has never loved the rain since it reminds her of all the sad and bad things that happened in her life, from heartbreaks to failures. 
Let's admit it the rainy season can affect our mood, especially if you're not a rain-type of person. The movie Ulan will teach you a lot about opening your heart again to love, practicing self-love, and treasuring Filipino folklore and storytelling. Sometimes our mindset and mental health can affect how we view our life and surroundings, as some would see the glass as half full or empty. This movie will teach you about shifting your mindset and moving on amidst the pain.
3. Never Not Love You
This LDR- romantic-drama film should be a part of your bucket list to watch whether you're a JADINE fan or not. Watching the film will make you realize why Nadine bagged prestigious awards for her role as Joanne.
As an OFW, you may have been in an LDR relationship at some point in your life. You'll feel all the feels with this movie since it is an honest story about two young lovers trying to make their relationship work while juggling their careers. If you're an OFW based in London, then you'll see the tourist spots in the city. This movie emphasizes hard, yet real-life questions such as will their love survive in an LDR relationship? and how much are you willing to sacrifice for love?
You'll learn a lot from this movie: how to deal with when you outgrow a relationship, doing your best at work, and knowing your worth. Nothing in life comes easy, and for OFWs being in an LDR and dealing with the constant struggles of keeping contact with their loved ones, whether in the Philippines or any part of the world, can be challenging. Let the story of Joanne and Gio teach you how to thrive and be wiser in love and your career.
4. Indak
Don't let the movie title's fool you since the movie Indak is not just a Step Up movie wannabe. It's not just a film that is jampacked with energetic dance scenes, but it also has a compelling story with themes about friendships, family, love, and pursuing your dreams. You'll love the picturesque scenes on Bantayan Island and the thrill of the dance competition in the film.
The film highlights the main protagonist's journey as she joined a dance crew that will be competing internationally in South Korea after her dance video became viral on social media. The film will teach you a lot about the struggles of pursuing your dreams and the highs and lows that come with them. 
As an OFW, you can also relate to the story since you may be an island girl or a city girl in Manila who never dreamed of working or immigrating abroad to pursue your dreams or career, yet here you are!
5. Greed
Truth or false, have you ever tried your luck in the lottery? Whether you admit it or not, we all have done so at some point, especially OFWs who want to go home to start a business or retire. Since being an OFW is not bed and roses. The indie film Greed stars Nadine Lustre and Diego Loyzaga. The story revolves around a young couple who have won the lottery in their poor provincial town. They have planned to elope and leave the village because of poor circumstances their planned hassle-free exit took a wrong turn.
We all want to win the lottery and have lots of money because who doesn't, right? This film explores the sad reality of the toxic family culture, people changing their values because of money. Being an OFW, we all know the harsh truth about being wise in handling personal finances and how it's powerful enough to ruin relationships.