Let's face it wedding planning can be stressful and can literally remind you of expectation vs. reality when it comes to your dream wedding. To ease the burden and can be a way of stress relief during the process, here are fun wedding movies and series you can watch that can help you prep for your wedding.
You can get ideas for your motifs, playlist sets, venues, and more! You can always rely on movies to inspire and be a bonding moment with your partner or loved ones!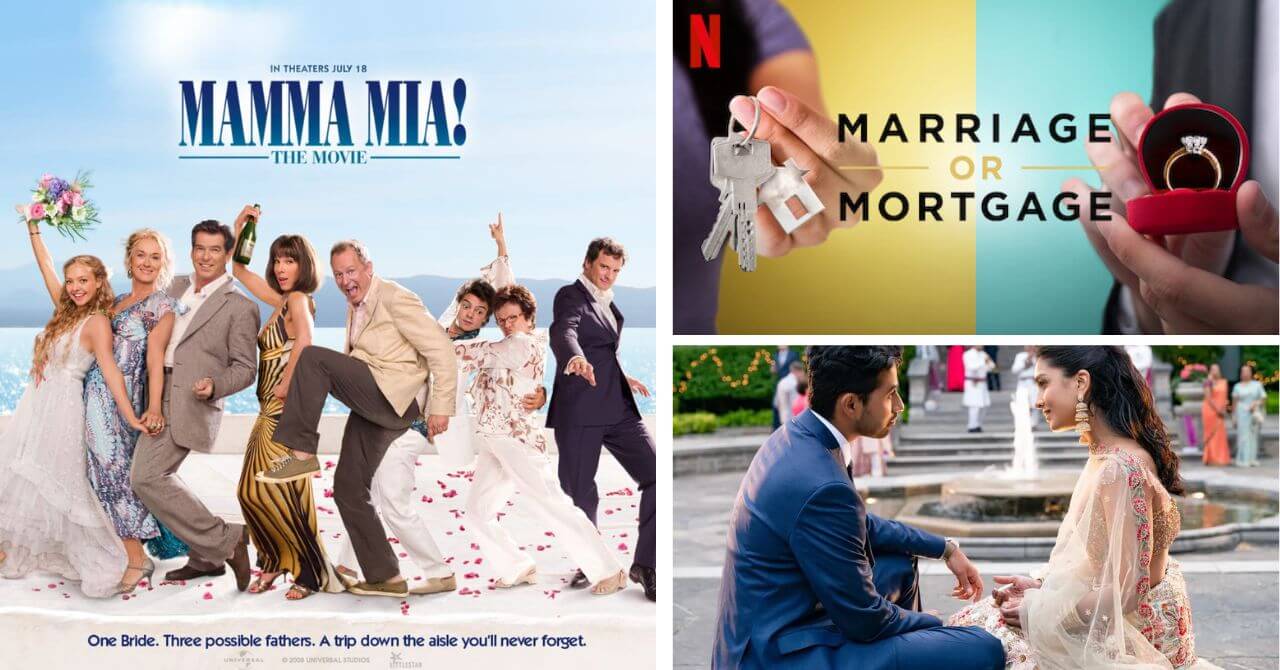 1. Marriage or Mortgage
If you're a lover of reality shows, you can watch Marriage or Mortgage since it'll tackle the common struggle most couples are planning to get married. Do you need to have your dream wedding or dream house? OFWs can be torn in half when it comes to this question but with the rising inflation and wants over needs priorities. You can watch this reality show as a wedding planner and real estate agent, helping couples choose whether they want to have their dream wedding or house based on their budget. 
2. Mamma Mia
Of course, who doesn't know about Mamma Mia? This classic and fun-filled musical movie will take you on a wild ride when it comes to wedding planning. If you love Abba songs, Meryl Streep and Amanda Seyfried singing and acting their hearts out, and you'll enjoy watching this movie! You'll laugh the whole time and make fun of the dilemmas the characters face in the movie.
If you're not familiar yet with the movie, the story revolves around Donna (Meryl Streep), a hotelier in the Greek islands, who has enlisted the aid of two friends from her past as she gets ready for her daughter's wedding. Meanwhile, the independent bride, Sophie (Amanda Seyfried), has an idea. She plans to meet her biological father on her wedding day, so she sneaks in three men from her mother's past in the hopes that one of them will be the one to give her away.
3. Hangover
If you really want to laugh your heart out, then this movie won't disappoint! You might need to grab some tissues from laughing too hard since this trilogy movie will make you forget the stress you're having from wedding planning! A series of American comedies, The Hangover, was written by Jon Lucas and Scott Moore and directed by Todd Phillips.
Each of these movies centers around a group of four buddies who take a road trip to celebrate a bachelor party. It stars the best actors and comedians, such as Bradley Cooper, Zach Galifianakis, Ed Helms, Ken Jeong, and more! You'll go to different bachelor parties from Vegas to Thailand, and it will be memorable to watch this film with your future spouse. 
4. A Second Chance
If you want to watch a film that will feel nostalgic but has a slice-of-life feel then look no further than watching the sequel of the famous Filipino film, One More Chance by Popoy and Basha. The story is about Popoy and Basha having a fairytale wedding, but they soon discover that starting a family and a business together is much harder than they had anticipated. This film will make you feel kilig, laugh, and cry at the same time, so be prepared. You'll also relate since Popoy was once an OFW and it will also tackle LDR, and work opportunities abroad.
5. Bridgerton
The binge-worthy Netflix show Bridgerton should be right up your alley if you're looking for Victorian or garden pegs for your wedding theme. Not only watching this film is a feast for the eyes but it will also make you swoon with the story, aesthetics, and the characters. You'll find yourself invested and wanting to have a Bridgerton-inspired wedding asap! 
6. Four Sisters and a Wedding
You probably heard of the movie Four sisters and a wedding for their memorable hugot lines and family drama-filled movie. The story revolves around four sisters getting back together to try and talk their brother out of marrying his fiancee. Their interactions force them to confront emotions and problems they've been avoiding.
You might be familiar with this type of real-life drama during your wedding planning, especially if the family is involved in the process, so buckle up since you're in for a rollercoaster ride with this film. You'll also feel the OFW feels with this movie since the characters are OFWs as well.
7. Welcome to Wedding Hell
Kdrama lovers will surely binge-watch this film since its about one couple who instead faces an uphill battle when it comes to wedding planning. This might be so true for many couples who are newly engaged and is planning. You'll probably watch this k-drama and relate to the characters and scenarios all throughout!
8. The House Arrest of Us
Kathniel fans will love this feel-good romantic comedy series during the quarantine since it's about two young couple who was forced to lived in one house with their families when the lockdown happened in 2020 during their pamamanhikan. This lighthearted series will make you forget your worries and make you feel kilig with Kathniel's sweet moments and drama-filled scenes as they prepare for the wedding of their dreams!
9. Wedding season
Bollywood lovers and those who will marry South Asian partners or lives in Middle eastern countries like Dubai, then you'll find the movie wedding season your cup of tea since it will show you Indian culture when it comes to weddings and marriage. The story revolves around Asha and Ravi, under pressure from their families to settle down, who pretend to date during a busy wedding season before realizing how much they really care for one another.
10. Made of Honor
This 2008 rom-com film will make you feel all the feels since this film will make you swoon and cry the same way 13 going on 30 did or The Devil Wear Prada did. The story revolves around Tom (Patrick Dempsey), who is deathly afraid of commitment, spends his life going on dozens of dates but with no one seriously.
Just as Tom understands his true feelings for Hannah (Michelle Monaghan), she finds the man of her dreams. Tom uses the fact that she has asked him to be in her bridal party as an opportunity to stop the wedding and try to win her heart. Its a classic film that will give you a glimpse of what being part of an entourage really feels like!
11. Monster In Law
This is the last thing we want to deal with when wedding planning, but this film will make you laugh out loud with the eccentric antics the film features. The film is about Charlotte (Jennifer Lopez) is completely smitten after meeting Dr. Kevin Fields (Michael Vartan). So when Kevin proposes to Charlotte after they've been dating for a while, Charlotte readily agrees.
But Viola (Jane Fonda), Kevin's mom, isn't exactly overjoyed to have a new family member, as she quickly discovers. Viola, a former newscaster who feels strongly about Kevin, sees Charlotte as her new rival and will presumably do whatever to prevent her son from marrying her enemy.This old-school nostalgic film will make you laugh and cry; God forbid you'll also relate to this satire-like film.