Your wedding day is a once-in-a-lifetime event, and choosing the perfect theme can make it even more memorable. With so many wedding themes to choose from, it can be overwhelming to decide which one will reflect your personal style and taste. To help you out, we have compiled a list of 12 popular wedding themes that are timeless and will make your special day unforgettable.
From classic romantic to eco-friendly, these themes will inspire you to create a wedding that is uniquely yours. So, let's dive in and explore these beautiful and popular wedding themes! Keep on reading until the end to get the best ideas for your ideal wedding concept!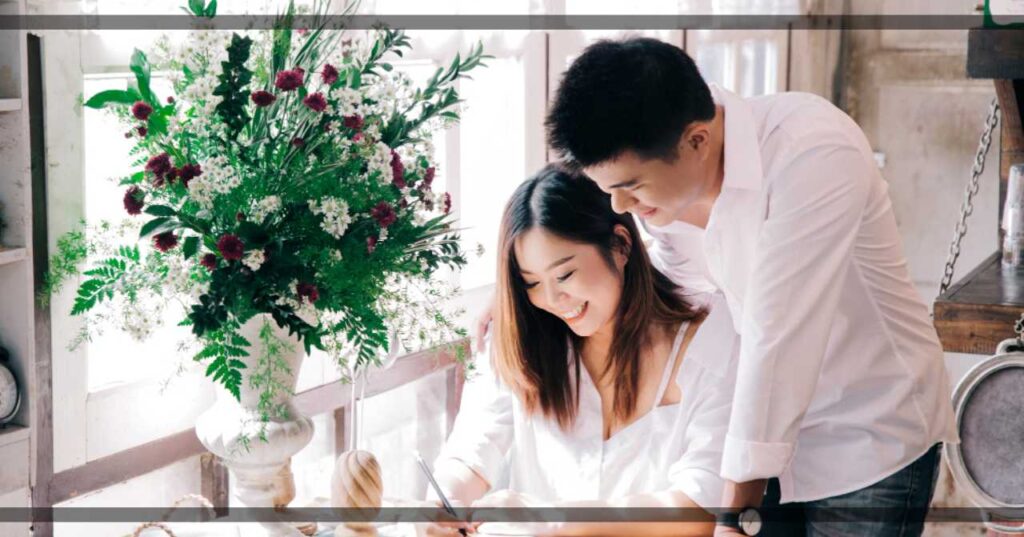 Weddings are a significant celebration in the Philippines due to the country's strong cultural and religious traditions. Marriage is considered a sacred bond, and weddings are often lavish affairs that involve extended families and communities.
Additionally, weddings are seen as an opportunity to showcase wealth and social status, with many couples going to great lengths to make their special day as grand as possible.
The ideal time to hold a wedding in the Philippines is during the cooler months of December to February, as this is the country's peak wedding season.
However, it's essential to consider practical reasons when choosing a wedding date, such as the availability of wedding venues, the schedules of key wedding vendors, and the convenience of guests.
Weekends are also popular for weddings, but they can be more expensive, so couples may want to consider a weekday wedding instead.
Ultimately, the significance of weddings in the Philippines stems from the country's strong cultural and religious values, with weddings seen as a significant milestone in a couple's life.
Regardless of the time or location, Filipinos are sure to celebrate weddings in style, with plenty of food, music, and dancing to mark the occasion.
To help you make this momentous event in your life even more special, you may want to look into some of the most popular wedding themes to date.
1. Classic Romantic
If you're a fan of classic romance movies and want to bring that elegant and timeless look to your wedding day, a classic wedding theme might be the perfect choice for you.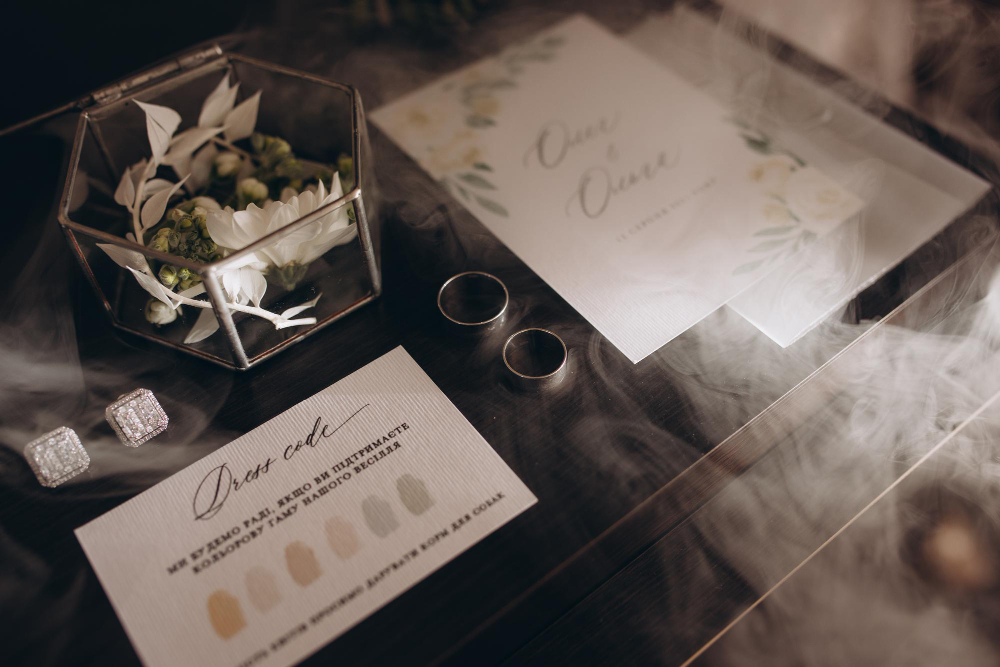 Choose an elegant and sophisticated wedding dress that's stylish and understated. Think simple and timeless designs with delicate details such as lace or embroidery.
Embrace calligraphed details for your wedding invitations. This elegant touch will add a classic and sophisticated feel to your wedding.
Consider a neutral color palette. Soft whites, muted pastels, and earthy tones create a calming and romantic atmosphere that will never go out of style.
Tastefully embellish an all-white wedding cake. Add some delicate details such as fresh flowers or intricate piping to create a classic and elegant look.
Go with a classic menu that suits everyone's taste buds. Choose dishes that are universally loved, such as a classic roast beef or chicken dish, and finish with a simple yet delicious dessert like crème brûlée.
A classic wedding theme is easy to pull off and will give your big day a timeless and elegant look that you'll cherish for years to come.
2. Rustic
If you're looking for a relaxed and romantic vibe for your wedding, a rustic theme might be just what you need. Here are some tips to help you pull it off: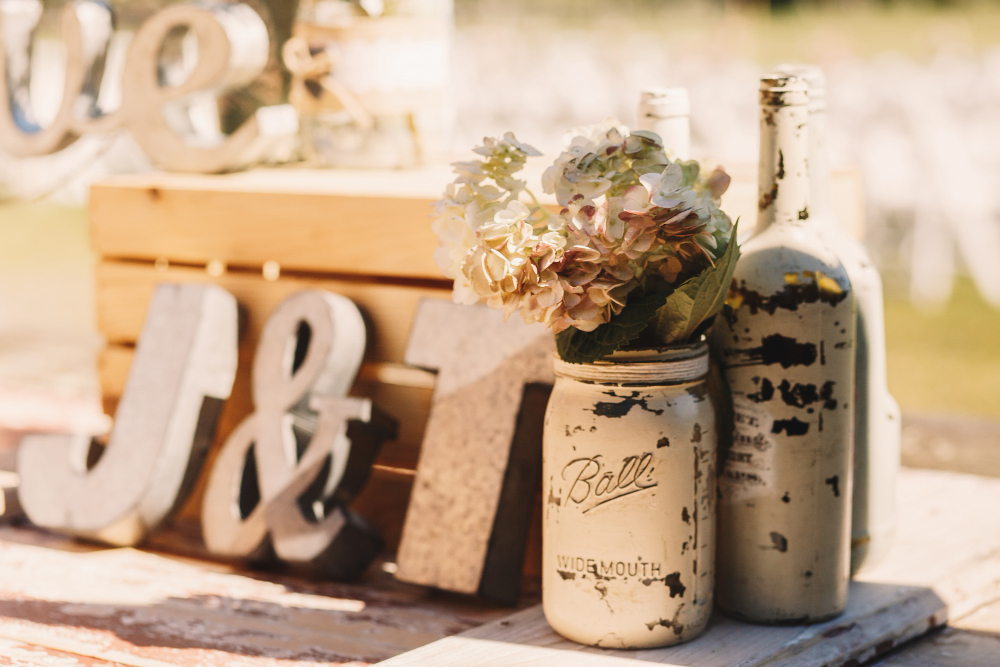 Choose the right venue: Ditch the hotel ballroom and opt for a garden venue or a farm to evoke nature and the outdoors.
Use natural textures: Incorporate lots of natural textures and organic materials such as burlap, moss, and twine to create beautiful decor. Mason jars and wildflowers are also great additions.
Consider shabby-chic elements: Gingham fabrics and other shabby-chic elements work well with the rustic theme.
Serve home-style cooking: For food, serve up some comfort food such as roast chicken, potatoes, and freshly baked bread.
Get more inspiration: Check out our article on rustic wedding ideas for more tips and ideas.
By following these tips, you can create a beautiful and relaxed atmosphere for your big day that evokes the countryside and nature.
3. Vintage
If you're planning a wedding in the Philippines and are considering a vintage theme, here are some tips to pull it off: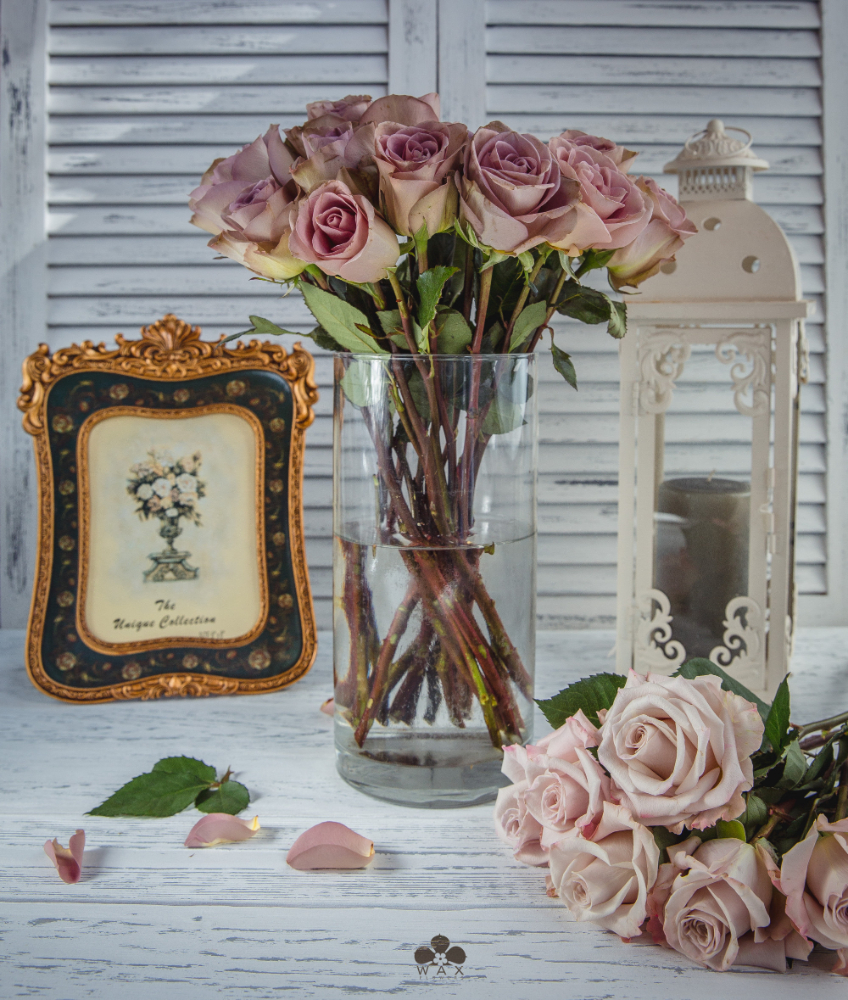 Know the difference: Vintage weddings are different from rustic weddings. While rustic weddings focus on nature, vintage weddings draw inspiration from decades past.
Pick a specific era: Vintage can refer to anything from 50 to 100 years ago, so choose a specific era to base your theme on. The 1920s Great Gatsby theme or a Renaissance wedding with a modern flair are just a few ideas to get you started.
Outfit and beauty look: Your wedding dress and beauty look can help tie in the vintage theme. Consider adding fringe and feather accents to your dress or wearing an iconic crystal bridal headpiece.
Music and cocktails: For the ceremony and reception, make sure to include jazz music and plenty of cocktails to keep guests happy and set the vintage vibe.
Classic getaway car: Finally, end the night in style by driving off in a classic getaway car like a Volkswagen or an old Porsche.
4. Modern Filipiniana (cultural)
Are you looking for a wedding theme that will showcase your love for your country and heritage? Look no further than modern Filipiniana!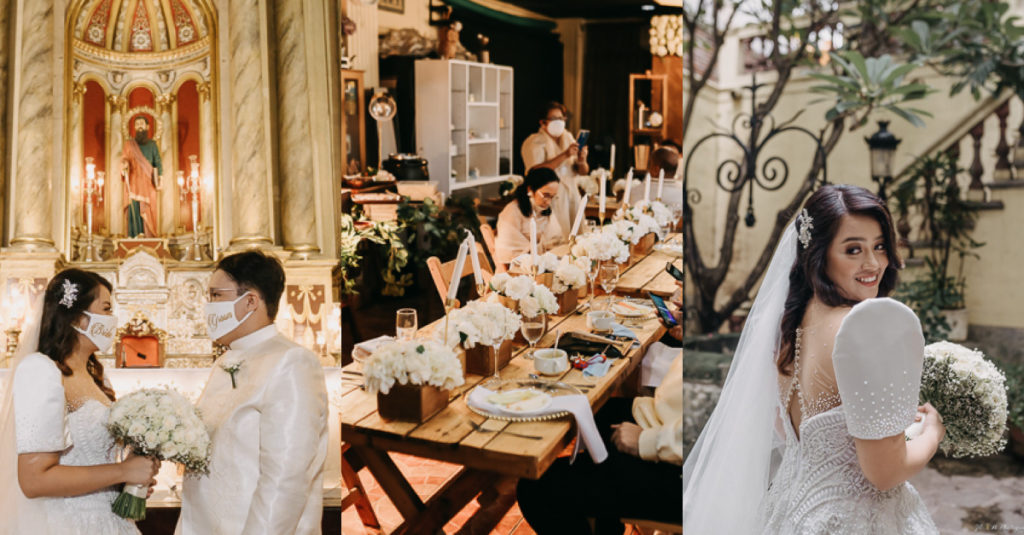 Showcase your roots Incorporating traditional Filipino elements into your wedding theme is a great way to showcase your love and appreciation for your roots. You can go all out with a classic Maria Clara look or just add subtle Filipiniana accents to your overall theme.
Terno and Barong For a clear Filipiniana theme, opt for a terno wedding dress and barong for the groom. This traditional attire will not only look great in your wedding photos, but it will also make your wedding feel truly Filipino.
Regal gold tones and wooden elements When it comes to decor and styling, go for regal gold tones and wooden elements. This will add a touch of elegance and sophistication to your wedding while still staying true to your theme.
Fun and playful If you want a more playful vibe, evoke a "Pinoy Fiesta" atmosphere by playing with abaca twine, canvas fabric, and raw, natural Filipino materials. This will give your wedding a more relaxed and festive feel.
Venue Choosing the right venue is also crucial in conveying your wedding theme. Look for historical venues that give off a Filipino-Spanish vibe, such as Casa Manila or Las Casas Filipinas de Acuzar. These locations will add a touch of authenticity to your wedding and make it feel like a true celebration of your Filipino heritage.
A modern Filipiniana wedding theme is a great way to showcase your love for your country and heritage. With the right attire, decor, and venue, you can create a wedding that is both traditional and contemporary, and one that you and your guests will remember for years to come.
5. Bohemian
If you're looking for a wedding theme that's effortlessly beautiful and unique, you might want to consider going Bohemian!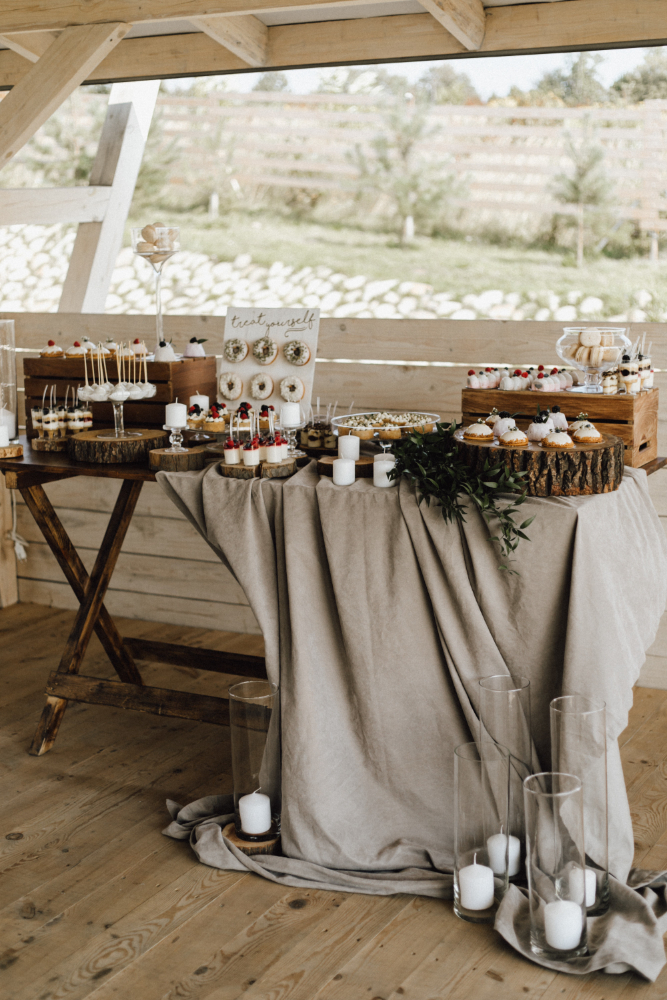 Choose a flowy and comfortable dress. Bohemian weddings are all about free-spirited elegance, so go for a dress that's light and easy to wear. You don't need to go for a traditional ball gown – instead, look for something that flows beautifully in the breeze.
Embrace bohemian hairstyles. Soft waves, braids, and flowers in your hair can create a beautiful, bohemian look. Don't be afraid to experiment with different hairstyles until you find one that makes you feel beautiful and carefree.
Use oriental rugs and macramé decorations. When it comes to decor, keep things simple and elegant. Oriental rugs lining the aisle and altar can create a beautiful bohemian atmosphere, as can hanging macramé decorations and mismatched decorative pillows.
Add a flower crown. A flower crown can be the perfect finishing touch to a bohemian wedding look. Choose flowers that complement your dress and hairstyle for a beautiful and cohesive look.
6. Travel
If you're a couple who loves to travel or is planning a destination wedding, a travel-themed wedding might be the perfect way to celebrate your big day.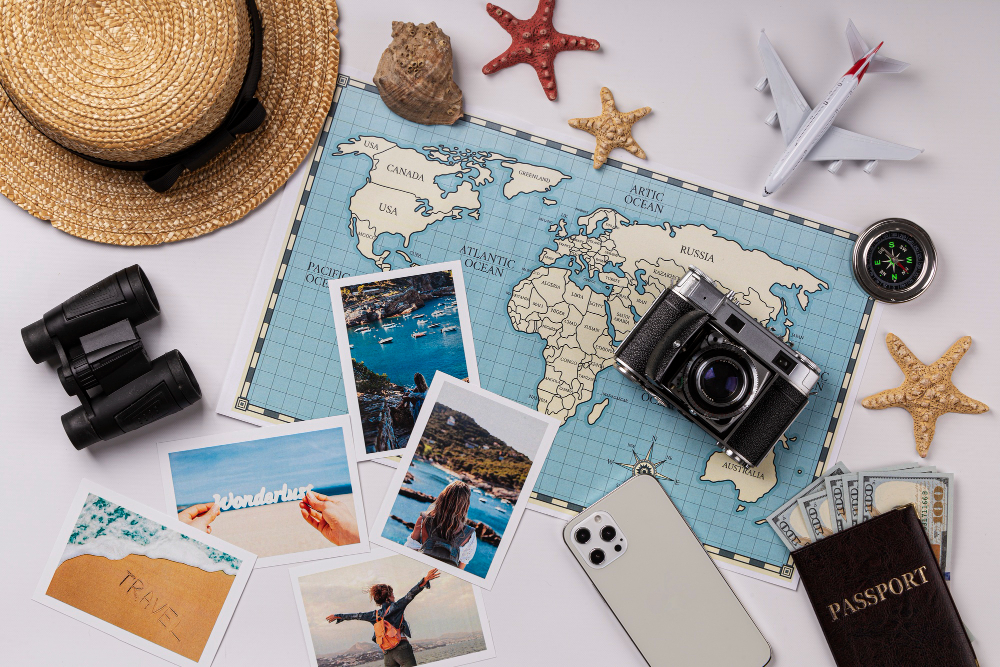 Set the tone with invitations: You can get creative with your wedding invitations by making them look like passports, plane tickets, or a travel itinerary. This will give your guests an idea of what to expect and get them excited for the adventure to come.
Use travel-inspired decor: To create a travel-inspired atmosphere, you can use around-the-world seating charts and theme signage that says "The Adventure Begins." You can also place tiny globes as centerpieces and have traveling quotes all over the venue. This will create a fun and adventurous vibe that your guests will love.
Opt for travel-themed giveaways: For wedding favors, you can opt for luggage tags or travel kits. These are not only practical but also trendy wedding favors in the Philippines. Your guests will appreciate the thoughtfulness of these gifts and be reminded of your special day whenever they use them.
Consider a nautical theme: If you want to take your travel-themed wedding to the next level, you can go the nautical route. You can create a sailor-worthy atmosphere with a seafood bar, blue watercolor palettes, and even have your reception by the sea. This will make your guests feel like they're being whisked away to a faraway place and create a memorable experience for everyone.
A travel-themed wedding is a unique and fun way to celebrate your love and passion for adventure. By incorporating these tips, you can create a wedding that is not only memorable but also reflects your personalities and interests as a couple.
7. Minimalist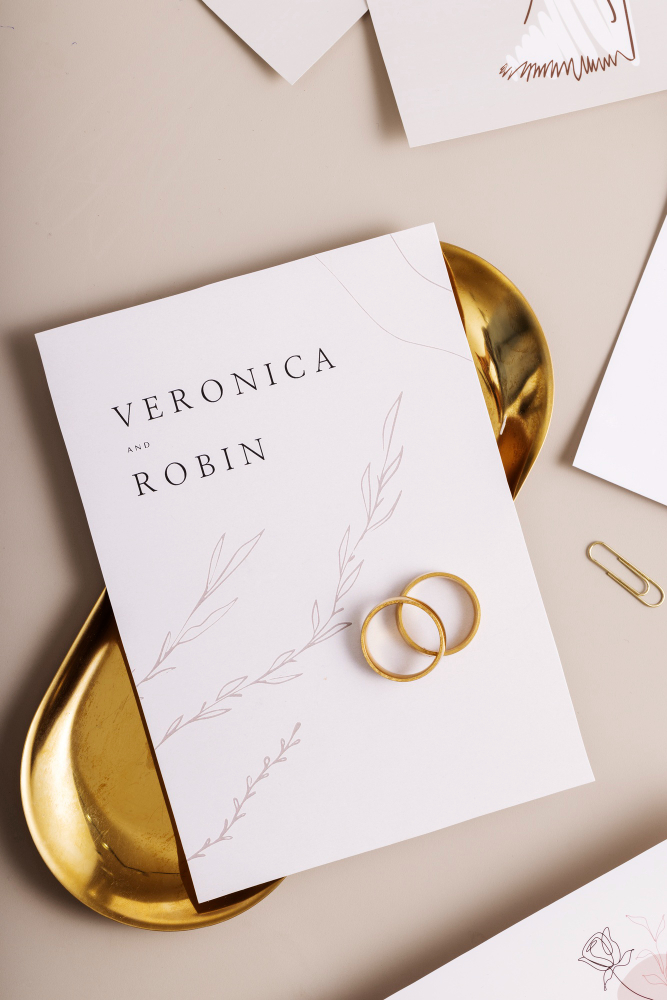 Are you looking for a wedding theme that is simple yet elegant? Consider a minimalist wedding theme! Minimalism is becoming increasingly popular in the Philippines due to its sophisticated design and understated accents. Here are some tips to pull off a modern minimalist wedding:
Emphasize quality over quantity: By removing some of the extra frills of traditional weddings, you can create a more refined and elegant atmosphere.
Keep it clean and simple: Think of clean lines, geometric shapes, and minimal design. You can achieve this look with sleek seating, a cool-toned structural backdrop, and small pops of greenery.
Choose a muted color palette: Stick to muted tones like white, beige, and grey for a sleek and modern look.
Pay attention to lighting: Use lighting to create a cozy and intimate atmosphere. Soft, warm lighting can create a romantic and elegant vibe.
Add personalized touches: Even with a minimalist theme, you can still add personal touches that reflect you and your partner's personalities. Consider adding small details like customized name cards or a personalized backdrop.
8. Whimsical
If you're a couple who loves fun and wants to keep things light on your special day, a whimsical wedding theme is perfect for you.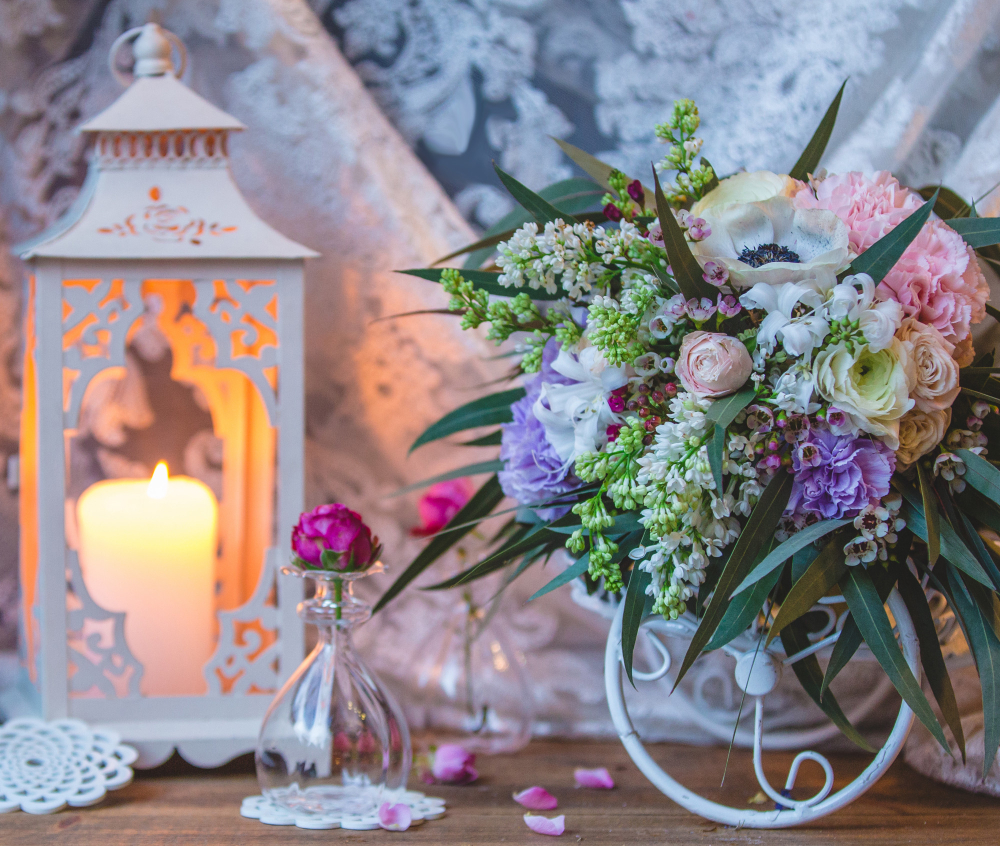 Choose bright colors: When it comes to whimsical weddings, bright colors like aqua, coral, orange, and yellow work best. These colors add a playful touch to your wedding and create a happy atmosphere.
Wear the right outfit: For the bride, a fit and flare or A-line gown is the way to go. It's comfortable, practical, and will give you the freedom to move around and have fun. For the groom, a linen suit in a pastel color, paired with a silly-patterned tie, will complete the look.
Go for quirky decor: Chalkboard signs, paper lanterns, and free seating are perfect for a whimsical wedding. The idea is to have fun with your decor, so don't be afraid to get creative.
Don't worry about seating plans: With a whimsical wedding, anything goes, and you don't need to craft the perfect seating plan. Let your guests sit where they want and mingle freely.
Set up a DIY bar: If your venue allows it, a DIY bar where guests can make their own cocktails is an excellent addition to a whimsical wedding. It's a fun activity for guests, and it keeps the party going.
9. Tropical
If you're dreaming of a fun and vibrant wedding celebration, a tropical theme could be the perfect choice for you! Here are some tips to pull off this festive and colorful wedding style: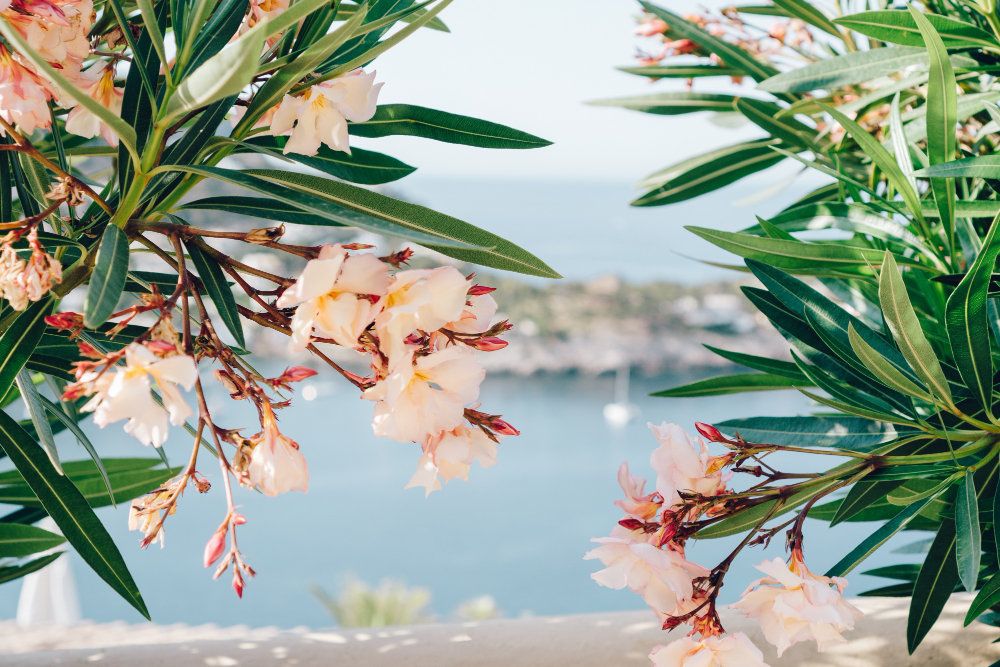 Embrace the greenery: The tropical theme is all about lush greenery, so be sure to fill your floral arrangements with exotic flowers such as orchids, birds of paradise, and gumamelas. These blooms will add a vibrant pop of color to your big day.
Choose a casual wedding dress: A tropical theme is all about fun and laid-back vibes, so skip the traditional ball gown and opt for a casual cocktail wedding dress. You'll be able to dance the night away in comfort and style.
Prepare lei garlands: Nothing says tropical like a lei garland! Prepare these festive flower necklaces for all your guests to wear during the ceremony or reception. It's a fun and memorable way to get everyone in the spirit of the theme.
Serve beachy cocktails: Keep your guests refreshed with fresh coconut juice and signature beachy cocktails. Think pina coladas, mojitos, and daiquiris – these fruity and refreshing drinks are sure to be a hit.
Focus on palm fronds: When it comes to decor, palm fronds are your best friend. Use these tropical leaves to create stunning tablescapes, ceremony backdrops, and more. For seating, opt for laid-back details such as a hammock, rattan furniture, and beanbags.
10. Eco-friendly
If you want to go against the norm and make a statement with your wedding in the Philippines, an eco-friendly theme might be just what you need.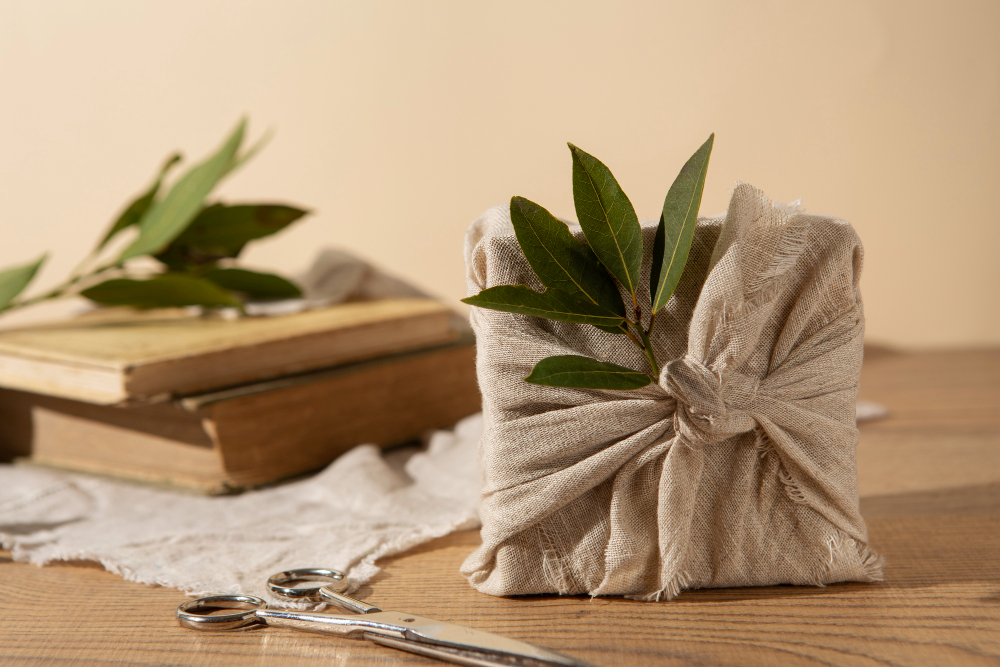 This popular wedding trend is all about being environmentally conscious and less wasteful while still creating a beautiful and memorable experience for everyone involved.
Choose upcycled items for decor and centerpieces. Mason jars or old wine bottles can be transformed into beautiful centerpieces with some creativity and imagination.
Opt for natural materials such as wood, clay, and straw. These materials are not only eco-friendly but also add a rustic and charming touch to your wedding decor.
Consider vintage or secondhand tableware. You can find beautiful plates, glasses, and silverware at thrift stores or online marketplaces. Not only will you save money, but you'll also be reducing waste by giving these items a second life.
Borrow or rent your wedding attire. A bridal gown can be a significant expense, so consider borrowing one from a family member or renting one from a bridal shop. This way, you can still look stunning without breaking the bank or contributing to textile waste.
DIY your wedding favors and decor. Instead of buying pre-made favors, create your own using sustainable materials. You can make seed bombs, potted plants, or even soap bars with natural ingredients.
11. Garden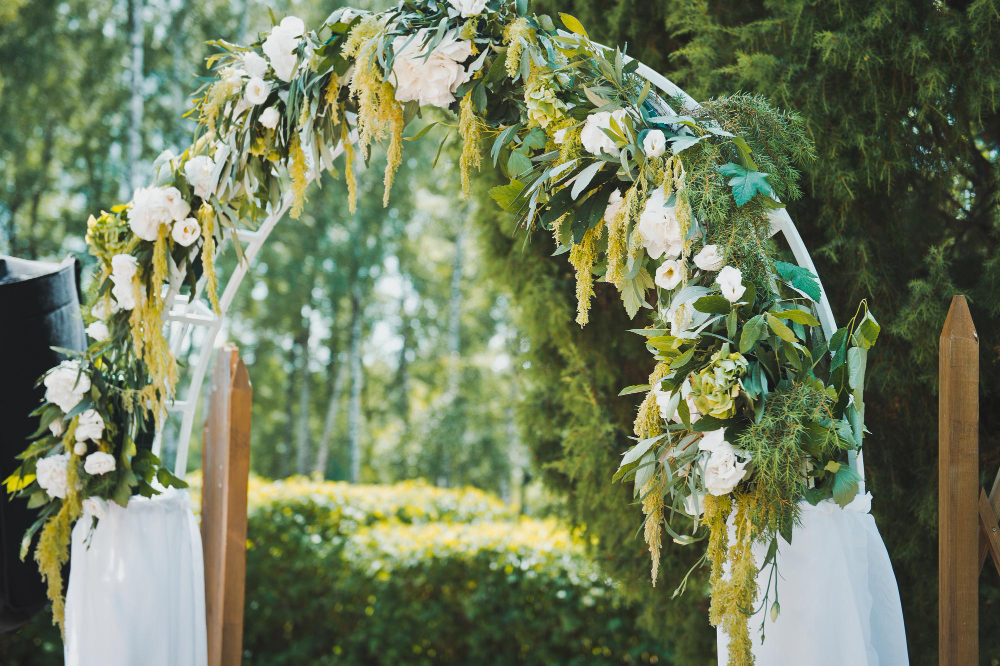 If you're looking for a wedding theme that exudes romance and elegance, then a garden theme is a perfect choice. Garden weddings are one of the most popular wedding themes in the Philippines, and for good reason. Here are some reasons why:
Scenic Beauty: Garden weddings provide a beautiful and natural backdrop for your special day. With blooming flowers, lush greenery, and stunning landscapes, your wedding will be a sight to behold.
Intimate Ambiance: Garden weddings offer an intimate and cozy atmosphere that is perfect for small and intimate ceremonies. The natural setting and fresh air create a peaceful and serene ambiance that will make your wedding unforgettable.
Versatility: Garden weddings can be designed to fit any style or taste, from rustic and bohemian to classic and elegant. The versatility of this theme allows you to customize every detail to suit your preferences.
Budget-Friendly: Garden weddings can be cost-effective compared to other wedding themes. Since the natural setting provides a beautiful backdrop, you can save money on decorations and focus on other important aspects of your wedding.
Photography: A garden wedding is perfect for capturing stunning photos. With the beautiful scenery and natural light, your photographer can capture breathtaking shots that you'll cherish for a lifetime.
Whether you opt for a small and intimate garden ceremony or a grand and luxurious one, a garden theme is a timeless choice that will make your wedding unforgettable.
12. Fairy Tale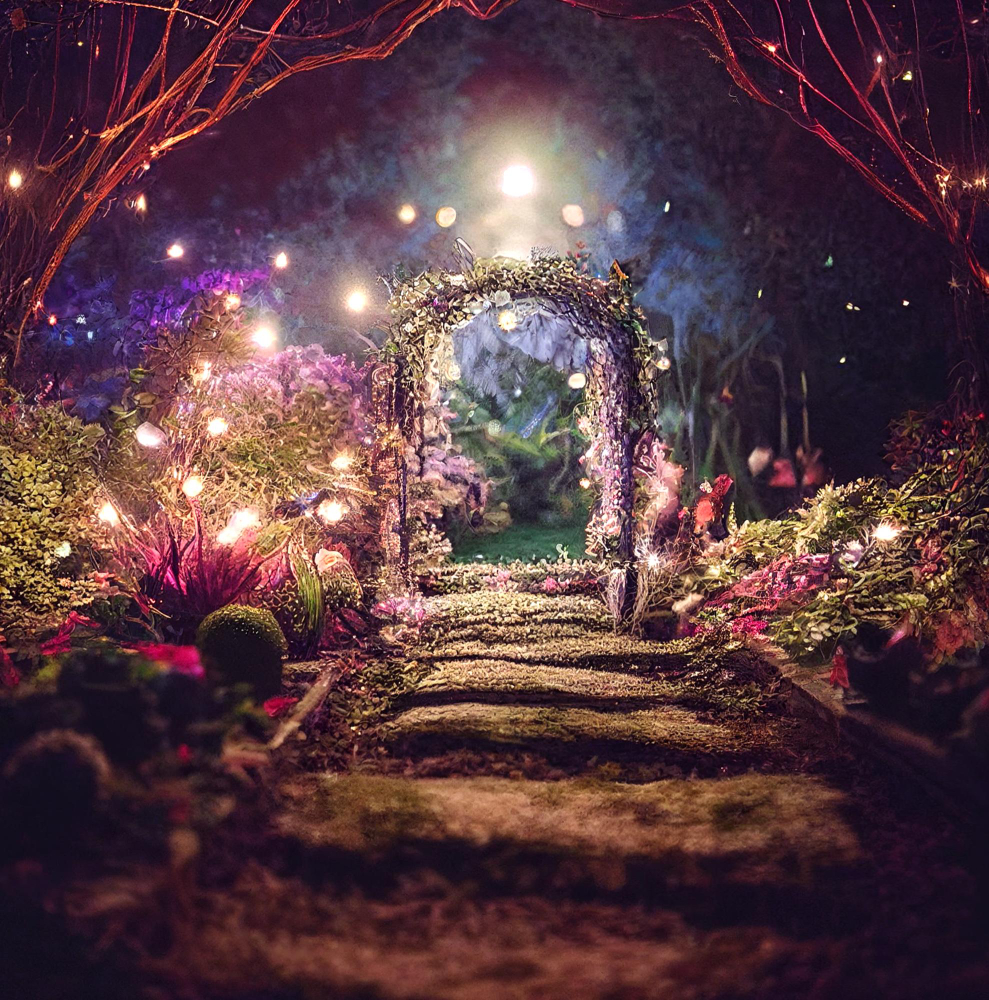 Fairy Tale weddings are a popular theme for couples who want to bring a touch of magic and romance to their special day. Here are some reasons why Fairy Tale weddings are a popular choice for couples:
It's a timeless theme: Fairy Tales have been around for centuries, and the idea of a "happily ever after" ending never goes out of style. A Fairy Tale themed wedding is a timeless choice that will never go out of fashion.
It's a romantic theme: Fairy Tales are all about romance, true love, and happily ever afters. A Fairy Tale themed wedding is perfect for couples who want to showcase their love story and create a romantic atmosphere on their special day.
It's a flexible theme: There are many different Fairy Tales to choose from, each with its unique style and atmosphere. Couples can choose a specific Fairy Tale to base their wedding on, such as Cinderella, Beauty and the Beast, or Sleeping Beauty, or they can create their unique Fairy Tale-inspired wedding.
It's a magical theme: A Fairy Tale themed wedding is an opportunity to create a magical atmosphere and transport guests to a fairy tale world. Couples can incorporate elements such as fairy lights, whimsical flowers, and enchanting decor to create a truly magical wedding day.
It's a fun theme: Fairy Tale weddings are also a lot of fun! Couples can incorporate playful touches such as fairy tale characters, props, and games to keep guests entertained and create a memorable experience.
Summary
Choosing a wedding theme is an exciting opportunity to bring your personal style and taste to your special day. Whether you want a classic and romantic wedding or something more eco-friendly, there is a wedding theme out there that will make your wedding day unforgettable.
With our list of 12 popular wedding themes, we hope to have inspired you to explore different possibilities and create a wedding that is uniquely yours.
Remember that the most important thing is to choose a theme that reflects your personality and relationship, and to have fun while planning your dream wedding. So, get inspired, be creative, and make your wedding day a magical and unforgettable experience!
READ NEXT: Wedding Planning Tips and Tricks for OFWs Abroad