Are you a history lover or a culture enthusiast? If you are, we have a list of the best historical movies and series to watch during your spare time or when homesickness hits to entertain yourself.
Don't worry; not only are historical movies and series fun to watch and transport you to a different time and place, but they will also make you appreciate life more and how different life was. Take note not all historical movies and series are historically accurate, but they're still fun to watch, and you can definitely learn a thing or two. Here are the best historical movies and series you should binge-watch now!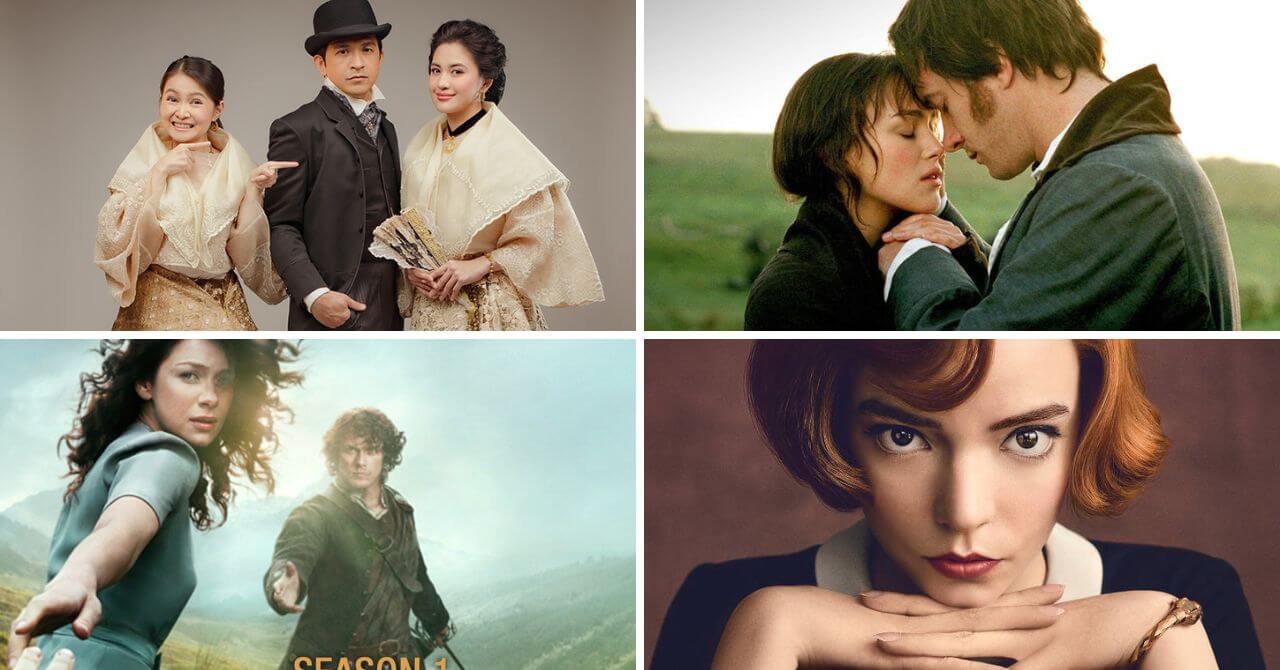 1. Maria Clara at Ibarra
 According to Jose Rizal, "Ang taong hindi marunong magmahal ng sariling wika ay mas mabaho pa sa malansang isda. " no matter where you are in the world whether in Spain or Cambodia as an OFW. You must appreciate the Filipino language and the various dialects we have in the Philippines from Bicolano to Bisaya. If you're a fan of Dr. Jose Rizal works. "Noli Me Tangere", and " El Filibusterismo" then you should tune in to the 2022's megaserye Maria Clara at Ibarra.
 It's a crowd favorite since it's a modern retelling of the famous novels of Dr. Jose Rizal, and it has fantasy elements included in the story. You'll fall in love with the characters in the books even more since you'll see them come to life on your screen. You'll appreciate Jose Rizal's talent for writing, the beauty of the Philippines featuring historical places such as Vigan, and see how the happenings in the novel also reflect our modern society.
2. Bridgerton
Ah, if you love watching colorful yet aesthetically pleasing historical series with love triangles, great characters, and pop music turned into instrumentals, then you should get on the Bridgerton bandwagon. Not only will you get to swoon, laugh, and cry along with the characters, but you'll also see the storytelling prowess of the one and only Shonda Rhimes.
There's more in store for the upcoming seasons, and there's also a prequel spinoff to check out. You'll definitely fall in love with the regency fashion, drama and each character's stories. The immense popularity of Bridgerton lived up to the hype, and you should watch it to see why many people are going gaga over it.
3. Victoria
If you're keen to learn more about the fascinating life of Queen Victoria, she's one of the longest-reigning monarchs in British history. The series is a retelling that started from her days before becoming a queen to being the pioneer of the Victorian age. You'll love the sizzling chemistry between Victoria ( Jena Coleman) and Prince Albert ( Tom Hughes ) in the series. You'll also learn to admire the feisty spirit and intelligence of Queen Victoria. Beware since you can't help but binge-watch this series with each gripping episode.
4. The Empress
Sibling rivalry over a love interest? This got many people intrigued. How about being the first-ever royal to gain celebrity status? If this storylines is your cup of tea, you should watch The Empress if you're familiar with Empress Elisabeth or "Sisi," known for her beauty during the 19th century.
To add spice to her story, she became the Empress of Austria when Franz Joseph chose her instead of her sister for her independent spirit and modern take on life. It was scandalous then since women were brought up to be submissive and agreeable at all times, but Sisi is another story. You'll get a glimpse of the Viennese court life, traditions, and how Sisi navigated life as a royal and struggled to stay true to herself.
5. Outlander
Do you want to time travel to 17th-century Scotland? Then Outlander should be on your must-watch list. It's a series adaptation of the best-selling novels of the same name. It follows the story of Claire Randall, an English army nurse who was accidentally transported through the standing stones during her honeymoon. Of course, if a sizzling love story, adventures, history, and all things fun is your cup of tea, then you should watch this series, and you will not regret it!
6. The Queen's Gambit
You've probably seen the numerous acclaims and memes about The Queen's Gambit series at some point. If you're keen on playing chess and want to see a story set during the Cold War, this series should be right up your alley.
It's about Beth Harmon, a chess prodigy who has an addiction. She is determined to be the most celebrated chess player globally. This series is exciting, dramatic, and interesting, and you will not regret it if you want to watch something that will make you sweat and hold onto your seat!
7. Pride and Prejudice ( 2005 )
Does Mr. Darcy or any of the Bennett sisters ring a bell for you? If yes, you should watch the 2005 movie adaptation of Pride and Prejudice. It has aesthetically pleasing visuals that showcase the beauty of the English countryside.
Its heartwarming storyline and compelling characters will make it a memorable watching experience. You'll get to see the writing prowess of Jane Austen with her witty dialogues and character development. You'll fall in love with the movie's love stories, the Bennett family's wholesome family interaction, and more. How can anyone forget Mr. Darcy's cat personality and Mr. Bingley's Golden labrador personality?
8. Dickinson
Are you a fan of the biopics of authors? If yes, then you should watch Dickinson since the stunning performance of Hailee Steinfield as ( Emily Dickinson) will make you a poet in no time! Dickinson is inspired by the author's life, but it's a funny modern retelling of who she is as an artist, her life, and of course, being part of the LGBTQ community. The series will give you a sneak peek of life in 18th-century Amherst in America.
9. The Tudors
Does King Henry VIII intrigue you? Then you should watch the historical show The Tudors, which stars the dashing Jonathan Rhys Meyers as King Henry as it follows his life before becoming king and his almost 40-year reign. Of course, it's a series filled with drama, historical figures and events, and love interests that will change the course of history.