On Thursday, May 13, the Canadian government postponed the deportation of a Filipino health worker after the public launched a campaign to allow him to remain in the country until he is completely vaccinated against the coronavirus disease.
READ ALSO: What is the Salary of a Nurse in Canada?
According to the Toronto Star, Carlo Escario, 36, an intensive care unit worker at the Toronto General Hospital, pleaded with Canadian immigration officials to allow him to stay for another 40 days so he could get his second Pfizer-BioNTech shot.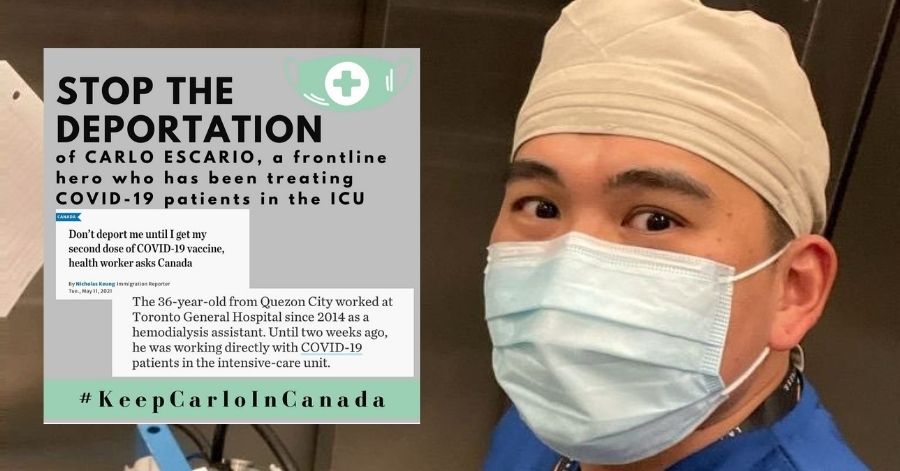 Canadian Gov't Defers Deportation of Filipino Health Worker
To get the second chance, Escario and his lawyer Natalie Domazet demanded a 40-day deferral of his deportation, the Manila Bulletin reported.
Escario's wish was granted after his supporters organized an online petition of over 8,000 signatures and persuaded federal lawmakers to postpone his deportation until June.
The appeal was initially denied by the Canada Border Services Agency (CBSA).
Because of misrepresentation in his permanent residency (PR) submission, Escario was scheduled to be deported last Thursday.
"I am very worried about getting COVID-19 because I do not want to get sick and rely on the health care in the Philippines," Escario earlier told the Star.
He went on to say that both of his parents have been infected with the infection, so they can't afford the hospitalization and treatment.
"I am unlikely to receive a Pfizer vaccine on return to the Philippines because the country is primarily administering the Chinese Sinovac and Russian Sputnik vaccines, which worries me. I sincerely hope that Canada will consider my work as a front-line health care worker and find that I am deserving of a short deferral of my removal," he said.
Escario received his first dose of the Pfizer vaccine in February and is scheduled to receive his second dose on June 11, according to the study.
Escario would not suffer any "irreparable harm" if he does not receive the second Pfizer dose, according to the border agency.
It also mentioned that there is no proof that receiving a shot from a different company has any negative consequences.
Escario, who hails from Quezon City, has worked as a hemodialysis assistant at Toronto General Hospital since 2014.
As a caregiver, he came to Canada in 2007 and became a permanent resident in 2010. However, his status was revoked in 2013 after he failed to announce that he was married and had a child in the Philippines on his permanent residence application.
READ NEXT: Canada Eyes Over 400,000 Immigration Target in 2021