Are you working as a nurse in the Philippines? Do you want to work as a nurse in Canada? Are you interested in knowing what life is like as a nurse in that country, and how much you can possibly earn? If you answered yes to all of these questions, then this article is for you.
Also Read: How Much Does a Service Crew Worker in Canada Earn?
Filipinos who are planning to get a nurse job in Canada need, it's important that you are aware of the salary and benefits first. After all, you are going to go abroad, leave your family behind, and adjust to a new working environment so you should plan ahead and understand the consequences if it is worth it or not.
In this article, an OFW based in Canada shares his experiences while working as a nurse there, including his initial struggles back home and why he decided to do so in the first place. The information written below and shown in the video is important if working as a nurse in Canada is part of your future plans.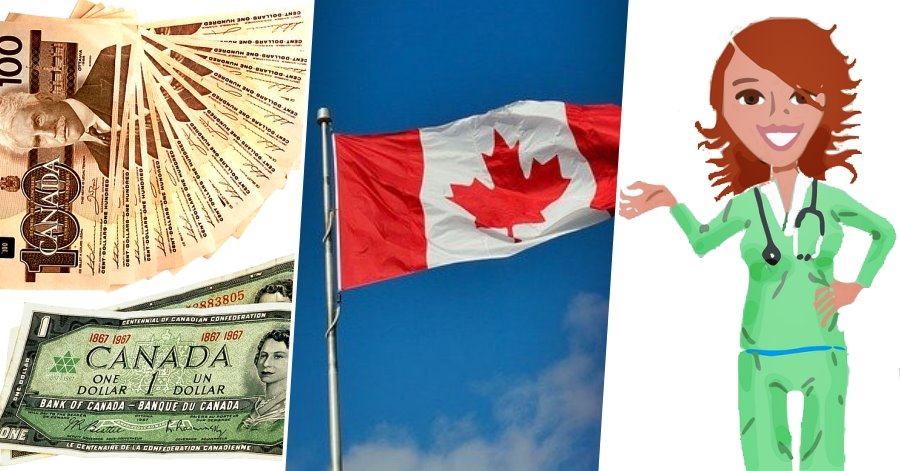 Working as a Nurse in Canada: Salary and Benefits of a Nurse in Canada
Kigil TV shares the following details about the salary of a nurse in Canada. See the full video below and visit his channel for similar and related content.
Disclaimer: The information posted here is based on the personal experiences shared by the OFW in the video below. Please let this post serve as a guide only. If you have specific questions, you may ask the OFW by commenting on their video on their accounts.
How to Get a Nurse Job in Canada
The YouTuber graduated nursing in the Philippines back in 2006. Unfortunately, nursing graduates from this year who passed the licensure exam were not allowed to work in the country. That's because a leakage of the exam was discovered to have widely circulated.
In the case of our YouTuber, he was devastated because he spent months reviewing with his classmates, and working really hard to pass the exam, only to have the results of his passing the exam invalidated.
They were even asked by the government authority on professional regulations to retake the exam, whether you passed or failed it.
Eventually, they were asked to retake only some parts of the exam, and not all of it. But when that decision arrived, our YouTuber was already in Dubai through a visit visa, and he found an employer there.
He decided not to retake the exam because he was already in Dubai, and it was hard to go back home with all the expenses involved. He became an occupational health nurse for two years, but he wasn't happy, partly because when your work permit ends, you have to go back home to your home country then renew again.
Finding Ads for Work in Canada
Kigil TV spent every single day working in Dubai looking for job ads for work in Canada. He saw an agency looking for live-in caregivers to Canada. He applied and was eventually hired after a month.
For that specific application, he had to take a video of himself, showcasing his strengths. They tried that and this video was posted in a website where potential employers can watch at the videos.
After a month, Kigil TV received a call from the agency, and he had a potential employer. He finally arrived in Canada, and the first thing he noticed was that it's really cold there. He had no jacket and underestimated the cold.
He had a two-year contract with his first employer in Canada, with a gross salary of 1,736 to 1,800 CAD. Right now, that's equivalent to around 64,000 pesos to 66,345 pesos per month.
His expenses include the following:
Board and lodging and food – CAD 350, which is equivalent to around 13,000 pesos.
Tax – CAD 300.
What's left of his salary is just around 1,000 or 1,100 CAD. That is just around 37,000 pesos per month.
This doesn't include the money he sends to Dubai for the loans he made to go to Canada, and the money he sends back home to the Philippines for his family.
Finding a New Nurse Job in Canada
After working for 2 years in Canada, he is now qualified to have an open work permit. This permit allows him to apply to any employer.
He also waited for his permanent residency visa during this time. When that visa arrived, after four to five years, he applied at the CARNA (College and Association of Registered Nurses in Alberta).
Unfortunately, his application was not accepted because he was a 2006 graduate, and he didn't have enough experience working as a nurse. He had 5 years of experience in Canada, but that was for a caregiver job and a nursing attendant job.
That's why he decided to take a different route. He took a 2-day health care aid exam, one written exam and skills exam. He learned after 3 days that he passed the exam, and soon afterwards he applied for a nursing attendant position for a private facility.
The benefits were not that great compared to a public facility, but he worked there to gain experience. After less than a year, he transferred to Alberta Health Services, which was kind of like the Department of Health in the Philippines.
The Alberta Health Services connects all hospitals in the region, so through this institution, he was able to apply and get hired to work as an emergency nursing attendant at the Rocky View Medical Hospital.
Then, he got into the Acute Medical Cardiology Unit for another hospital campus where he is currently working now.
Studying for a Nursing Exam
While working as a health care aid, Kigil TV studied in a college called Bow Valley College in Calgary. Then he took the license practical nurse exam. There were around ninety plus internationally-educated nurses from various countries; some from the Middle East, India, and many Filipinos.
Only less than 19 passed out of these internationally-educated nurses. To pass that exam, you have to prove that you know certain nursing skills, but before the practical exam you have to pass a written exam consisting of 12 subjects in 2 days, with around 70 items per subject.
Also Read: How to Apply for a Canada Tourist Visa
Hourly Rate – 25.93 CAD per hour
The salary of a licensed practical nurse has a starting rate of 25.93 CAD per hour.
Here's a summary of the additional pay you will get if you work extra hours beyond the regular schedule.
Night shift – you get an additional 5 dollars per hour.
Evening shift – you get an additional 3 dollars and 25 cents per hour.
Weekends – you get an additional 2 dollars and 75 cents per hour.
So, when working night shift, Kigil TV gets around 31 dollars per hour. This is much bigger than the minimum of 15 dollars per hour in Calgary.
After one year of working as a licensed practical nurse, or after 1800 hours of working as one, you are now qualified to have a step 2 salary, which is equivalent to 27.06 CAD per hour.
Here's a summary of the salaries for the corresponding steps of a licensed practical nurse:
Step 1 – 25.93 CAD per hour
Step 2 – 27.06 CAD per hour
Step 3 – 28.13 CAD per hour
Step 4 – 29.23 CAD per hour
Step 5 – 30.33 CAD per hour
Kigil TV reached step 5 working as a licensed practical nurse. This doesn't include the evening, nightshift or weekend working hours differential.
The salary is okay, but Kigil TV realized that he needed to become a nurse for the following two reasons:
Nurses are paid more than licensed practical nurses by a significant amount.
The work load that nurses have to do is much less than what licensed practical nurses do.
The nature of work between the two professions is almost identical.
So what's the difference between being a licensed practical nurse and a nurse. This list shows the things that licensed practical nurses can't do that only nurses are allowed to do:
Licensed practical nurses are not allowed to bladder scan
Licensed practical nurses are not allowed to spike blood, TPN or TPA
Licensed practical nurses are not allowed to handle post angioplasty patients.
Other than those three, the work load is practically the same. Despite the close similarity, the starting salary of registered nurses (RN) is 37 dollars per hour. This was his primary motivation for deciding to become a registered nurse, even if it means going to school while working at the same time.
Road to being a registered nurse
In lieu of the above mentioned facts, Kigil TV decided that he will study again. Then he took the post LPN to RN degree in Athabasca University in Alberta.
He finished the degree in two and a half years. He juggled working as a licensed practical nurse, but at the same time taking six subjects per semester.
With this arrangement of work, go to school, and study, Kigil TV had no time for anything else; practically no time for socializing and leisurely activities.
Every six months, though, he spends time on vacation going to the U.S., but other than that, Kigil TV showed his determination to finish the degree as soon as possible.
Kigil TV mentioned that you can work as a nurse even if you haven't finished your degree in nursing, or just finished it but you haven't taken licensure exams yet. These are called the following:
Undergrad nurse – when you're still in your third year or fourth year college as a nursing student. You get a starting salary of 27.68 CAD.
Grad nurse – you graduated and have a nursing degree but you still don't have a license. That means you haven't yet taken or passed the NCLEX exam. The starting salary for this is 33.72 CAD per hour.
Graduate Nurses start with that salary, but there are several steps that you go up every time you complete 1,800 hours. Step 2 gets you to 34.76 CAD per hour, Step 3, 35.49 CAD per hour, Step 4 36.14 CAD per hour and so on.
Kigil TV eventually passed the NCLEX exam, and so he became a Registered Nurse. So here's a summary of the salary of a Registered Nurse in Alberta, at least back in 2018. The rates are probably still applicable today, if not just a little higher.
Step 1 – 36.86 CAD per hour
Step 2 – 38.28 CAD per hour
Step 3 – 39.69 CAD per hour
Step 4 – 41.11 CAD per hour
Step 5 – 42.52 CAD per hour
Step 6 – 43.94 CAD per hour
Step 7 – 45.37 CAD per hour
Step 8 – 46.71 CAD per hour
Step 9 – 48.37 CAD per hour
On top of that salary though, if you are a degree holder, you get an additional 1.25 CAD per hour, which is what Kigil TV received since he does hold a degree.
Another thing, since Kigil TV had work experience in Dubai, he automatically proceeded to Step 4 salary.
Gross Income
With all that information, Kigil TV reveals that his gross income is 4,091.72 CAD biweekly. However, that is just the gross pay, and in Canada, Kigil TV revealed that the deductions can almost cut your salary in half. That is the case for him, and it probably is the case for most other employees in the country.
Tax is 1,300 CAD, and deductions are almost 430 CAD. Indeed, the deductions are really high in Canada.
Here's a breakdown of the taxes:
CPP – Pension amounting to 220.24 CAD
Employment insurance – 72.05 CAD. This is for when you get sick and can't work for a certain period of time, this insurance covers you.
Union dues – 51.72 CAD.
LAPP – Another pension. 304.55 CAD.
Parking – 71.07 CAD
The net pay is 1,725 CAD. That's around 69,000 Philippine Pesos biweekly. That means that net salary is 138,000 pesos per month.
How Canadian Salary Compares with that of Other Countries
According to Gulf News, there are four other countries that pay better or comparably with Canada. The first is the United Kingdom, second is the United States of America, third is Norway, and fourth is Australia.
For the UK, the salary ranges from 115,300 pesos per month to 523,247 pesos per month. For the USA, the salary ranges from 272, 200 Php monthly to close to a million pesos per month.
For Norway, the average monthly earnings is equivalent to 235,000 pesos. For Australia, it is around 175,600 pesos per month.
Given these prices, one can truly see how the salary of registered nurses in Canada are at par with those of the highest around the world. As such, you can truly earn a living and earn comfortably while working as a nurse in the north.
Indeed, working in Canada as a registered nurse is something that should be seriously considered. Aside from the fact that the pay is truly lucrative, the healthcare system in the country is excellent, and you will surely grow within the profession as you get to use some of the more advanced equipment and learn to utilize top of the line technical expertise.