Cathay Pacific Airlines, Hong Kong's flagship airline, has announced that they are willing to help the overseas Filipino workers who were victimized by the invalid plane tickets issued by PEYA travel agency. Although, the airlines is not affiliated in any way to PEYA travel agency, they are willing to lend a hand so that the OFWs can spend the holidays with their families in the Philippines.
According to the South China Morning Post, the airlines has announced through their social media account that they "stand ready to help as much as they can." They further and urged affected overseas Filipino workers to send direct messages to Cathay Pacific through Facebook and twitter of call them at 2747 3333.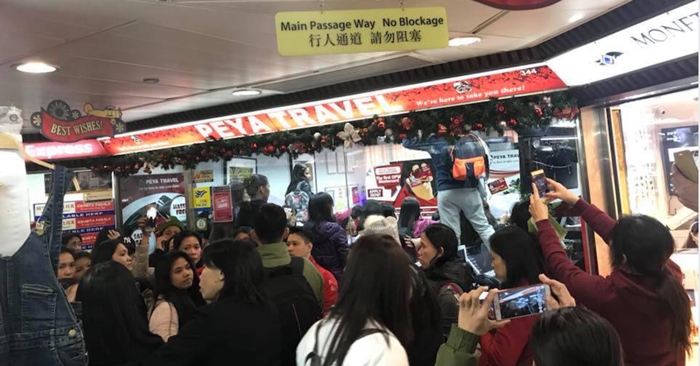 Cathay Pacific offers special rates for stranded OFWs
Here's the twitter post by the airlines.
For Filipino friends affected by the issues related to a HK travel agent not affiliated with us, we stand ready to help as much as we can. Please DM us.

— Cathay Pacific (@cathaypacific) December 19, 2017
In order to help some, if not all, of the stranded OFWs, the airlines will offer special ticket fares or "distress fare" for the victims to travel back to Manila on the 21st of December, according to Yuna from Cathay Pacific. The airline is also considering upgrading the planes en-route to Manila to bigger ones in order to accommodate more seats for those who were stranded. The possibility of upgrading the planes are still being explored and no concrete details have been shared yet. According to the airlines they do not want to over-commit and would want to remain cautious so they don't set the wrong expectations to those affected. However, the fact that they are willing to explore this possibility of upgrading their plane to accommodate more passengers is definitely a step in the right direction.
Two other major airlines who have routes from Hong Kong to Manila daily, Cebu Pacific and Philippines Airlines, were also contacted to see if they can offer a similar bargain for our OFWs. There have been no reports saying that they will offer something similar at this time but we are certainly hoping that they can explore the possibility of helping out the victims.
There are approximately 200 Filipinos inconvenienced by the invalid ticket issuance, all were looking forward to spending Christmas and New Year with their families.