OFWs are stranded in Hong Kong due to invalid tickets bought through a travel agency. A lot passengers have booked their flight through PEYA Travel, which is known to offer discounted travel packages and low-cost tickets. It is popular to many domestic helpers because the agency sells cheaper flight tickets than any other ticketing office. Yet, people who planned their flights were furious after knowing their paid tickets were worthless. These passengers have raided the ticketing office of PEYA travel at World Wide Plaza in Central District, Hong Kong.
These passengers are composed of OFWs who were planning to spend their Christmas in the Philippines with their family and friends. Around 200 of these Filipinos are hoping they can go home as soon as possible and are currently finding ways to resolve their issue.
Related Post: How to Renew Philippine Passport in HK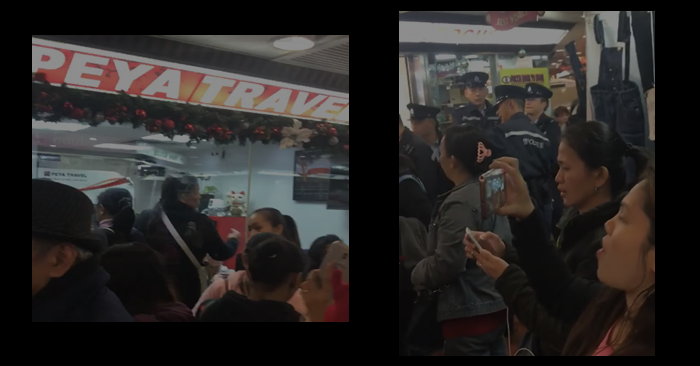 OFWs Stranded in HK Due to PEYA Travel Invalid Tickets
According to the news post from sunwebhk.com, PEYA apologizes about the incident and have blamed the system that it might be a technical glitch. The stranded passengers were informed about this kind of disaster. The reason of this glitch was not acceptable to the passengers, many were enraged and have demanded a quick fix of this problem. PEYA's staff have already abandoned their post because they are outnumbered.
Rhea Donna Boyce (PEYA owner) said that she looked into the problem and tried to work out a solution a few days ago. She managed to rebook 100 of the stranded passengers. But the problem still persists after 100 more encountered the same problem when their flight was booked.
One of the stranded passengers named Belen rushed to PEYA's office after learning that she was in a critical situation. She was very irate and have expressed her demand while crying. She was so upset because her relatives spent money to rent a vehicle to fetch her at Ninoy Aquino International Airport in Manila.
A video post in Facebook gone viral at the ticketing office.
There were many more passengers like Perla Santos, who was surprised when she arrived at the airport knowing her name is not on the list. She went to HK International Airport early because she had everything planned to go on another flight at the Philippine Airlines. Also furious, she decided to book a flight at the airport so she can go home within the same day.
The sales director of PEYA Travel Arnold Grospe was barraged with many complaints from affected passengers. He's doing his best in processing claims for refunds. Although, he could not promise when it will be back to the passengers and couldn't assure how much will be refunded.
As of the moment, many stranded passengers are seeking help to resolve this issue and have already notified the Philippine Consulate in the city. The head of the consulate Ronald Atienza said "There is really not much that we can do at this point because we still don't know what really happened," he assured that they will closely monitor the incident and that PEYA Travel will make sure to fix the problem.
PEYA Travel have posted in Facebook apologizing about the incident.
Below is a statement from PCG Hong Kong