OFWs find work outside the Philippines because there are a lot of opportunities they can grab and possibly get a higher salary. The common job a Filipino can get that are also needed by most families abroad are domestic helpers which include caregivers, housemaids, house-servants, nannies etc.
With that being said, OFWs strive harder when they work abroad, but for this Filipina- she suffered maltreatment from her rich employers in Brazil. The Filipina ate dog food as a last resort to survive not eating for 2 days. This news is based on a BBC News report that was posted from the news channel's FB page.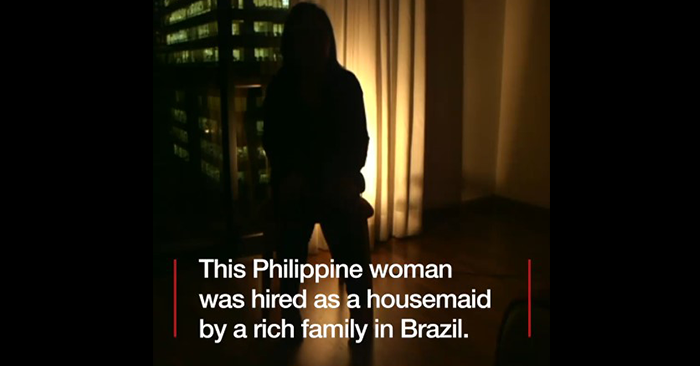 Hungry Pinay OFW in Brazil Eats Dog Food to Survive, Maltreatment from Employers
For Filipinos, it's easy to be hired in this position as the requirements are not as strict and there's a good chance for Filipinos. And working away from the Philippines requires additional perseverance and work hard work.
Check out the short video clip below of the said modern slavery by these employers of this Pinay maid.
Below is a transcribed version of the video above:
I wanted to jump from the 7th floor because I couldn't accept that I was experiencing here. 
— This Philippine woman was hired by a housemaid by a rich family in Brazil
— But she says she was treated like a modern slave.
— She worked 15 hours a day. She barely had time to eat.
My worst day was when I hadn't eaten for two days. So I didn't have a choice.
Just to survive I had to take the meat for the dog. So I cooked the food for the dog. Sometimes I made sure that when I cook it, I get half for me.
There was one time my employer was mad again with me and told that I don't have respect because that time I argued "If you don't like me send me back to Philippines."
I decided to go home to the Philippines.
Then after that, she went out and I found out that the door was locked. So I was scared because of why she locked the door.
— Two months after arriving, Maria (not her real name) escaped from the family.
Officials have launched a labour lawsuit against the employers.
— Three other Philippine maids have left their employers with similar complaints
— Brazilian officials are now investivgating the working conditions of 180 other foreign domestic workers. Some violations of the labour law have already been found.
————–
If you plan to become an OFW, you can get lucky and find good employers. But there are also risks of getting bad ones. This report from BBC news makes us aware of possible situations wherein the outcome is not good. We hope to our fellow kabayans are able to seek help the soonest if they are in trouble.