Flight attendants are one of the best jobs in the Philippines. There are many opportunities in Cebu Pacific Air. This guide will teach you everything you need to know to become a Cebu Pacific flight attendant.
Also Read: Cebu Pacific (CEB) VS Philippine Airlines (PAL)
In this article, we will talk about the various requirements to become a Cebu Pacific flight attendant. The company has over 30 domestic and international destinations in the Philippines. Being a flight attendant for Cebu Pacific Air is a great opportunity to travel and experience the Philippines. Read on to learn more!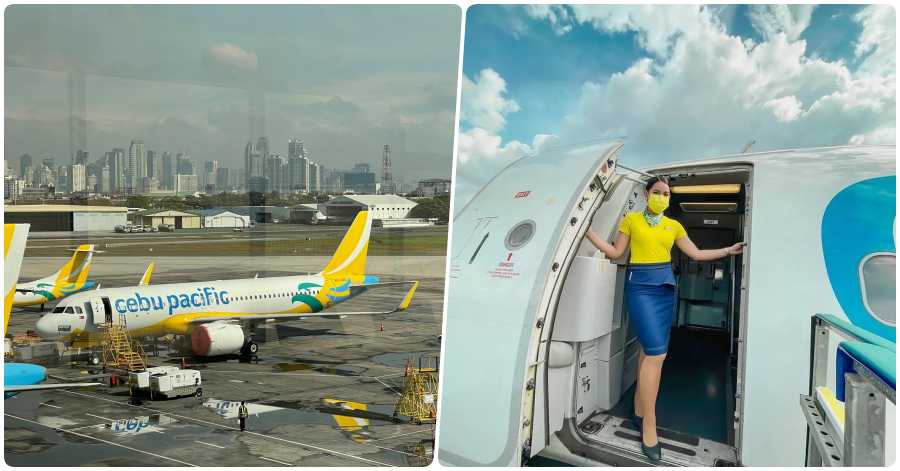 Why Work as a Flight Attendant
It's no secret that the Philippines is a country of beautiful beaches, friendly people, and delicious food, but it is also a place where you can work as a flight attendant for one of the leading airlines in Asia—Cebu Pacific Air.
If you are looking for an exciting career with travel benefits and a chance to see the world, becoming a Cebu Pacific flight attendant might be what you're looking for.
If you love to travel, then this job will give you plenty of opportunities to do so. You will get to visit many different destinations at no cost, thanks to your employee travel privileges which allow you to fly anywhere in the world at discounted rates. You will also receive free accommodation while traveling on company business trips overseas or local vacations when traveling domestically within the Philippines. This means you can explore new places without spending any money on accommodation costs!
This job also offers great benefits, including health insurance; life insurance, paid holidays off each year (including Christmas), paid vacation days (after working there for six months); maternity leave pay; retirement benefits – 401K plan; voluntary dental plan – but more of that later on!
Why Work with Cebu Pacific Air Philippines
Cebu Pacific Air Philippines is the leading airline in the Philippines, operating a fleet of more than 200 aircraft. The airline has been recognized as one of the World's Top 100 Airlines by Skytrax for seven years running, and it has been named "Best Low-Cost Airline" by Skytrax three times.
As a Cebu Pacific Flight Attendant, you will get to take part in some truly amazing experiences. Your day-to-day duties include serving meals and beverages to passengers; assisting them with their luggage; helping them with their seatbelts; answering questions about their flight; checking that all emergency equipment is working correctly; looking after children on board; assisting in emergency situations such as medical emergencies or fires on board; and maintaining cleanliness throughout your work area.
In addition to being a Flight Attendant at Cebu Pacific, you will also get to enjoy many great benefits. These include free accommodation and meals when you are on duty; free insurance coverage in case of an accident; discounts on flights for your family and friends; and discounts on hotels, resorts, restaurants, and other services throughout the world.
Requirements To Be A Cebu Pacific Flight Attendant
If you're looking to become a Cebu Pacific flight attendant, there are some requirements you'll need to meet.
First, you must be at least 5'3 for women and 5'7 for men. Your weight should be proportionate to your height. Second, you must be 18 years old or older. Third, you need to have graduated from high school or earned a college undergraduate degree (preferred). Finally, you must be fluent in English and Filipino languages.
Other Notes:
No visible tattoos or scars
Piercings are okay; earrings are part of the uniform for female, but for other holes, make sure you don't put accessories in them during the interview
Clear complexion – any complexion is okay (morena or white-skinned), if possible, no pimples; moles or birthmarks are ok as long as they can be covered without making it obvious
Good eyesight – though those with poor eyesight can still apply, it's preferable to wear clear contact lens
Stunning smile – no braces, but if you have one you can negotiate and tell them you will get it out when training starts
Hair – colored is okay as long as it is one or two shades darker or lighter than your natural color
Dynamic personality
Where To Look For Cebu Pacific Flight Attendant Jobs
If you are interested in applying for a job as a flight attendant for Cebu Pacific Air, there are a few places where you can do so.
First, the official website for careers at Cebu Pacific is careers.jgsummit.com.ph. You can select "Cabin Crew" for available jobs if you want to be a Flight Attendant. If there are no current jobs available, you can subscribe to their website to get an e-mail if jobs are already posted.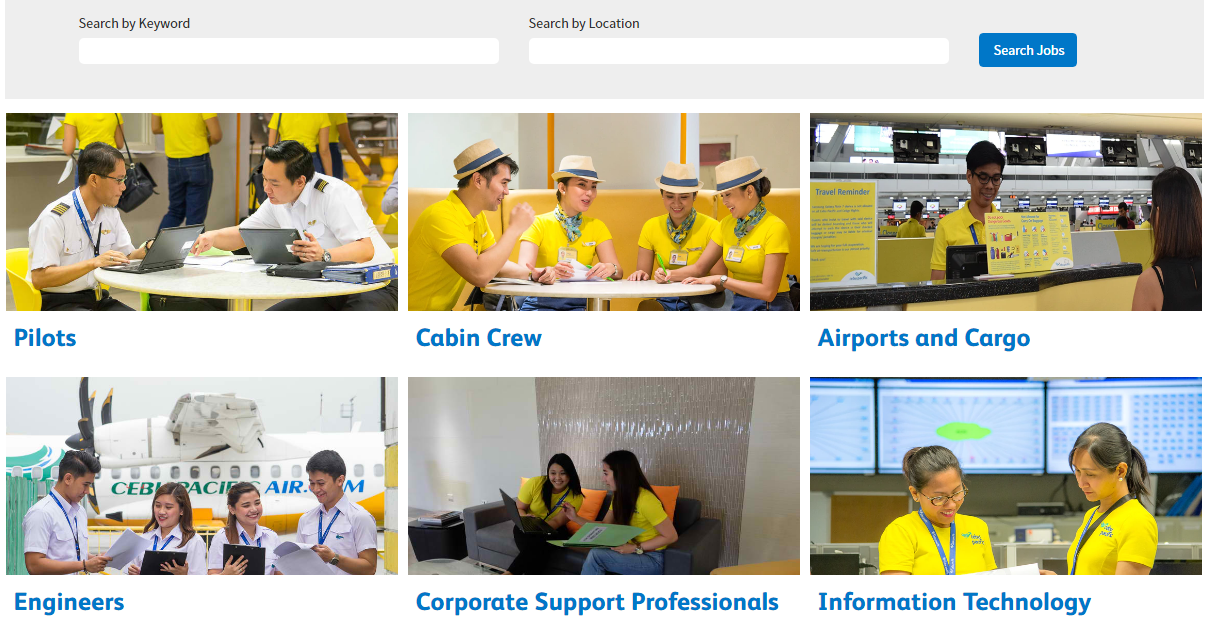 You can also go to the Cebu Pacific Office – just make sure that they accept walk-in applications on the day you are going. There are also "Open-Day" Recruitments that will be announced on their website.
How To Apply For Cebu Pacific Flight Attendant Jobs
You've decided that you want to be a flight attendant! That's great—we're excited for you. Here's how to apply for flight attendant jobs in Cebu Pacific Air Philippines:
Step 1: Update your CV and pass an application to Cebu Pacific Air Website. You can do this by visiting their website and clicking on "Apply Now."
Step 2: Wait for them to reply. Usually, they will give you a schedule for screening and interview. Once they reply, make sure to confirm all details with them before proceeding with anything else.
Step 3: Go to the venue. It's preferable if you do the following:
Bring an Updated CV with a 2×2 picture
Wear Business attire.
For women: Sleeveless blouse, below-the-knee skirt, no stockings, blazers are optional
For men: Short-sleeve polo and pants, blazers are optional
Step 4: If you are eligible, you will usually be asked to wait for your turn to be screened. During this process, your height will be checked, and your smile will be checked. You must also have a confident personality and even-toned skin, and you must not have any visible scars or tattoos.
Step 5: After passing your interview, you will be given the chance to train. Some requirements might be required.
Step 6: In preparation for the interview, you will undergo a two-month (47 days) training at the Cebu Pacific Main Office. Apart from airfare, accommodations, and food expenses, you'll also have to pay for the training. The training will involve passing exams that have a passing rate of 85% to 95%. You'll be given three lifelines if you fail to pass the drills or exams.
Step 7: After completing the training, you will be able to handle responsibilities as an intern flight attendant. Like an intern, you will have the opportunity to work with a supervisor. However, be aware that you might get scolded by your supervisor in front of the passengers.
After that, you will then have a Check Ride, which will include a practical exam and an oral exam with your managers or supervisor.
Step 8: If you pass the final exam, then you will be able to receive "wings". Congratulations! You can then start working as a Cebu Pacific Flight attendant.
Salary And Benefits Of a Cebu Pacific Flight Attendant For the Philippines
A flight attendant is a person who provides customer service to passengers on an airplane. They are also responsible for carrying out safety procedures onboard the aircraft including assisting in emergencies. Please do note that these are estimates only.
Salary
The basic pay for a Cebu Pacific Air flight attendant is about PHP 14,000 – 16,000 per month. Your salary will increase yearly if you have good performance.
You also get a Flying Time Pay – per hour which is usually PHP 350 per hour. Usually, a flight attendant can have a flying time of 70 – 90 hours per month with a limit of 1,000 hours per year; so that would be (70 * 350 = 24,500).
Allowances or Bonuses
The Flight Attendant salary of Cebu Pacific Air Philippines is quite competitive, with a highly attractive benefit package.
The benefits include:
Transportation Allowance
Field Reserve or Airport Standby
Meal Allowance
Commission for sold merchandises or food
Layover per diem – about USD 50 per night
13th month Pay
Annual Bonus – Profit Sharing Bonus of the company
Other Benefits
Retirement Benefit Program
Medical Plan and Life Insurance
Travel Benefits
For Layovers – stay abroad for 1 to 3 nights with allowances
Unlimited domestic flights and 6 international or long-haul trips per year (only pay for terminal fees or travel tax)
6 round-trip flights for family members (free, though you will be least prioritized)
Tips on How to Land a Flight Attendant Job
Landing a flight attendant job can be quite tricky, especially if you're new to the industry. However, there are some tips and tricks that will help you land your dream job.
Take advantage of networking opportunities. The best way to get a job is through networking. It's important to build relationships with other people in the industry and make yourself known as someone who wants to work hard and do well.
Keep an eye out for open positions at airlines and apply when they become available. The best way to find these openings is by visiting airlines' websites or social media pages regularly so that you don't miss out on any opportunities as they arise!
Read up on some important information about the airline industry so that you know what it's like working there before applying for any jobs! This will give you an idea of what to expect from each position before taking it on so that there aren't any surprises later down the road!
Get a job in the airline industry as soon as possible by applying for positions at airlines and travel agencies. This will give you valuable experience that can help you find other positions later on in your career!
Look into training programs that the airline offers so that you can get a better idea of what it's like working there before applying for any jobs! This will give you an idea of what to expect from each position before taking it on so that there aren't any surprises later down the road!
Video: MY FLIGHT ATTENDANT JOURNEY | FA Shaine Buhat
Not all dreams are easy to achieve. Just like how this vlogger became a flight attendant, it took a lot of hard work and dedication. She had to study hard to get a degree, and then she had to pass a difficult exam to get her certification. After that, she still had to interview for her dream job. But not everything goes according to plan. Watch this video until the end to find out how this vlogger overcame her challenges, and grew to become her own person and into the flight attendant that she's always been meant to be! So, if you have a dream that you really want to achieve, don't give up – keep working hard and eventually you'll get there. Also, make sure to learn from other people's experiences and tips so you can get a head start when pursuing a job in this field. Good luck!
Frequently Asked Questions
1. What are the requirements needed to be a Flight Attendant at Cebu Pacific?
Requirements are found above. To learn more, you can also visit the Cebu Pacific website directly.
2. What if I am below the required height? Can I pass?
Even though you might not be able to pass the first stage, you can still try. This is because, even though you have a charming personality, you might not be able to pass the interview stage.
3. What if I have pimples, moles, scars, or freckles?
If you have a skin condition that's not caused by a break, such as acne, you can still do the interview. However, for the other ones, it's better to apply makeup.
4. What do I do if I have braces?
Although you can still apply, if you have braces, then you must remove them before the Supervised Line Experience or training.
5. Do I need to graduate from college or get into an FA school to be a flight attendant?
If you are a college student or an SHS graduate, then you can become a flight attendant. Aside from being able to learn the various duties of a flight attendant, you can also gain valuable experience during your training.
6. Where can I apply?
You can apply online or in person at the Cebu Pacific office. They also accept walk-in applications during certain mass hiring events.
7. Can I speak Filipino during the interview?
Although you can speak English if the interviewer wants to ask you in English, you should also reply in English to make sure that you can properly communicate with them.
8. How about the training? What do I need to learn?
Aside from being able to learn the various duties of a flight attendant, you can also gain valuable experience during your training. Some of the subjects that you'll need to learn include the Basic Airline Terms and Safety Management.
9. Are exams during training important?
You might lose your job if you fail multiple times on the examinations or drill. This means that you might not be able to serve as a flight attendant.
10. Do I get to experience being a cabin crew?
After completing your training, you will be able to perform the duties of a flight attendant during a supervised line experience. Your supervisor will also be there to help you with any questions that you might have.
11. How do I know that I can become one?
After completing the training, you'll be able to officially become a flight attendant. You can start working as a flight attendant once you have successfully completed the Check Ride, SLE, and training.
12. How much is the salary of a Flight Attendant in Cebu Pacific?
Depending on the number of flight hours that you have and the allowances that you have, your pay might vary. For instance, if you have a total of 70 flight hours in a month, then your take-home pay might be around PHP 39,000.
Final Thoughts
Becoming a Cebu Pacific Flight attendant is a dream come true for many Filipinos. It's a career that allows you to travel the world and meet new people while doing something you love.
But it's not just anyone who can become a Cebu Pacific flight attendant. The airline has very specific requirements for its crew members and many people aren't able to meet these standards.
To become a Cebu Pacific flight attendant, you must have excellent customer service skills, a love of travel, and the ability to work long hours in cramped spaces.
We hope this guide has helped you learn how to become a flight attendant for Cebu Pacific. If you want to learn more about the airline and its job opportunities, check out their website here.
READ NEXT: How to Become an OFW and Work Abroad
Contact Information
Cebu Pacific Air Philippines Headquarters
Address: Cebu Pacific Building Domestic Road, Barangay 191, Zone 20, Pasay City 1301 Philippines
Contact Number: +63 02 802 7000
Website: http://cebupacificair.com/
Google Map Location: