The Department of Foreign Affairs (DFA) is looking to bring home at least 78,000 more overseas Filipino workers amid the ongoing COVID-19 crisis.
Foreign Affairs Undersecretary Sarah Lou Arriola revealed during a House of Representatives hearing that 78,787 have expressed their intentions to come home to the Philippines.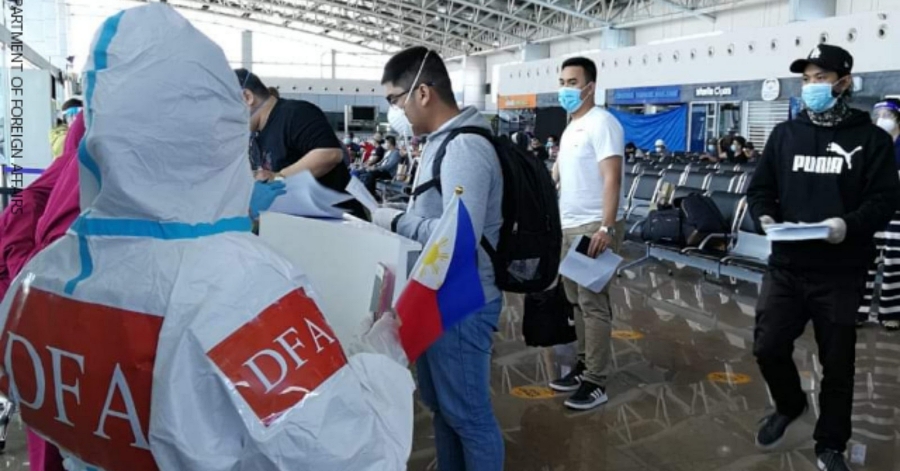 At Least 78,000 OFWs Targeted for Repatriation Amid Coronavirus Crisis
Arriola noted, however, that the numbers might go down because the UAE has extended its amnesty as well as Bahrain, until the end of this year, the Inquirer reported.
"[So] some people might decide to push it to the last day before they decide to return to the Philippines," she explained.
The DFA has repatriated 30,567 OFWs during August. This number is way below the agency's projection because of the imposition of the modified enhanced community quarantine in certain parts of the country.
Earlier this month, the DFA has announced that they have repatriated a total of 124,717 OFWs amid the COVID-19 pandemic. In a statement, the department reported that 39.8% (49,655) of the repatriated Pinoys are sea-based while 60.2% (75,062) are land-based.
The department also said that the number of repatriated OFWs breached the 124,000 mark after over 8,924 OFWs traveled home by end of July. 3,660 of which, arrived from the United Arab Emirates (UAE) while 2,349 seafarers from Spain, Italy, Singapore, Japan, Bangladesh, Barbados, and Trinidad and Tobago have also been repatriated during this period. 
In an earlier report, the Department of Labor and Employment has sent 2,667 overseas Filipino workers to their respective provinces after having been cleared of COVID-19. 
In the meantime, lead government agencies such as DOLE, OWWA and the POEA have been keen on boosting its programs and services to support the influx of repatriated OFWs, a majority of whom have been displaced from their jobs during the coronavirus crisis in their country of employment. 
To date, 9,984 Filipinos abroad have contracted COVID-19, including 3,298 active cases as well as 5,953 recoveries and 733 deaths.
ALSO READ: OWWA to Roll Out Livelihood Programs for Repatriated OFWs this September