With so many challenges the world is facing right now, it can be quite difficult to look for some kind of a "silver lining" on the news. Despite this, we can still rest assured in the fact that there are people who go out of their way to create an impact in other people's lives through the work they do.
READ ALSO: Demand for Filipino Nurses Abroad Doubled During Pandemic – POEA
And this is the case of a former OFW, Ruel Bermudez, who worked as an IT Project Manager and Senior Web Developer abroad before he was repatriated last year due to the health crisis. Since then, Bermudez has established his own company through the Department of Science and Technology's (DOST) iFWD PH or the Innovation for Filipinos Working Distantly from the Philippines program earlier this year.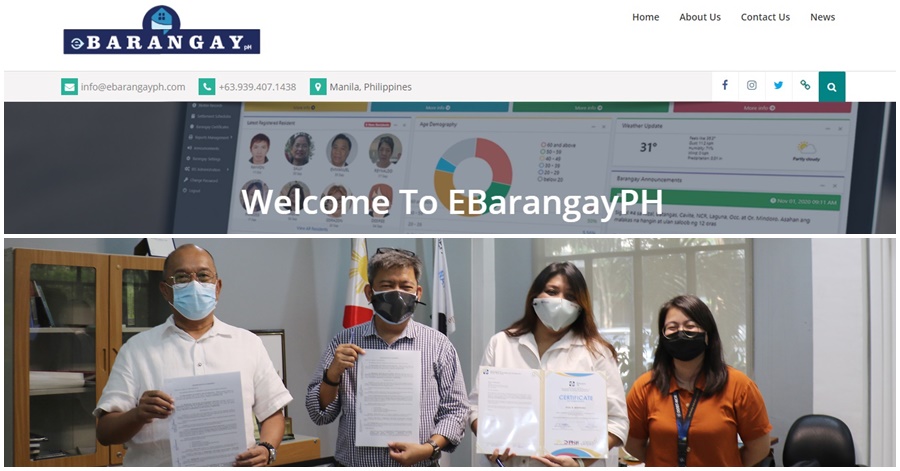 DID YOU KNOW? A Former OFW Designs A Data Management Platform For Barangays
Bermudez's company, Bermudez Software Labs, was selected to design the iFWD program's first project which was funded by the department with a total amount of Php 210,329 for the acquisition of hardware, cloud hosting subscription, and vulnerability assessment and penetration testing for the development of the "eBarangayPH System".
The eBarangayPH System is a locally designed and established information database and an e-governance solution, which maximizes internet technologies for managing records, such as residents' data, blotters, hearing and settlement records, certificates and permits at the barangay level in the Philippines. Also, the system can used for managing the Resident ID system, Information Dissemination, and Crisis Management.
The eBarangayPH is distinguished by four key features, including:
Online Connectivity: The system can be accessed anywhere and anytime via the internet by the barangay personnel, chairpersons, city mayors, administrators as well as residents.
Comprehensive Resident Management System: With a comprehensive dashboard, the system allows users to easily view updates and summaries of what's happening within the barangay. It is also an efficient platform wherein residents can upload useful information securely and interpret it in a simple and meaningful manner.
Verifiable Documents: Through the use of accessible and secure QR-coded barangay documents, users can benefit from safe and reliable services from the nation's basic level of governance. Moreover, the system will produce PVC-ready resident IDs
Crisis Management: This is considered the most critical function of the system. This feature enables the community to easily create and handle crisis events ensuring that everyone is accounted for, giving precise instructions as to what to do and where to go. And finally, it gives residents the peace of mind that their barangay will take care of them during the crisis.
The reason for the eBarangayPH system's conceptualization according to their official website is this: "For several decades, the Barangay, being the smallest unit of our government, has been the face and voice of their constituents. They know every resident in their barangay. They handle requests, complaints, judicial hearings, and crimes on a daily basis. Most of these are recorded manually, either on a piece of notebook, or on a logbook. Keeping these records, which accumulated for decades, is a nightmare. In some instances, they are destroyed by fire, floods, rain leaks, and by some other circumstances, man-made or not."
As such, the traditional means of record-gathering and –keeping does not keep with the demands of the times. As such, all matters that concern the citizens' well-being are now being transitioned to digital. The occurrence of the pandemic has even reinforced the importance of this transition.
According to science secretary Fortunato de la Peña, Bermudez's counterpart funding will address web development, marketing, training, as well as rent and utility expenses.
Moreover, de la Peña noted that what the department will be providing is a loan, payable with no interest.
He also said that the eBarangayPH aims to unify individual information systems, including comprehensive resident, household, certificate, and crisis management systems.
"Being cloud-based, the data may be interconnected, verifiable, and downloadable. The company already created a website for eBarangayPH as one of its marketing activities," he said.
In future, a technology-based enterprise adviser, who's also competent in developing management information systems, will be assigned to the project to render technical assistance for the start-up company.
The company envisions to fully deliver all of the system's services and functionalities by 2025. To learn more about this project, you may head over to its official website at https://ebarangayph.com/.
The iFWD PH, which was established by the DOST in 2020 aims to provide opportunities for OFWs and their families to establish technology-based enterprises. The project has two phases: 1) Capacity Building, and 2) Innovation Funding for the establishment of an enterprise.
To learn more about this program offered by the DOST specifically for OFWs, watch this short video clip posted by the iFWDPH-DOST NCR via YouTube.
Interested parties may submit an application either online (recommended) or through a DOST regional office. Forms and requirements are available via their website at https://ifwdph.dost.gov.ph/.
Despite being laid off from a high-paying and in-demand job overseas, Bermudez did not stop pursuing his craft and turned his attention and focus on using his skills and expertise to benefit his own country, as recognized by the Philippine government through the DOST's iFWD program.
Let this be a lesson of hope for our kababayan overseas who may be dealing with difficulties at work brought about by the pandemic. Remember, opportunities come in different forms. Maybe, returning home can be an opportunity for you if you open yourself up to the possibility of using your talents and resources for the benefit of others and perhaps, even for your home country.
Also, the timing might be your chance to "give back" and use your honed craft from working long years overseas. Now is the time to make an impact not only for yourself and your family but also for others in the Philippines. And with the help and support by agencies like the DOST, we can all hope for a better tomorrow. Together, we will move forward. Let's move the Philippines forward!
READ NEXT: OFW Couple Loses Jobs due to Pandemic, Starts Food Business with DOLE Cash Aid