An elderly Filipino man was punched in the face by a white man who had previously verbally assaulted him and his wife while walking in a park in Cerritos, California, over the weekend, in yet another suspected hate crime against Asians in the United States.
Cesar Echano and his wife were out walking at Cerritos Regional Park on a Saturday morning when they were confronted by a man in his 20s who verbally assaulted them.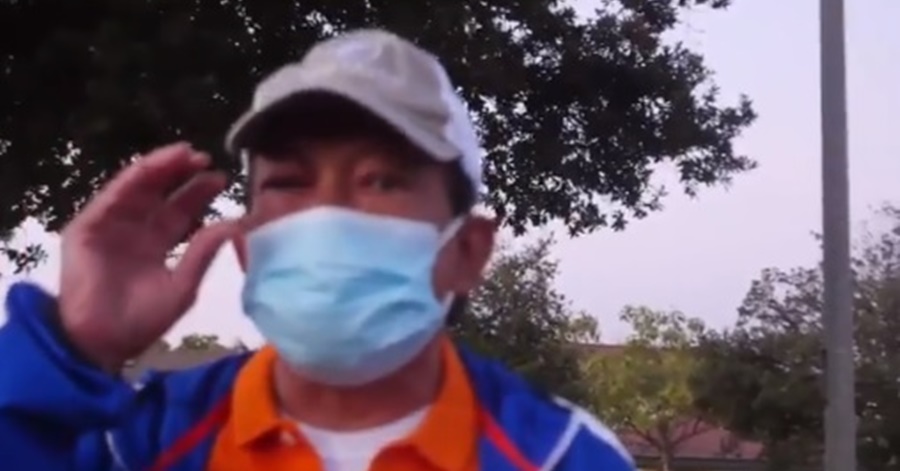 Another Pinoy Attacked in California in Suspected Hate Crime
He claimed the assailant swore at them and warned them to return to their homeland, ABS-CBN News reported.
The couple made it to their car, which was parked about a quarter-mile away on the other side of the park, fearing he was armed.
However, the attacker punched the 70-year-old retired health worker in the face when he was seated in the passenger seat of their automobile.
"Pagbukas ng pinto rito , boom! 'Yung misis ko nagda-drive nasa passenger seat ako. Kitang-kita ko umikot 'yung kamay niya. Ang bilis ng pangyayari, ang bilis. Nakalabas 'yung paa ko kasi na-outbalance na ako nung pagsuntok, sabi ng misis ko 'wag kang lalabas, isara mo ang pinto. Sabi ko picture, picture. Nadukot ko cellphone ko umatras siya tapos napaandar na ng misis ko 'yung kotse," Echano said.
(When he opened the door, there was a loud bang! My wife was going to drive, and I could see it coming because it was all happening so quickly. My foot was out the door because I was out of balance from the punch, and my wife warned me not to walk out and shut the door.)
The pair said they drove away before capturing any images of the intruder. They pulled off to the side of the road a few streets away to phone the cops and make a report.
Cesar was hit once but it left a black eye and will require some meds. Luckily, he was well enough to reach out to @balitangamerica @ABSCBNNews , and give us an update. He did file a report with @CERLASD and hopes the suspect didn't target others. #StopAsianHate pic.twitter.com/pPDQCMSzhv

— Steve Angeles (@StevieAngeles) June 7, 2021
Echano spent a day in the hospital after the incident and is now on antibiotics to heal from his injuries.
"Medyo parang duling pa ako sa mata na ito (right eye) pero nag-improve na ito kasi naimumulat ko na siya. Medyo masakit pa rin," he said.
(I'm still having trouble focusing my eye here, but it's getting better.) I couldn't open it the other day. It's still bothering me.)
Echano and his wife have sought support from their Glory to Glory Church friends to help them get over this horrible experience, he said.
He further stated that this harrowing incident would not ruin his life. He intends to resume his daily walks, but not in this park. He stated that they will most likely park their vehicles in an area with more people.
Echano is hoping that potential witnesses, as well as residents or businesses with surveillance cameras, can help identify the perpetrator.
READ NEXT: 65-Year-Old Alleged Filipina Kicked to the Ground in New York Attack