Today we get to interview Fahed Albalooshi, a 30-year-old half-Pinoy and half-Emarati who works in the finance industry in the UAE. He is also a vlogger and is known in the blogging scene as the "Emaratino Traveler".
While he has only visited the Philippines twice (his mother is from Dagupan, Pangasinan), it is very interesting to note is that he is fluent in the Filipino language. He learned to speak Tagalog by singing classic Pinoy songs and watching Pinoy shows on The Filipino Channel (TFC).
Fahed embraces two cultures with open arms and we are happy that he is not shy in promoting the Filipino culture in his channel. He is also amazed by OFWs and describes Pinoys who have left their home countries as hardworking and have great work ethics.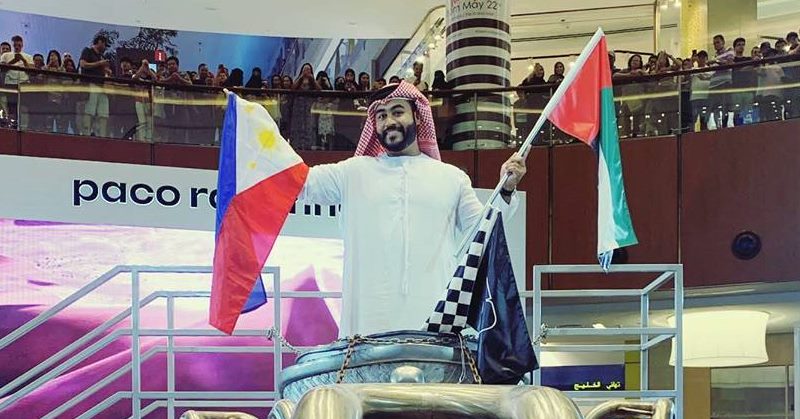 Fahed AlBalooshi – the Emaratino Traveler Interview
In our interview, he shares his story about how learned to speak Tagalog and share his thoughts about OFWs abroad. As much as possible, he tries to spread good vibes. Check out the rest of our feature below:
1. Can you share more information about yourself?
Hello! My name is Fahed. I work in a leading financial institution in the UAE as a Director for Sales Advisory.
I also maintain a vlog / YouTube Channel where I showcase my talents/skills. I host events & occasions, and do radio hosting too. You can say that I'm a bit of a multi-tasker as I engage in music, poetry, and producing videos. I am also into sports like basketball and regularly go to the gym.
If you are interested in travels and destination, food, Inspiration, Reviews of Tech, Cars even language and cultures, you can check out my account for more videos.
2. What is it like to grow up in two different cultures?
I can say that I've been blessed by Allah for being able to understand and give respect to both cultures. I remember the Philippine Ambassador in the UAE, who said once that I am the true meaning of two countries and it's co-existence embraced in one person, as I have "the gift of two cultures and countries."
In the UAE culture, I learned about my heritage and how Arabs of this part of the region have grown over the past years and become one of the "leading" countries. I'm happy to be part of this country's transformation while maintaining its cultural heritage.
As for the Philippines, I am blessed because I have always been exposed to the Philippine language and culture through my Mom.
At times, it can be confusing to relate one culture with the other, but it's always interesting!
3. How did you learn to speak Tagalog?
I think in any learning curve, there should be that self-interest to learn anything, and everything else will follow afterwards. For example I have always wanted to know what the words at chaka (also) means, and I tried my best to learn how to use it in a sentence. Major credits also go to the little Karaoke box, which I used to sing classic Filipino songs!
And lastly, I learned because of "showbiz!" We have a daily routine of watching TV shows with Mom and family at home, where we have The Filipino Channel (TFC). So yes, thank you, TFC!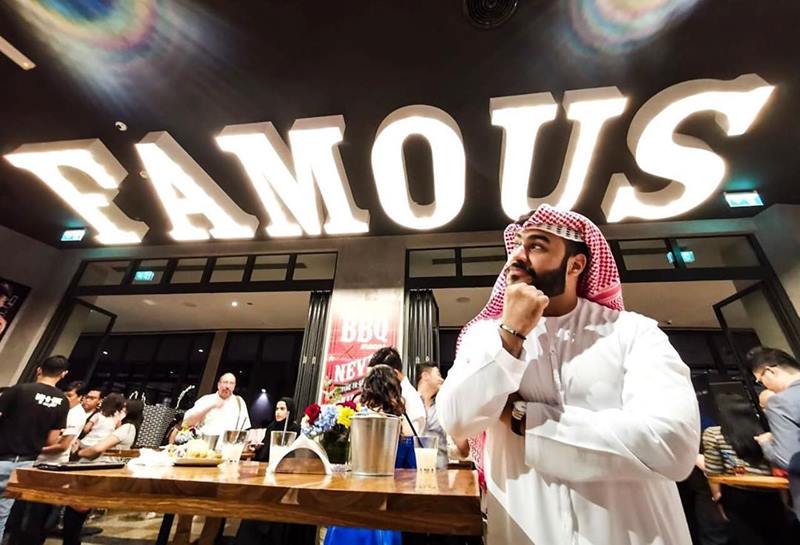 4. What is the reaction of people when they find out you can speak straight Tagalog?
When I talk to Filipinos in Tagalog, they initially think that I know only a few words. But when I start speaking in full sentences, they snap out of the conversation and get shocked as if I've done a miracle! They get super excited and proud because their language is embraced by an Emirati and Filipino character.
For the people from the Arab world and the UAE, they feel surprised because it's usually the first time they see someone like me.
Check out his vlog where he shares his experience singing with Pinoy singer KZ Tandingan
5. What can you say about OFWs who left their home countries and families to work abroad?
I think Filipinos abroad (with respect to all the global overseas workers) are the most hardworking people in the planet. Not just because of the work ethics, but because there is a smile behind every global Filipino. Their hard work, diligence, and the consistency of delivery is just phenomenal. They simply give their all! And their sacrifice, by itself, deserves thousands of recognition.
As a father of two kids, I find it difficult to even compare the feelings of a global Filipino working abroad to provide for their families. That's why I salute every global Filipino who had to leave their families in search for better opportunities abroad.
Video: Fahed Reacting to Filipino Words and Tongue Twisters
Fahed is constantly learning the Pinoy language and here's a video of him learning Pinoy words and tongue twisters:
Follow Fahed on Social Media
To know more about Fahed, you may get in follow him on social media. Below are his accounts:
Instagram: @emaratino_traveler
Facebook: Emaratino Traveler
YouTube: Emaratino Traveler