There's big news for every working Filipino based in the Philippines or overseas, especially those with SSS membership as the agency's unemployment insurance programme for members will soon be made available, according to Labour Secretary Silvestre Bello III.
With this development on the horizon, Filipinos will have some kind of a fallback in the event they get displaced or prematurely terminated for any possible reasons. While this may not be a significant amount, it will surely provide much-needed assistance to concerned workers and their families until such time they are able to re-join the workforce.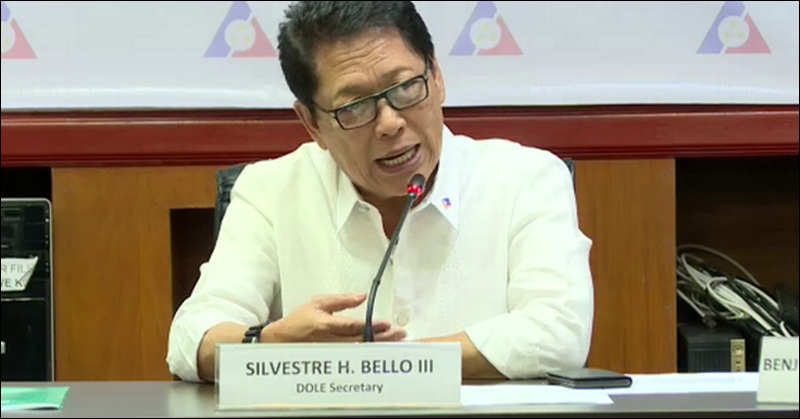 Displaced OFWs, Workers to Benefit from SSS – Labour Secretary
The announcement was shared by Labour Secretary Bello after his department issued the necessary guidelines for the proposal, according to a report of Business Mirror.
Last week, Bello issued Department Circular 01, Series of 2019, which covers the certification requirement for applicants, who are availing of the unemployment insurance benefit stipulated by Republic Act 11199 or the Social Security Act of 2018.
Based on the proposed guidelines, all SSS members including household service workers (HSW) and OFWs who were "involuntarily" retrenched are eligible for the new benefit.
Furthermore, local workers could apply for the certification at the nearest DOLE office their employer is located.
Meanwhile, OFWs based overseas may do so at the Philippine Overseas Labour Office (POLO).
As part of the requirements, displaced workers must provide one (1) valid ID and a copy of the Notice of Termination by their employer.
However, Bello clarified that if there is no Notice of Termination, the applicant can submit a notarized Affidavit of Termination of Employment to DOLE or to POLO.
Furthermore, DOLE Field Offices, or Provincial Offices as well as POLOs, are mandated to issue the certification within the day it was filed provided that all documentary requirements have been submitted.
Meanwhile, the Bureau of Local Employment will be responsible to monitor the application and issuance of certification from DOLE for unemployment insurance.
Bello explained that the DOLE certification ensuring a worker as retrenched because of "authorized causes" is a requirement before SSS could process unemployment insurance.
As soon as the IRRs for this law has been set in place, there shouldn't be any problems filing for this benefit as long as all documentary requirements are provided.
In other related news, Bello shared that the implementing rules and regulations (IRR) for the mandatory SSS membership of OFWs of RA 11199 is still pending and could still not be fully implemented as it is currently being revised after it was opposed by migrant advocates and the labour recruitment industry.
ALSO READ: 7 Benefits as a Member of SSS