Time and again, we talk about looking ahead into the future or planning for one's retirement because we all know that working as an OFW is not permanent. That's why it is important that we prioritize ourselves and think of opportunities that will help us prepare in case we plan to go back to the Philippines or good.
ALSO READ: 7 Tips to Save Money as an OFW
In this post, we share the story of Mr. Freddie T. Usita, a 50-year old ex-OFW from Ilocos Norte, and how his passion for agriculture grew into a lucrative and sustainable business, as featured in a report by the Philippine Information Agency.
LOOK: Ex-OFW Grows a Business from Growing Mushrooms
Who would've thought that growing mushrooms would be a lucrative business? The story of Mang Freddie is truly a gem of inspiration for his unwavering determination and hard work, even if he did not find the success he was hoping for as an OFW in Taiwan.
Mang Freddie, just like many of our fellow kababayans overseas, struggled with finding a stable work as a welder in Taiwan after his company ceased operations in the country and moved to China.
Getting laid off was not an easy thing for the 50-year old family man and coming back home to the Philippines certainly brought a cloud of doubt over his family's future, but Mang Freddie did not waver. Instead, he started to pick up on his passion, which is agriculture. He began to engage in a small quail production business, but this eventually failed to take off due to insufficient knowledge and business management skills.
In 2011, Mang Freddie tried his hand at backyard mushroom production, but failed once again. However, his interest in his new venture did not end there. Because Mang Freddie knew that he was lacking in some aspects needed for the job, he went on to enrol in the Marcos Agro-Industrial School to take up a short-term course on mushroom production under Horticulture NC II by TESDA. It was there that he started to pick up invaluable skills and the necessary technology, such as the use of tissue culture, spawn creation, and the production of fruiting bags for proper mushroom production.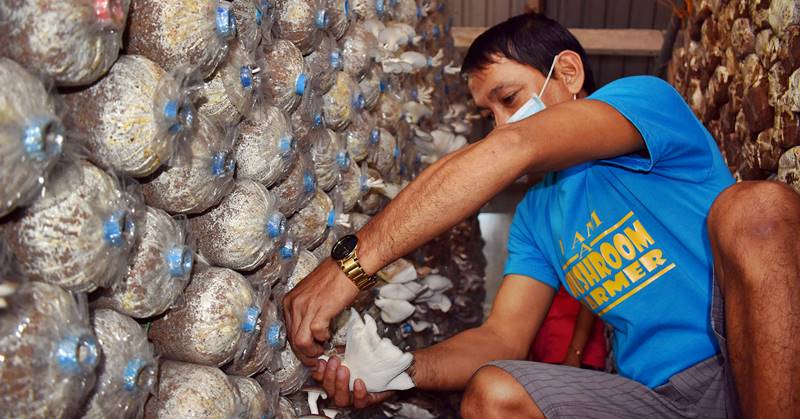 The Marcos Agro-Industrial School is a technology institute and development centre under the Technical Education and Skills Development Authority (TESDA) based in Ilocos Norte.
After he graduated from the course, Mang Freddie started to build on his backyard mushroom farm once again, but this time, applying the technologies he picked up from his training with TESDA, and has grown his farm successfully.
A few years more had passed, and Mang Freddie's backyard mushroom farm was sustainably growing as he had become a consistent supplier of cultured mushrooms not only in their province, but even in the nearby provinces of Cagayan and Ilocos Sur. Mang Freddie is in the business of producing oyster white and oyster grey mushrooms.
At present, Mang Freddie and his wife, May, are earning an average monthly net income of PhP 27,500.00 from their mushroom-growing business.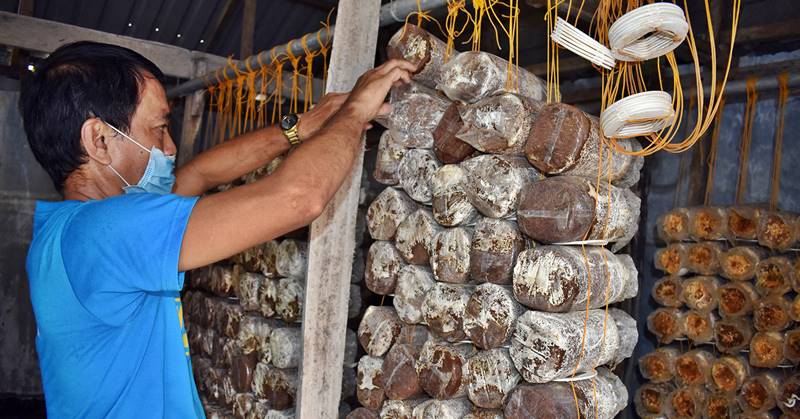 With their earnings from mushroom production, Mang Freddie and his wife have already bought 2,800 sqm. of agricultural land and a vehicle, and have built up a comfortable amount of savings in the bank.
Mang Freddie not only has achieved financial freedom for his family, but he has also created job opportunities for his neighbours. Currently, he employs three part-time workers to help him in his farm.
Although it was not easy at first, Mang Freddie did not back down and he did what was needed of him to take his capabilities to the next level in order to succeed in his passion venture in mushroom production.
"We have a lot of opportunities in our country; however, we only need to be more creative coupled with more patience and perseverance," shared Mang Freddie Usita.
Truly, people like Mang Freddie are living proof that with passion, determination and hard work, nothing is ever too difficult to accomplish. Success may have come a little later to him, but the only timeline we follow is based on how early we decide to become successful in life. (ALSO READ: How to Register an Account on TESDA's Free Online Program)