A Filipina domestic helper who was staying in her employer's residence was among the 4,000+ injured people following a massive blast that left central Beirut in chaos and disarray on Tuesday night.  
Right after the shocking incident that left at least 78 people dead, Mariz Guira went live on Facebook to share her experience that day. While still visibly hurt and crying in fear, Mariz bared her wounds from the blast, blood still dripping from her head.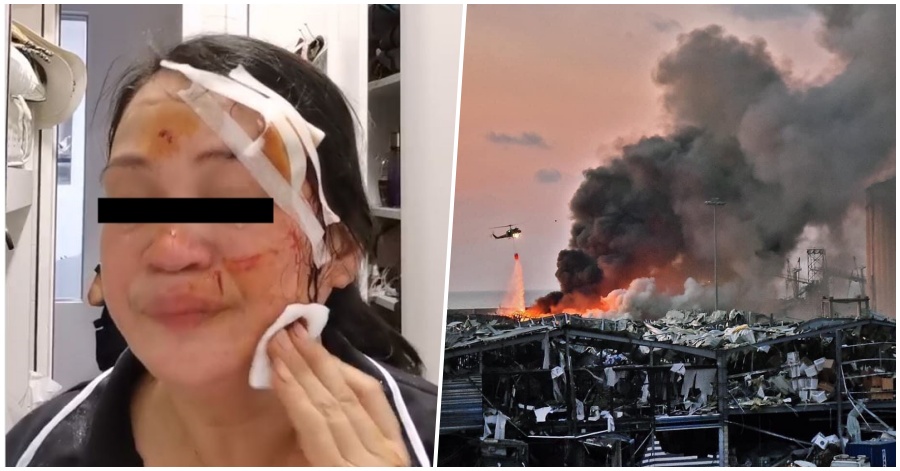 Filipina OFW Shares Her Experience on Livestream after Beirut Explosion 
Although Guira's location was more than a mile away from the source of the blast, the impact of the explosion shattered the glass from the windows, leaving her injured and covered in blood. 
Two hours later, Guira went live on Facebook again to share an update regarding her condition and the status of the situation in their area. 
This time, though, the wounds she sustained from the earlier explosion had become more evident. Aside from the bruises and cuts on her body, Guira also sustained a deep cut near her forehead and left arm that won't stop bleeding. 
"Actually, hindi nila ako pinauwi. Pero sa dami ng tao sa ospital, ako 'yung umuwi. Talagang nakikita ko kasi na hindi maaasikaso. So, ang choice ko ay umuwi na lang dito [sa bahay ng employer ko] kasi may gamot naman dito. Gagamutin ko na 'yung sarili ko kasi nga malakas yung tagas ng ulo ko," she said while talking to staff from the Philippine Embassy on the phone. 
[T/N: Actually, they didn't let me go home. But seeing how many injured people need to be treated, I knew that it will take some time so I had no other choice but to come home because we have medications and supplies here at my employer's place that I can use. I'll have to treat my wounds here for now since my head injury won't stop bleeding.]
Guira shared that she immediately went to the hospital to get treated, but all the medical staff were struggling to accommodate thousands of people who were also injured. Although she can still feel glass fragments lodged on her wounds, she's all covered up now and thinks she's okay at the moment, except that her head still hurts from the impact.
In her latest video update, Guira said that she is now seeking the help of the Philippine embassy to have her repatriated. However, due to the uptick of new COVID cases in the country, the government has once again tightened travel protocols and restrictions.
On Wednesday (August 5), Lebanese President Michel Aoun called for an emergency cabinet meeting to address the situation and a state of emergency is expected to be announced.
Meanwhile, the Department of Foreign Affairs (DFA) has confirmed that there were two Filipinos who died from the incident while six others were injured in the massive blast.
The Philippine government has also released a statement that it will intensify efforts to repatriate Filipinos in Lebanon who want to go home following the incident.
In a statement, Presidential spokesperson Harry Roque explained, "We've issued [a] series of advisories against working in Lebanon. I believe the DFA [Department of Foreign Affairs] will intensify our efforts to bring home our kababayans in that war-torn area."
The Philippine Embassy in Lebanon is urging all Filipinos in the country that require any assistance to call 03859430; 70858086; 81334836; 71474416; and 70681060.